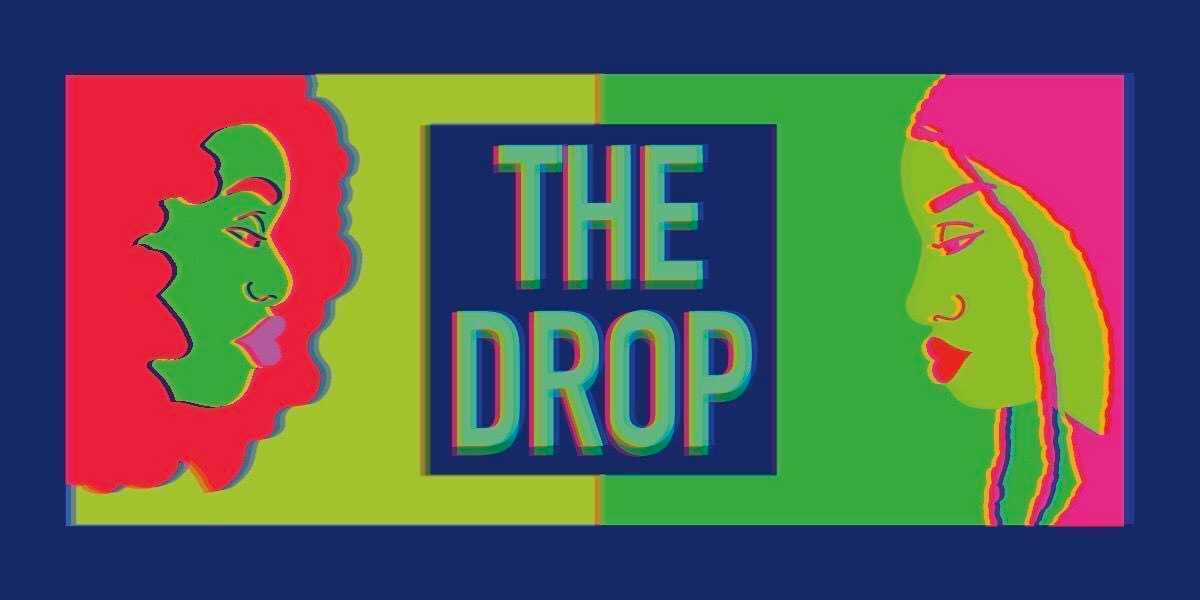 The Drop is a new ongoing series where Dani Janae and Shelli Nicole chat about Queer Black Pop Culture. Today they talk about the High Priestess of Hologram Funk, SassyBlack, and her latest EP, Stuck.
---
In this time of shelter in place and post-election delirium, I've been relying profoundly on audio mediums to get me through the day. I split my time between audiobooks, podcasts, and music. You'll never catch me not listening to something. Recently, I've been relying heavily on the music of Black women to comfort or rouse me. When I'm feeling mellow I liked to put on some Jensen McRae or Mereba, when I'm hype it's Megan the Stallion, Tierra Whack, or Solange's latest project. Now, I have another artist to add to this list: SassyBlack. With a name that calls to mind stereotypes of Black women, SassyBlack sets out to exceed your expectations with her funky beats, dulcet, deep tones, and thirst-quenching lyrics. I find myself walking around my apartment and singing the songs from Stuck. I was honored to listen to her new EP and share my thoughts with my eternal favorite, Shelli Nicole. — Dani
---
Dani Janae: Hey Shelli! I'm excited to hear your thoughts on this project.
Shelli Nicole: Hey Dani! Yes, I'm mad excited to talk to you about it! It was a perfect bite of Black goodness and I fucking loved the ride it took me on. I know it came across your way recently. Can you talk a little bit about the artist and how you found her?
Dani Janae: For sure! So I hadn't heard of SassyBlack until she contacted me a couple of weeks ago to talk about her new EP, Stuck. It was recently released on November 6. She describes herself as a "multifaceted creative forcewp_postsand it definitely comes across in the music. In one of the songs she describes her work as "hologram funkwp_postsand I'm a huge funk fan so I was interested in seeing what she had to offer!
Were you familiar with her at all?
Shelli Nicole: I was not! When I went to her IG page after you sent it my way I saw that a few homies of mine already were fans. She also has a huge following and after listening to the EP I can def see why. I actually listened to it on SoundCloud, it's where I go when I'm trying to feel cooler than I actually am.
Dani Janae: Lol, I feel you. I first listened on Bandcamp but have been streaming it for the past couple of days. What did you think of the first track "Karen Don't Care"?
Shelli Nicole: Right out the gate I saw it was four tracks, and then when I looked at the titles I felt like this EP was gonna feel like a conversation that you can only have with another Black woman. "Karen Don't Care" was just how some of them can start.  Lyrics like "she say she got Black friends, but can't name none of themwp_postsand "she cares more about a dog — a cat a rat a LEAPFROGwp_postsare the absolute and sad truth about many a non-Black woman.
I'm also saying it right now — if Ziwe decides to make a musical, I will campaign for SassyBlack to help write the songs.
Dani Janae: Yesss, when I saw it was only four tracks I thought "oh cute this will be a super quick listenwp_postsand it flies by, but you definitely get caught up in the groove of each song. I loved those lyrics as well as the general funky, sort of house beat that lays under the track. Her vocals are also so smooth. Like, you can tell she can sing sing but she's definitely situated in a very manageable, low register. At least in "Karen Don't Care."
Vocally she kinda reminds me of Azealia which I'm into. There are also so many layers to every song, but it all feels cohesive! I'll definitely have these songs stuck in my head.
Shelli Nicole: It all flowed so well! Again, it felt like a conversation you can only have with your Black homie on that typa FaceTime call. Where it starts with y'all like "white women are at it AGAIN," then the ups and downs of the realer shit while you're cooking. Y'all hold space for each other with every emotion and then the convo ends with an "I love you siswp_postsof sorts — which is how the last track rounded out the entire EP for me.
The last track, "Therapy" is the longest one and it was the most comforting track for me. The slow funk vibes, her voice with its comforting deep trembles felt like love. The lyrics "lay it on mewp_postsbeing repeated made me cry low key. I am currently going through something pretty big, and my regular support system is not the same because of the way the world is, but in this song — I felt held.
Dani Janae:  Oooo yes that's a great point, "Lighten your loadwp_postssung in that beautifully tantalizing harmony was so needed, and the way her voice builds as the song ends! I think there are a few artists that set out to make music for Black women and some of them do succeed. But in this EP it feels like there is a hand extending toward me inviting me into this circle of Black women, where our voices are centered and that's so lovely.
Shelli Nicole: Yes! The centering of Black Women in this project is effortless. Like, in "What Do You Want." Putting in her funky vibes while also being like "Y''all literally all want something from me. What? WHAT DO YOU WANT?!"
Can you imagine what the release party for this album would have been like?!
Dani Janae: "Therapy" and "Anxiety (The Heat)" are both songs around mental health which I found super important. I can't help but think, with the election so fresh on my mind, how Black women are tasked with saving everyone including ourselves. What an emotional toll that takes. Like we literally are just boosting everyone up over our shoulders and no one turns around to extend a hand. For me, music has always been a healing space, so I deeply appreciate music like this that speaks to healing on that deep level.
Oh, and this release party would have been HOT.
Shelli Nicole:  Finding songs that are so relatable when it comes to mental health as a Black woman are few and far between. Similar to you, I also use music as a healing tool, as a pseudo therapy session. I pick a song that matches my hurt in some way (joy too but def hurt) and am able to use that few minutes to pause and cry, play and feel, etc.
I appreciate her holding space and creating it for us with this EP, but I also imagine or hope that while doing this for us she found some healing and joy in creating it too.
Dani Janae: Yes absolutely. I can imagine her having fun with the production. As we've both said it's a very funky, danceable EP.
Shelli Nicole: Sometimes though, when Black Women create music with the clear intention of making it for us, I want to enjoy it, and I do, but I can't help but be like "but who is doing this for her?wp_postsYou know.
I'll use Solange When I Get Home as an example. I've used that album as a healing tool and then feel like "How can I thank her? How can I hold her? Is she resting after doing this labor for me?wp_postsAnd that's how I feel with this EP and SassyBlack.
Dani Janae: For sure, I don't think we consider that enough in our consumption of music.
Shelli Nicole: Agreed. Perhaps that's just what comes with how I think as a Black woman when it comes to other Black women, with high care and the want to protect.
One of the big ways to show love is to def keep streaming and supporting. Saying thank you with dollars and also with words.
Dani Janae: Yes absolutely! I need to actually buy this EP as well as streaming it as I've been doing. I also need to stay tuned for future projects!
Shelli Nicole: Thanks for recommending the artist and introducing me. Love talking to you always!
Dani Janae: Thanks for chatting with me! I always love our conversations
Visit SassyBlack on the web to stream her projects and support the artist.