Sailor Moon is easily one of the most popular anime series of all time, especially in the United States, where it was a common anime "gateway drug" for '90s kids, along with Pokémon and Yu-Gi-Oh!. It had a massive influence on the "magical girl" genre, and inspired countless young girls worldwide with its feminist and queer themes. It is no wonder, then, that Sailor Moon is getting a "reboot" anime series to celebrate its 20th anniversary, sure to rake in money from current fans and introduce new ones to the wonders of "fighting evil by moonlight."
Yet, if you were a typical kid TV viewer in the '90s and early '00s – watching your anime in the English dubs that aired on cable, not scouring video stores and, later, the Internet for the subtitled Japanese originals – you could be forgiven for missing out on Sailor Moon's queer elements. In its efforts to make the series more "kid-friendly", the American distributors edited all that out, including turning same-gender relationships "platonic" or even altering characters' gender identities.
The most well-known example of editing the queerness out of Sailor Moon was in the third season "Sailor Moon S", when Haruka and Michiru – Sailors Uranus and Neptune – were changed from a lesbian couple into "cousins". (Note: Their names were Amara and Michelle in the English dub.) It was particularly infamous because the dubbers, puzzingly, kept in plenty of subtext, so they more-or-less turned an ordinary queer girl couple into an incestuous one. However, they were far from the only example of homophobic censorship in the dub. The first season featured a gay male couple in the form of villains Zoisite and Kunzite (Malachite in the dub); in North America, the more effeminate Zoisite was changed to a woman. And the fifth and final season, "Sailor Stars", never even aired in the U.S., because it was simply too queer to bowdlerize, starting with the addition of the gender-bending "Sailor Starlights."
Luckily, the reboot anime plans to do none of that. According to a January 14 article in The Advocate about the new series:
The news [of the reboot anime] should excite LGBT fans of the popular anime series, as several queer characters featured in the Sailor Moon universe — who later had their sexuality changed or gender identity switched when the show aired in North America — will most likely remain intact this time around.
After repeatedly delaying its release, the new series is set to air this July. It will be streaming worldwide on the Niconico video service, and will be subtitled in 10 languages, including English. According to producer Atsutoshi Umezawa, it will be "neither a remake nor a continuation of the original." Instead, like other recent reboots of popular anime franchises, the new Sailor Moon will faithfully follow the plot of Naoko Takeuchi's original manga (comics). As someone who has read the Sailor Moon manga as well as seen the anime, I can say that the former is a much darker and, arguably, more adult series – which makes sense, since the new series is largely intended as a treat for the original generation of fans, who are now mostly twenty-somethings.
Obviously, it makes sense that there would be no changes to characters' sexualities in the original, subtitled version. It's interesting to analyze if this will remain the case if and when the new series gets an English dub. The fact that it's aiming at that older audience is encouraging. While our society has advanced on gay rights and media representation in the last decade and a half since "Sailor Moon S" arrived on American shores, that change in audience can't be discounted. After all, the idea of LGBTQ characters in children's media is still fairly taboo, and part of why they were changed in the original series was that the American dubbers were trying to turn a series aimed at teenage girls into one for children.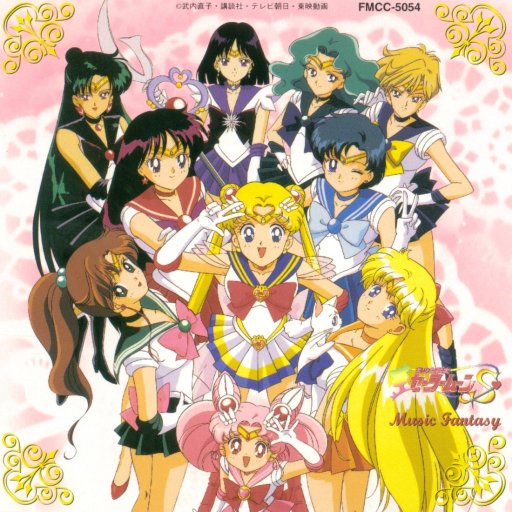 Another thing to consider is "otaku" (anime fan) culture in the United States, and how it's grown and had more of an influence on how anime is made and distributed here since the mid-2000s "Anime Boom" (when popular Toonami/Adult Swim anime series like Naruto, Fullmetal Alchemist and Bleach crossed over into general nerd culture, and anime viewing numbers swelled). Western anime fans generally have a pretty negative attitude toward any kind of "localization" in anime – that is, when elements considered alienating to an American (or whichever) audience are "Westernized" in dubs. Sometimes, these changes are a good thing, such as when Pokémon episodes featuring the character Jynx – who resembles a blackface caricature – were cut from US circulation. Mostly, they're seemingly harmless but insulting, like when Japanese names are changed to more American-sounding ones (as was done with most of the Sailor Moon cast in the dub) or when Japanese foods like onigri are replaced with sandwiches or hot dogs. But then, we get "localizations" that really are outright bowdlerization, hurting groups who are marginalized in both America and Japan because of fear that kids can't deal with them – and that's obviously what we got with removing the queerness from Sailor Moon.
Regardless of the reason, though, anime fans tend to resent dubbing companies' ideas that they can't deal with the same material as their Japanese counterparts. So, as anime fandom has grown and become more of its own subculture (even if it's died down from its mid-00s peak), the fans have had more influence on what the dubbers and distributors do with their anime. And that's turned the tide strongly against localization, both for good and for ill. In Sailor Moon's case, that's obviously for good.
Either way, though, we will have to wait a while to see our queer characters. It takes some time for the "Outer Senshi" – which includes Uranus and Neptune – to show up in both the first anime's and the manga's stories, so we likely won't see our favorite anime lesbians right away. If the series remains as true to the source material as it claims it will, we won't even get the gay dudes, since Zoisite and Kunzite were not lovers in the manga. But Sailor Moon should still present a lot to please the queer feminist anime fan in its early seasons, with its emphasis on girls saving the world and fostering strong female-female relationships of all kinds. And seeing lesbians kicking bad-guy butt while "winning love by daylight" is nothing if not worth the wait.