Last week, many were suggesting that Obama was consciously dialing back support of the gay community in order to court a more socially conservative voter by refusing to sign an executive order that would ensure federal contractors couldn't discriminate against LGBT employees. This week, Romney received criticism from conservatives for the fact that the spokesman he's hired is openly gay. Bryan Fischer of the American Family Association called this a "message to the pro-family community" to "drop dead." (Fischer in the past "has blamed homosexuals for the Holocaust, suggested banning Muslims from serving in the military and has strongly attacked Mormonism.") It seems unlikely that Romney is actually trying to tell those who are most likely to support him to "drop dead," or really anything rather than "please vote for me." But it's possible that he is trying to communicate something to another demographic — it may be that Romney wants the goodwill of voters who support gay rights, and his hiring of openly gay Richard Grenell is part of that.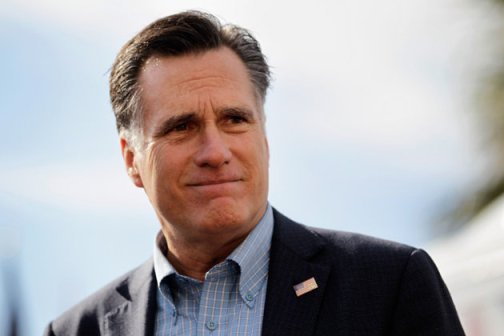 Richard Grenell has served as a spokesman for the US Mission to the United Nations, and undertook a concerted campaign to have his partner officially recognized by diplomatic documentation, which ultimately didn't succeed. The move to hire him has been lauded by a variety of groups, from gay conservative organization GOProud to the Gay and Lesbian Victory Fund, which said that "We applaud the participation of out professionals in government and politics. Whether you're a Democrat or a Republican, serving openly is important. It allows you to speak honestly about yourself and the LGBT community to colleagues inside campaigns and government offices."
Interestingly, even before Bryan Fischer's disparaging comment about Romney, Romney had already made statements distancing himself from Fischer and his organization's rhetoric. At the Values Voter Summit last year, Romney said that "Our values ennoble the citizen and strengthen the nation. We should remember that decency and civility are values too… One of the speakers who will follow me today, has crossed that line, I think. Poisonous language doesn't advance our cause. It's never softened a single heart nor changed a single mind.wp_postsIt's possible that Romney's statements are primarily a response to Fischer's views on Mormonism, but for a candidate that's often criticized for excessive changeability to become more appealing, that's a pretty strong stance to take. Romney will never be a popular candidate with the gay community as a whole, nor should he be — but it's interesting to imagine a candidate who opposes "poisonous language" and values "decency and civility," at the very least.
It's worth remembering that, as GOProud argued, that possibly the most important thing is that Grenell is the best person for the job, and Romney's campaign has recognized that. But it's also worth considering whether a candidate who opposes equal rights for queers on both a personal and policy level still feels the need to make an overture — whether our voices are strong enough that even a conservative candidate wants us us to know that he hears them.