THE REAL L WORD: HERE THEY ARE, LADIES AND LADY-LOVERS AND ALLIES: All of these women have experienced nothing but the finest dental care available in the land. You can find them playing tonsil hockey with each other in Los Angeles on the reality show we're all afraid of.
We'll probs see all these ladies at Dinah Shore, as we are presently on our way there! Much like the original cast, these women enjoy long-stemmed glassware, shiny hair and metallic dresses.  The Real L Word begins Sunday, June 20 at 10 p.m. on Showtime!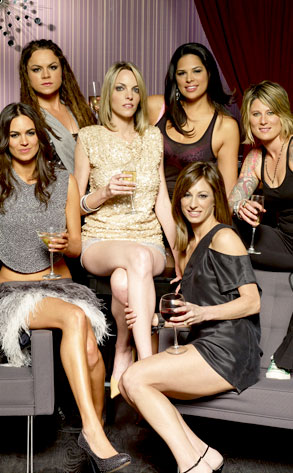 From E! Entertainment Weekly, the cast breakdown:
Tracy, 28: Smokin' hot film and television development executive Tracy is the newbie to the lesbian scene, and still struggling with the aftereffects of coming out to her family. Throughout The Real L Word, we'll watch Tracy juggle career, a new relationship and her ambivalent mother.
Whitney, 27: We're bound to see some drama with this one! The Hollywood special effects artist is a self-professed terrible girlfriend, saying she's "always looking for love, but losing to lust." Keep an eye on this street-smart wild child.
Nikki, 37: Already famous in her own right (she's a rep/manager/producer/industry bigwig, and publicly came out on The Oprah Winfrey Show!), Nikki is now engaged and planning her wedding to Real L Word costar Jill.
Rose, 35: Listen up, fans of the original L Word—Rose was actually the inspiration for Papi. This real estate advisor is a "lotharia" who wants to settle down, but can't seem to shake her old habits. She's currently in a loving relationship and has the full support of her family.
Mikey, 34: Also a bit of an L.A. celeb, Mickey is the founder of The Gallery Los Angeles and produces LA Fashion Weekend. She's also engaged and trying to plan a wedding. We'll see if she can balance her fiancée, clients and the motorcycle she loves so much.
Jill, 33: This Jersey girl next door is engaged to costar Nikki and enjoys her career as a writer in Los Angeles. She, too, has the support of her family.
GLEE: The cast of Glee is featured on the new issue of Rolling Stone: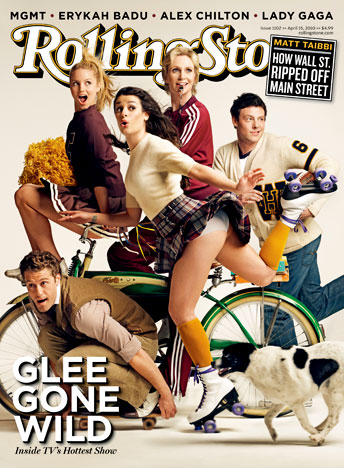 While they may not be doing a full out Gaga episode a la Madonna, the Glee crew has released a few details about the Gaga songs in an upcoming episode (spoiler alert!): Bad Romance and Poker Face. The latter of the pair will be tackled by Lea Michele's Rachel. Says creator Ryan Murphy, "Lea does a very stripped-down version of 'Poker Face.'wp_postsMeanwhile, "Romancewp_postssounds like a much more elaborate number, with the glee club actually donning Gaga-esque wardrobe for the performance. "I do know that we're all different Lady Gagas, and at one point I am the Kermit the Frog Lady Gaga." -Lea Michele (@ew)
GLAMBERT: Adam Lambert's VH1 Unplugged version of Music Again. (@vh1)
CHRISTINA AGUILERA: X-Tina has released the first single "Not Myself Tonight" in advance of her new album, Bionic.  (@billboard)
CHASING AMY: Joey Lauren Adams (Chasing Amy, United States of Tara) on her lesbian fan base:

"I'm a gay icon! My friends tease me about that! I get my friends laid if we go to gay bars. [Laughs.] Yeah, because of Chasing Amy. It's really interesting that as time has gone on, at first, people were sort of outraged over it because she gets together with a guy. Again, with that film, there wasn't a need to really make it so black and white. I have friends here who go back and forth and who don't really feel the need to define who they are in that way." (@afterellen)
JOHNNY WEIR: In an interview with Chelsea Handler, Johnny Weir admits he doesn't get along with fellow figure skater Evan Lysacek and strongly insinuates that Evan's gay, gurl. (@towleroad)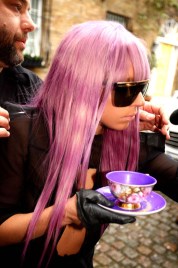 GAGA: Check out what the Holy One eats backstage:  According to her concert rider, she requests a hot roasted chicken, "non-smelly, non-sweaty" cheese with whole wheat bread and crackers as well as a half-gallon of low-fat milk, salsa and guacamole! As for drinks, there is NO booze backstage! Instead she requests bottled water, ginger ale and hot tea. (@okuk)
ANNA PAQUIN: True Blood star Anna Paquin came out as bisexual while filming a public service announcement for the True Colors Fund, the organization founded by Cyndi Lauper to raise money for gay rights. "I'm Anna Paquin. I'm bisexual, and I give a damn," the actress said into the camera while filming her PSA. (@people)