In Montreal's Mile End neighborhood, Hasidic Jews and hipsters coexist among brick houses with spiral staircases. The spiritual and the secular rub noses, or occasionally cross swords. And a family is about to be turned upside down.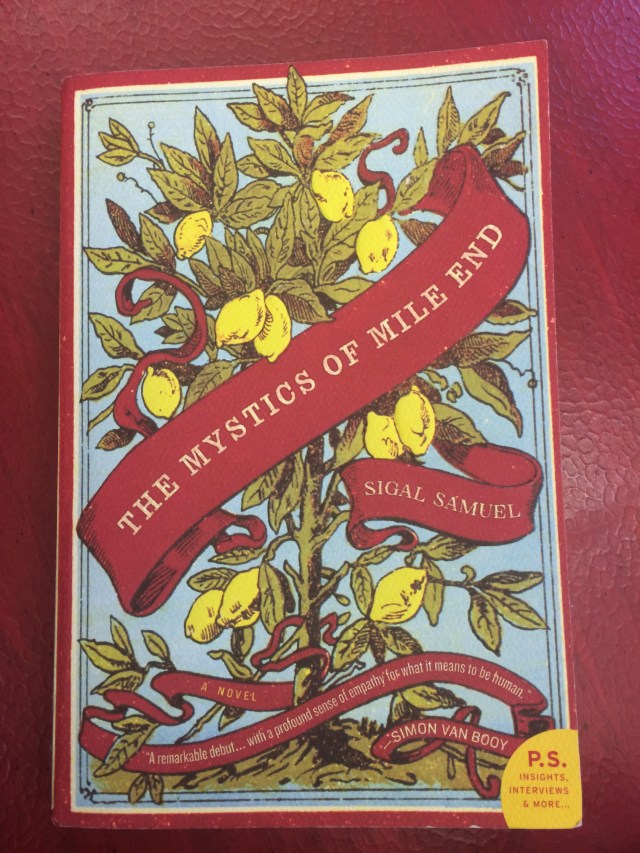 In Sigal Samuel's The Mystics of Mile End, three members of the Meyer family encounter Jewish mysticism, and are drawn apart in their very different quests for the divine. The father, David, a cynical professor, discovers a shortcut up the Kabbalistic Tree of Life after his heart murmur starts talking to him. His daughter Samara (the novel's queer protagonist) tries to climb the Tree in his footsteps, while her brother Lev, following a more conventional religious path, attempts to bring the family together. Mystics is both a family novel and a neighborhood novel, with the neat parameters of well-worn streets and people who've known each other all their lives creating a navigable stage for dramas of meaning and purpose.
You don't have to know much about Judaism, Montreal, or the Tree of Life to appreciate this novel. Although Montreal is an old stomping ground of mine, the setting is so vivid that you can easily imagine yourself there, with French, Yiddish, and English mingling in the air. Through the eyes of elementary-age Lev, who narrates the first third of the book, readers meet an astronomy-loving boy named Alex, a Holocaust survivor named Mr. Glassman with an unusual love story, and Mr. Katz, a Hasidic Jew who everyone but Lev considers to be "not all there," who's building a replica of the Tree of Life out of trash.
This innocent setup is a wonderful foil for the dark, mature explorations of faith and cynicism that come later. David Meyer embodies both, as an atheist professor of mysticism who undergoes a conversion after his heart attack. Samara's arc, which follows his, is arguably the heart of the novel. In the wake of tragedy, she feels called to climb the Tree of Life, and finds that the climb has a will of its own. She sees signs of the divine in everything from interactions to teacups; meanwhile, her connections to loved ones and earthly realities disintegrate.
Split narration is something I'm more used to seeing in fanfiction than in novels, and it can be challenging to pull off this type of divided voice and focus. Samuel nails it. Each character's part of the story comes together like a piece in a puzzle. The contrasting perspectives add poignancy as characters misinterpret each other and catch on to each other's plans. The final section, "Mile End," weaves all the threads together in omniscient third person, bringing the secondary characters' perspectives into the story as equal players.
I loved how real the characters seem, and how their lives intertwine in clear but messy ways. The secondary characters are gorgeously written, and all of them, like the protagonists, have unique ways of maintaining or misinterpreting devotion. I'd have loved to see more of Jenny, Samara's best friend-turned-girlfriend who rebels against being overlooked by painting with vibrant colors. Alex is another favorite whose optimistic rationality makes the effective argument that science is just as much a matter of faith as religion. At the heart of the story is the contrast between the Tree of Life, with its fascinating glimpses of transcendence and lore, and the everyday wonders of earthly living. Mystics of Mile End is a perfect read for those who enjoy fiction that pierces beyond the surface.