I didn't know what I was getting myself into when I asked to review Laura Szumowski's Tip of The Iceberg. I'd seen illustrations from it here and there on the Internet. They were super cute and I wanted a few of them as posters/on a t-shirt/as coasters. Once I got a copy in my hands, I soon realized that this tiny book is so much more than that.
Along with Nick Karras' Petals, Tip of the Iceberg quickly became a book that I wish someone would have placed in my hands ten years ago. I probably would've learned more about my body from its 56 pages than I did in the two mandatory sex(less) education courses I took in high school. In those courses, sex was all about anatomical cross-sections and never pleasure — especially if you happened to be female-bodied and/or queer. Homosexuality was only briefly discussed, and that was in correlation with HIV/AIDS. I wound up learning more about my gay little body through ask dot com and awkward adolescent fumblings than I did my sterile health textbook. This story isn't really unique to me within the queer community, or even our hetero counterparts. But here's the thing: It's actually not impossible to talk about sexual pleasure for female-bodied people in an inclusive way. Tip of the Iceberg is an itty bitty testament to that.
The 'iceberg' in question is the clitoris, which is a much more expansive organ than anyone could ever imagine. You're probably familiar with the statistics about how many nerve endings it contains, and maybe even the "Who needs a handgun when you can have a semi-automatic?" joke from The Vagina Monologues in which the clitoris is compared to the humble penis.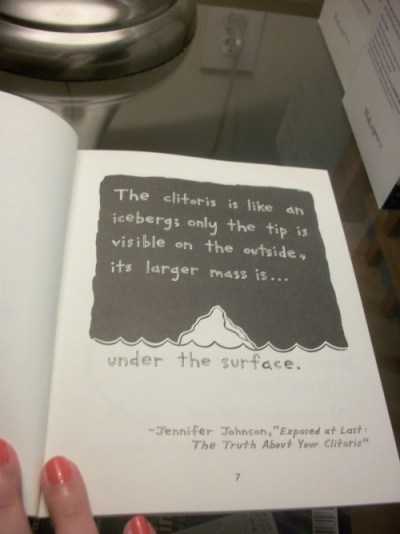 But Szumowski goes deeper than that (all puns intended). There are chapters devoted to all the parts of clitoral anatomy that we never talk about, and fun facts about Kegels and female ejaculation. My favorite chapter is one which covers the history of the clitoris and how it was relatively uncharted territory until urologist Helen O'Connell mapped its extensive structure with an MRI in 1998. Maybe the secret is in the adorable reproductive caricatures, but Tip of the Iceberg somehow escapes the preachiness that usually comes with discussing how female-assigned-at-birth anatomy has been poked, prodded, misinterpreted, and even deemed the cause of insanity by cisgender male medical professionals since the dawn of time. The book stands well enough on its own; it doesn't need a soapbox.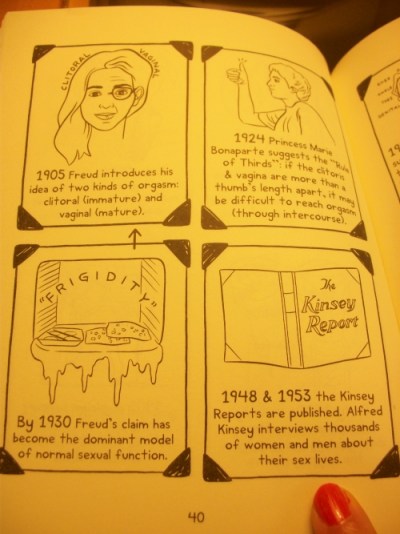 One of the things I love so much about Tip of the Iceberg is that Szumouski uses gender-neutral language throughout the entire text. While Szumowski interacts with the reader, she never once assumes that reader identifies as male or female, or that all people with clitorises identify as women. There are also no assumptions made about whether the reader has queer or straight sex. The book covers all of those bases in such an organic way that Szumowski makes my high school health teacher resemble Coach Carr's female doppelganger, right down to the tracksuit.
When I eventually pop out wild-haired babies one day in the unforeseeable future, I will make sure that they have this book — along with The Berenstain Bears and Amelia Bedelia — tucked away somewhere on a shelf.