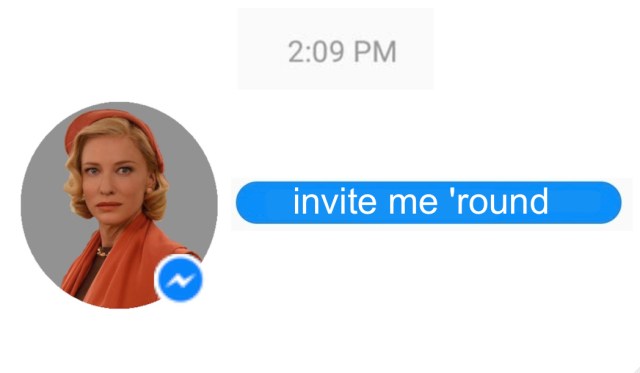 If you thought I was going to shut up about Carol in 2017, you were wrong. I'm still a total Carol–head. I stand in solidarity with the Carol–head nation as we continue to alienate ourselves from friends and colleagues. It will be 30 years from now, the earth dusty from war, and still we will repel our community as we lap from the fountain of Carol. I hope in that time we can add to the canon something I think that gets overlooked, which are Carol Aird's pickup lines. Sorry for partying? But Carol Aird has some bangers.
What makes a Carol Aird pickup line a Carol Aird pickup line is the finesse with which it is delivered. It's a buttery slick down a roll kind of smooth. They're slow burners tucked into conversations like newborn babies into blankets. Mwah, it's a kiss, a whisper of a proposal. The creamed spinach scene? She lands four pickup lines in 20 seconds. Sweet god!
Let's get into the business of listing and ranking them based on a set of criteria that includes casualness, flair, ingenuity, vulnerability, persuasiveness, and proaction.
10. "I'm meeting some people at the Oak Room at 9 if you want to have dinner – if you change your mind. I think you'd like them."
If you wanted to cancel your plans and come for dinner or to meet my friends, whom as I've just mentioned you would like, that would be something you could do for yourself. Not for me though – you wouldn't be coming for that.
9. "Let me take you to lunch, it's the least I can do."
A delivery that makes Glove Lunch seem like a reasonable outing is one for the record books.
8. "You're welcome to [come], at least there's some pretty country around where I live."
This one provokes a perfect amount of charged static. Hey, this is either a proposal for interested parties or an invitation to enjoy the outdoors. No pressure among friends, but also maybe you're beautiful to me and I plan on making you my wife.
7. "Would you let me come see you tomorrow evening?"
Going alpha and beta at the same time. Bless this mess.
6. "Would you like to come visit me this Sunday?"
This is going to have some of you saying, "This isn't a good pickup line. There is something about it that leaves you too exposed." Wrong. How well has "We should get drinks sometime…" worked for you? Hello? Asking someone out with a specific plan (to come visit you at your home) on a specific day (Sunday) is so efficient and direct that it becomes an answer. You want to come visit me on Sunday.
5. "Maybe you'd like to come visit me sometime."
*pats soil*
4. "What do you do on Sundays?"
WHOO, this one lingers. Not this Sunday but on Sundays. What do I do on Sundays? Uh, not a lot, or sometimes anything at all. I'm probably free because it's the weekend. Like, big picture? Sundays are usually for contemplating the week ahead and charging head down into the existential void that is a Sunday afternoon. Curious to know what my whereabouts on Sunday have to do with anything. Why, what do you do on Sunda–oh, wait.
3. "I'm going away for awhile. Wherever my car will take me. West. Soon. And I thought, perhaps, you might like to come with me. Would you?"
This is Carol asking Therese on a damn cross-country trip like I would ask someone if they wanted to share an appetizer.
2. "Anyway, the apartment's a nice big one. Big enough for two. I was hoping you might like to come live with me but I guess you won't. Would you?"
This was dropped into a conversation over tea. After months of not speaking. After months of not speaking because Carol left Therese in a hotel in the middle of the night without saying goodbye. After months of not speaking because Carol left Therese in a hotel in the middle of the night without saying goodbye and had her ex act as her replacement to drive Therese home. What in or on this holy green earth would be the driving force behind someone doing this, besides a confidence that is born from knowing the future? Then the layering here is so stretched out that you're following her logic in real time and and you're going, "Don't…" and then she does it anyway.
1. "Invite me 'round."
"Invite me 'round" is the most baller pick up line I have ever heard in my entire life. In my entire life? In my entire life! It has everything in three words. It's a suggestion wrapped in a command, it expresses interest, it almost completely eliminates the chance of an immediate rebuff (although lol @ "No, I will not invite you around."), and puts the ball very much in the other person's court. Let's roll with this basketball theme and call it what it absolutely is: a Kobe alley-oop on its way to get crushed under the weight of Kazaam himself.