Yesterday gaming giant Activision announced that they are going to mercilessly kill off the Guitar Hero franchise.
I'll give you a moment to process that.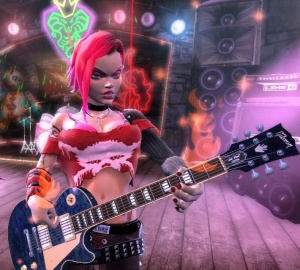 A decline in demand for music-themed video games has been blamed for the cut, apparently the gamers of today are more interested in stealing cars and blowing shit up than rocking out to "Only Happy When It Rains" via a smokin' hot Shirley Manson avatar.
I am completely gutted. Guitar Hero has been an integral part of my life since 2006, it completes me. It's not just a game to me. See, I have huge rockstar dreams but limited natural music talent, so I rely on simulated play for a sense of fulfillment. On a real guitar with real strings I can't even nail the chorus of a 3-chord Green Day song. On one of those shiny Guitar Hero toy controllers, however, not only can I can play the shit out of Tool's "Vicarious" I can also occasionally beat my freaky guitar genius girlfriend in a battle. That smug feeling I get from being able to tap brightly colored buttons in time to visual cues better than anyone else in my living room is really good for my self-esteem. Maybe you know what I'm talking about.
Yesterday I was sitting in my emo cave contemplating a world without Guitar Hero 7, and started daydreaming about some awesome future Guitar Hero games that will now never see the light of day. At least not until some marketer decides that enough time has passed for The Kids to consider the controllers 'retro'.
Amazing Guitar Hero Games That Will Never Be:
Guitar Hero: Kaki King
The closest I'll ever come to playing one of my favorite Kaki King songs on guitar is if developers somehow found a way to translate them into play-by-color Guitar Hero tunes. Impossible, right? Let a girl dream.
Guitar Hero: Girl Band
Did any of you ever listen to Veruca Salt? Seether! Think about how good that could be! See also: the Spice Girls, Kittie, The Go-Gos, The Bangles, The Runaways… in my head they cross-promote with the movie and make Kristen Stewart a playable character.
Guitar Hero: 00's Emo Anthems
Give me a mega play list of bleeding heart she-left-me-and-now-everything-has-gone-dark anthems from Taking Back Sunday, The Used, Fall Out Boy & My Chemical Romance.
Guitar Hero: Tegan & Sara
I mean you guys would've bought that, right? Me too. Their avatars would be super cute, they could play matching Les Pauls omg.
Guitar Hero: Erasure
Listen to "A Little Respect" and tell me that it wouldn't be a little bit amazing. See also: Guitar Hero: Ace of Base.
*
How do you feel about Guitar Hero ending? lost? sad? me too. Let's process.