Welcome to Queer Outfit of the Week where I scour the world and tell you all about my one favorite queer outfit this week. I'll envision a scenario where you or your girlfriend or your best friend or your mom or your cat could wear it and talk all about why it's a great outfit for that event. Every week will be a different style, gender presentation and event so there's a little something for everyone — even the person who just wants to look at pictures of stylish queers! So let's get to it — we're going to figure out what the heck we're going to wear this week!
Header by Rory Midhani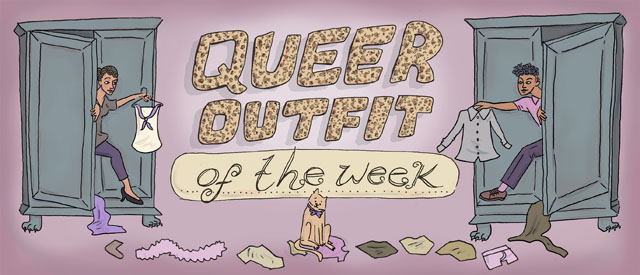 ---
This week you've got that big meeting. You know the one I'm talking about! That wicked important meeting that could make or break your career. Maybe it's a job interview or a grad school interview or maybe your boss's boss's boss's boss finally agreed to hear you explain why the soap in the office kitchens just has to change. I can't tell you what or where your big meeting is about, but you've gotta look serious and extra no-nonsense this time.
It can be really frustrating when an event seems to call for a suit and you just don't have a good one put together. Suit jackets can cost as much as the vest and pants combined and tend to take more vigorous (and expensive) tailoring. Wearing a vest and pants is a great way to opt out of wearing a full suit while still looking professional as hell. I particularly like a navy pinstriped suit with a brown shirt for a work function in the fall because it has a less formal feel than a black vest and pants with a white shirt. You don't want anyone to think you're somebody's lost groomsman. Keep in mind that you still might need to get your pants and vest tailored, and should therefore buy them to fit the largest part of your body.
Accessories should be kept pretty muted for your big meeting; you wouldn't want to lose out just because someone else thinks you're too flashy. That being said, red polo socks, or even argyle, are a great compromise.  They're power socks. They're a flash of color and a bit of fun without going over the top. Similarly your shoes and watch should have just a hint of extra style. I especially like an oxford with an unusual sole and a watch that is one part formal, one part sporty. Top it all off with a nice big pair of serious nerd glasses. Persols are the classic, but Warby Parker has great options for less. I got my Wicked Important Meeting glasses from Penguin.
If you're more femme, or even more center of center, the best way to alter this look is through the fit of the vest and pants. Go for pants that are slightly more fitting and a vest that curves in at the waist. Additionally you can ditch the socks for stocking and easily swap the black oxford-style sneakers for a pair of chunky menswear-inspired heels. If heels aren't your game you can make this look more tomboy femme with some smaller, more slender oxfords.
So (almost) suit up and put your vest-pants combo to good use. Go get that job/PhD/kitchen soap you've been wanting. With those cute glasses who could tell you no? Besides, you deserve it.
---
If you see something that you think should be featured on Queer Outfit of the Week, send me an ASS message, ask on my tumblr, or tweet me @Ohheyitslizz