By: Casey, Hannah, Caitlin & Iliana
Pittsburgh is known as The Steel City – but it also has an emerging arts scene and DIY culture. It is an incredibly affordable place to live and has been hailed as the "new Portland" although some are angling for it to be the next Hollywood. It's one of those in-between cities that is so characteristic of the Mid-Atlantic region. Not quite Northern, Southern, East Coast, or Midwestern – it's a place all its own. In any case, Pittsburgh is trying to BE something, we just haven't figured out what yet.
Casey: Although I grew up in Baltimore, I moved to Pittsburgh from Seattle exactly one year ago for graduate school at CMU. Before I got here, I was very concerned that there would be no gay people and I was making a huge mistake to leave the gay mecca of Seattle. Turns out, Pittsburgh is awesome! I have quickly fallen in love with this city and the queer community that I found here.
Hannah: I moved to Pittsburgh four years ago for university. I spent my first two years relatively isolated from the queer community – I went to a politically apathetic tech school (no names mentioned!) that kept me busy with actual organic chemistry rather than organic fruit markets and relationship chemistry. Starting two years ago, I began to expand beyond the Oakland neighborhood where school was and venture out into the queerer, greater Pittsburgh, and have found that the city has a surprisingly robust queer population. (Although it is still small enough that you basically know everyone in whatever corner of the city you're in.) I have found a large divide between the gay/lesbian and queer communities, so that's something to watch out for and probably not unique to Pittsburgh!
Caitlin: I've lived in Pittsburgh for about six years. I originally moved to Pittsburgh for school, but since graduating I have come to love this "City of Bridges." A West Coast girl at heart, I have come to find Pittsburgh can be West Coast-esque (a San Fran if you will) for the East Coast, in that you get a little bit of everything – from culture to the sights and sounds of a beautiful city to ridiculous weather. After all, Pittsburgh is not called the "Paris of Appalachia" for nothing. I have managed to live and/or work in just about every bit of Pittsburgh from East Liberty to Shadyside to Bethel Park to Bloomfield. In all of these places, I've always felt safe and welcomed before and after coming out. Until last winter, I identified as straight so I'm newly out as queer/pansexual, but have found the queer community in Pittsburgh to be very accepting and super fun. Since coming out, I have met and befriended so many people, have been dubbed the unofficial (or maybe it's official now) spokeslady for Impulse Pittsburgh and even marched in the first Pride Parade I attended!
Plus bonus comments from Iliana!
Mr. Rogers' Neighborhood Was in Pittsburgh
Side note – remember how a lot of cities did that thing where they chose an animal and local artists made sculptures with different themes? Pittsburgh is kind of a big deal for dinosaurs (and T-Rex in particular) because the Carnegie Museum of Natural History has a super intense Jurassic exhibit.
Hannah: Bloomfield and Lawrenceville tend to be very young, hip, and queer areas, but there are a fair share of families and older people mixed in as well. Polish Hill also has a number of queer folk, as well as the queerest city pool in Pittsburgh. As a student, I lived in Oakland (most students live in the Oakland/Shadyside/Squirrel Hill areas), but I wish I had moved out to Bloomfield, where I am currently living, sooner! However, the small size of Pittsburgh means that no matter where you are located, there are either queer close by.
Casey: Transportation can be a touchy subject for those of us without a car – I live in Squirrel Hill, which you may have noticed includes the word "hill". Since my bicycle is my primary mode of transportation, I find the number of hills between me and my destination to be a primary factor in determining how much I want to go. There is also a bus system (that you can bring your bike on!) but it is in a funding battleground and seems to be constantly having service reductions.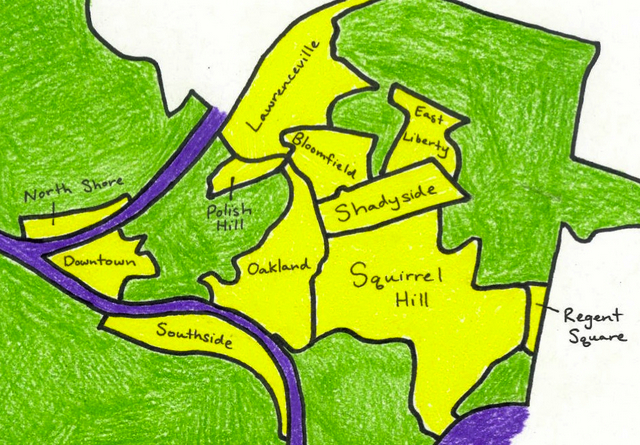 Meeting People: There is Always the Internet
Casey: Now that I have lived in Pittsburgh for a year, I feel like it's possible to meet people without the internet. When I first arrived, I hit up OkCupid constantly. In fact, that's how Hannah and I met. My first gay friend in Pittsburgh was someone I randomly messaged on Facebook because I needed a ride to an Impulse party. In fact, one of the most interesting things I have discovered about Pittsburgh is that everything is on Facebook – not "the internet", just Facebook. If you are queer and live in Pittsburgh, you are probably friends with Pittsburgh Queerlinker or at least you should be. I find out about everything going on from crafting groups to book clubs to dance parties from Facebook.
Are You Ready to Dance?
Impulse Pittsburgh
Casey: I'm friends with the woman who organizes Impulse – so it's no surprise that this is my favorite monthly lesbian dance party. It's definitely the most racially diverse party and an excellent place to find "sporty dykes" and "the femmes" if you are into people-watching. It is hosted at a rotating location (almost always a sports bar located on the North Shore of Pittsburgh) on the last Saturday of the month. DJ Stef plays top '40s and the dance floor is usually roomy (i.e. not a packed/sweaty mess).
Hannah: While I appreciate that Impulse exists, I don't necessarily feel like the attendees are "my homies," so to speak. Impulse fills a particular gap in the party scene, it's just not my scene. The primary type of gender variance in the crowd is a throwback to butch/femme of yesteryear, and I sometimes feel like a queer outsider at a straight bar at this party. That being said, it is large, has way more age diversity than Sappho, and it tends to occur at roomy venues, which some consider a plus. Impulse is also well organized and occurs on a regular schedule.
Operation Sappho (4104 Penn Ave)
Casey: This is where you go to find the hipster/artsy queers. The music is definitely superior if you are into actual lesbian bands with actual lesbians in them. The dance floor is the best kind of hot/sweaty mess where you rub up on everyone in your vicinity.
Hannah: I have to respectfully disagree with Casey and say that Sappho is the best party you will find in Pittsburgh. There is no question that this is where the more political, activist, gender non-conforming queers go to hang out and get their groove on. (The party is also trans and gender-nonconforming friendly.) I have also found the music to be more to my taste (think anything from Rihanna to riot grrrl tunes) and the dance floor is crowded enough so that my awkward dance isn't easily observable. Sappho takes place at Brillobox, a bar/concert venue in Lawrenceville.
Or Maybe You Are Just Into the Drinking Part?
Lez Liquor Hour (LLH)
Iliana: LLH is great if you're tired of going to the same old places. Every month this lesbian happy hour takes place at a different location. There's never a cover and they always have specials. Great to check out if you want to drink right after work or if you simply want to pre-game before meeting up with everyone else afterwards.
Cattivo (146 44th St)
Casey: This is the only "real lesbian bar" in Pittsburgh. However, it is important to note that Pittsburgh is one of those cities where they haven't 100% banned indoor smoking. As a result, I tend to rarely hang out at Cattivo since it can be on the smokey side. However, sometimes they host non-smoking events downstairs. They have a burlesque show and I occasionally entertain myself with dreams of competing in their amateur Drag King Contest.
Hannah: I'm a fan of Cattivo, if only for the variety of inclusive events the place holds. It is home to Pittsburgh's first trans dance party, has drag shows all the time, as well as trivia, karaoke, pool, etc. They often also hold charity events for various Pittsburgh organizations. I am also partial to bars on the divier side, so while I wouldn't consider Cattivo a dive bar, it is definitely unpretentious. Cattivo is located in Lawrenceville, where a ton of queer people live, so it is pretty convenient.
5801 (5801 Ellsworth Ave)
Iliana: I feel like this is everyone's second home. 5801 is so welcoming. You're bound to run into someone you know or leave with a few new friends. The best deal is on Sundays when they offer $5 hurricanes. If you're a smoker you can hang out on the first floor or on the patio. If you're not a fan of the smoking scene, then you have the whole 2nd floor to yourself complete with a dance floor and private booths. The food is also pretty good. All in all, this place is great!
Hannah: 5801 is primarily a bar for gay men, so I tend not to frequent it. It's also too classy for me and the drinks are pretty expensive. It definitely has a cleaner, more sophisticated attitude than Cattivo. . . but the grime is part of the reason why I love Cattivo! 5801 is in Shadyside, which has a pretty upscale shopping district, and this bar kind of fits that vibe.
For Eating and Drinking All the Delicious Things: Top 5 Places (in no particular order)
Hannah: Before we get to all the restaurants, let's take a moment to address every queer person's favorite place: a food co-op. Pittsburgh has the East End Food Co-op (7516 Meade St), which, while slightly inconveniently located, boasts a wide selection of products as well as a vegetarian hot food bar and smoothie bar.
1. Cats and Dogs Coffeehouse (4059 Penn Ave)
Hannah: I basically live in this coffee house in Lawrenceville – it is the closest thing to a queer mecca of coffee that you will find in Pittsburgh. The owners are super friendly and queer positive (and the bathroom is unisex!) and receptive to people hanging out and having political conversations. I always get into some type of discussion when I go, but I never feel forced to interact if I need to do work. The eye candy that comes in and out isn't bad either. The shop is also involved with some community projects: there was a pop up bookstore in May, and there is street cleaning every Sunday. There is also a room in the back that can be reserved for private meetings. The shop serves up your normal coffee shop drinks as well as pastries (try the scones!). Downside: only open until 6pm, though that may change in the not-too-distant future.
2. Quiet Storm (5430 Penn Ave)
Casey: This is a great vegan/vegetarian cafe. I'm not actually vegan (or vegetarian for that matter) but I loooove their vegan gingerbread pancakes. It's also a great place to go hang out and study. My other favorite vegan hotspot is Zenith (86 South 26th Street), an antique store/vegetarian cafe that serves an amazing vegan brunch buffet on Sundays.
3. Smoke Taqueria (225 East 8th Ave)
Casey: This is my favorite place to eat in Pittsburgh. Whenever I find someone who has never been, I immediately come up with an excuse to take them there. It's not uncommon to show up and find that there are no seats available. It's a small place, so I recommend doing an early dinner there on a weeknight. They have the best horchata I've ever had (the secret is lime zest!), creative tacos, and a delicious mac & cheese topped with chili.
Hannah: I love me some Smoke, and their tacos are a delicious treat. However, at many dollars a pop, it can be an expensive option for Pittsburgh eating! A taco alternative is a small taco food stand in Oakland on Atwood Ave, outside of Las Palmas Carniceria y Supermercado. At $2 a taco (with many different filling options, including a vegetarian option) and unlimited toppings, this is an amazing little taco bar. They also have a location in Brookline.
4. The Library Bar (2302 East Carson St)
Hannah: For cheap eats and a bountiful beer selection, I have to recommend the Library Bar on the South Side. I always go to the South Side Goodwill, which is a great Goodwill and located just a few blocks to the east of The Library, then hit up this bar. Disclaimer: The South Side gets SUPER bro-filled late on Fridays and Saturdays, so beware. I only go to The Library between 5-7pm and 9-11pm, when they have happy hour which includes drink specials and half off small plates, such as nachos, hummus, wings, quesadillas, etc. Their specialty is a fabulous beer cheese – find it on the nachos or a cheese and pretzel combo. With the half price deal, the food is super cheap and delicious. (There are many vegetarian options but very limited vegan, if that is a concern for you.)
5. Square Cafe (1137 South Braddock Ave)
Iliana: This place is crawling with lesbians. It's even owned by lesbians. Great for a hangover and the specials are constantly changing. It can be a little pricey but luckily they use the loyal tree app which scores you a free drink upon enrolling.
Hannah: I love me some breakfast at the Square Cafe. The lemon ricotta pancakes are to die for. The cafe is located in Regent Square, which is also home to a great independent theatre. Square Cafe reminds me of another great breakfast place located on the other side of the East End in Lawrenceville, called Coca Cafe (3811 Butler Street), which is equally delicious.
For the Love of Crafts
Casey: Unblurred (Penn Ave) is an eclectic gallery crawl on the first Friday of every month that ranges from performance art to paintings to live demonstrations to sculpture. While there, you can stop by the Pittsburgh Glass Center (5472 Penn Ave). I've done both the glass-blowing and mosaic workshops and highly recommend them. It's a great place to learn about glasswork yourself, or just watch others make intricate sculptures.
Hannah: Pittsburgh has many resources for the crafty among us. The Pittsburgh Center for Creative Reuse (PCCR) and Construction Junction (214 North Lexington St) are two amazing re-use shops located next to each other in the East End. Construction Junction has bigger items – furniture, flooring, etc – while PCCR tends towards smaller craft things. Due to the nature of my own DIY projects/the amount of space I had in my room, I tended to frequent PCCR more often, and have gotten everything from rubber stamps, to fabric scraps, to old National Geographics, to book binding supplies. PCCR also holds Meet 'n Makes on every second Thursday of the month, where you can come and craft with other crafters. Recently, Wildcard (4209 Butler Street), a shop in Lawrenceville that sells local crafts, has also started having a craft night on the third or fourth Thursdays, to alternate with PCCR.
In addition, Pittsburgh is home to two great craft markets. The I Made It! Market happens at various locations and times around the city, while Handmade Arcade occurs around the winter holidays. I always find great crafts here – from picture frames made from reclaimed wood, to woodblock prints, to buttons and pins.
Finally, Pittsburgh also has a great little arts center (appropriately named Pittsburgh Center for the Arts (6300 Fifth Avenue) that offers a variety of arts classes, from printmaking to weaving to metal working.
Caitlin: Free Ride (214 N. Lexington Street) is a bicycle co-op located next to/inside of Construction Junction where you can go use bicycle tools and take mechanics classes. They host a bimonthy Women and Trans Nite specifically to create a supportive environment for women, genderqueer, and trans people to work on bikes.
Random Other Cool Stuff to Do
Hannah: The Warhol Museum (117 Sandusky Street) is dedicated to the art and life of Carnegie Mellon alumn, Andy Warhol. However, the museum also has a number of queer events throughout the year. I've been to Sister Spit, a queer spoken word/performance group, as well as a queer political porn, both in the auditorium of the museum. You have to keep your eyes on the museum calendar though – the events tend not to be very well marketed.
The Pillow Project is a jazz/dance performance group and on second Saturdays, they invite the public in to watch and interact with them. Second Saturdays occur at The Space Upstairs (214 N. Lexington Street), which is located right by PCCR, Construction Junction, and Free Ride. The Space Upstairs also hosts BYOP (bring your own paint), a night where you can come watch dancers, listen to live jazz, and paint or draw what you see. I get so absorbed in watching the dancers that I forget to draw!
Pittsburgh also has a fabulous independent film community, which shows foreign, independent, rare and old films at three venues throughout the city. If you're a student at some colleges (including CMU), tickets are only 4 dollars! The filmmakers society also offers a variety of classes on film related topics, including taking video, writing scripts, etc. There is also an annual Pittsburgh Lesbian and Gay Film Festival that occurs in October of each year.
About once a month, the Gay and Lesbian Community Center (210 Grant Street) holds bingo at a local synagogue in Oakland. OUTrageous bingo is like regular bingo, except more fun, with drag queens, and the money raised goes to the community center. Oh yeah, and there is a lot of fuss on "O 69."
Last but not least, Hot Metal Hardware is a gender bending and drag performance group – they often put on shows at Cattivo and, more recently, at There Ultra Lounge (913 Liberty Avenue) downtown.
Caitlin: The Cultural District in downtown, Point Park, Lawrenceville/ Bloomfield, and Shadyside are the best places to find festivals, live entertainment, and/or art crawls to your heart's desire. Some of my favorite festivals include the Venture Outdoors Festival, PA Microbrewers Festival, and the Pittsburgh Regatta.
Also, Gay for Good is an organization that brings queer people together to support a different cause/non-profit each month.
Casey: Fallingwater is about 1.5 hours outside of Pittsburgh in Ohiopyle, PA. However, this house designed by Frank Lloyd Wright is totally worth the drive. It is literally built into a waterfall and studied by architecture students everywhere!
The Best Time of the Year: Pride!
Casey: I am partial to small Pride celebrations and that's exactly what you find in Pittsburgh. It's not as big as NYC or DC, but you run into everyone you know and you never have to worry about getting lost. This past year, I was in the annual Pride Flash Mob and marched in the parade with Impulse Pittsburgh. The parade was incredibly short – in fact, I was super surprised when it ended. The festival is also fairly small, but it was at the same time as the Three Rivers Arts Fest so it was kind of like getting two festivals for the price of one.
Hannah: The Dyke/Trans march goes through Friendship and Bloomfield, and ends in Friendship park, where there is a community potluck! This past year, post-march, there was an afterparty at Free-Ride.
LGBT Services
Caitlin: Persad (5150 Penn Avenue) is "the nation's second oldest licensed counseling center specifically created to serve the gay, lesbian, bisexual and transgender (GLBT) community." I am sure they are a fantastic center to get the help you need, however it is extremely difficult to get a hold of a person, let alone make an appointment there.
Casey: The state of Pennsylvania does not recognize civil unions or domestic partnerships, however the city of Pittsburgh does provide domestic partnership benefits. There is currently no hate crime legislation that covers LGBT people in PA because the 2002 bill to include it was struck down on a technicality. No new legislation was ever passed to replace it. However, on a more positive note, second parent adoption recently reached the milestone of being legal in PA for ten years!
Getting Your Diploma
Pittsburgh is home to seven universities including one women's college, Chatham University (Woodland Road). However, Carnegie Mellon and the University of Pittsburgh are the most well known.
Carnegie Mellon University (CMU) (5000 Forbes Avenue)
Hannah: I attended CMU for undergrad, and never had an outwardly unpleasant experience as a queer person. I find CMU very accepting, but also very politically apathetic (which is unfortunately expected for tech schools). That being said, the school actually has many pro-queer policies, such as a "preferred name" policy, many gender-neutral bathrooms, and some gender neutral housing. There is also a queer undergrad/grad organization called Allies, but meetings and events tend to be under-attended.
Casey: As a graduate student at CMU, I have found few resources for connecting with other queer lady students so I started a mailing list. That being said, some of the schools within CMU have graduate-oriented LGBT organizations including the public policy school, Heinz College, and the business school, Tepper.
University of Pittsburgh
Hannah: It is Pitt school policy that trans* people are required to use the bathroom of the sex listed on their official identification. You're a trans man or trans woman and want to use the bathroom of the gender you identify with, but not the sex listed on your ID? Tough luck.
Caitlin: Pitt has a queer student organization called Rainbow Alliance that does advocacy work on campus. They also have a Center for LGBT Health Research.
Casey: There is a huge (note: understatement) sports culture in Pittsburgh. I've never been much of a sporty person, but I do love me some roller derby. Pittsburgh has kind of a lame venue for roller derby (it's in a roller rink, so no alcohol is allowed on the premises), but it's still a super fun time. In addition, I have several friends who play for the Steel City Softball League, the oldest running GLBT sports organization in the Pittsburgh area. Also, the 2012 Women's Football Association Championships were recently held in Pittsburgh at Heinz Field, which marked the first time the Women's Football Championship was hosted at an NFL stadium. The Pittsburgh Passion, our local Women's Football team, is pretty popular among the lesbian community.
Iliana: Everyone should go to a roller derby match at least once in their lives. The crowd usually consists of an eclectic mix of people ranging from punks to families with small children. No matter what your scene is you'll find nothing brings people together like watching violence on roller skates.
Makeover! Where to Go for Haircuts and Tattoos
Hannah: I am a big fan of Eddy at Salon Cercone (5894 Ellsworth) in Shadyside. I am always super wary about going to a new place to get my haircut, as I have had many a bad experience. Eddy has never given me a bad cut, and gives me awesome, edgy, and more experimental styles. He's a member of our community as well, so maybe he just gets what a queer gal wants in a haircut!
Caitlin: There are approximately 80 different places in Pittsburgh to get tattoos and piercings. Jester's Court (1410 East Carson Street) located in Oakland was my stop for my first and second tattoos. The shop is very cool/clean and the artists are super chill and friendly. Also, Scott Cichowicz at Tried and True Tattoo & Body Piercing (755 E. Warrington Avenue) is a pretty rad dude – he started out doing auto-body art/design and continued his artistic talents with tattoo design.
For your ALH I recommend Cardamone's Hair Salon (300 Forbes Avenue), very professional and clean, stylists are super friendly and I've always been pleased with the results. Also Evolutions Salon (1201 Broughton Road) is a super classy and sassy place to get your hair and nails done. The stylists and nail techs are super friendly, witty and fantastic at their job.
Pittsburgh in a Nutshell
Hannah: To conclude, Pittsburgh is definitely a city that grows on you! Most of the great things about Pittsburgh are not well advertised, so it can take some searching to find your niche. Don't give up too quickly, as many great queers are out there waiting for you.