This week on Pretty Little Liars, everyone made out. Tea kissed Betty, Brittany kissed Santana, Willow kissed Tara, Naomi kissed Emily, Spencer kissed Ashley, Shane kissed Carmen, Claire kissed Edie, Callie kissed Arizona, Paige kissed Alex, Frankie kissed Kat, Marissa kissed Alex, Samantha kissed Maria, Tina kissed Bette, Jenny kissed Marina, Helena kissed Dylan, Alice kissed Tasha, Sam kissed Kat, Camile kissed Sharon, Gretchen kissed Claire, Kim kissed Saint, Robin kissed Katherine and Mel kissed Lindsay.
And….
Emily & Paige did karaoke!
Here's Episode 119, "A Person of Interest," so you can over-judge for yourself.
From the moment Paige and The Incredible Dreambangs appeared on my "teevee screen" I said "Paige shops at JCPenny and her hair smells like Briarwood Mall." Then, while reviewing the program in Hulu to write this recap, what advertisement suddenly appeared? JC FUCKING PENNY. Is Hulu reading my mind? Or was I right about Paige's Junior Miss wardrobe? That question, and many more, will not be answered in tonight's episode of Pretty Little Liars.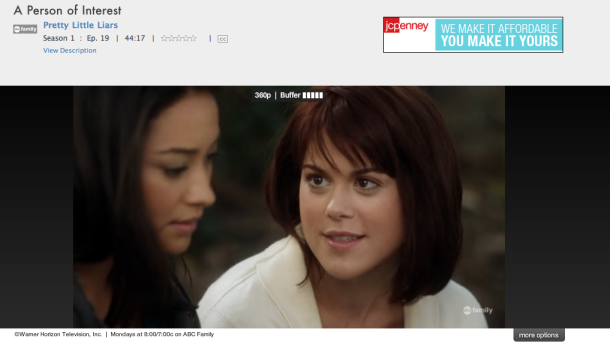 This week on Pretty Little Liars, the four girls practice their wide-eyed poker faces of prettyhell on detectives down at "the station" (seriously McNulty and Daniels could've cracked this case in a week), Hannah donning hooker chic (and I say this with nothing but respect for hookers) and Spencer showing up prepared to defend America against the redcoats, but Spencer acts the craziest and Spencer's Mom looks so much like Mariska Hargitay in this scene that I almost expect Spencer to confess that Melissa molested her on Teen Tour in the late 90's and since then Spencer and Melissa have been running a sordid predatory website vaguely connected to someone at a prestigious boarding school and someone who got killed and was on Gawker.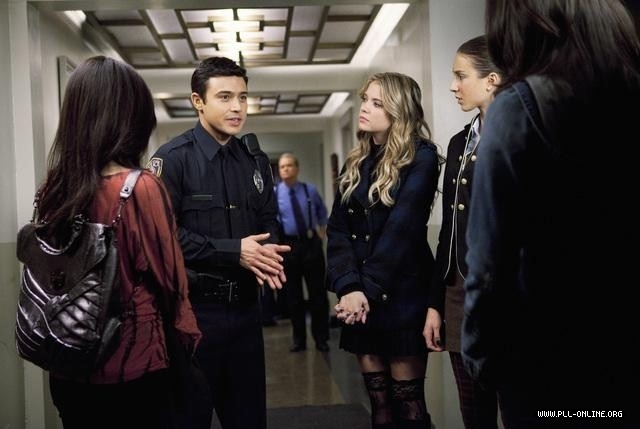 That's not what happens but regardless Spencer's family decides that Spencer needs therapy.
Meanwhile, Spencer is cavorting about town with Toby, who really, even in the moments he's supposed to be sexy or whatever, is rocking the Cavanaugh trademark Creepster Gene. Spencer and Toby sleep together in a bed ON TOP OF THE BEDSPREAD WHICH EVERYONE KNOWS ARE CONTAMINATED WITH SPERM, are foiled by the Pied Piper of the Red Roof Inn, and give each other dopey eyes and kisses the next morning. There's a lot of gratutious partial nudity here that seems very heterocentric and cisgender-privileged and ableist, especially because JENNA ISN'T REALLY BLIND oh and also Spencer becomes a "person of interest" in the investigation.
Hanna's Witchy Moman's not cool with the stray in the basement as he's drinking all her milk and eating all her food, which could've turned into Hanna's Mom asking about Hanna's eating disorder but I guess we left that whole thing behind in the second or third episode and btw couldn't Caleb just replace the milk with his phone-hijacking profits or you know, just finger some rotini and see what comes up?
Anyhow speaking of fingering, they end up in a tent Caleb where undresses from the waist up and Hannah keeps her clothes on but I think we're led to believe that sex happens or something like it (because everyone knows when the boy is shirtless and the girl has all her clothes on, it's time to ask "are you sure"), but don't really care until later when Caleb takes a phone call which likely goes like this on the other end : "Jenny, this is Marina. I was thinking about you," and Caleb says no no no no no it's OFF he cannot do this anymore.
What is "this"? I don't think it's Hanna's plumeria-scented netherparts, I think it's something relating to A. or Jenna or Ghost Jenny.
I still can't bring myself to give one, let alone two, shits about Aria and her dumpy teacher boyfriend who smiles with his eyes sometimes but never with his mouth. Maybe it's worth mentioning that Jenna and Ezra bond over their shared affection for short fiction, world's least profitable writing enterprise aside from poetry. All that second-grade level usage of symbolism and allegory gets their motors running. I've always been intrigued about the nature of evil, haven't you?
Furthermore, on a scale of 1 to "Luminous," everyone's hair looks salon-soft and layered with waves of bouncy, shimmering color.

Listen if lesbians ran the world, this would be Spencer Loves Emily, with singing, dancing, and "making of" webisodes available online after the show. There'd be animated gifs of Emily tugging on Spencer's pigtails and going to Mervyns together to try on backpacks for college.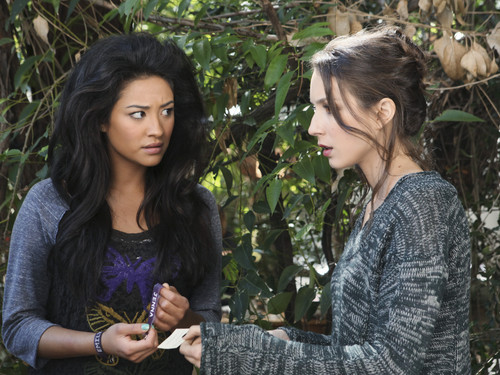 Alas, we run only the city of Houston and therefore, let us begin with the less exciting, but certainly significant, Lesbian Parts of Pretty Little Liars.

The Lesbian Storyline opens in the lockeroom where Emily and Paige, looking very Clinique Bonus Time, are moving things in and out of lockers, where Emily accuses Paige of avoiding her — I mean you don't just try to kill someone, attack-kiss them and then stop returning their calls. Emily asks if they're supposed to pretend it didn't happen, which's fine as "poker face" is one of Emily's 5 facial expressions already. Paige is wearing an afghan blanket from the hinterlands of JCPenny, but her hair looks cute.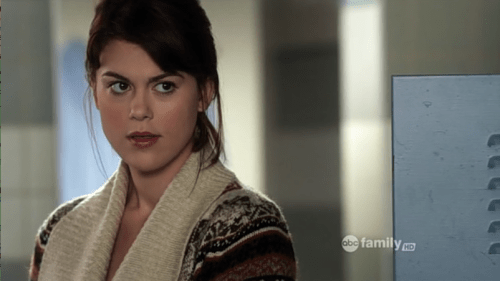 Yes, Paige says, let's act like it never happened because if everyone knows I'm gay, then someone else might use it against me to try and get me kicked off the swim team or something CRAZY like that.

Paige quickly clarifies what she meant by "pretend it never happened" — she means "pretend it never happened when other people are around but still I will spend the afternoon on yelp finding the best most remote country-western sports bar in all of Pennsylvania for me to take you where I won't have to stress about kissing you or not because I know if I do that we'll probably get knifed and sold as jam at the next 4-H Fair.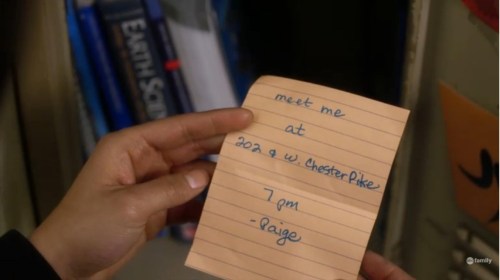 Actually oddly West Chester Pike exists in Pennsylvania, it's a highway in the Southeastern part of the state. See.
Paige is already at the Saloon, wearing the same stupid outfit you wore on your first girl date (hers is from JC Penny though).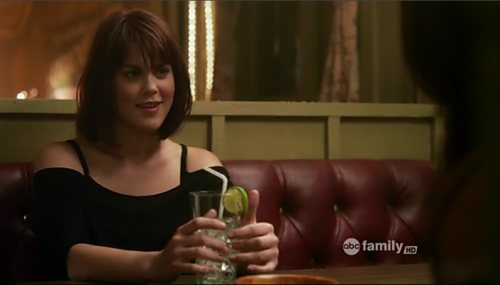 Emily: Do you come here a lot?
Paige: I didn't realize it was so —
Emily: Rustic?
Paige: I found it online. I thought it would be —
Emily: Remote?
Paige: You gonna finish all my sentences?
Emily: Sorry.
Paige: That was a joke.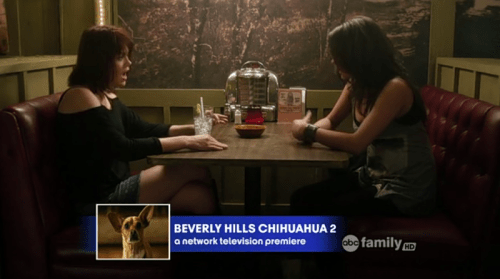 Paige: You were right today, i was avoiding you. i scared myself that night when i —
Emily: Kissed me?
Paige: There you go again –the first time i saw you with Maya, when i realized you were together, i finally admitted to myself that I was like you.
A brief moment to acknowledge the accuracy of that statement — you know that feeling. You've spent your life convincing yourself that there's no possible way you could ever be "out" and if you were, people would ridicule you for it, or push you into lockers/throw slushies in your face and therefore it's okay to sorta wimp out and keep it to yourself and then you see someone else being comfortable being out and you think, oh my god, it is possible, because they're doing it, and then you're not really off the hook anymore, so then maybe you make one last-ditch attempt at punishing this person for being gay and when it doesn't work you realize OKAY OKAY OKAY it's obviously totally fine and the only person to blame for me not admitting who I am is me, not the rest of the world. Etc. This seems to happen on the teevee a lot (see also: Kartoskykwhateverthefuckhisnameisy on Glee).
Back to this heart-pounding conversation:
Emily: Am i the first girl you've kissed?
Paige: Romantic, huh?
Emily: Definitely surprised me.
Paige: So was maya your first girlfriend?
Emily: She was — but she wasn't the first girl i've ever kissed. I was in love with Allison.
Paige: Was she in love with you
Emily: No.
Paige: I didn't know her well but she seemed like a very dynamic person
Emily: She was that.
Paige: Maya was kinda like that too
Emily: Yeah– I guess I like —
Paige: — ballsy women?
Later that same night… Paige does her very best Bijork Does the Swim Camp Talent Show on the karaoke stage, selecting feel-good grrrl anthem "SO WHAT" by P!nk, cajoling the hearty working-class extras from Central Casting to cajole her "friend" Emily onto the stage.
Would they be so supportive of Emily's star turn if they knew she was A GIANT LEZZER?
Probably. The camerawork here is reminiscent of the dance dance revolution scene from Imagine Me and You.

The next day or somewhere thereabouts, Aria, who's giving Ezra The Silent Treatment for a reason I'm completely unconcerned with, asks Emily if Paige is a thing. Not sure yet, says Dear Em. Why have "things" when we can lie on bedsheets all day and talk about our feelings and who killed Allison, that glowy bitch with the hair who ruined everybody's life and thank God she's dead but we better find out who did it. These girls need to switch to T-Mobile and ship out.

Picnic date!
Paige, wearing this season's latest fashions from JC Penny, is lying on a picnic blanket on a set in Burbank that's supposed to look like a forest. They're holding hands. The basket looks like a life-size version of what my American Girl doll, Samantha, used when she went on picnics with my teddy bears.
It's totally unrealistic and maybe adorable, until Emily — Earnest Emily the Eager Lesbian Lover — suggests they go see the band they're listening to on their Joint Ipod when they come to town next month.
Paige: I'd like to. But you know — we might see people we know there. I can't risk being seen with you.
This is nonsensical, surely the ladies can attend a concert and likely keep their hands to themselves anyhow lest they get hate crimed. Whatever, show. Emily doesn't care for this.
Paige: I thought you understood-
Emily:I so understand. Believe me, but hearing you say that — ouch.
Paige: I didn't mean to hurt your feelings — I had an amazing time last night — and I would really like to keep seeing you
Emily:Like this? Always in the middle of nowhere, hiding?
Paige: It's the only way I can do it.
Emily: I'm not ashamed of who I am, but I used to be. And if we have to hide like this all the time, I'm gonna start to fell that way again.
Paige: I really like you, Emily–
Emily: I like you too, and I'll always be here for you — but I think it has to be as friends. Sorry.
Emily has evolved. Once she was in a cocoon dating Jeri Blanks and now she's a butterfly, flying far away from picnics on studio lots with closeted swimmers. Emily's right on, too — it's a certain kind of enabling — like how even after you've conquered your body image issues and eating disorder, dating a girl who won't stop talking about calories can make you feel just as crazy as ever.


So um, next week? Shit is gonna get f-cking crazy. Have you seen the preview because somebody knocks somebody else's glasses off and we all know who I mean by "somebody" don't we ladies? DON'T WE?
In conclusion, these girls have a really destructive relationship with Allison. She seemed like a total bitchwad and I'm glad she's dead THERE I SAID IT. They all need to read Codependent No More, change their cellphone numbers, and move to Lima, Ohio, where Emily & Brittany can be together and then Santana can get jealous and then everyone can be together. The end.