Hello, my favorite friendly velociraptors! Welcome to your weekly Pop Culture News Fix! The main thing we are going to talk about today — the main thing I wish we talked about every day — is Orange Is the New Black, because it returns to us in only like 48 hours!
---
Orange Is the New Black's Back, Y'all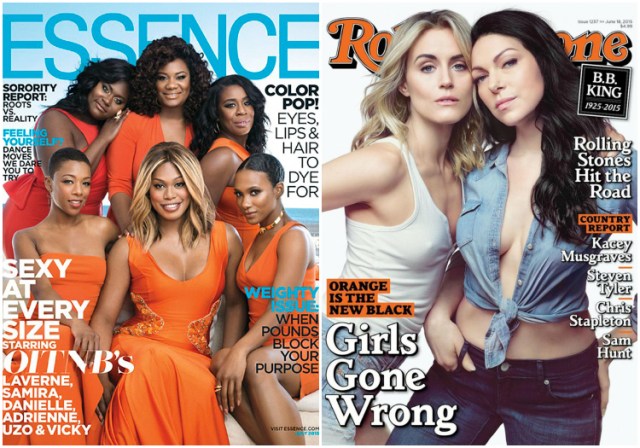 For example, OITNB stars crushed it on the cover of Essence. And Taylor Schilling and Laura Prepon did a standard Rolling Stone thing on the cover of Rolling Stone. (Yeah, no, I know. I see it. I have eyeballs.) Laverne Cox, Uzo Aduba, and Natasha Lyonne are interviewed inside.
Laverne Cox can't believe the impact the show has had on diversifying TV.
When Cox was growing up in Alabama, the number of transgender actors and actresses on TV was exactly zero. Now she's not only a star on Orange Is the New Black, but she's also set to appear as a transgender lawyer in an upcoming CBS pilot. "We've revolutionized television," says the actress who three years ago was working in a restaurant. "The unprecedented diversity that we just saw in pilot season I think would not be possible if it weren't for us."
P.S. Laverne Cox is totally getting her own wax statue at Madame Tussauds!
And Ruby Rose is in Cosmopolitan.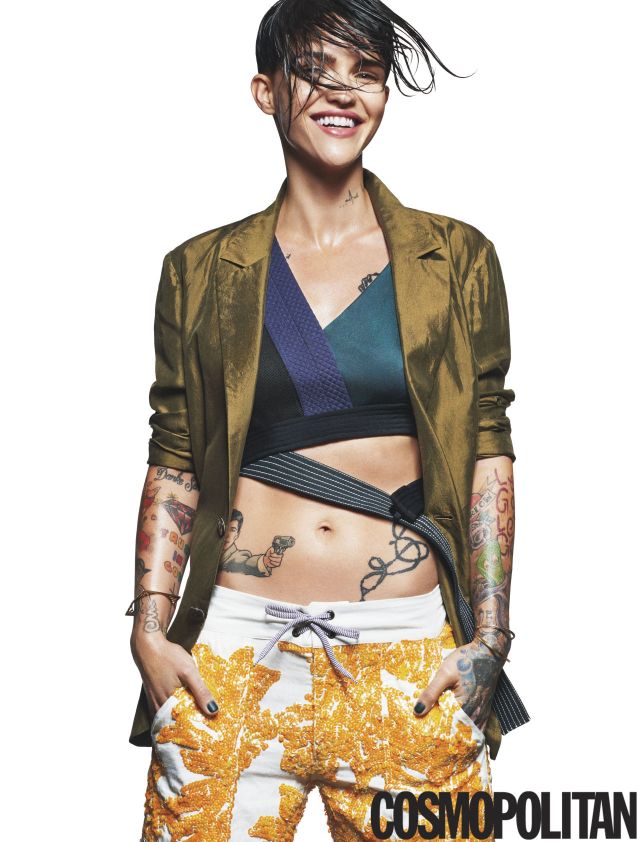 Rose actually talked a little bit about gender and sexuality in the Cosmo interview:
"For a long time, I wished I'd been born a boy. I didn't know there were options like gender neutral or gender fluid. I later realized you could be a girl and dress like a guy…. As soon as I met [my fiancée] Phoebe, I knew. She's everything that I would want in somebody. She's talented, she's funny, and she also has this charitable, giving side."
She also did a feature for Vanity Fair, in which she talked about gender some more:
Last July, after a director told her she looked "too much like Justin Bieber" to play the "sexy girl" in his action movie, Ruby Rose published a video called "Break Free." In it she travels the spectrum of performative gender, from blond-wig-wearing bombshell to James Dean drag king, including a strap-on penis.
"So this video is talking about how as soon as I get to take that hair off, and as soon as I get to take that makeup off, and as soon as I get to be 100 percent what I would be, which is definitely more boyish, I'm just freer and I'm happy," she tells me.
I told you in this week's Boob(s On Your) Tube that Riese and I would be co-recapping this season, but now I've got some news that is going to get you super hyped: Gabby is going to recap with us too!
---
Celesbiqueers
+ Hey, this morning The View announced that Raven-Symone is their new permanent co-host! According to my calculations, that makes her the first queer woman of color to land that spot!
+ Miley Cyrus is also talking gender/sexual fluidity in a new photo shoot and interview with Paper magazine. (Most of the pics are NSFW, FYI, nipple-wise.)
She says she has come to consider her own sexuality — even her own gender identification — fluid. "I am literally open to every single thing that is consenting and doesn't involve an animal and everyone is of age. Everything that's legal, I'm down with. Yo, I'm down with any adult — anyone over the age of 18 who is down to love me," she says. "I don't relate to being boy or girl, and I don't have to have my partner relate to boy or girl." She says she's had romantic entanglements with women that were just as serious as the ones (Liam Hemsworth, Patrick Schwarzenegger, Nick Jonas) that ended up in Us Weekly. "I've had that," she admits. "But people never really looked at it, and I never brought it into the spotlight."
She also tells Paper she was 14 when she came out to her mom.
+ Maria Bello, who came out in a NYT op-ed a couple of years ago, isn't a fan of your labels — but she is a fan of talking about the gal pal love of her life.
+ This Brittney Griner/Glory Johnson thing is something else. They got married after they were arrested for domestic violence, announced that Johnson was pregnant, and now Griner has filed for an annulment. She talked to ESPN's Kate Fagan about it yesterday.
+ Leisha Hailey officiates a gay wedding in a new Jennifer Hudson video!
---
The Teevee
+ Remember when Jane Fonda and Lily Tomlin said they were mad that their male co-stars were making as much money as them on Grace and Frankie? Maybe they were just joking around?
+ TeenNick cancelled Degrassi, but Netflix swooped in and saved the day. I don't want to tease Carmen (too much), but there are rumors that Drake will return for a cameo in the 14th season.
+ Variety chatted with Hollywood's top female directors, including Transparent's Jill Soloway.
+ Rachel Maddow stopped by The Wendy Williams Show to talk about her new puppy, Caitlyn Jenner, and the media's sexist bullshit w/r/t Hillary Clinton.
---
World Cup Fever
If you have some free time today, please explore the Megan Rapinoe and Abby Wambach Tumblr tags. You might just find some GIFs of Pinoe totally flirting, in-game, with the refs.
ARE YOU REAL, PINOE?
---
NITWIT ODMENT BLUBBER TWEAK
Dumbledore and Gandalf got married right across the street from Westboro Baptist Church.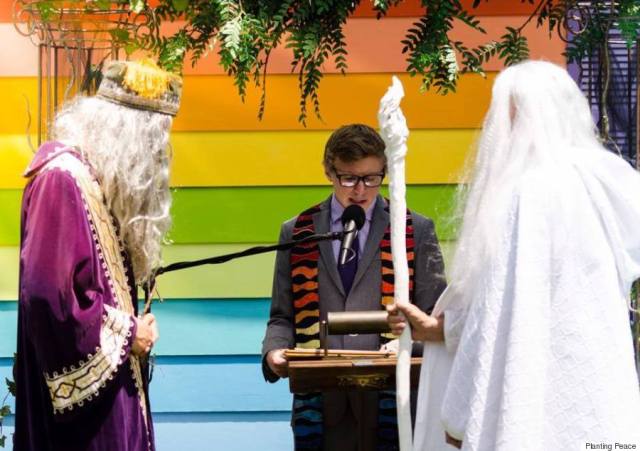 Of course it's happening inside your head, but why on earth should that mean that it is not real?