Rachael and Mikoto / 31, 7 / Highland Park, IL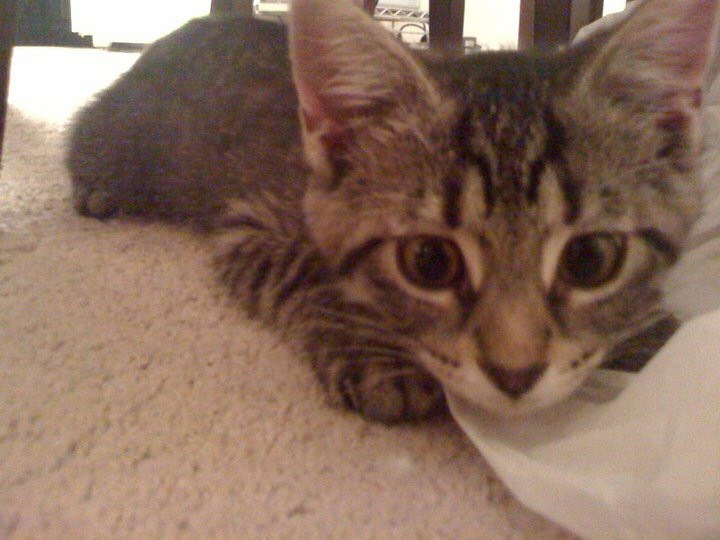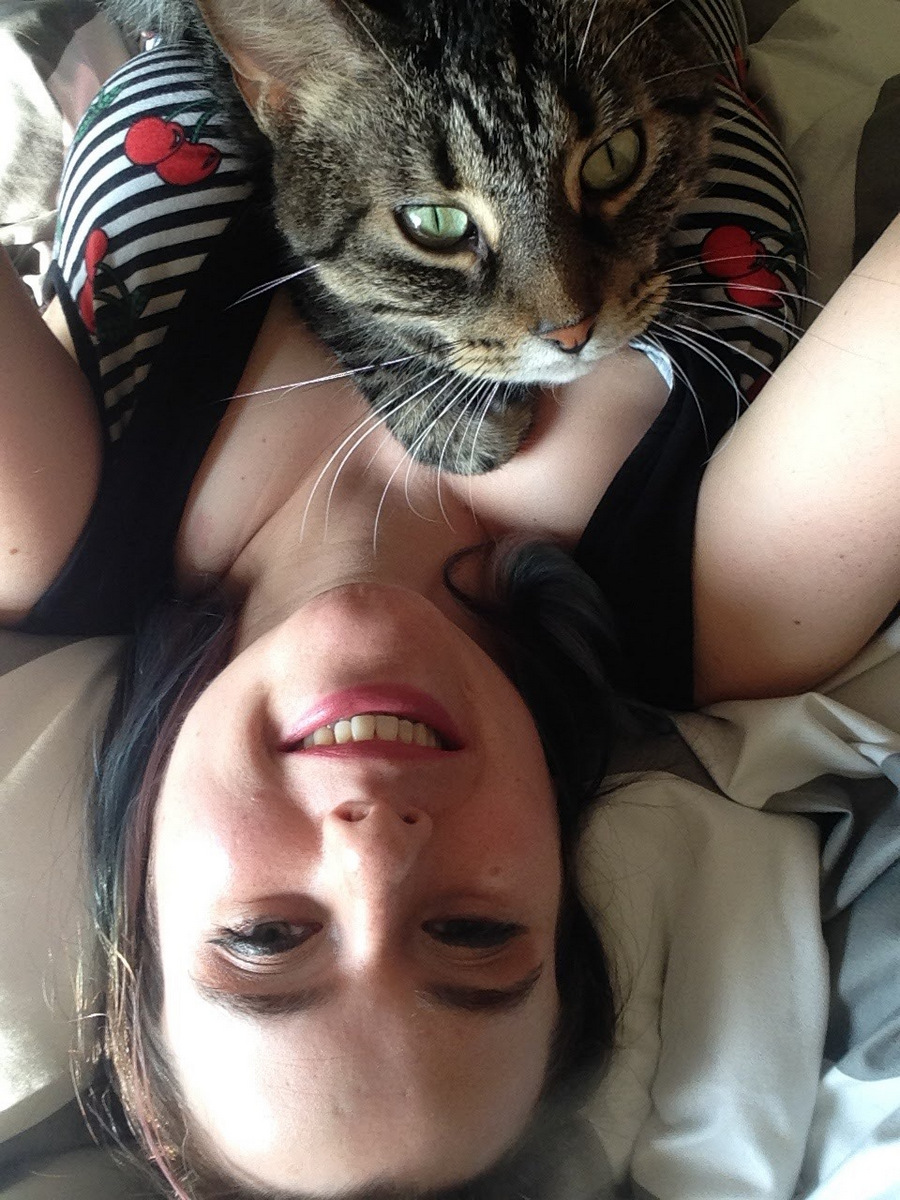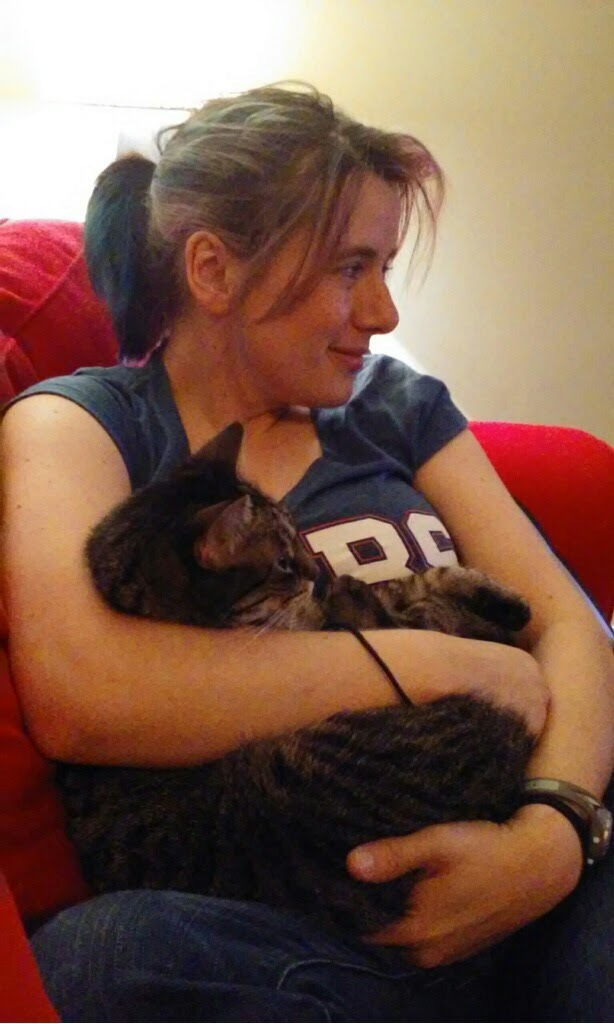 "Mikoto is my kittycat sidekick/kiddo. Her name comes from an anime character who turns into a cat when she gets hungry. She acts very doglike; she fetches, we play tag, and she sits by the front door waiting for me to come home.  She's a lap-cat and sleeps next to my head every night.  She has gotten me through some very rough times and a few times has been the only thing that kept me here on Earth.
My girlfriend (at the time) and I brought her home from a nearby shelter on June 23rd 2010 when she was 9 weeks old. Every year on her Gotcha Day I tell her the story of how she came to live with me. I was walking down the hallway in the shelter looking at kitties, when all of a sudden I got stuck. When I turned around, I discovered a teeny tiny kitten had stretched her leg out and hooked me with her paw. That teeny tiny kitten came home with me that very day; after all, she picked me, and I'm very happy she did!"
---
Caroline, Laura, Saluda / 27, 26, 5 / Brooklyn, NY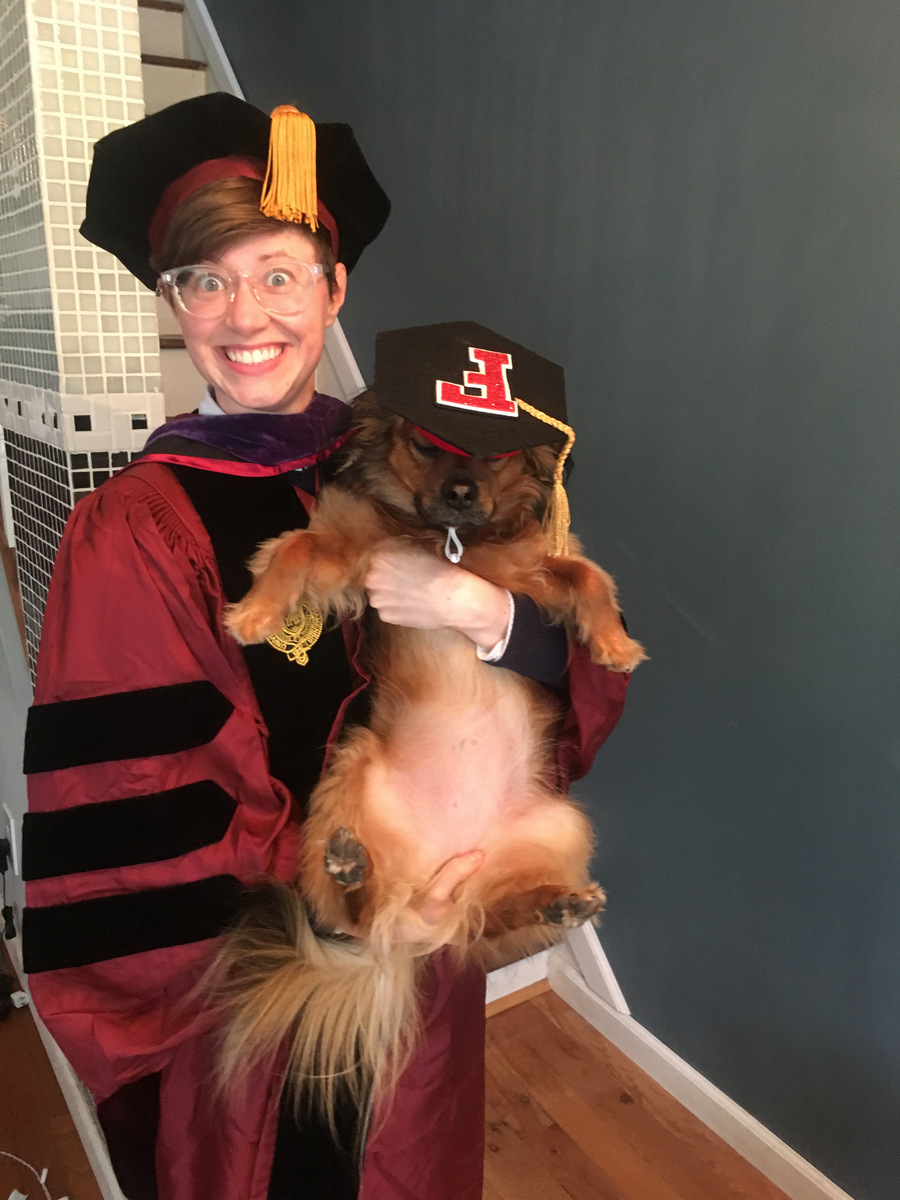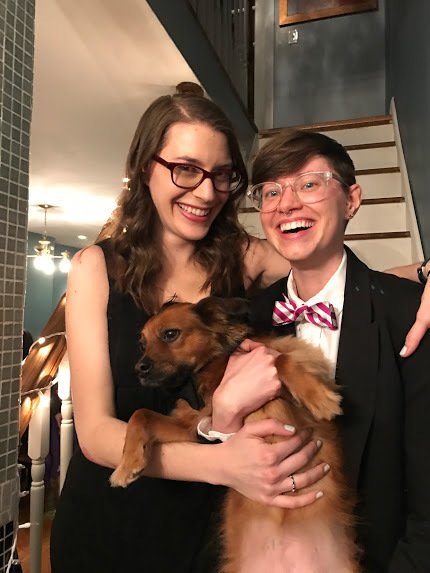 "This little gremlin is a rescue pup. She used to live (and probably reign over many small mountain creatures) in the wilds of Tennessee, but is now an extremely pampered and cuddly lap dog. Her fur has grown in quite luxuriously since Caroline first adopted her nearly 4 years ago, and now she has very glamorous highlights and lowlights, and a very fancy party tail. She is named Saluda after a river in South Carolina (where Caroline is from), and she doesn't have an Instagram YET but there are some more pics of her under the #saludapup hashtag. The weirdest thing about her is that she'd addicted to licking unscented lotion off of Laura's hands/legs/face. Why?? How can it possibly taste good? It makes no sense, but it's very cute."
---
Torre, Shoga, Freesia / Portland, OR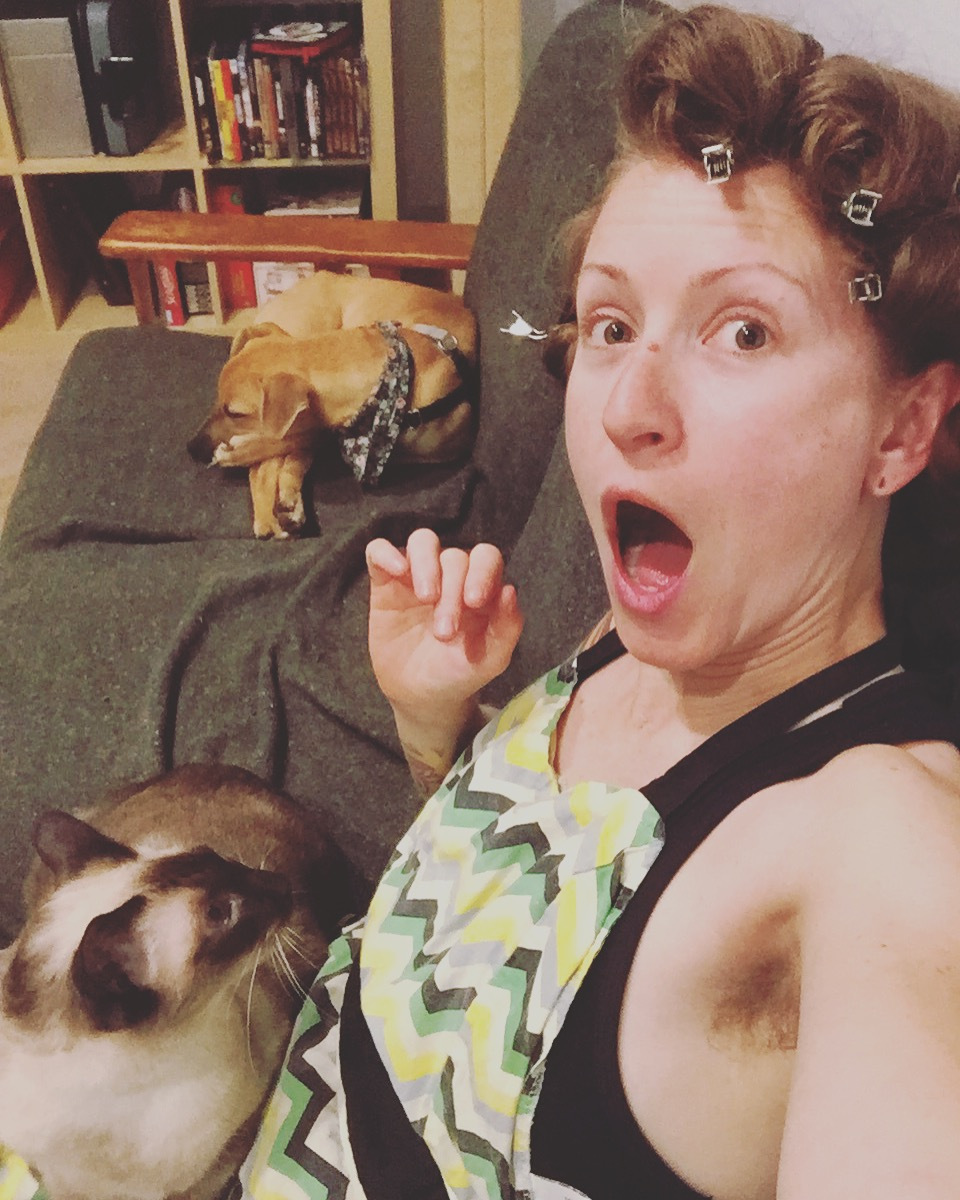 "I've had Shoga since he was a wee babe and we have a very love hate relationship. He is very social, intense, strong and cuddly. He is obsessed with eating paper and actually ate my homework one time. He is pissed that I adopted a dog. I just adopted Freesia a month ago thinking I was adopting a 4 yr old dog. So puppy surprise has been… testing my patience. But, she is so cuddly, velvety soft, extremely clumsy and the fastest pup at the dog park. She is a recent immigrant from Cabo Mexico and is hating the Portland rain. Good thing she is so cute in a raincoat."
---
Emily, Eva, Baba Ghanoush, Cashew / CO
"Baba Ghanoush goes by Noushy and she's 7 lbs of pure sugar and spunk. Cashew is our sweet, neurotic boy that hovers around 14 lbs and loves treats. Noushy chose Cashew at a local dog rescue as her new playmate. Noushy came to us on Christmas Eve from Larimer Humane Society. These two roam the yard chasing deer, cats and even humans."
---
Marissa, Sarah, Oliver / 30, 33, 4 months / Bozeman, MT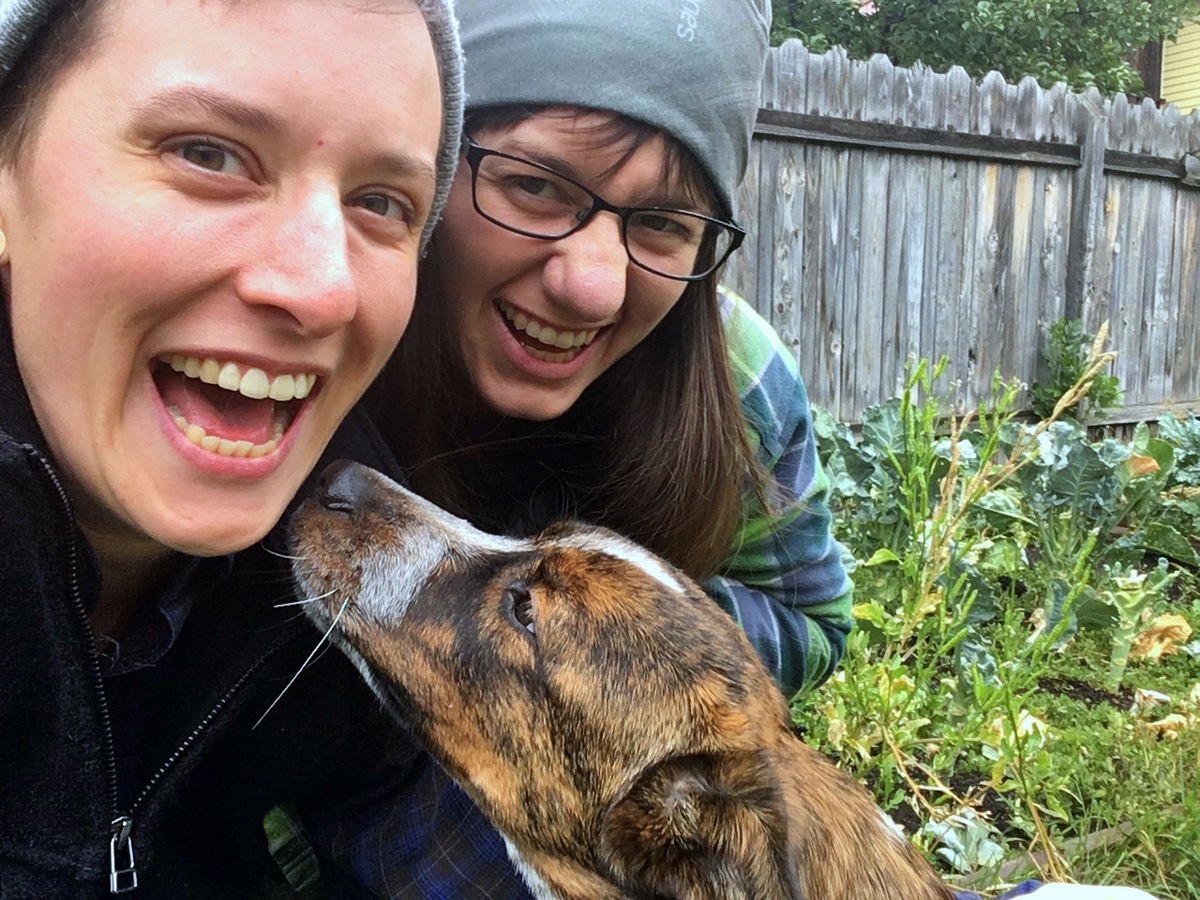 "Getting a photo with a puppy is hard! He's a little shy but loves kisses. Sarah does not appreciate puppy kisses, which is entirely reasonable. Oliver is @puppersmcghee on Instagram."
---
Jenny, Kristin, Sam / 35, 36, 7 months / Los Angeles, CA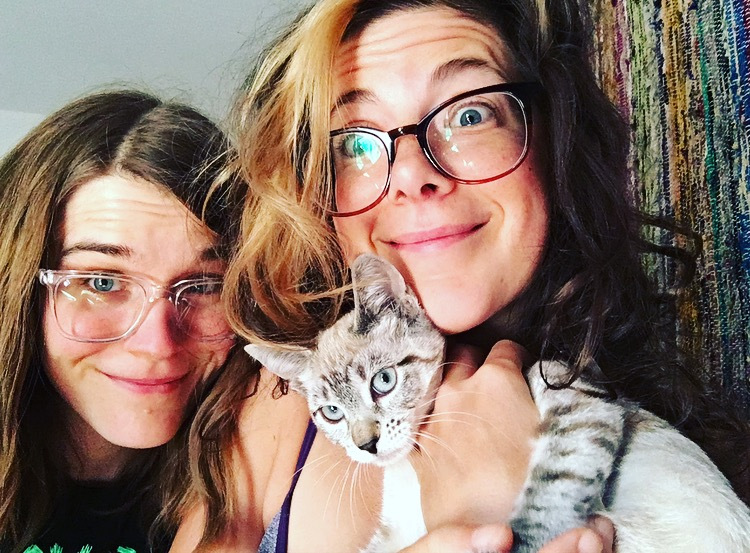 "We adopted Sam from the Stray Cat Alliance in Los Angeles – she came with her name, but if you want the real truth… we only call her "Min" in our house.  You see she is just SO TINY that I had to abandon her given name immediately to shout MINI MINI MINI at her tiny face whenever the urge took me. Mini was shortened to Min, and here we are.
She is 7 months old and the kind of kitten that will eat literally anything. She seems to also have some trouble getting things into her (TINY TINY) cat mouth without the help of her paws, so she is constantly leaping up at us in the kitchen to grab our human food items and then stuff them swiftly in her mouth before we can catch her. She does way too many weird things to possibly pick one that outshines the rest, but a few examples are: she stores her toys in her water dish (then pulls them out and drags water everywhere), she sometimes "takes a rest" inside of her litter box, and she also stands in front of any mirror she can find and paws at it for long stretches of time. She refuses to sleep on anything resembling a cat bed but loves to sleep sitting up on hard surfaces. Oh, and we had to install railing guards in our house because she doesn't understand mortality and will happily launch herself down the 9′ drop to the stairs below…
SHE IS A GREAT TIME, and yes of course she has an Instagram. It is @oncemorewithsam"
---
Megan, Laneia, Emily, Penny / AZ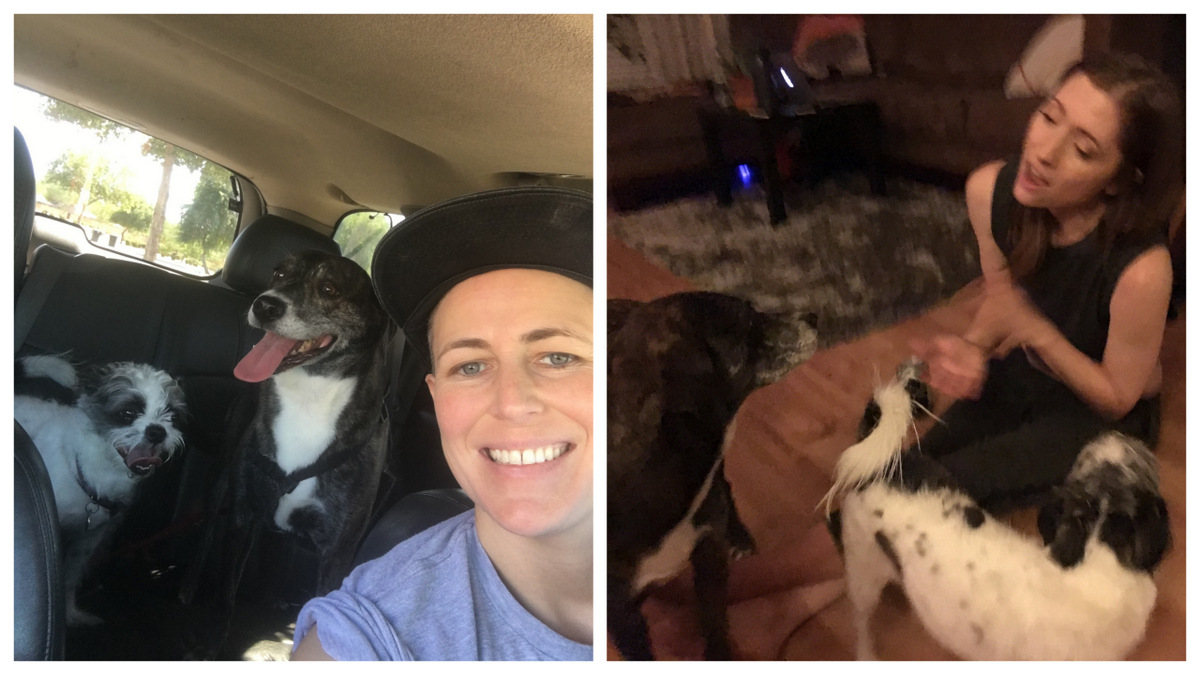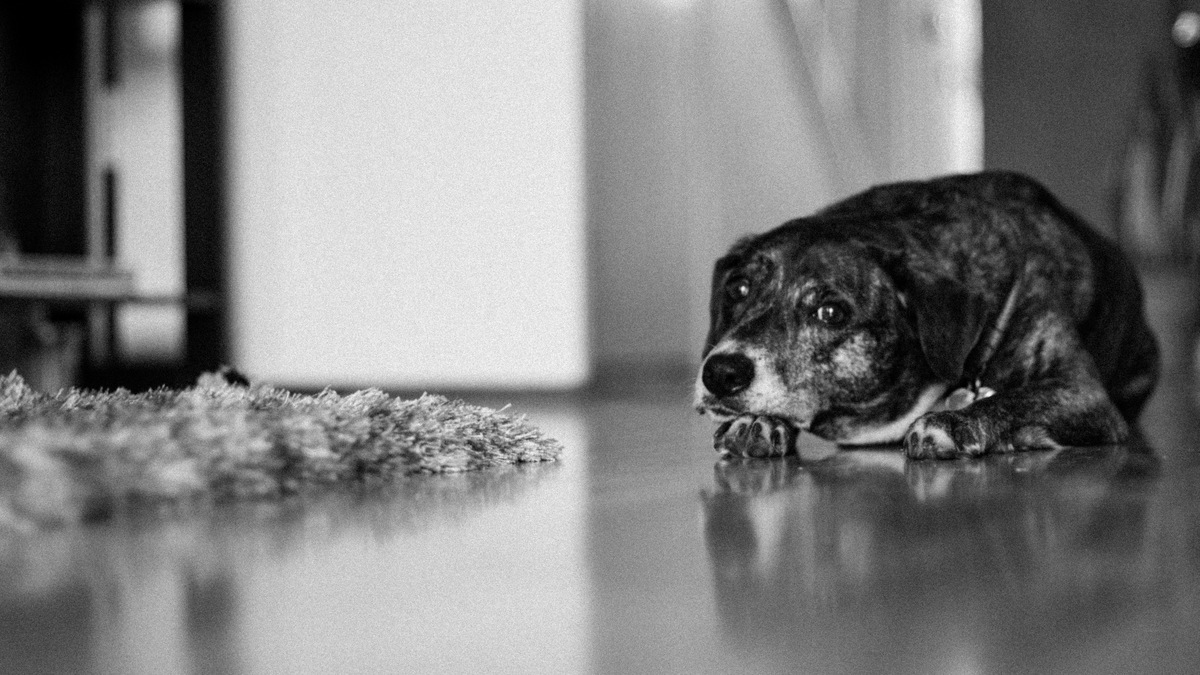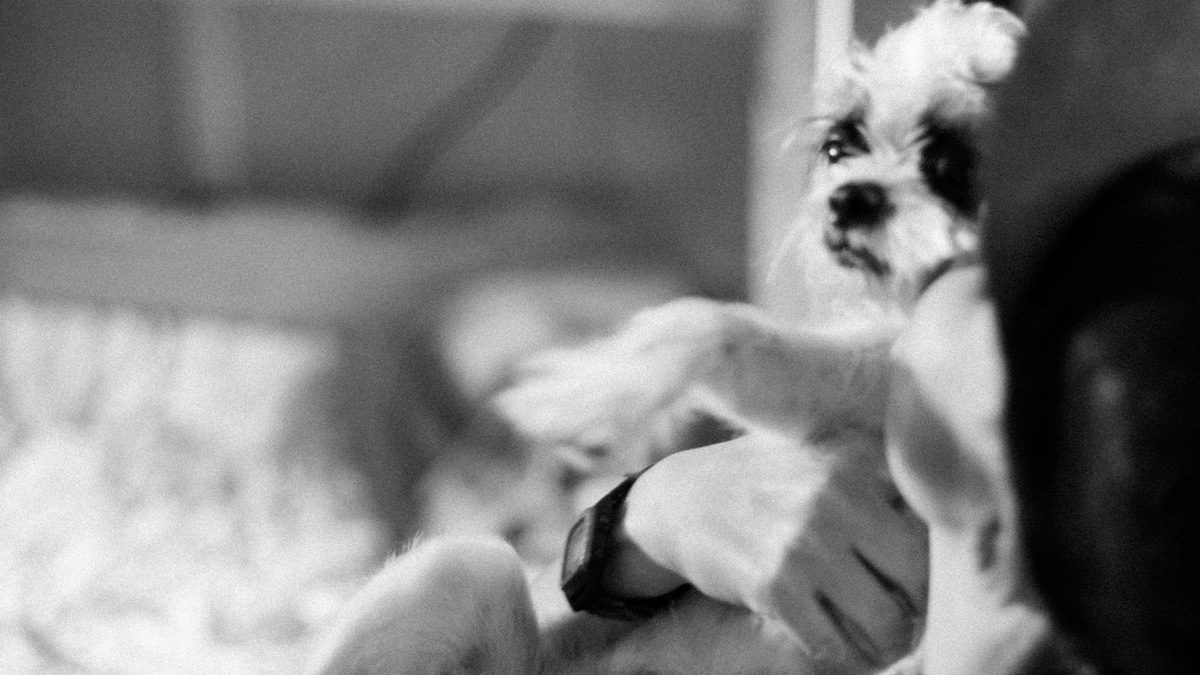 "Megan and Emily were a package deal when I came into the picture, and they're truly soulmates. Megan had been wanting to adopt a second a dog for a while and finally convinced me after agreeing that she would train it and it could be a cute tiny dog that I could pick out. We found Penny at pet store and I thought she was the cutest thing that ever existed. Megan thought she looked weird and crazy (also true). We adopted her thinking she'd be "my" dog, but that didn't happen. Both animals are obsessed with Megan. She is their Harry Styles. This is why I'm in the market for a cat. (Not pictured are the five feral cats we feed and pine for: Samwise, Friday, Struggle Cat, Ducky, and Boy Cat.)
Some weird things these dogs do: Penny can tell when our heart rates go up (like during a tense movie) and will whine and shake until we all calm down. Emily apparently (?) has a fear of wood flooring and can't walk the length of living room floor that would take her to the back door. She would just hesitate forever and then sorta fawn-fall/run until she made it to the kitchen tile. We finally put down a rug and now she's (mostly) fine!"
---
Before you go!
It takes funding to keep this publication by and for queer women and trans people of all genders running every day. We will never put our site behind a paywall because we know how important it is to keep Autostraddle free. But that means we rely on the support of our A+ Members.
Still, 99.9% of our readers are not members.
A+ membership starts at just $4/month.
If you're able to, will you join A+ and keep Autostraddle here and working for everyone?
Join A+
Pages: 1 2 3 4 5 6 7 8 9 10 11 12 13 14 15 16 17 18 19 20 21 22 23See entire article on one page