Meg and Puddin / Los Angeles, CA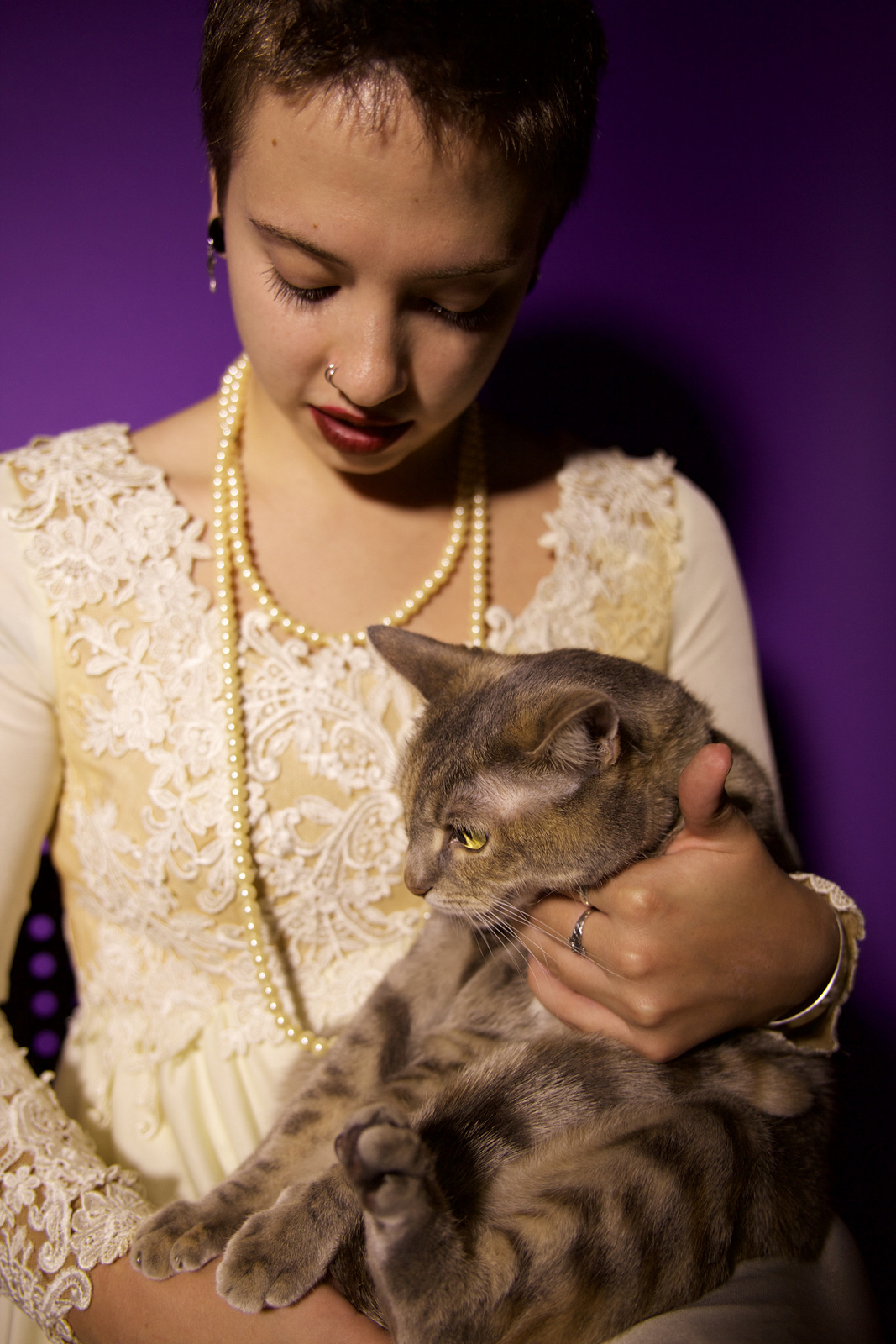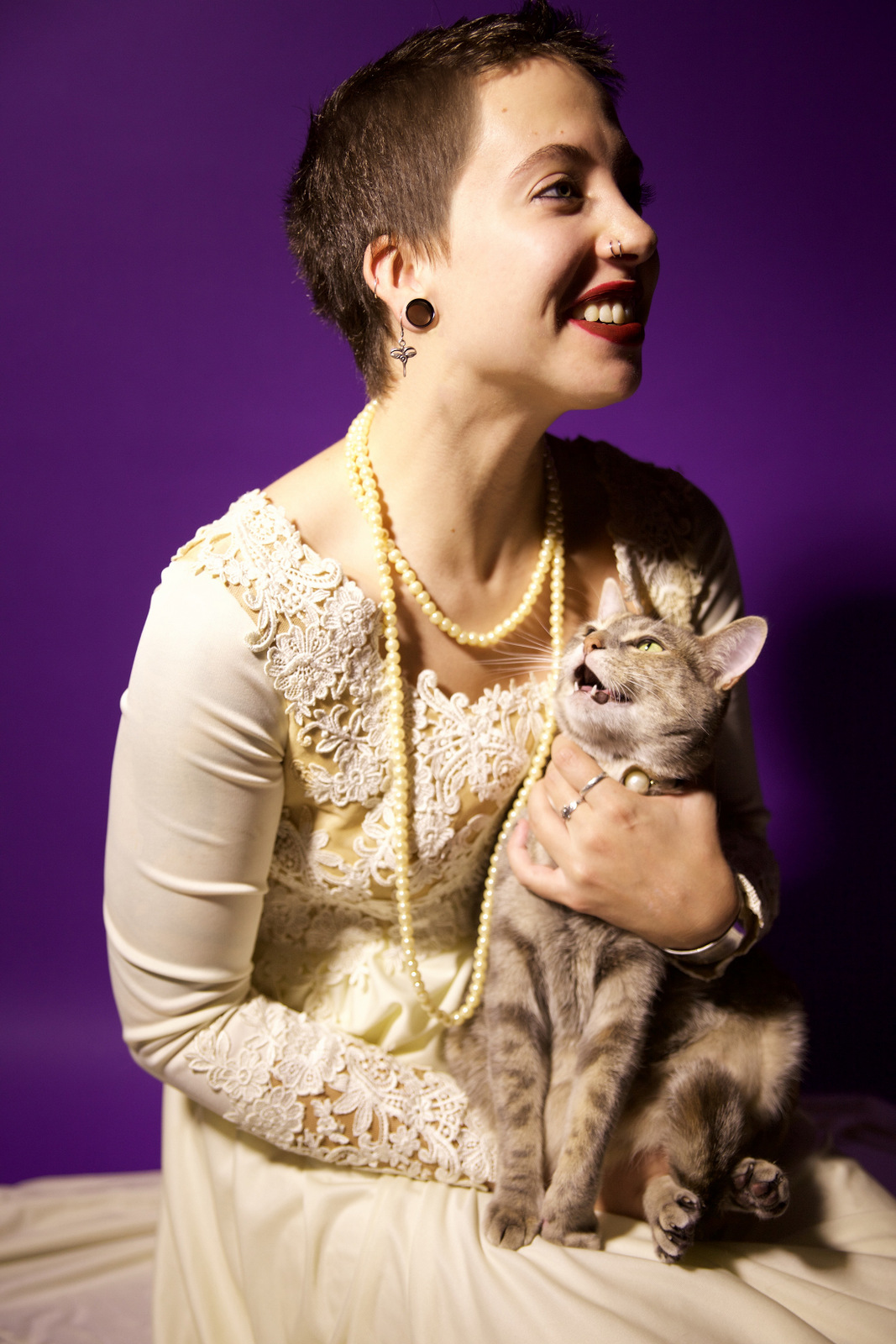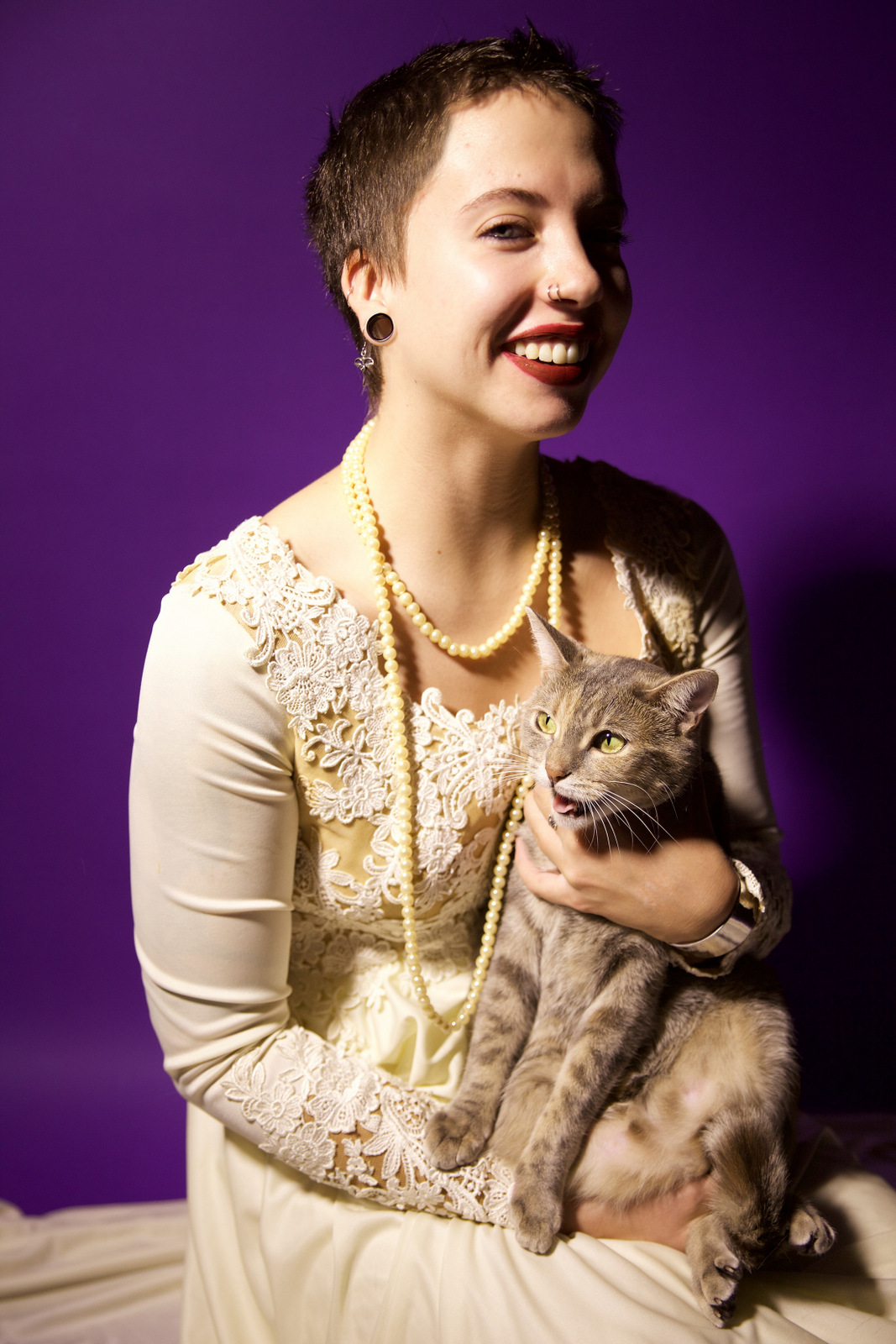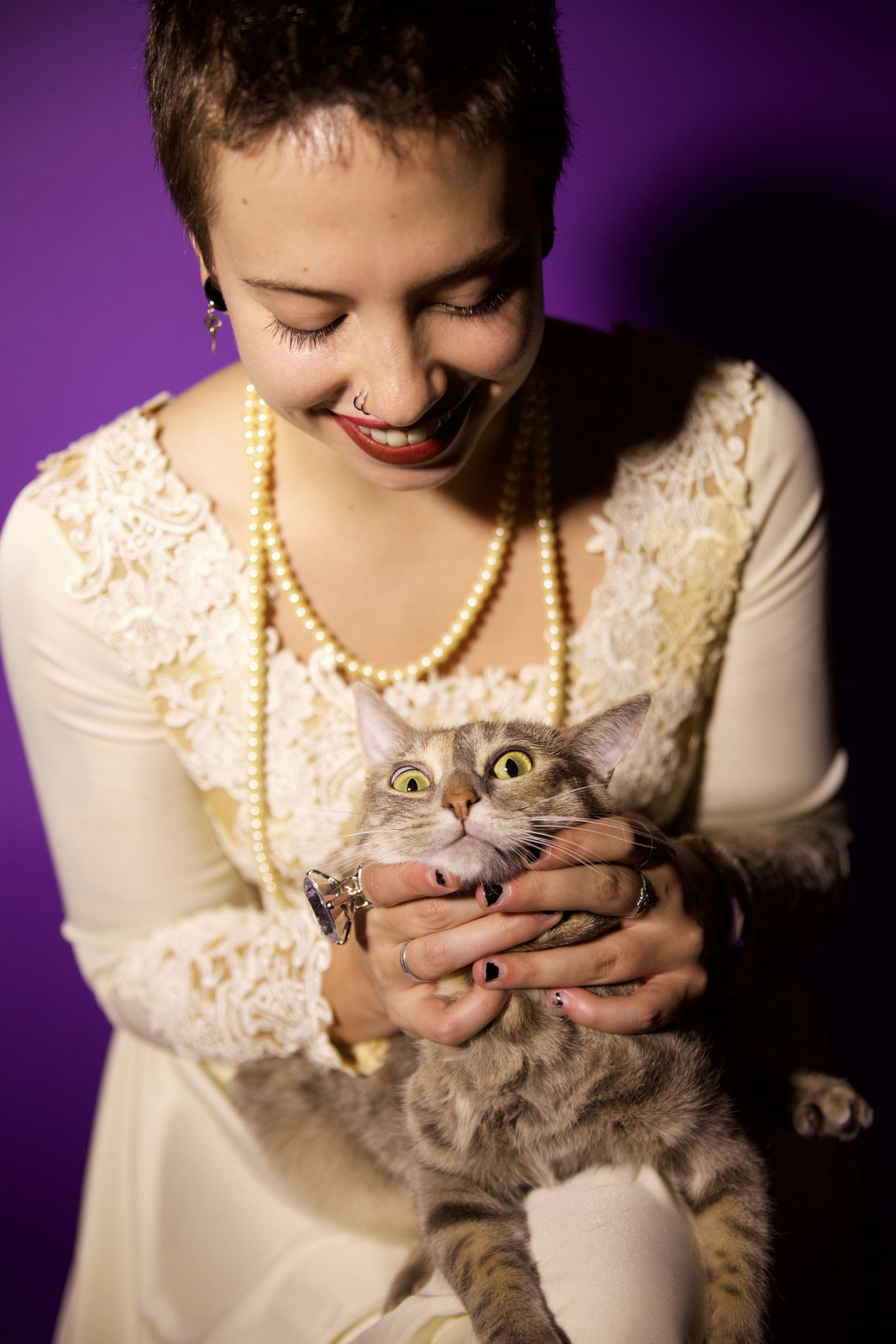 "Meg and Sheri (photographer) are a lesbian couple, and this little beast was adopted by Sheri a couple years ago. The weirdest thing about her is her obsession with flip flops. You can follow along with Sheri and Meg."
---
Cassy, Kristen, Joey, Leah / 33, 32, 9, 8 months / Crimora, VA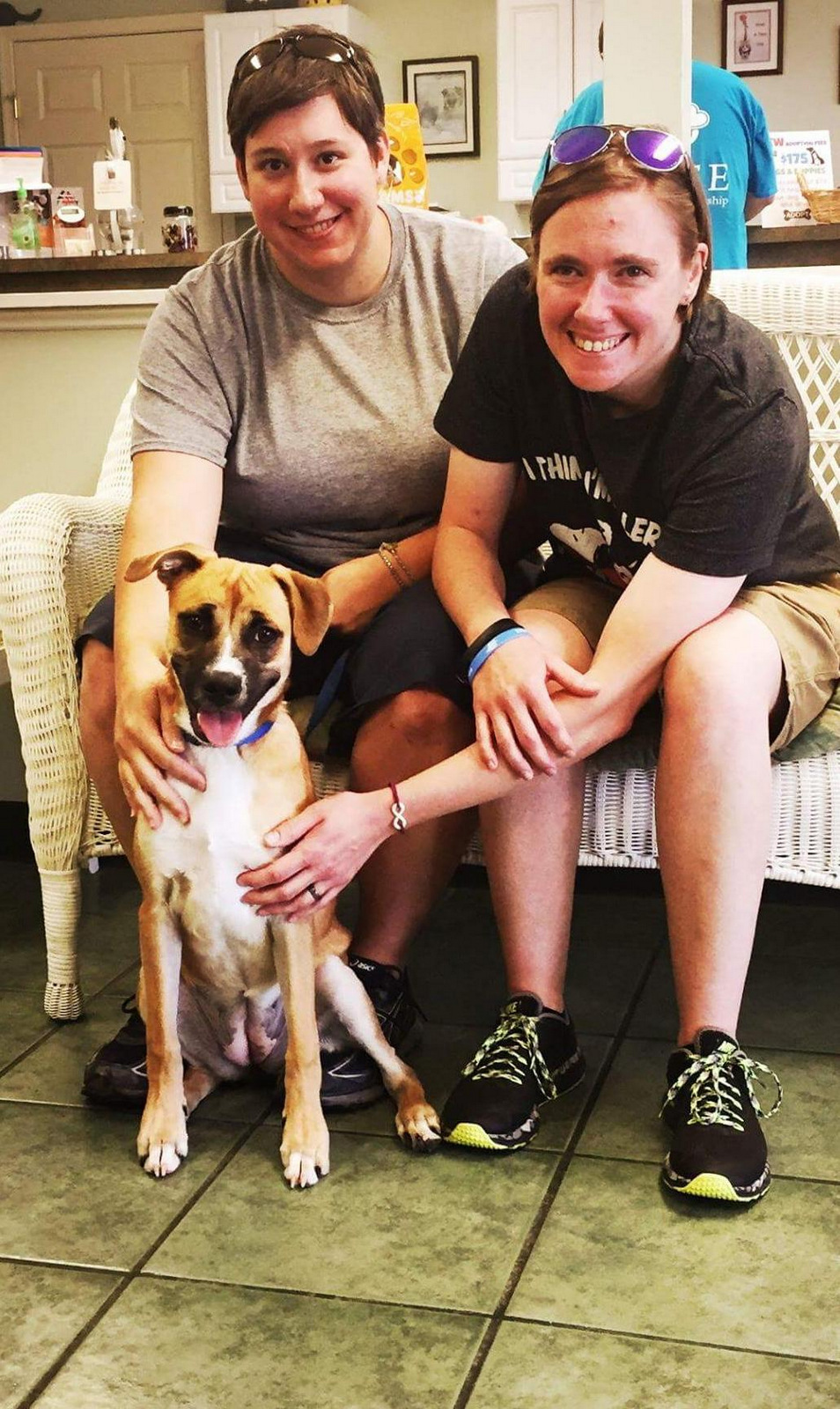 "Joey was a part of a group of feral cats that lived outside of the grocery store where Kristen used to work. They were all very skittish. One day Joey got stuck inside they cage where they keep the propane tanks. Kristen and her co-workers go him out and she brought her home. He's still a big, fat (18lb) scaredy cat who hides most of the time but we feed him so he tolerates us, sometimes. He also hates that we got him a puppy sister. Joey's named has morphed over the years. We actually named him Mocha which turned into Mocha Joe, then just Joe or most often Joey, which is what everyone else calls him, too. In true parent form, when we yell at him we use his full name: Mocha Joesph.
We adopted Leah from the local SPCA just a couple months ago. We couldn't resist her cute face. She was the only dog we took out of her kennel to meet and that was pretty much it. Her previous owners had just dropped her off earlier that day so she didn't even have to spend one night there. They had named her Layla, but we didn't really care for that name so we just sort of randomly picked another name that started with L. However, we mostly affectionately refer to her as pupperoni right now. I'm sure her name will change with time, too. She's a crazy ball of energy with long legs that she doesn't quite know how to control yet. At least she's cute."
---
Vic, Desmond, Bubba / 30, 10, 3 / Southern NJ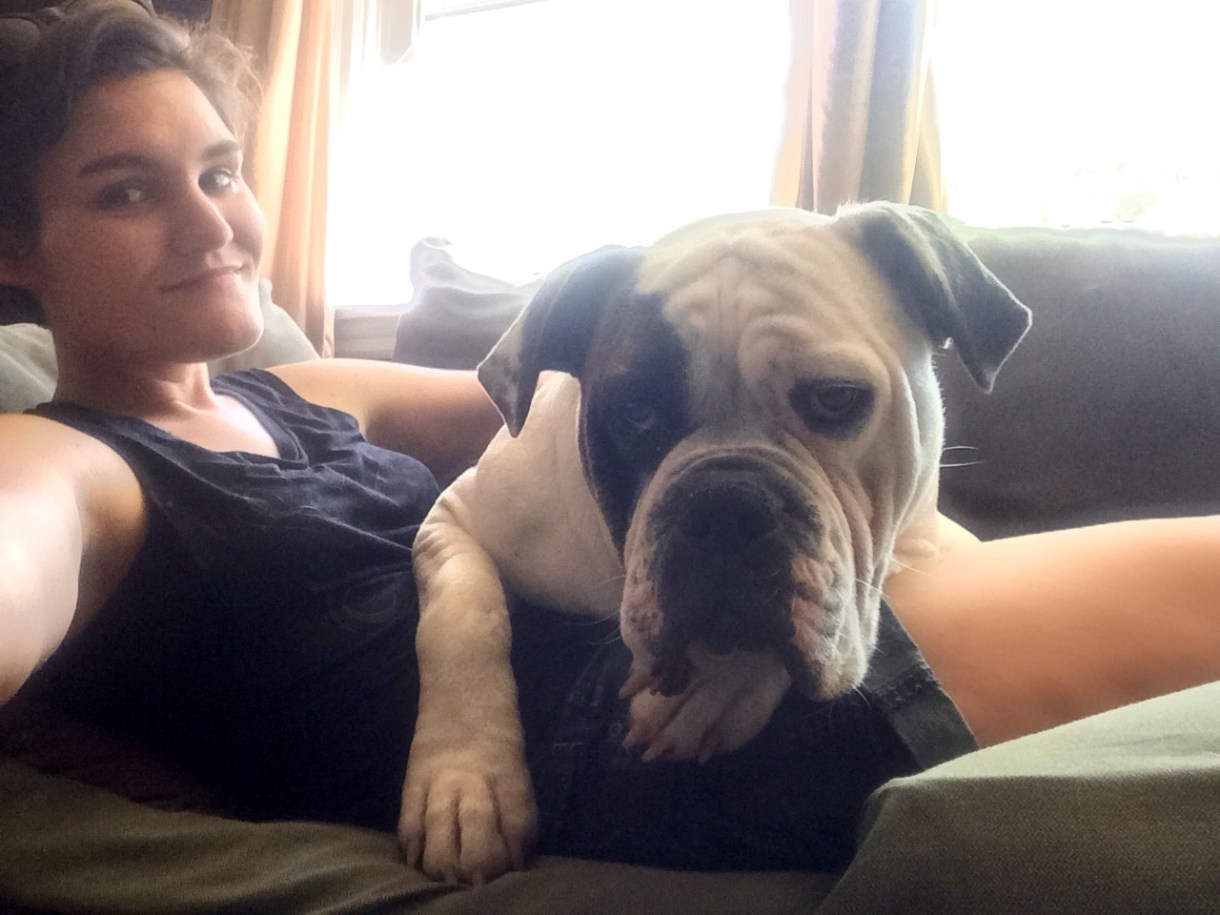 "Desmond (the golden) has been a part of my family since I was 19. My younger brother named him, after a character on the TV show Lost. I gradually became his main person in terms of vet care, food, walks and ear scratches, though he does split his time between my place and my dad's and brother's so that one person can take care of him when the others are at work. His favorite thing to do is take walks down to the bay with me, but he always forgets that he's no longer a young pup and will walk as fast as he can on the way there; heading home, he'll pretend to stop to smell something every minute or so to rest. His least favorite thing is getting a bath, but he's such a good boy about it.
Bubba (the bully) is my mom and stepdad's dog, but I'm including him because I see him almost as often as Des and I couldn't not. He loves cuddling / using people as human pillows probably more than anything else. Also, my mom maintains an Instagram account for him, @bubbalicious_the_bulldogge and would love more followers."
---
Tara and Leonardo DiCatrio (Leo) / 24, 5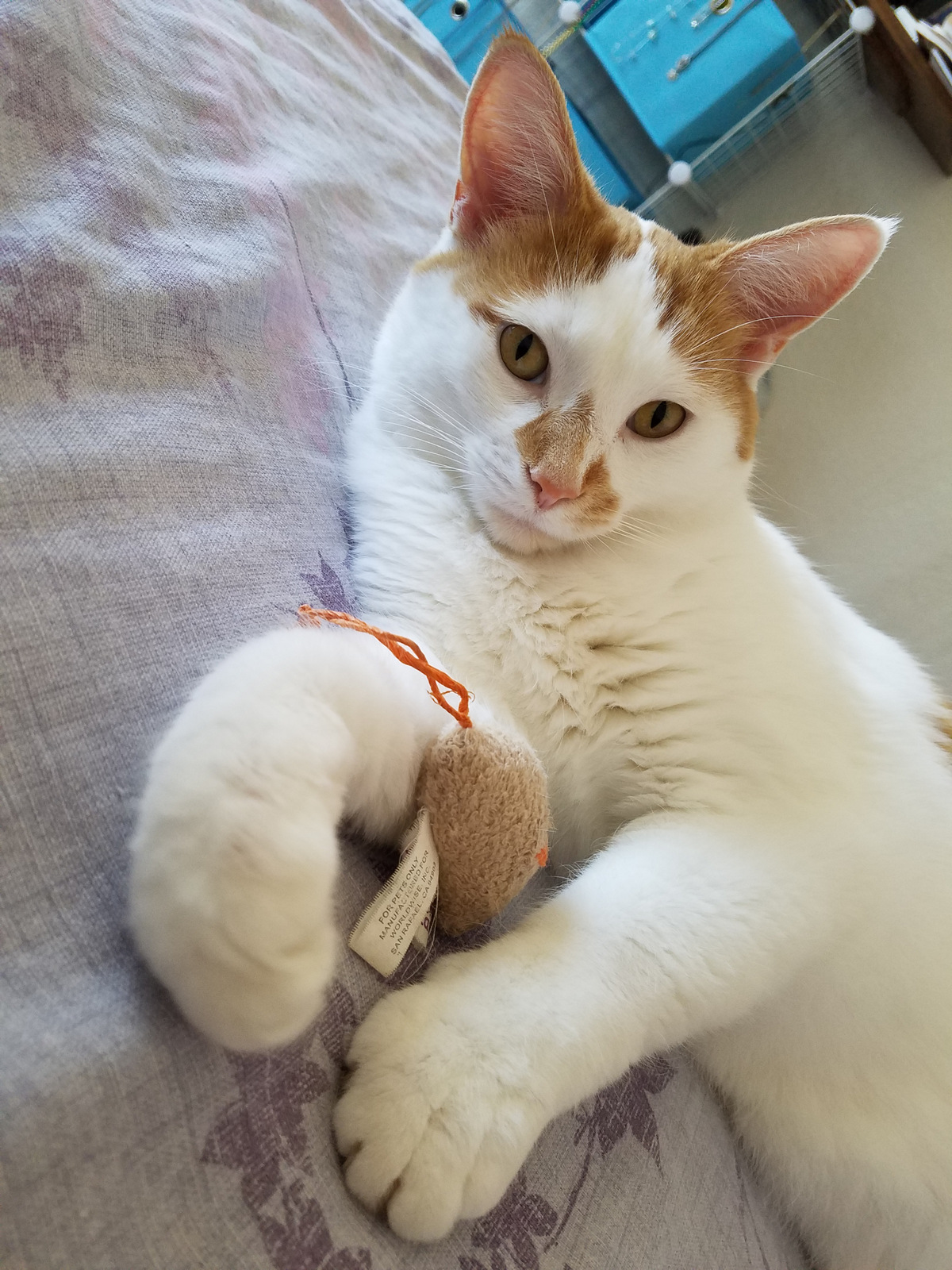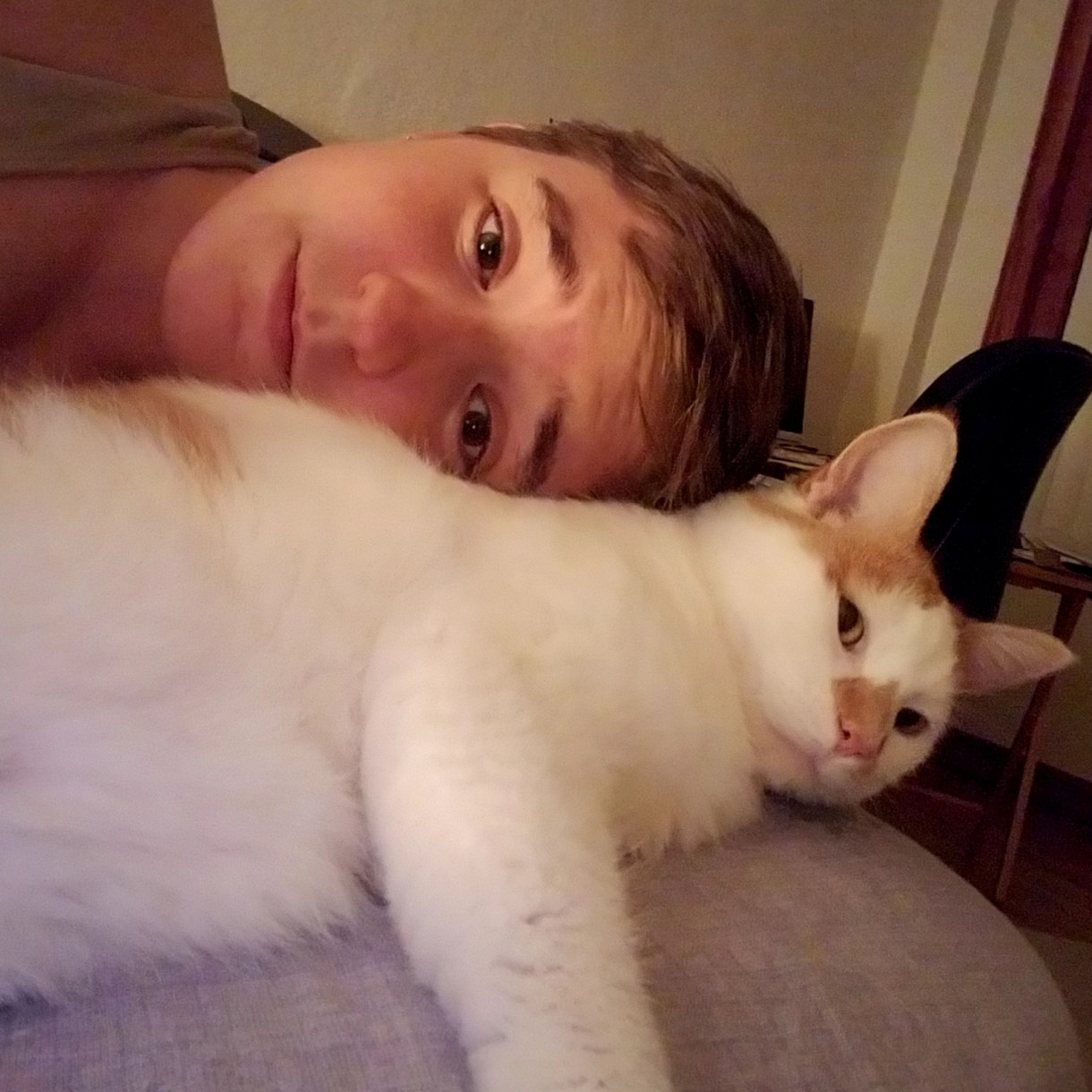 "Leo came into my life shortly after graduating high school, and training for the Army. He was a rescue that I adopted from some folks who found him and his litter on the side of the road. I debated whether to name him after Leonardo DaVinci or DiCaprio. Ultimately, the pun won out. He's my favorite cat in the world. He never leaves my side, has undying love for fetch, and puts up with the chaos of my life."
---
Jenna, Steph, Flapjack, Ellie / Boston, MA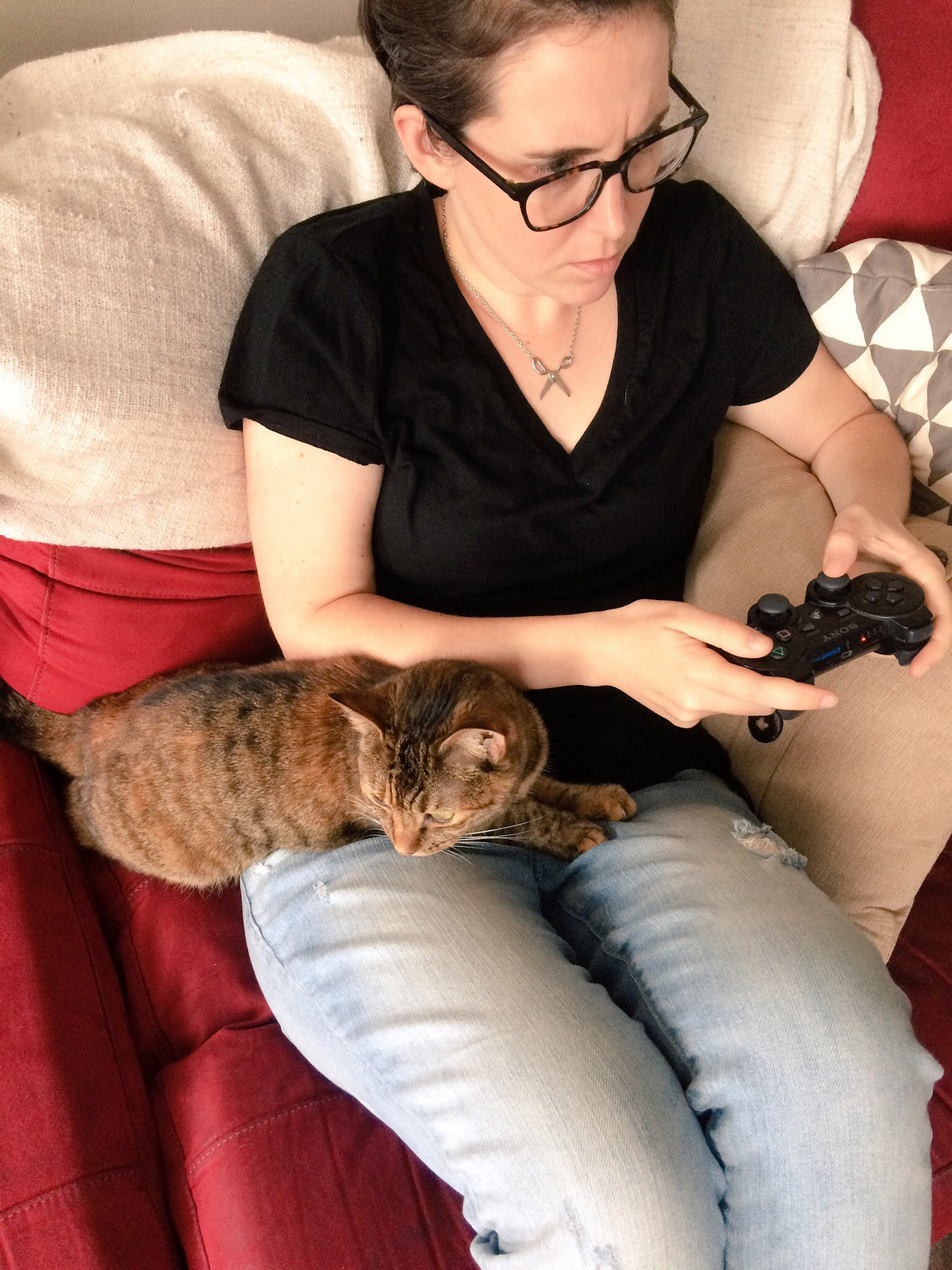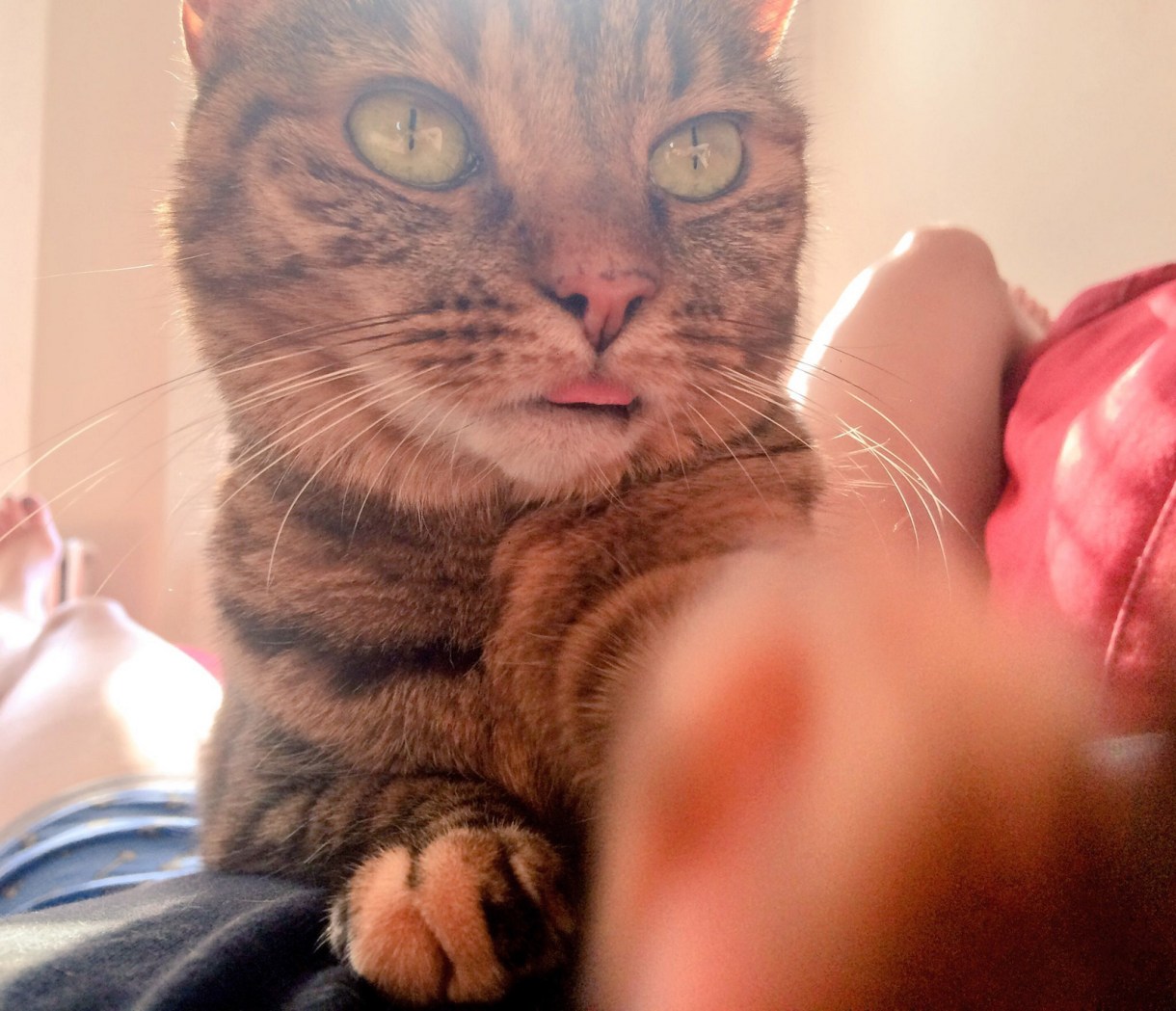 "When we were in college, Steph's roommate showed up with a tiny, four week old ball of fluff orphan kitten and asked, "Can we keep her?" That ball of fluff turned into a very mischievous cat named Flapjack. We adopted Ellie a few years later and I really think she might be the nicest cat in the whole world. About seven years after they first met and became sisters, Flapjack and Ellie recently almost cuddled for the first time. They have learned their worst habits from each other and I would die for them. (Though tbh I haven't even seen any of the other pets in this gallery and I would probably die for all of them.)"
---
Jamie and Newton / 30, 2 / Quincy, MA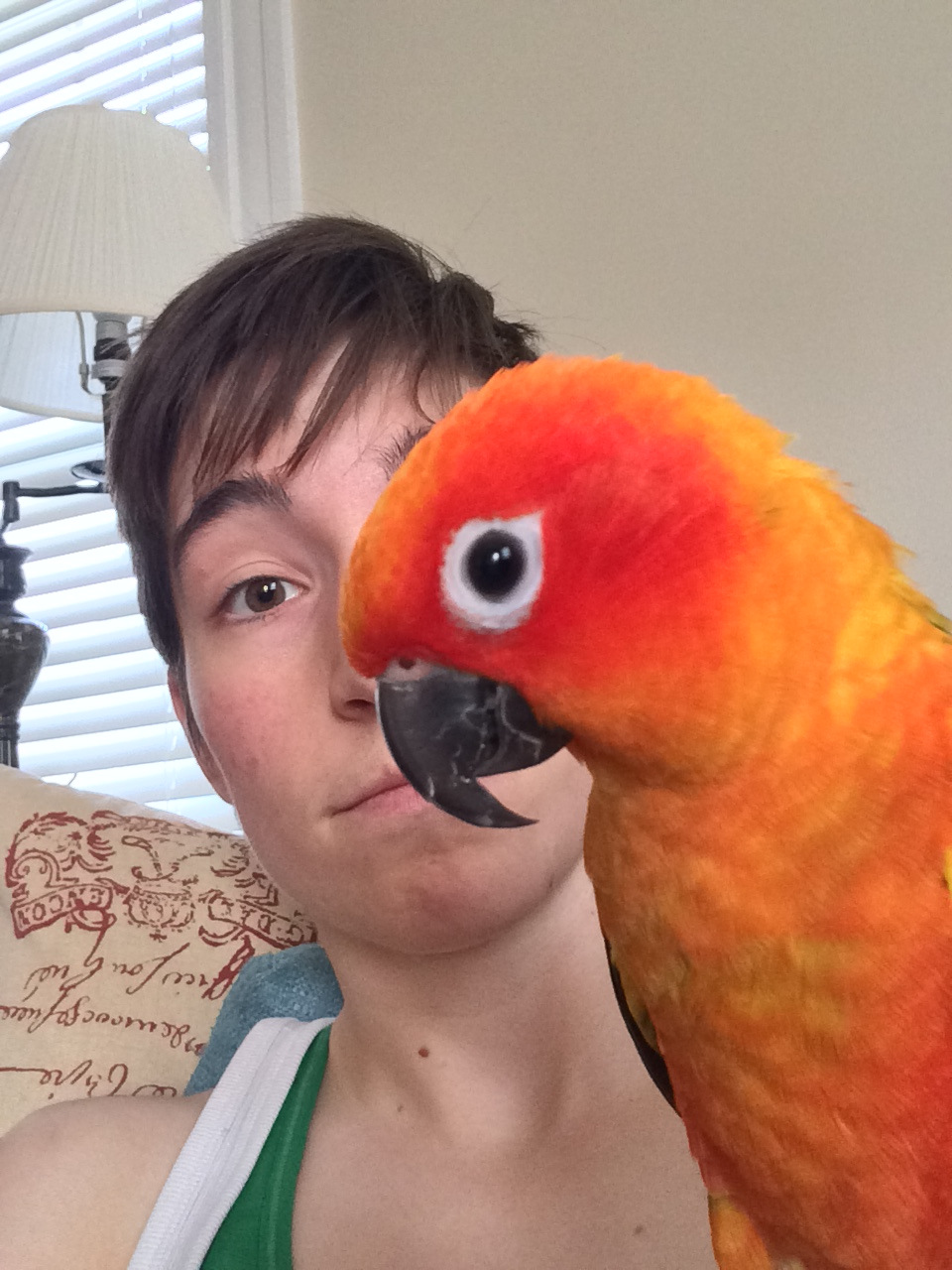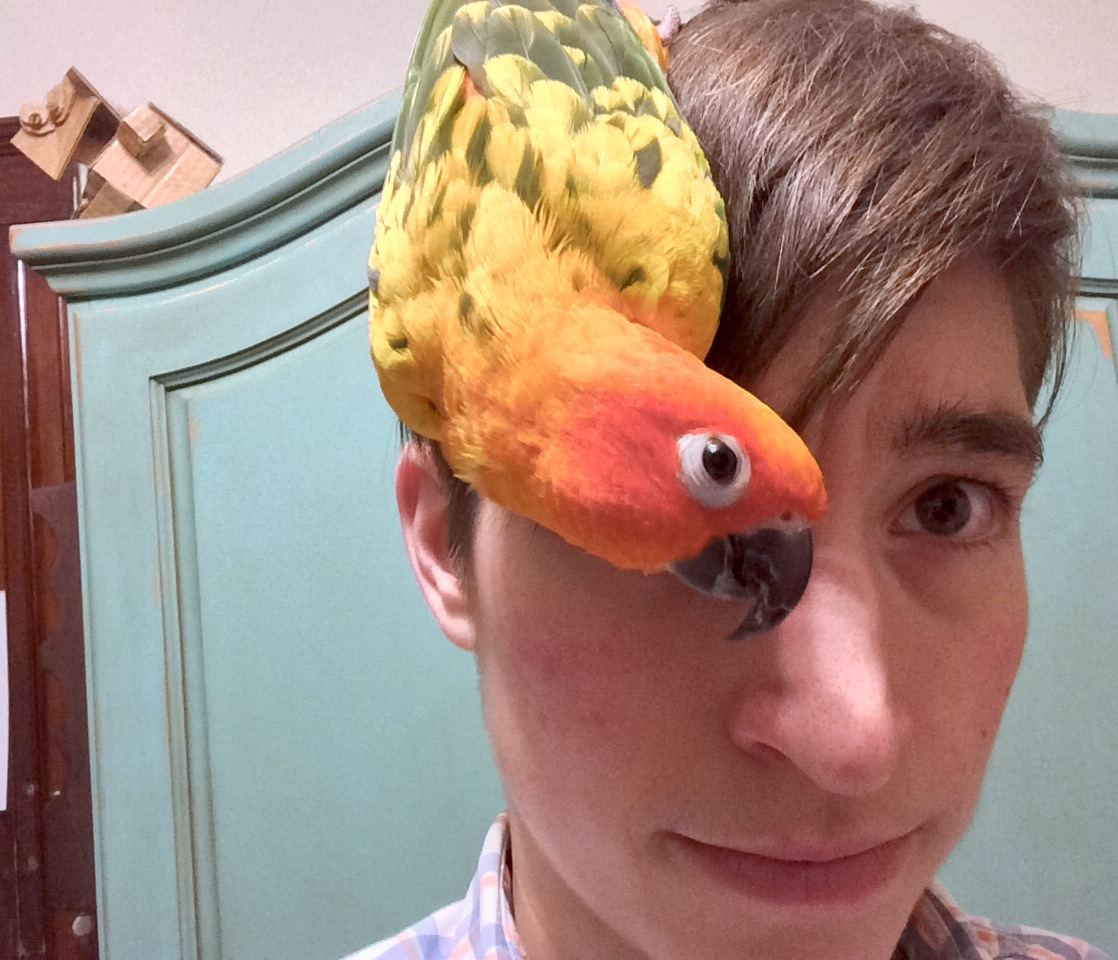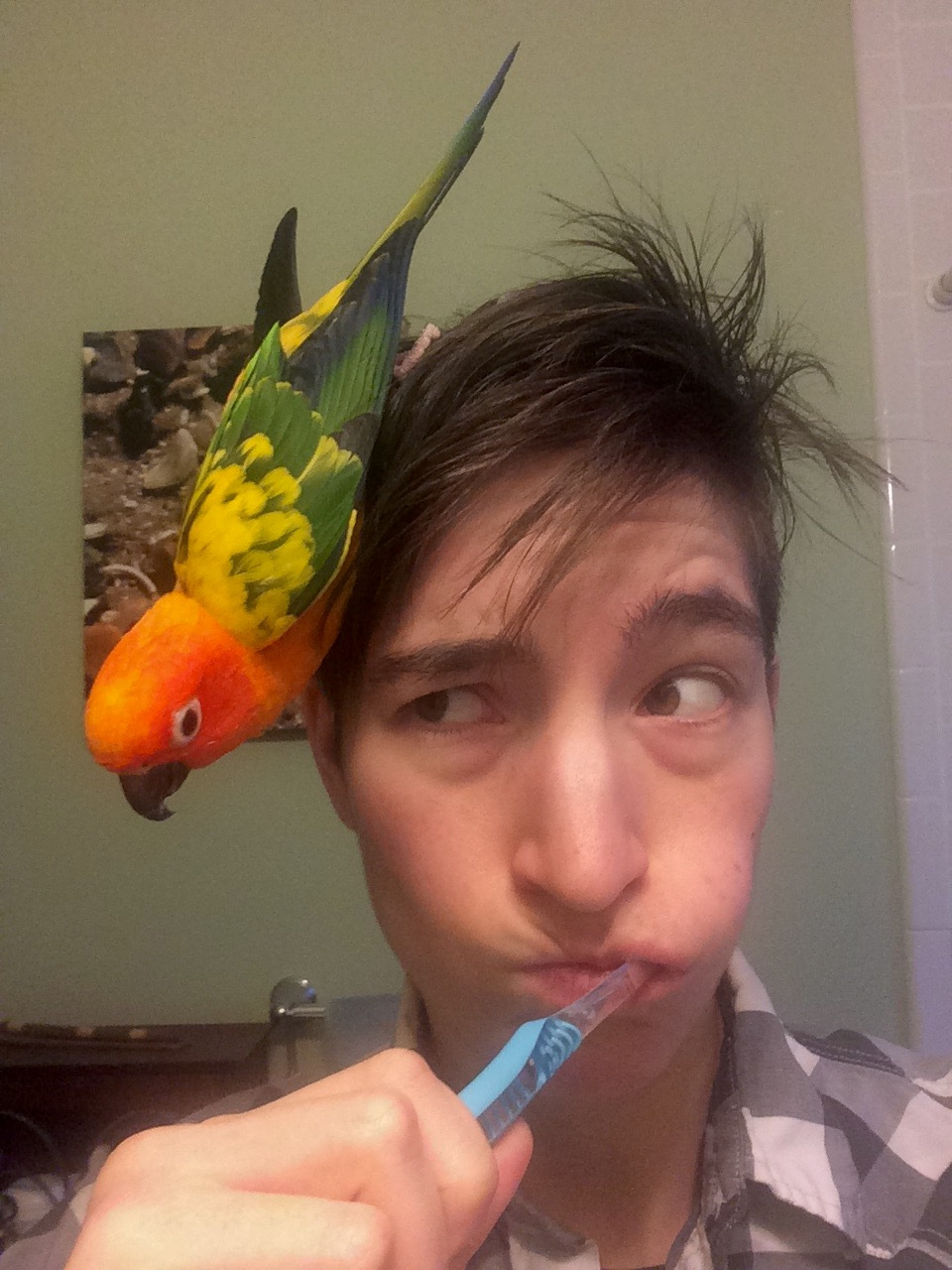 "His full name is Winsor Newton (like the paints)! We call him Newton because when we first got him, his wings were clipped and he had a lot of trouble with gravity. (But he can fly now.) We already had one bird and were thinking about getting a second, so on a whim we stopped at (what turned out to be) the sketchiest pet store in the world. Literally. It wasn't even open for business yet. No signs. All the shelves were empty — they just had some fish tanks, and a bunch of birds flying free around the store. It was definitely NOT a good place to purchase a parrot. But then Newton snuggled up in my hands and I couldn't leave him behind.
We expected Newton to be something like our other bird — dignified, reserved, independent. Instead we got a tiny rainbow snuggle clown. He will hang upside down from anything he can get a grip on, and his favorite place to be is inside my shirt. He doesn't talk a lot, but we laugh at his antics so much that he has learned to mimic the sound of human laughter. When he's bored, he likes to bite holes in my shirts, so I try to keep him entertained in other ways. I've taught him to do flips over his perch, fetch a ball, and put coins in a bank. He is surprisingly smart, so I have to be careful, otherwise, he tries to train ME. He also has his own Facebook page."
---
Hanna, Atlas, Mango, Basil / OK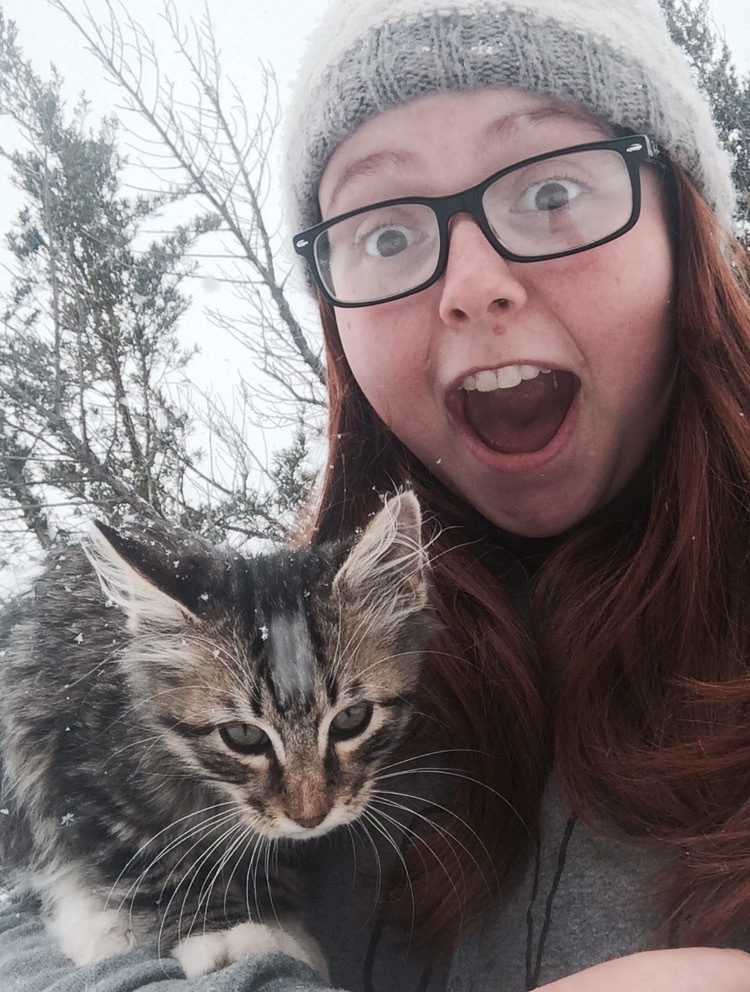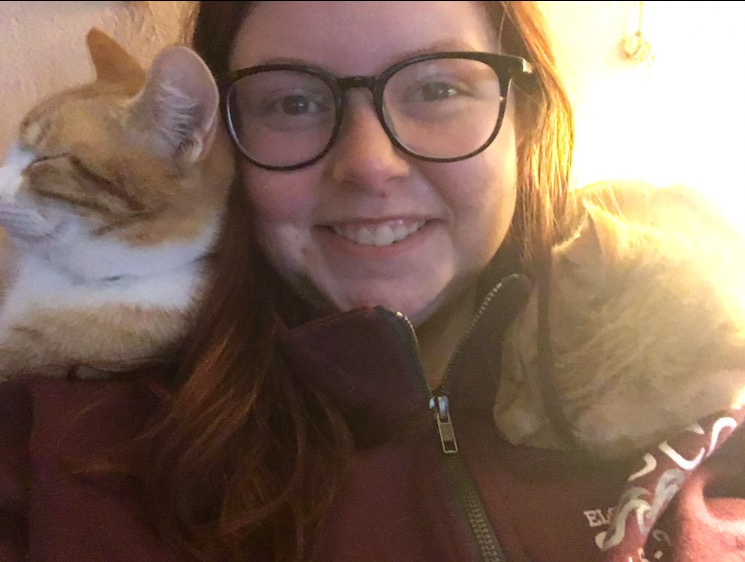 "Atlas likes to be outside when it snows but hates getting her paws wet. Mango and Basil don't even bother with the outdoors because they know my shoulders are the comfiest seat in the house."
---
Larkin, Blueberry / 28, 5 / Suttle Lake, OR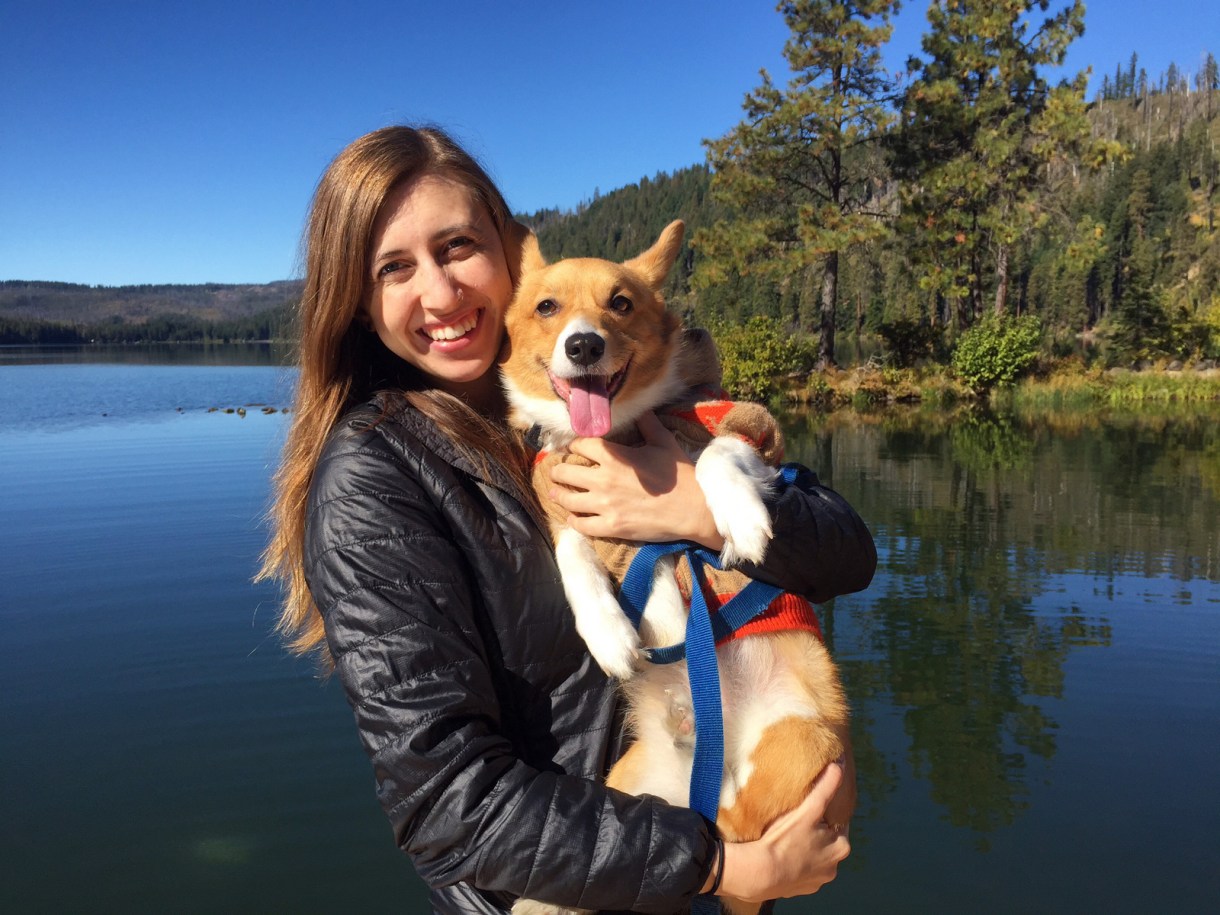 "When I was on my first date with my girlfriend, she told me she had a dog. I was excited because I love animals, but didn't think much else of it. When I went to her place a few days later and she introduced me to Blueberry I almost burst into tears on the spot because she was the most adorable dog I'd ever seen. She immediately wagged her non-existent tail and rolled on her belly, begging me for pets. It was love at first sight! My girlfriend got Blueberry from another family where she wasn't getting along with their dogs. She named her Blueberry after reading aloud a variety of dog names, and Blueberry looked very excited when her new name was called. Coincidentally, she loves to eat blueberries! My favorite thing about Blueberry is that she and I share "touch" as our top love language, so at any given moment we probably both want to cuddle up together. The weirdest thing about Blueberry is that she loves lying on her back, but it makes her sneeze, so she will just lie on her back and continuously sneeze every few minutes! I adore everything about her, and she has brought boundless joy into my life! Instagram: @blueberrythecorgi."
---
Blake and Arlo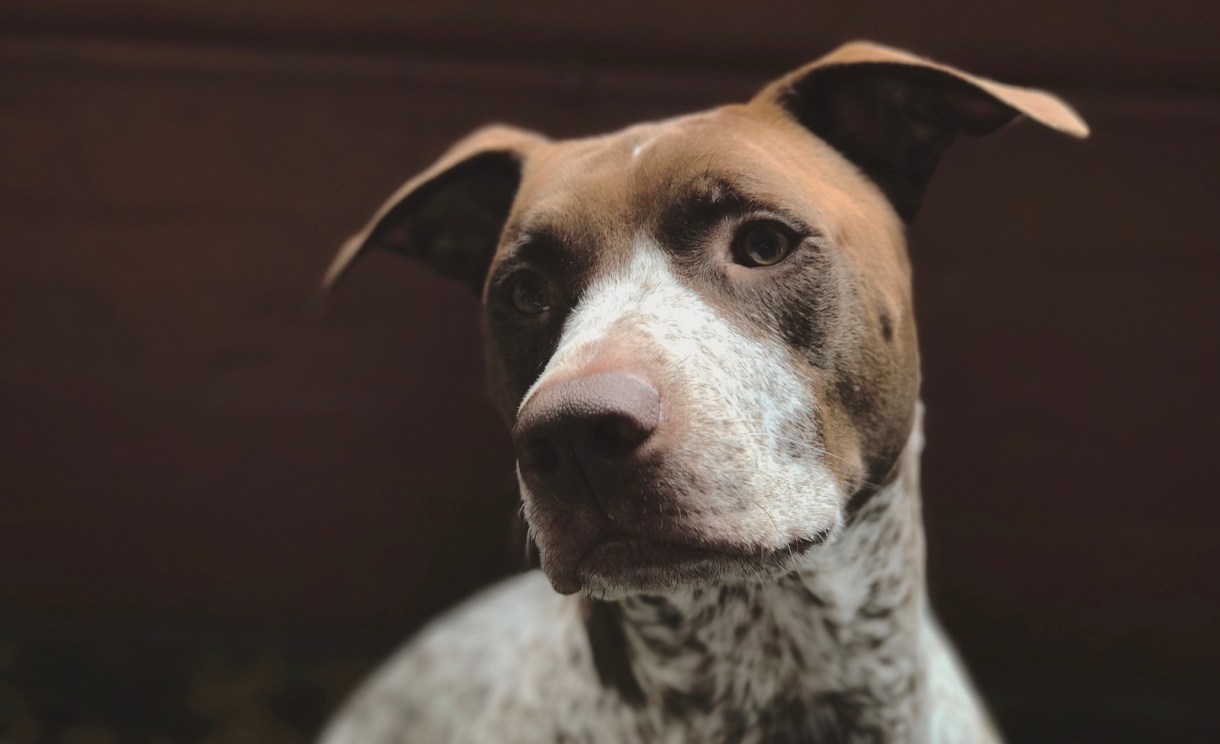 "I adopted Arlo a little over two years ago in search of an emotional support dog. Our first encounter included playing "fetch," or more like roll the ball, in an adoption room at Great Plains SPCA. Arlo was only 2 months old at the time. Although I was in search of an older dog (not a puppy), I instantly fell in love with those beautiful hazel eyes of his. He is named after the folk singer, Arlo Gutherie. The best darn thing about Arlo is he is an extreme snuggler. He also pulls off a Wonder Woman collar with the utmost pride. The weirdest thing about him is his ability to sit in anyone's lap, even if it is a small recliner. Arlo's Instagram account is @arlothepointer.
---
Monique and Elliot / 28, 9 / Tucson, AZ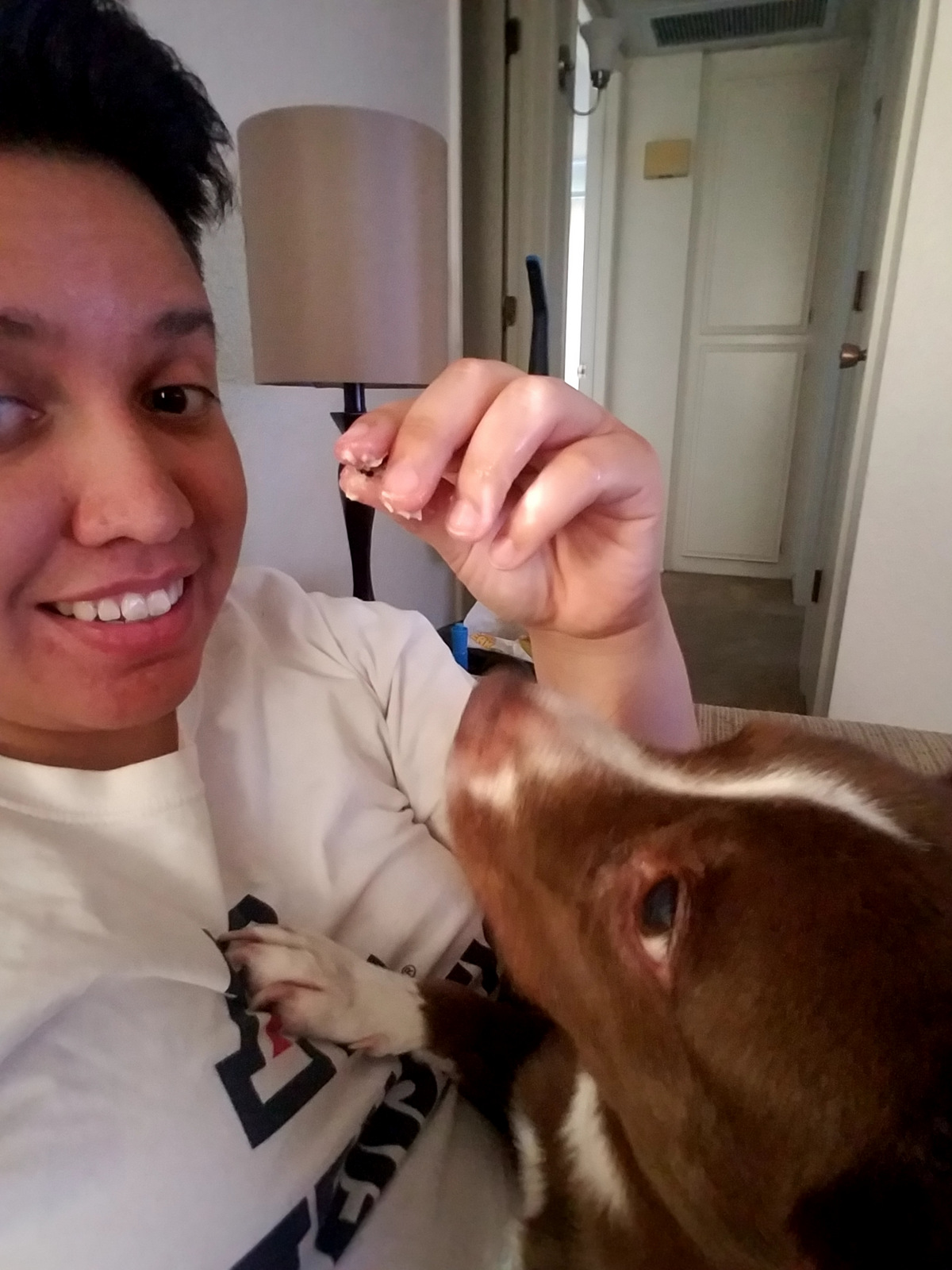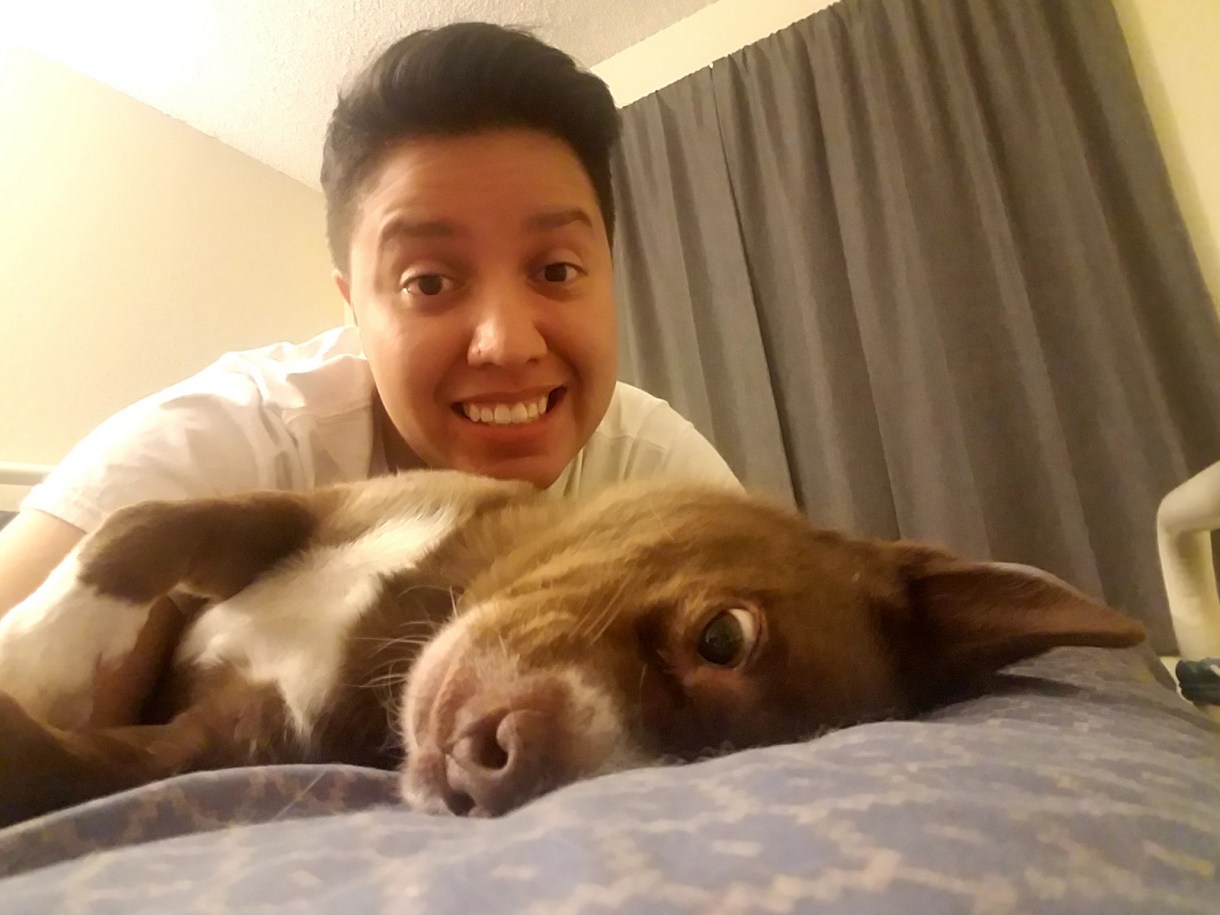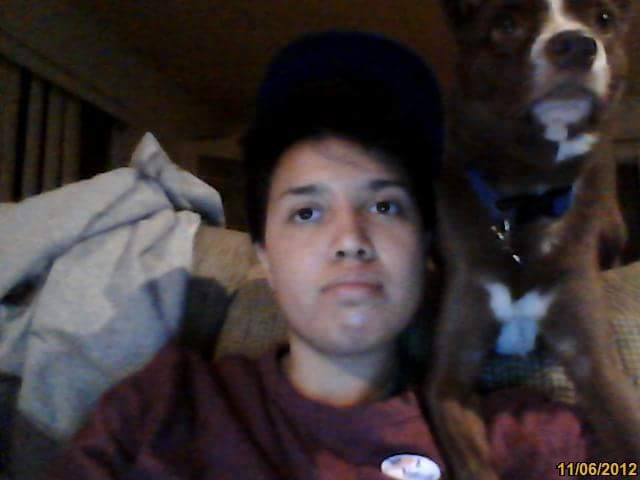 "I wanted to get a dog while I was in college, and I found a tiny, strangely brown puppy on Craigslist. I impulsively ran out to get him that night. He's named after Elliot Reid, the Scrubs character (one of my favorite shows). When I come home or when friends visit, he likes to grab socks or pieces of trash because he wants you to chase him around the house. He's really anxious about everything just like I am, and he has moved with me about eight times over the last nine years including across the country to D.C. and back. His least favorite trick is playing dead (he will refuse as long as possible). He also often straight up ignores me when I call him, and I'm pretty sure he enjoys that I leave him alone to go to work every day because I bug him when I am at home. He gets excited to go on trips but hates car rides?  I have absolutely no idea what kind of dog he is, and many people have told me they don't think he's 100% dog because he's such a little weirdo. (He hates pictures too, if you couldn't tell.)"
---
Before you go!
It takes funding to keep this publication by and for queer women and trans people of all genders running every day. We will never put our site behind a paywall because we know how important it is to keep Autostraddle free. But that means we rely on the support of our A+ Members.
Still, 99.9% of our readers are not members.
A+ membership starts at just $4/month.
If you're able to, will you join A+ and keep Autostraddle here and working for everyone?
Join A+
Pages: 1 2 3 4 5 6 7 8 9 10 11 12 13 14 15 16 17 18 19 20 21 22 23See entire article on one page