Annette and Monster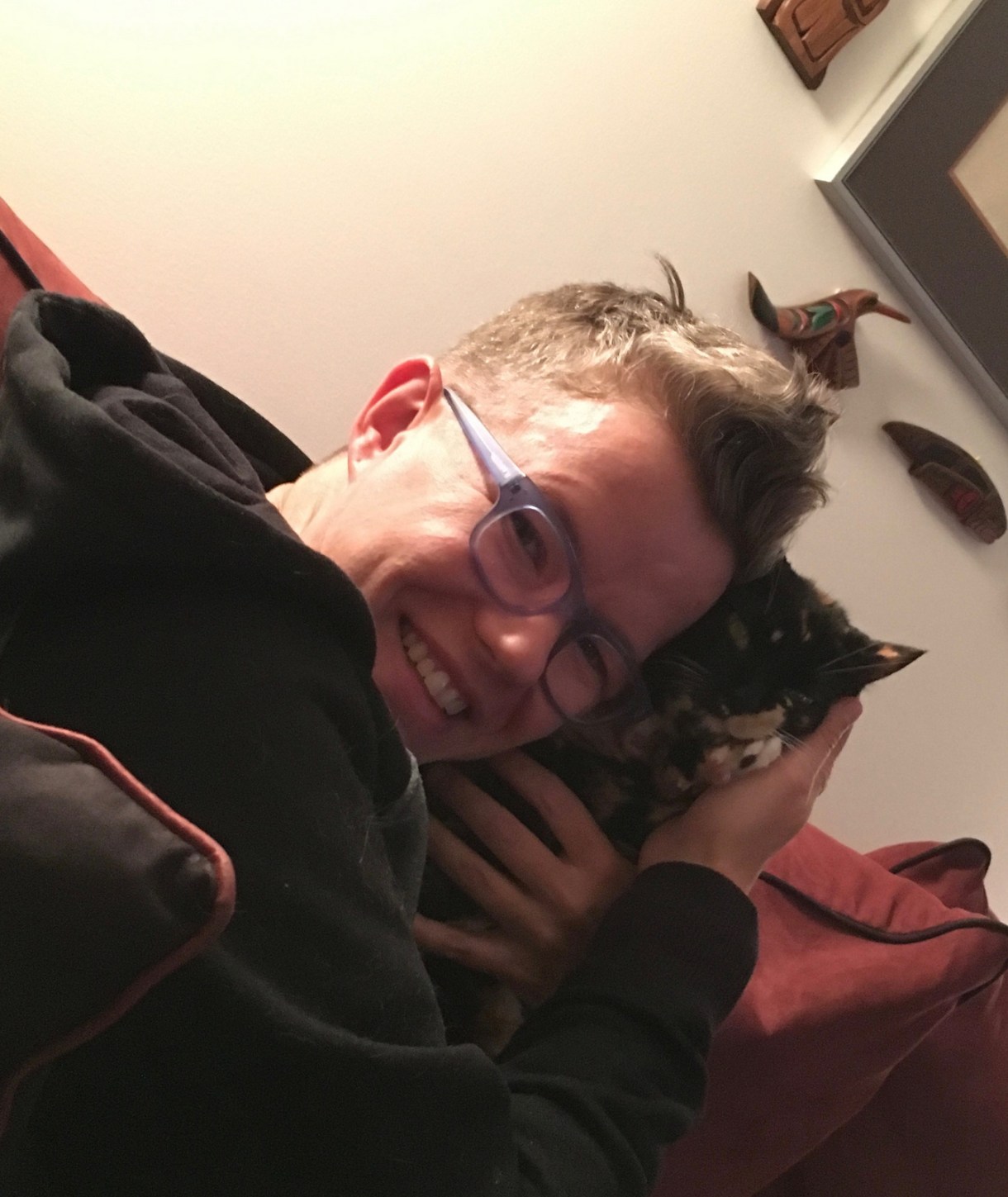 "I adopted Monster from the local cat rescue when she was 1 year old. She is the cat version of Toothless in How to Train your Dragon: suspicious, territorial, but friendly and loyal once she gets to know people. And she is the queen of the stink eye!"
---
Aurora and Cinnamon (Cin) / 22, 2 / Missoula, MT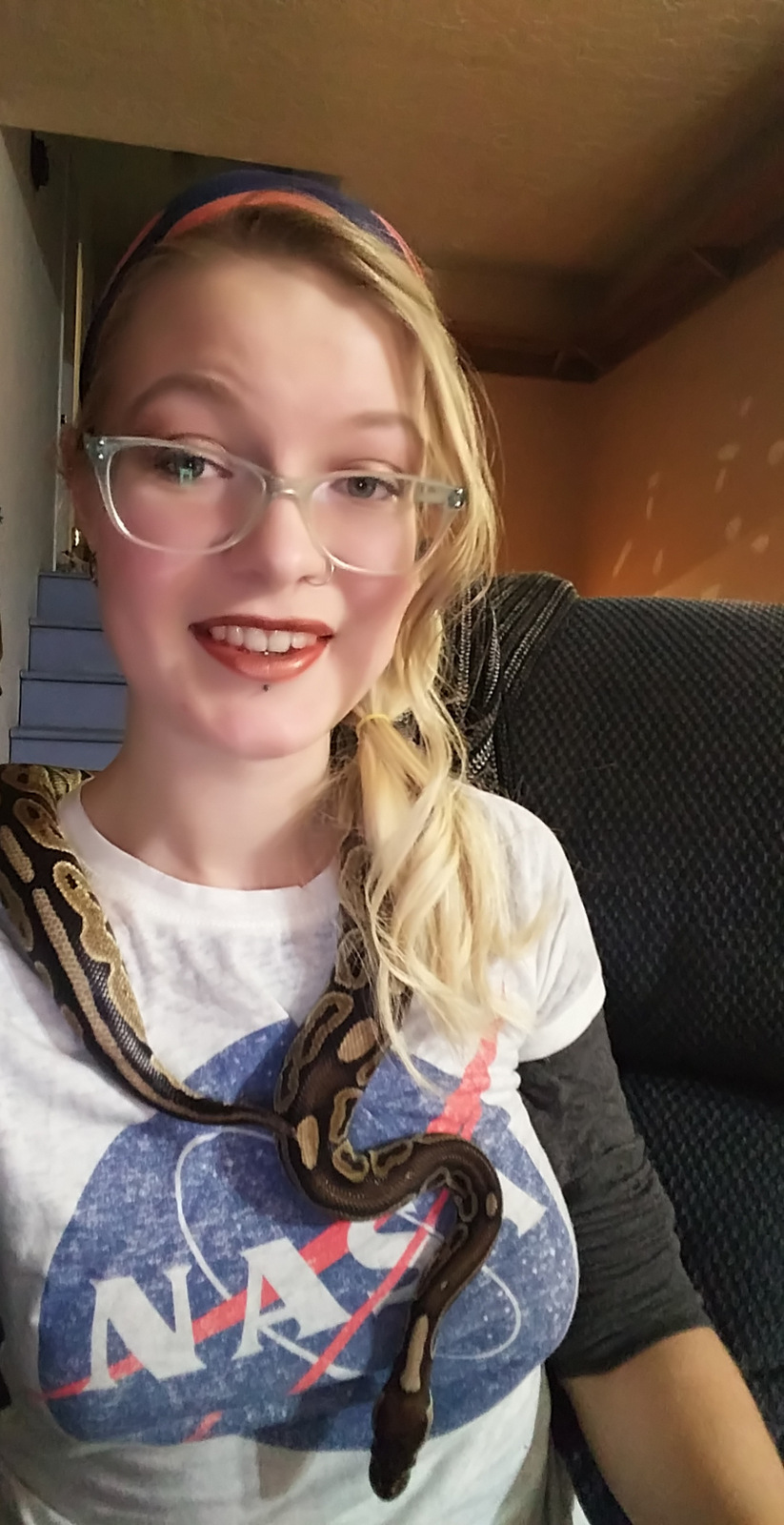 "My pet is a ball python named Cin, short for Cinnamon. Owning a snake is a lot like owning a very high-maintenance house plant, except that you also have to feed them rats and you don't get to look at them as often. Even though we don't interact much, I feel really lucky to have  gotten to watch her go from being about 9 inches long to closer to 3 feet. I love that I never feel guilty when I realize that I haven't taken her out of her cage in a month, because she doesn't miss it. It makes her a very good pet for a person who sometimes struggles with responsibilities."
---
Bee and Beau / 28, 4 / Sacramento, CA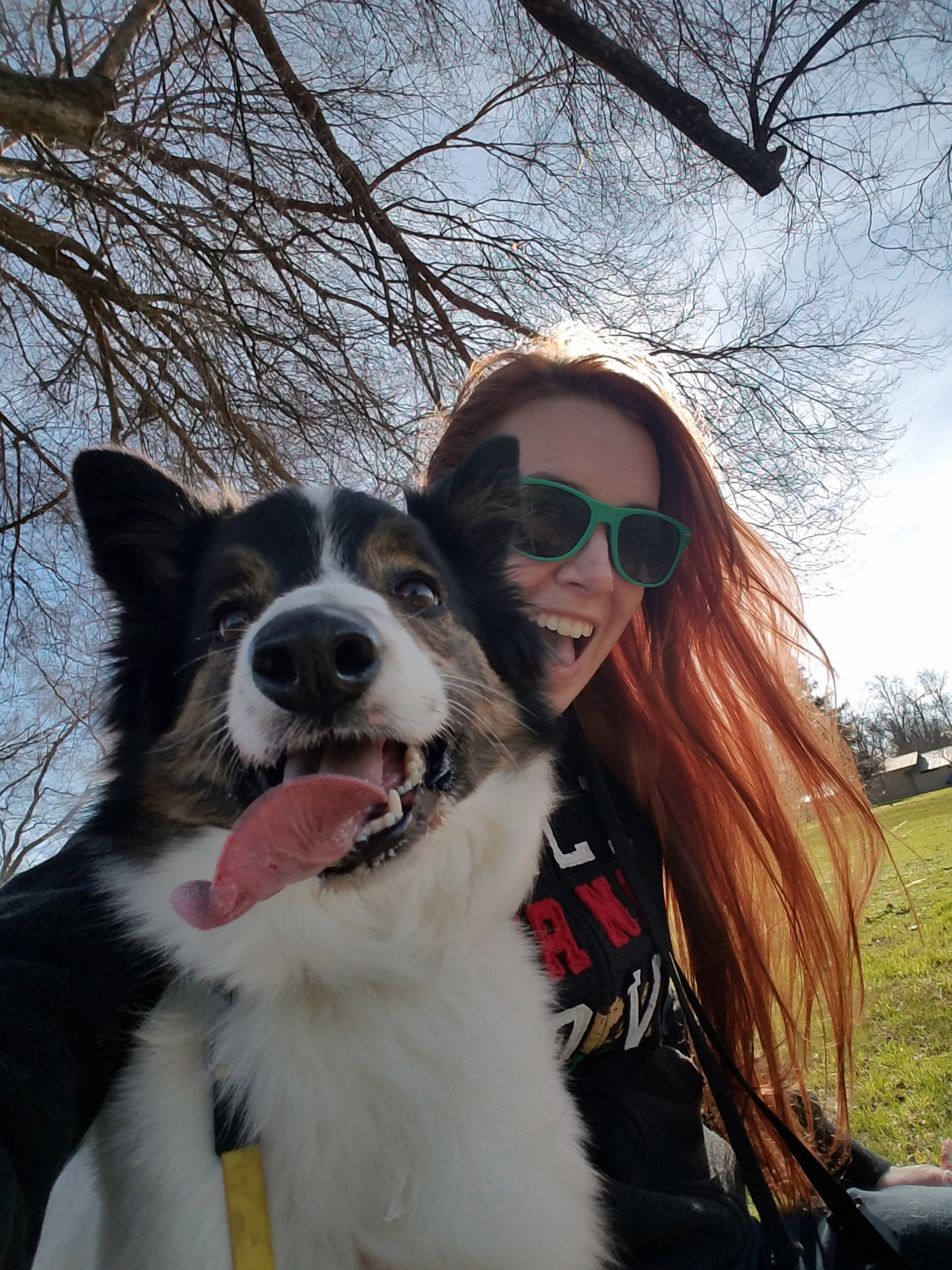 "Beau (short for Beauregard) is a border collie mix who was orphaned when his mom, a stray, was hit by a car shortly after his birth.  He and his littermates all got their names from a vintage advertising campaign (Google Elsie and Elmer… it's a wild time).  He was adopted out to a family who didn't train or socialize him, and then returned him to the rescue after three years as a terrified mess. I adopted him last October and he is the greatest thing in my entire life. He's ridiculously goofy, incredibly asymmetrical, and super loving. (He was never injured, but born with a lower jaw that is both crooked and over an inch shorter than his upper jaw, giving him his signature dork look.) He is also very neurotic, anxious, and doesn't understand how to interact with his peers (but come on, that sentence describes all of us, right???  No?  Just me?  Okay.).  His favorite activity is flying, but unfortunately the combination of gravity and his lack of wings reduces this to just a lot of jumping/leaping. His Instagram is @beausregards.  While he probably hasn't met you, he still loves you very much and believes you are perfect even if you are a little bit (or a lot a bit) of a weird mess too."
---
Sarah and Nancy / 24, 7 / Newcastle upon Tyne, UK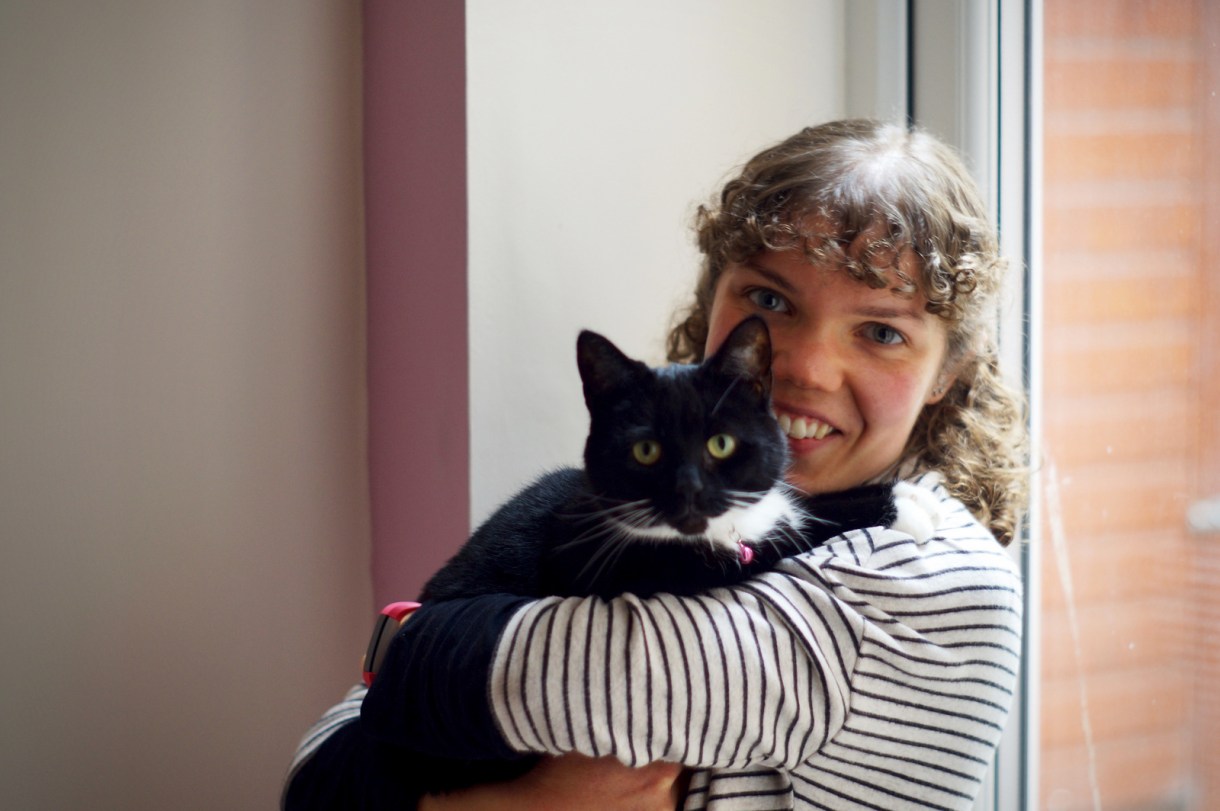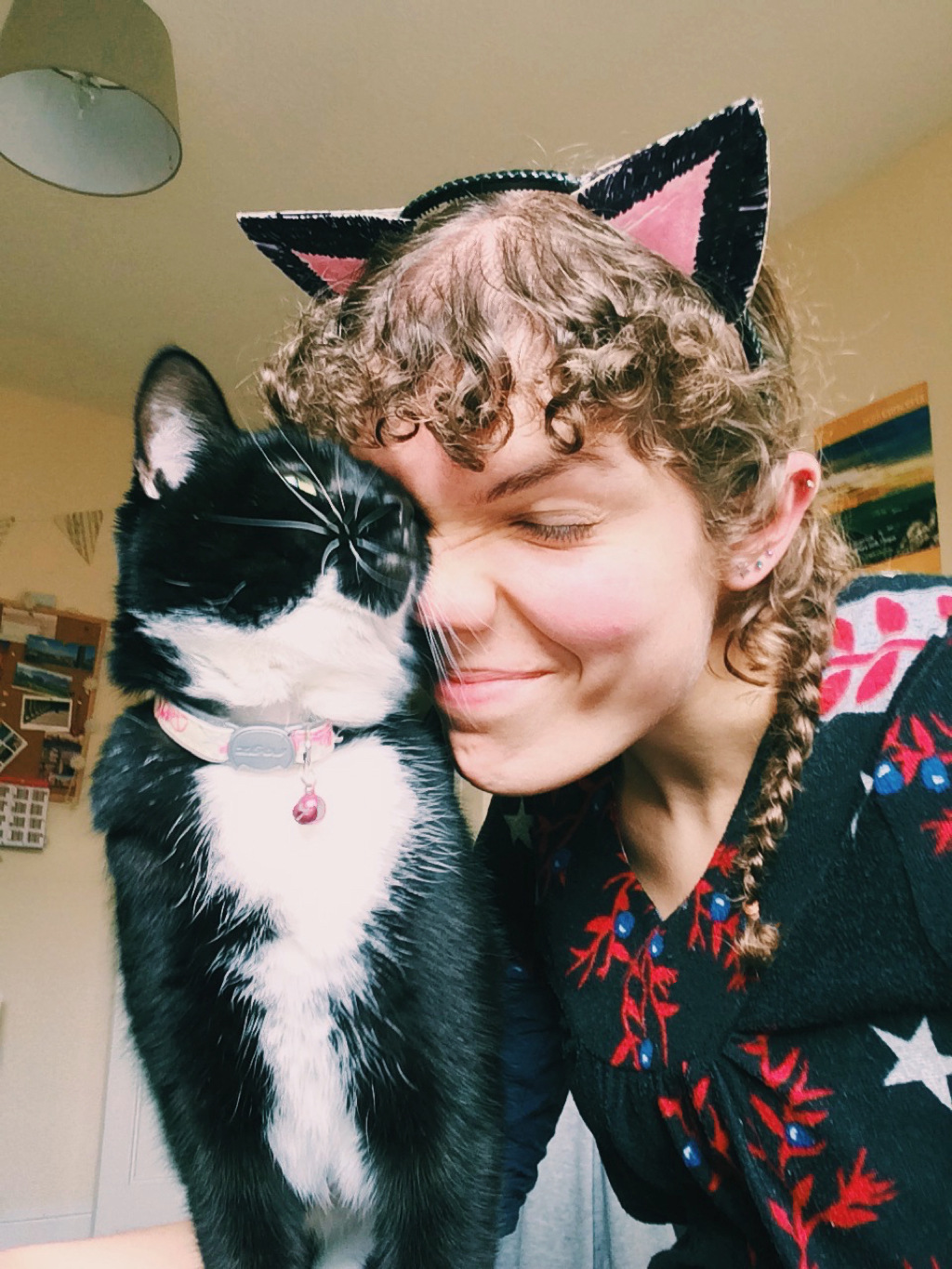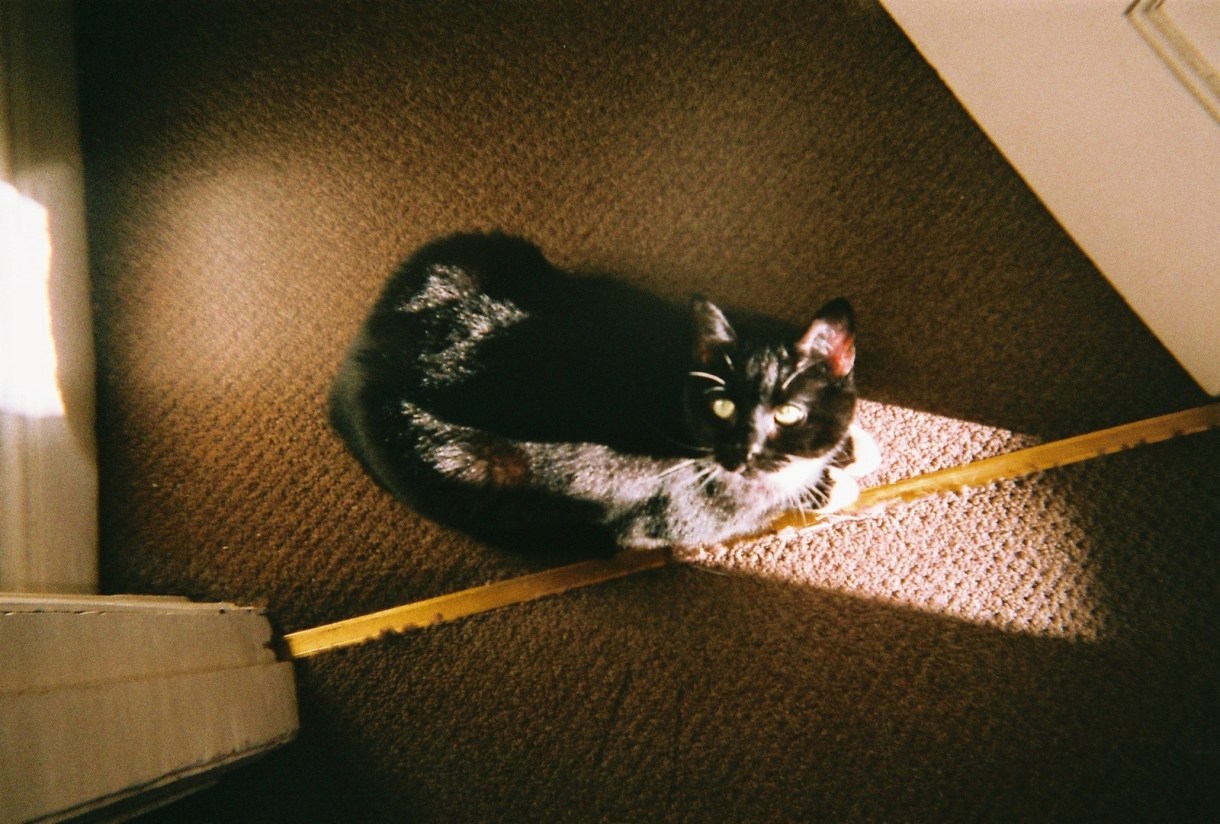 "I got this small furry menace about three and a half years ago, just before embarking on my masters degree. She came from my local Cats Protection shelter and it was love at first sight – when I went into her pen she immediately climbed on my lap and began purring, head butting all over me and dribbling profusely. She is named after a character from the Benjamin Britten opera 'Albert Herring'. Getting Nancy is unmistakably the best decision I have ever made. Her hobbies include: interfering when I am trying to do yoga, sitting directly on any work I am trying to do, and chasing my knitting needles (which she is weirdly more fond of than the wool itself). Right now I am mad at her because I found out that she has been climbing up onto the top of my boiler when I am asleep, eating my spider plant (which is up there specifically to try to avoid ingestion by cat) and then throwing it up on the floor underneath the table, but it won't last. She loves cuddles and if she thinks it has been too long since I cuddled her she will come and yell at me until I sit down and she can jump on me. She is my whole world and I would be so much less of a functional human without her."
---
Jess, Amanda, Mr. Spock / 25, 29, 2 / Burlington, Ontario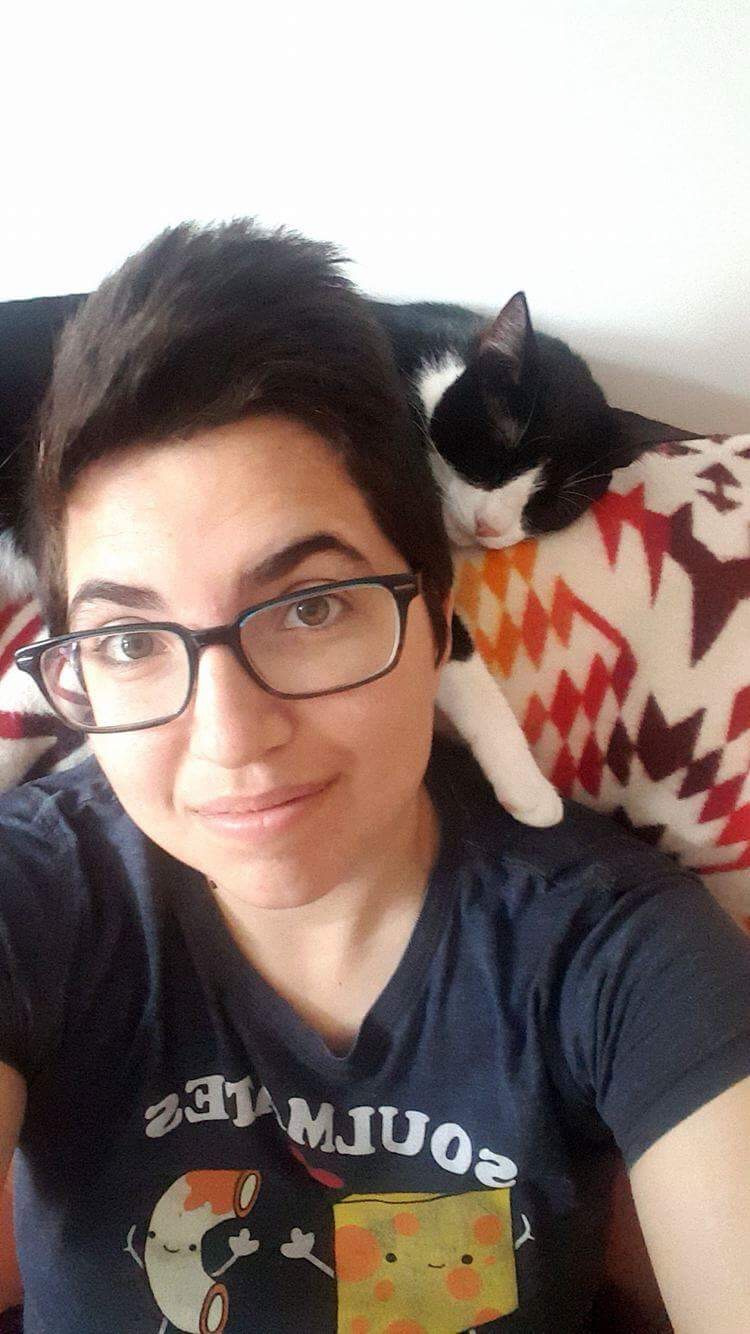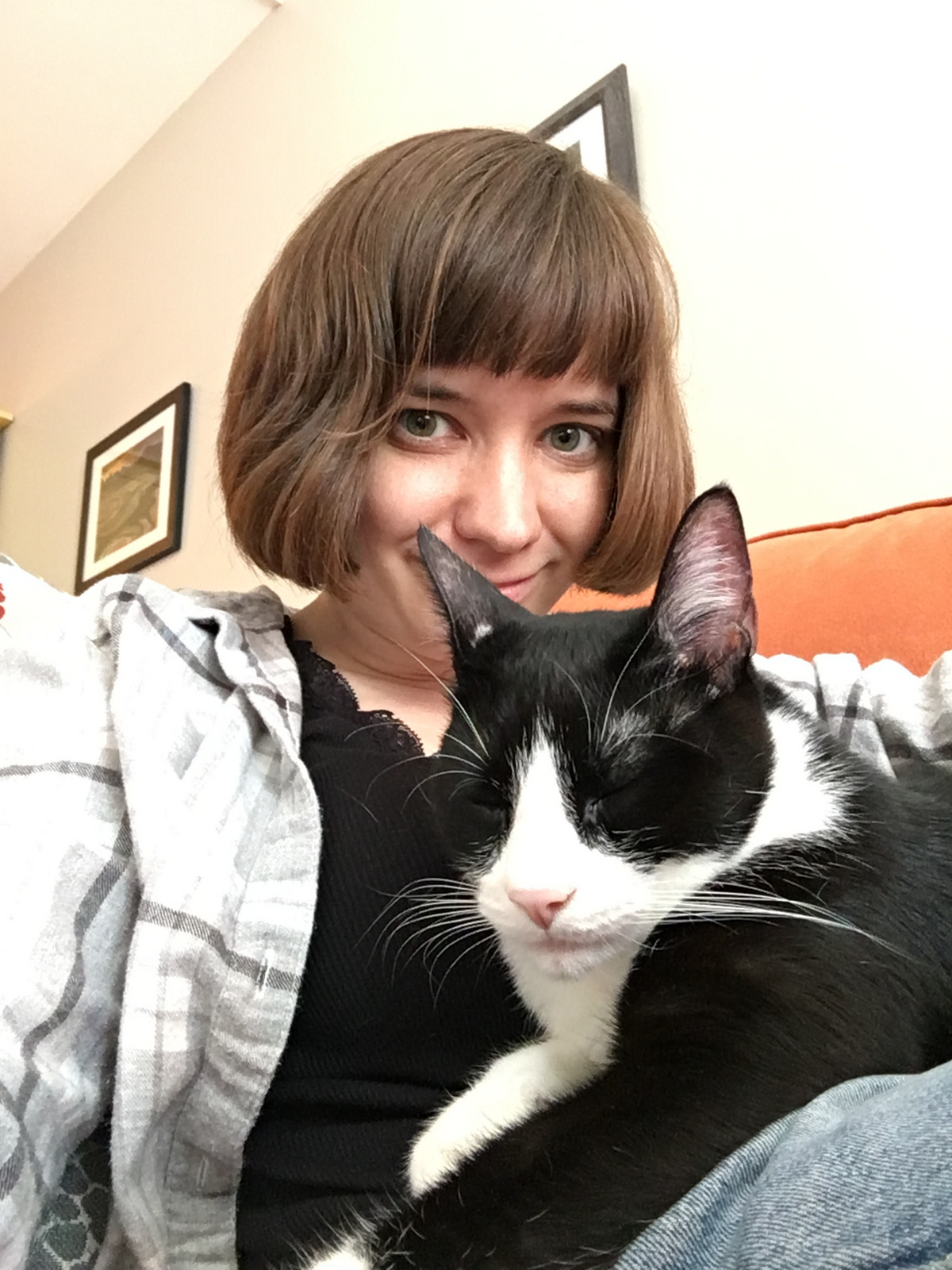 "Mr. Spock is from a shelter. Amanda got him as a kitten, and about eight months later, Jess started spending a lot of time in his home. Now he runs to the door when Jess is walking down the hallway, and he "talks to" Amanda semi-constantly so that she doesn't forget that he is her first priority. He talks to Jess too, but prefers to chase her and be chased by her. Our little family likes to cuddle together while we read, play video games, or talk into the evening. Mr. Spock still has his loud kitten purr."
---
Maddy, Emily, Olive, Marty / 22, 25, 7, 8 months) / Cleveland, OH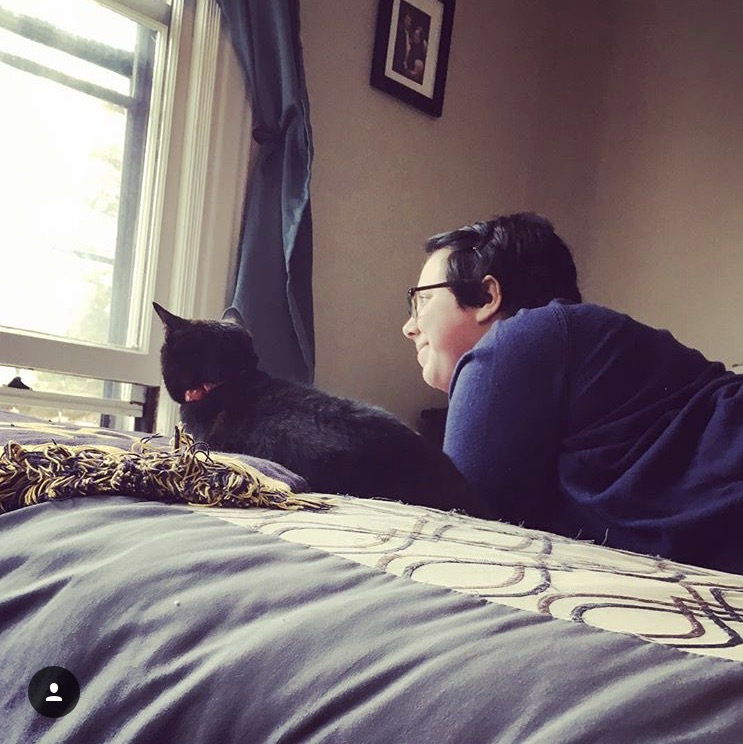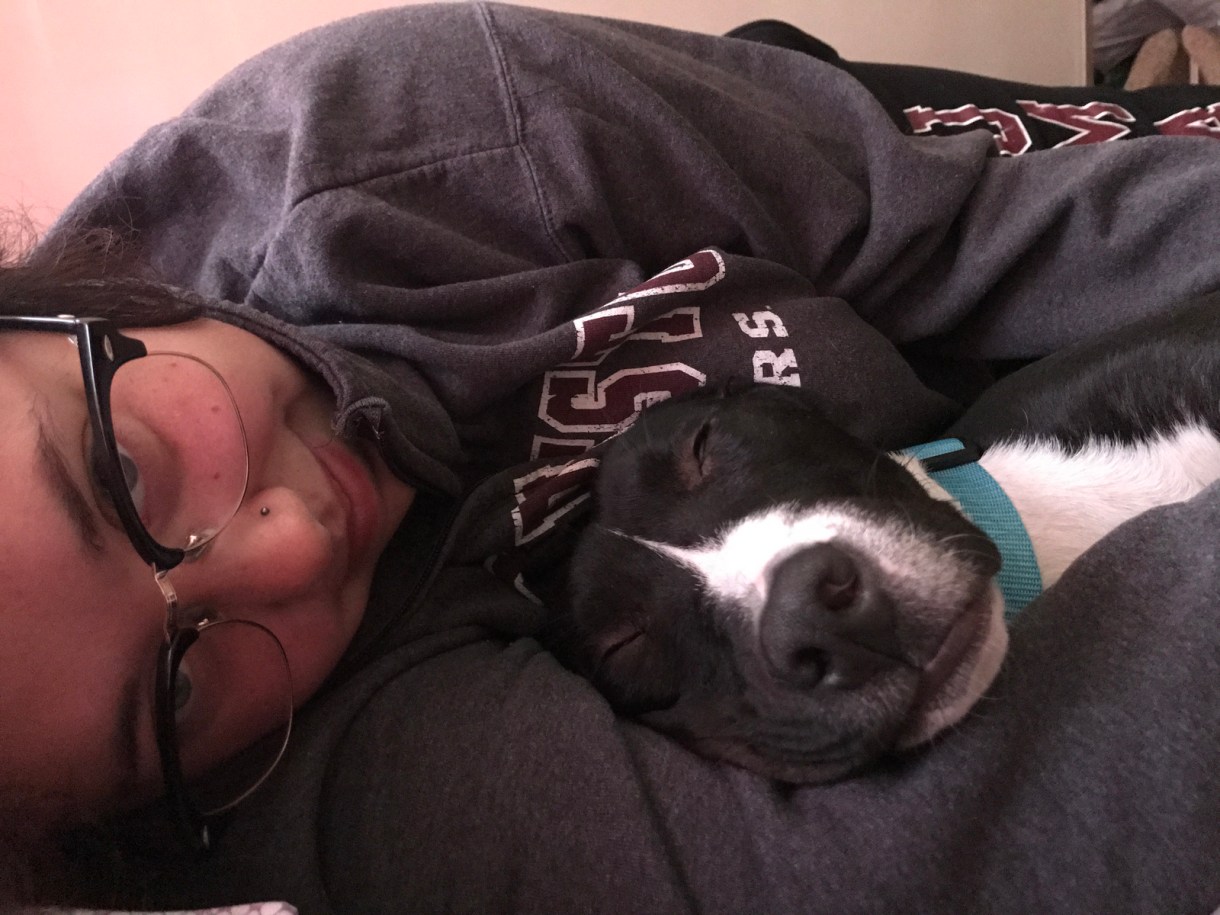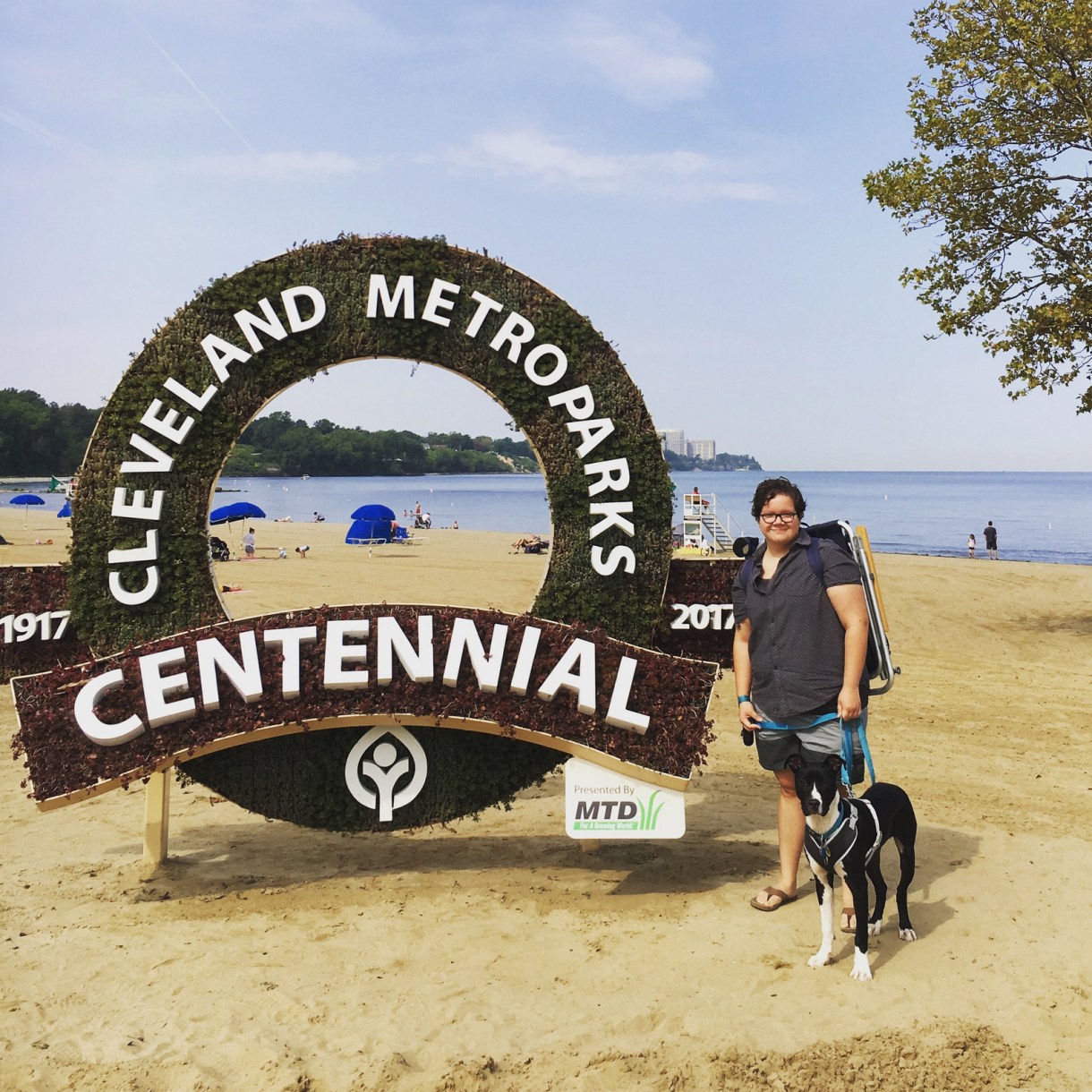 "Olive joined our family first, after her previous owner moved to Mexico from Baltimore for ~*true love*~. Emily picked her up at the Vince Lombardi rest stop on the Garden State Parkway and the rest is history.  She likes screaming, wet food, and climbing through the blinds in our bedroom.
We adopted Marty this July from an animal shelter, where they had originally been calling him Bull Shark. That name is much too intimidating for this little nerd, so we chose Marty to sound like our pets were an old married couple. He likes going to the dog park, carrying flowers in his mouth, and chasing Olive. There are no pics of all of us together because Olive is not interested in her brother and there just aren't enough hands among us."
---
Bettie, Jen, Spuds / 34, 33, 6 / Sheffield, UK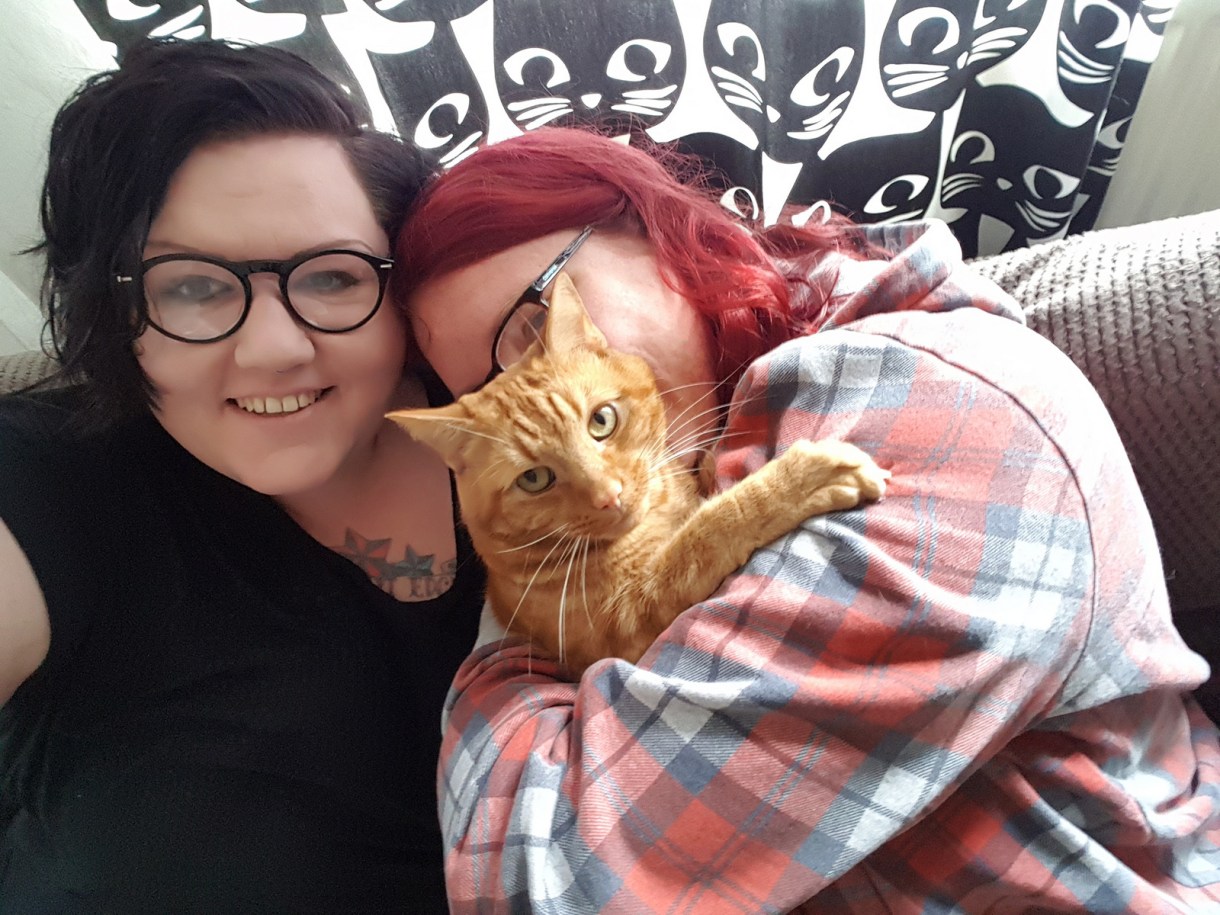 "We don't know exactly how old he is. He likes listening to Slayer and dislikes having his photo taken so this was the best of a bunch of photos of blurry lumps of fuzz."
---
Kaitlin and Fez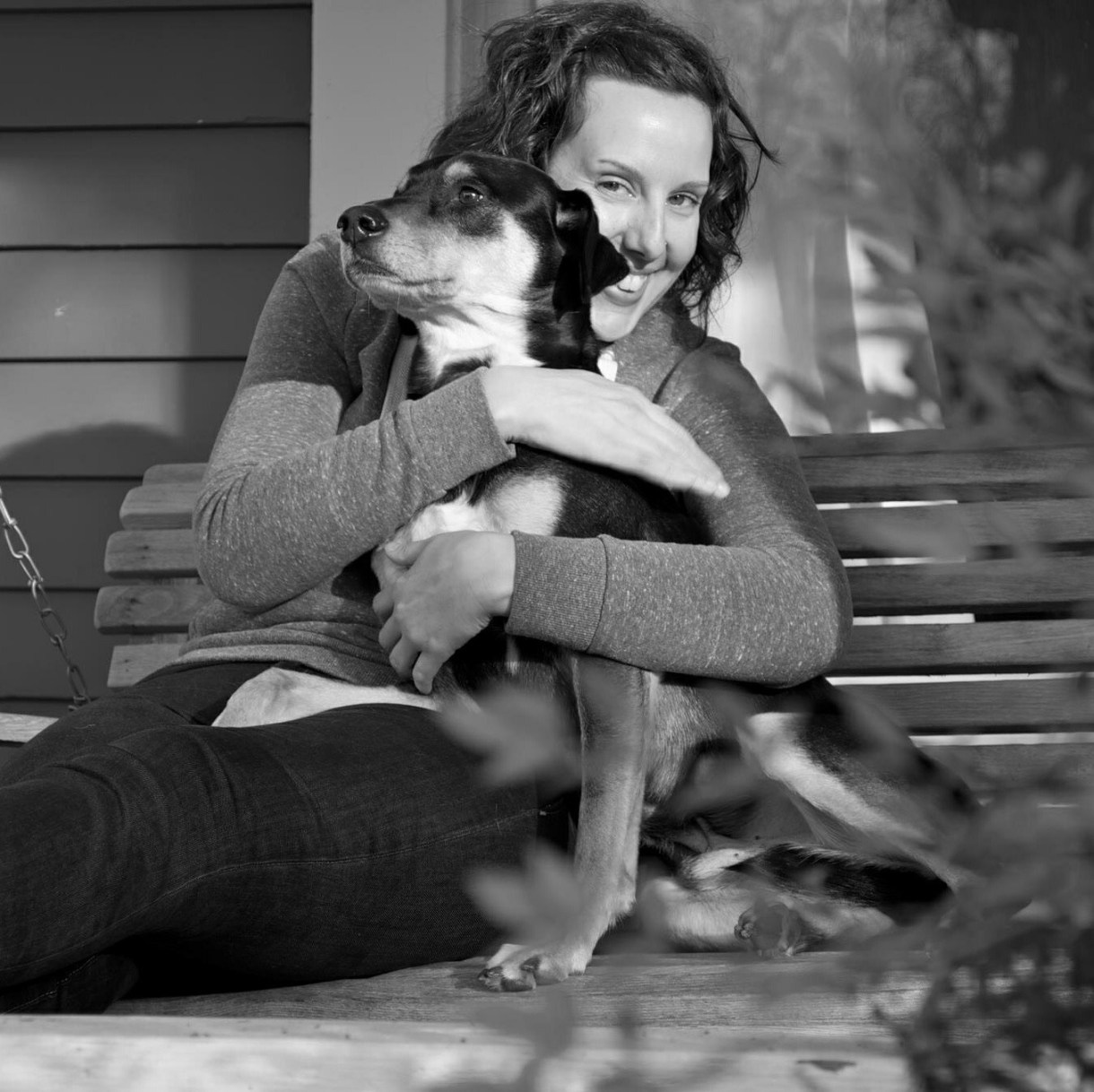 "He came with that name, and everyone who meets him comments on it, "Like from That 70's Show?!" We took him in from a friend of a friend (whose life had become too busy for a dog) when he was seven. He's an anxious old man who needed some serious stability (and Prozac). He took to us right away and soon became our adventure buddy. The best thing about this guy is his unconditional love (I know, I know). His ability to comfort us will forever amaze me. It's a mutual thing—I'm his person and he seeks me out when he's extra anxious. He's also pretty good at getting anyone to rub his belly.
Some things we like to do include chasing squirrels, cuddling in bed and hogging all the blankets from my wife, camping trips in the Pacific Northwest, and cooking dinner together (I cook, he lays at my feet/gets in the way). The weirdest thing (just one?) about him is his love for car rides and adventures, but being so anxious that he makes himself carsick. It didn't take us long to realize he needs anti-anxiety meds for road trips. Fez doesn't have an Instagram account, but he does have a hashtag. See more of this handsome dude at #fezbot."
---
Danielle and Neville / 27, 10 / My Bedroom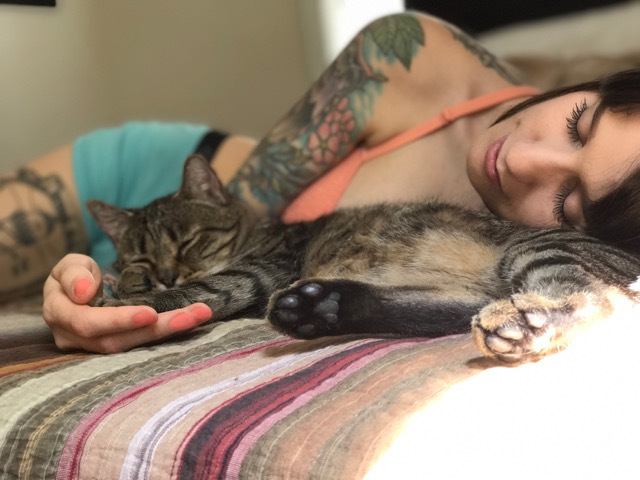 "I adopted Neville from the San Francisco Humane Society. Upon first meeting him he immediately flopped down and rolled on his back, then looked up at me with the sweetest eyes. I knew I had to take him home.  He had been in the shelter twice and was two years old when I adopted him. His previous family had gotten a call from the Humane Society that he was found but never came back for him. I decided on the name Neville because I'm a huge Harry Potter fan, it was an easy choice and I knew right away that the name would suit him very well. The best thing about him is that every time I don't feel well he is right by my side all day, a very loyal companion. We like to cuddle in bed and also go out on the patio or to the park to lay in the sun, he's an indoor cat but likes car rides and adventure. If he's not sleeping he's making biscuits on his favorite blanket. He has a crackily little meow and a super tiny tail that most people comment on upon meeting him but I think he's perfect."
---
Chandra and Zuzu / 41, 9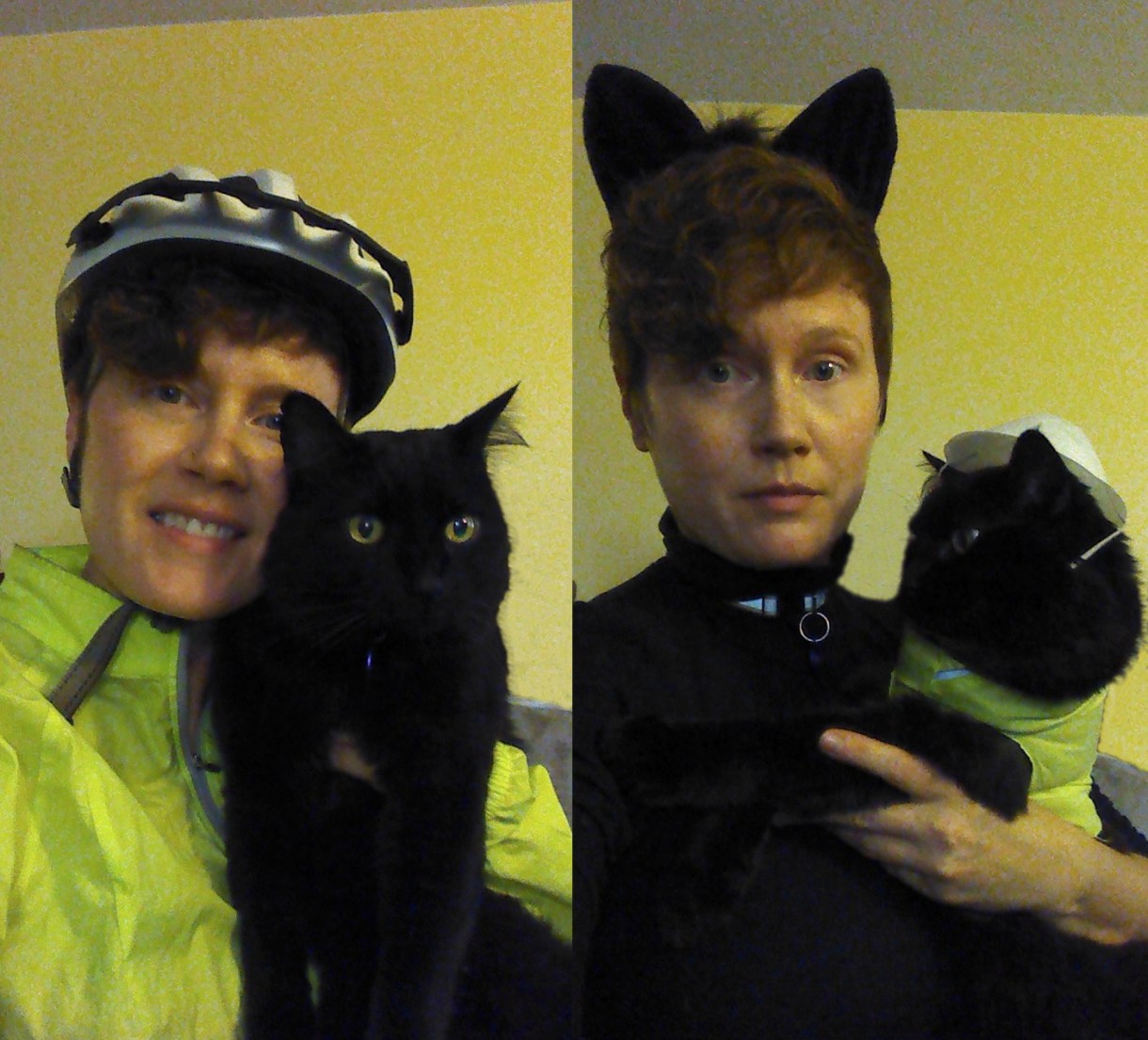 "His former owner named him Zulu, and a few years after I adopted him I started to learn about cultural appropriation and question whether I should call him that. So I started calling him Zuzu instead. (But he's a little monster, so I really should have gone with Zuul.) He is super smart, cheeky and affectionate, and way more outgoing than me. He makes friends immediately with everyone. His companionship has gotten me through some really tough and lonely times. I love him with all my heart (and am crying now). Our favorite things to do together include snuggling! Bopping foreheads! Lying on a blanket in the yard! He LOVES hide-and-seek and chasing games, so we do that a lot too. He will only drink out of his water dish if it's in the bathroom? Also when he is displeased with the weather, he throws temperature tantrums to warm himself up so he can go back outside."
---
Before you go!
It takes funding to keep this publication by and for queer women and trans people of all genders running every day. We will never put our site behind a paywall because we know how important it is to keep Autostraddle free. But that means we rely on the support of our A+ Members.
Still, 99.9% of our readers are not members.
A+ membership starts at just $4/month.
If you're able to, will you join A+ and keep Autostraddle here and working for everyone?
Join A+
Pages: 1 2 3 4 5 6 7 8 9 10 11 12 13 14 15 16 17 18 19 20 21 22 23See entire article on one page