Feature  image via Will O'Neil.  
As I read Huffington Post's coverage of the changes afoot at Change.org, I imagined the interoffice memo must have started with maniacal cackles or at least a puff of smoke. The leak showed that Change.org isn't the happy, shiny company that so many of us believed. Apparently supporting progressives one petition at a time isn't enough for the organization — at least not when it comes to power and their pocket books. In private emails between the CEO and his employees, Ben Rattray introduced the new business model. A business model that seems to go against the very values that made the company a success.
What do they stand for you might ask? From the petitions they featured, the stories they wrote and the B-Corp designation they so proudly boasted, I assumed they stood for rights. For progress. For helping the little guy get a fair chance when it came to fighting the big guy. I had naively assumed that they were happily carving their niche, amplifying partisan issues on the global stage reaching like-minded people that might not otherwise hear it.

While that may have been true beforehand, it doesn't appear to be part of the new Change.org.
According to a Forbes piece from earlier this month, the company has been planning a redesign and the documents were merely the interoffice update. Rattray was planning on increasing transparency surrounding the company's balance of social work and profit earning. The writer noted that, though the company is often presumed to be a non-profit organization, they made $15 million this year. As a for-profit company, any transparency should be welcomed when it comes to revealing Change.org's earning structure. In addition to acknowledging the company's success and growth, the writer also noted that the organization was at the crossroads plenty of tech firms face when politics are involved. "How do you expand your customer base when doing business with one faction makes you an enemy of the other? "
Simple, you do business with both factions.
In the leaked memos, Rattray gives a vision of Change.org as a global platform to help everyone. He wants to make sure that all groups have equal opportunities to advertise with them and inspire change. Gee, that doesn't sound too bad! What could be wrong with hearing from more people on all of their issues? According to Rattray's FAQ, that means listening to a whole lot of opinions!
Republicans? Yes
Astroturfing campaigns? Corporations? Yes
Hate groups? If a large organization like the SPLC says they're a hate group no, but otherwise yes
Anti-abortion? Pro-gun? Union-busting? Animal cruelty? Yes. "We are open to organizations that represent all points of view, including those with which we personally (and strongly) disagree."
Before Change.org's revamp (complete with "amazing new visual design!"), the company's Advertising Guidelines showed who was allowed to work with them.
We do not accept sponsored campaigns from organizations that consistently violate these values, support discriminatory policies, or seek private corporate benefit that undermines the common good.
Back then, the petitions splashed across the front page and linked to other petitions you did want weren't merely paid advertisers, but groups that Change.org actively endorsed. Wounded Warrior Project, Oxfam, Women for Women and the Humane Society were all groups that Change.org was proud to work with. But staying true to their values and ignoring the siren call of money proved to be a bit too difficult for this B-Corp. Instead of sticking to their principles, they "created openness," attempted to become neutral, relaxed their policies and wiped the slate. Oh, and used semantics to distance themselves from their own questionable content.
To make it clear that there will be no assumed endorsement by Change.org of the organizations sponsoring petitions on our platform, going forward we will call them advertisers, not "clients" or "partners."
With this new Change.org openness, anyone is eligible to advertise with them for profit. So after you sign a petition for gay rights, women's rights and all of the other pigeonholing partisan issues, you might find a link to a sponsored petition that you weren't expecting. Get Me Back My Chick-Fil-A! Stop the Criminalization of Traditional Marriage! Get These Abortionists Out of My Wife's Vagina! Even though we may see someone as a hate group, if they aren't on the SPLC list then they're perfectly eligible. And if you happen to sign that petition (I really hope you don't), that advertiser gets your contact info and Change.org gets paid.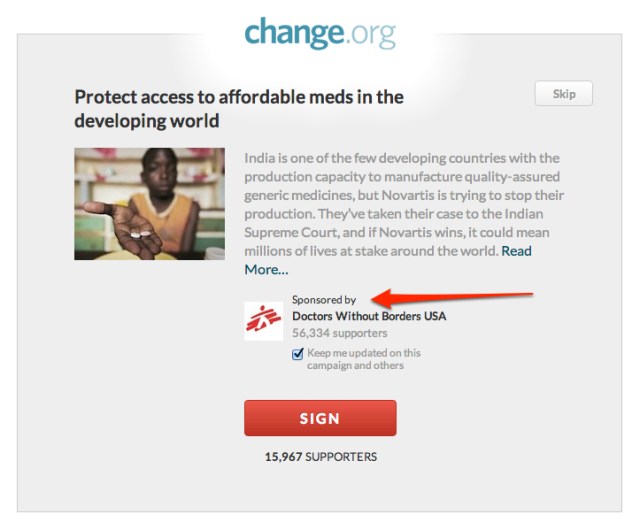 And although the company says they value transparency, they weren't going to let you know about the change.
[W]e have no plans to proactively tell users about the new design or our new mission, vision, or advertising guidelines.


We are not planning proactive press outreach on the rebrand but are queuing up positive press profiles to launch around Oct. 22.
The company is having an overhaul with a massive policy change and won't even let people know. In fact, the person that leaked the memo has since been fired for alerting the public although Change.org claims it had to do with business confidentiality instead of whistle-blowing. Consumers should be more proactive in reading Terms and Services, but I can't fault them for not expecting this massive flip-flop.
I don't want to completely crucify Change.org as we have seen that their petitions can make a difference, seem like they make a difference or at least raise awareness of an issue. The efficacy of online petitions is still debatable, but sometimes they're the only resource available. We have linked to their petitions multiple times, but have also noted their system's failure. The memo stated time and time again that these conservative, radical groups are expected to be a small proportion of their clientele, and I honest-to-goodness hope this is the case.
Given that the entire online petition system can be seen as a racket, we'll see if messages hold any clout when Change.org is the intended recipient. Rival site Sign On, an actual not-for-profit, has a petition to re-instate the Change.org whistle-blower or get them a decent severance package. A few petitions on Change.org itself have popped up protesting the modification. Only time will tell whether Rattray truly values any of those signatures, but the protests from his own site won't come unexpectedly.
We're a petition website, after all. ;)