We're kicking off our second Orange is the New Black recap with this gif of Alex. You're welcome.
Okay. Dry off your panties, because it's FLAAASSSHHHBBAAACCCKKKK TIME.
Red and her husband used to run a restaurant/cafe/bakery that's frequented by the Russian mafia. Red's husband says that it's a good idea for her to be extra friendly to their wives, if you know what I mean. Alas, I don't mean sexy friendly. I've seen Eastern Promises, I know how this shit goes down.
Flash forward to Ye Olde Lesbiane Jaile Kitchene. Remind me later that adding 'e' to the end of all these words isn't really working anymore.
Red is pleased to hear that Piper did not enjoy her tampon breakfast sandwich. I would be worried if Piper had enjoyed her tampon breakfast sandwich, but I once heard rumor of a friend of a girlfriend of a friend who mixed her Diva Cup contents with her food on occasion, so. To each their stomach-turning own!*
*I look forward to your angry defensive comments re: the benefits of ingesting menstrual blood.
Piper asks Healy if she can switch prisons because this one is being mean to her and hurting her feelings. Healy asks if the lesbians are responsible. I imagine Healy alone in his basement late at night, mapping out on his walls hundreds of newspaper clippings and crumpled photographs. Red yarn connects the crisis on Wall Street and world hunger and the twinkie shortage and World War One and – yes! He's done it! All signs point to LESBIANS!
Piper attends prisoner orientation, which is pretty identical to my required 5 hour driver's ed where a guy with a mullet told us "little ladies" that we were always doing our makeup while we drove, silly us. There's a vacant seat next to Alex, who gestures towards it. Piper takes the broken non-working uncomfortable chair over Alex, which I believe is some kind of metaphor for Larry. You can sit on it all you want, but you and your ass both know it's not doing the trick.
At Ye Olde Canteene, Red is still preventing Piper from being fed. Damn, Red is a badass.
Diaz goes to ask her mom for an extra pair of khaki uniforms. Her mom continues to taunt her, and has adopted a new "daughter" in prison. I want to give Diaz a hug 112% of the time.
Taystee gives Healy the 411 in exchange for candy. Healy gives her Good N' Plenty, though? Come on, Healy, you can at least manage some fucking Starbursts. Don't fuck her over with that Good N' Plenty shit. No one wants little nibs of licorice ass.
Red is listening to opera and having her legs shaved for her while she reads a YA romance. Reread that sentence and tell me she's not the motherfucking boss. Piper walks in and attempts to apologize. Red tells her she's weak and fuck no is an apology gonna change anything. This moment is awesome. I don't know what it says that every time Piper gets slammed down by her fellow inmates, I feel like high-fiving them, but it's working for me!
Piper can't sleep because surprise, she's hungry. This triggers a FFFLLLAAASSSHHHBBAAACCCKKK to when she and Larry went on one of those trendy cleanses that able-bodied yuppies seem really excited about all the time. In this case, it's a lemon cleanse. For people who clearly attended higher education via the legacy of their parents' economic status and life goal projections, they're pretty stupid about ways to get healthy.
Back to the present and Ye Olde Visitatione Daye. Diaz and the new guard Bennett share a moment, and if you're not screaming ADORABLE, MAKE IT HAPPEN at the screen, then your heart is cold and dead and I feel sorry for you. Piper and Larry finally see each other (it's been like…half a week, right?) and Piper starts freaking out about the starvation situation. What would she give to be having a love affair with an ice cream sandwich right now? Piper asks Larry not to watch Mad Men without her. At this point in the viewing, my girlfriend and I turned to each other and discussed whether or not we would hold each other to such a request. We could not decide if this was too cruel a commitment or not. Then we started talking about whether or not I could put my hands on Christina Hendricks' butt and still honor the relationship, and then we got distracted. Anyway.
Piper sees Alex with a girl. Alex winks at Piper over the shoulder of the girl as they say goodbye. Someone clearly got an A in chemistry.
By the way, have we named this ship yet, guys? Vausman? Pipex? Alper? Chapse? Get on it, kids.
Red is awoken in the night because Betty's dead! No, not Betty! Betty, by the way, is a refrigerator. Which means everyone needs to clear the food out of the fridge, including possibly a dead cat? Nichols, everyone's favorite lesbian junkie, finds out that you can get high off of some chemical in the now warm fridge so she's got big plans. Piper decides this is the perfect time to confront Red about the whole bloody tampon starvation situation, and thinks Red should just straight up punch her in the face. Red says nothing is changing, she is still a dumb yuppie, she will starve 4 lyfe. Boom bam bang wow.
FFFFFLLLLAAAASSSSHHHBBAAACCCKKK!!! Red is powerwalking with the Russian ladies in a new windbreaker that I MUST HAVE. I could not love tacky nylon more than I do now. Red tells a joke that her fellow powerwalkers do not find terribly funny. They're clearly trying to ditch her like the hot girls ditching my awkward teenage ass, but she's not really catching on. We still love you, Red.
Back in the present, Red's confronting Healy on the toilet to get a new freezer. Red doesn't give a shit. Get it? HA. I'm hysterical.
FFFFFLLLLLAAASSSSHHHHBBBAAACCCKKKK! Polly and Piper make soaps at home. Let's sell the soaps, say Polly and Piper. Polly and Piper are going to sell soaps. Hurrah.
Piper and Nichols are in line at the commissary, which is basically the jail store. Piper doesn't have any money, so Nichols has to order for her. Piper's looking for shea butter and cocoa butter for some secret reason, likely not sexual. Speaking of sexual, Nichols has picked up on Piper's chemistry/drama/general obvious they should bang vibes with Alex, and she's onto her ass.
Piper goes to Sophia to try and get shea butter or cocoa butter. Sophia is only going to do it for a price. That price turns out to be Taystee's new blonde streak. I love Taystee, I love Sophia, I love everything.
Crazy Eyes overhears that Piper is looking for hot peppers. She brings them to Piper in her cell where we learn her name is actually Sue and she doesn't need to trade, she's just being nice. This is a really sweet scene and I have a lot of feelings about it. Piper uses it to chew up and mash with her other ingredients, nom nom nom prison soap.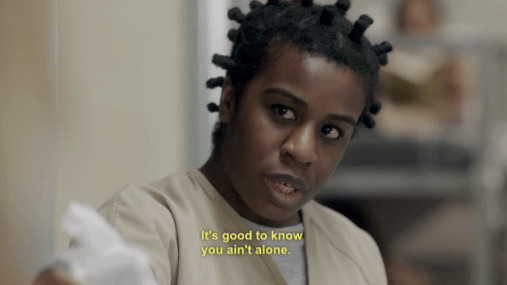 Alex slips Piper some corn bread at lunch, but Piper throws it away. Don't worry, Alex. There's a massive legion of lesbians who would accept anything you slipped into them.
FFFLLLLAAASSSHHHBBBAAACCCKKKK! Red finds out the Russian Mean Girls have been powerwalking without her. How does Red deal with this? She chews them out and then punches the main mean girl in the tit. She punches her in the tit. In the tit! IN! THE! TIT! And it ruptures or breaks or something because it's fake, and I don't even know, I'm still reeling from the tit punching!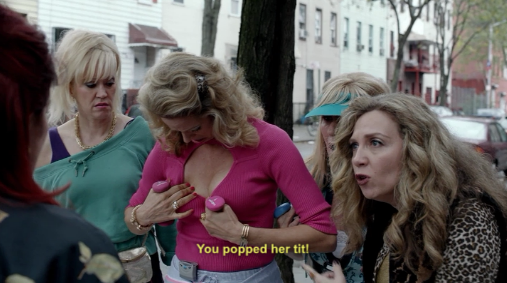 And now it's time for some narrative resolutions!
Piper gives Red the salve, which is for Red's bad back! Yay!
Diaz got gum from the cute guard! Yay!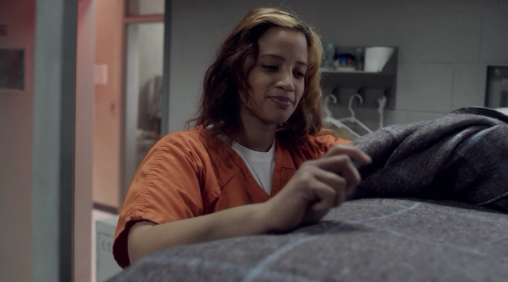 Larry watches Mad Men! Nay!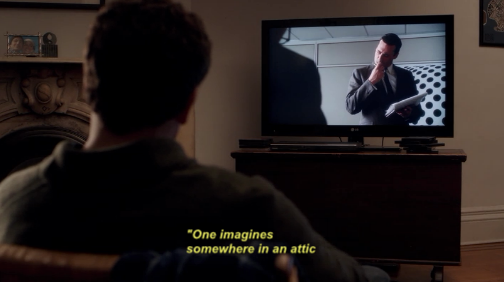 Alex is being starved out! Nay!
Sue shares her headphones with Piper and then feels her up! Yay/Nay!