Slate recently paneled a group of writers, editors, and bloggers in response to the institution of marriage and its purported "end." Their answers called for reforms to financial rights, domestic partnerships, and disbanding marriage altogether. I was surprised to not see a queer perspective on the matter. Gay marriage is the institution through which most gay rights conversations are funneled, and winning the right to marry has become the signature battle in our own civil rights movement. If the media is right and marriage is on its dying breath, where does our battle fit into that conversation? If the institution is in need of an update, is the inclusion of gay marriage enough to jumpstart a healthier version of marriage?
While I'd like to think that queers are always magical creatures that ignite positive social justice and change, marriage is one of those issues where I've had a hard time understanding its importance to the gay community. I understand that gay marriage has risen from a time in which the AIDS crisis tested partnerships and families, and denied important rights like visitation and inheritance to these units. I also understand that marriage is important to many queer people, especially those who have lived together for an extended period of time and would like to have the same legal rights as heterosexual couples who are in similar positions. But I'm troubled by a platform of activism where marriage is treated as the end-all-be-all, and other issues of more pressing need are given little to no attention. Seems like our version of marriage needs an update, too.
So, how do we fix gay marriage? Gay marriage isn't a universal institution, which is one of the reasons it's not already being brought up as an institution in need of reconsideration or change. And criticism of gay marriage is considered criticism of gayness itself, which means we are continually frustrated by the fact that questioning the importance of gay marriage is often mistaken for homophobia or being a "bad queer." With the risk of sounding like one of those bad queers, I propose a three step plan to make gay marriage ever so slightly better.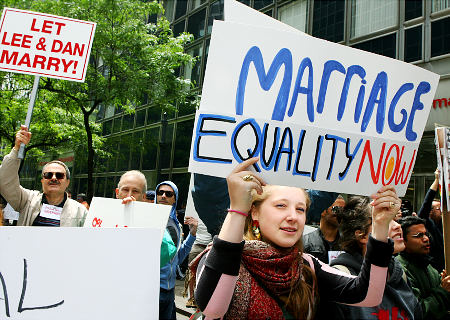 1. Stop making it the platform for gay activism.
Which is more troubling to you: someone who doesn't believe gays deserve to be married, or someone who doesn't believe gays deserve to breathe? The problem with placing gay marriage at the center of activism is that it isn't going to solve most of the problems facing queers. Marriage does not hold up as a foundation for civil rights – it's too narrow an issue, and it's too limited. Queers who have been prejudiced against and don't have access to housing, healthcare, employment, or basic needs have not been blocked out from those things because they don't have the right to get married. They are blocked out because they are queer, and homophobia will not suddenly go away because they are able to legally fill out a marriage certificate. Will making gay marriage institutionalized  help everyone? The queers who are assaulted, attacked, even murdered, will not be saved by their ability to marry alone. It is much more troubling to me that rich gays and allies with the money to spare are giving that money to gay marriage instead of to the queers who need it. I'm much more worried for the homeless queer youth and transwomen in prison than I am for the middle and upper class gays who haven't been able to set a date for the ceremony. The ability to get married will not solve our most pressing problems, so it shouldn't be the foundation for our problem solving techniques.
2. Think beyond traditional notions of marriage.
There is more to coupling than single partner monogamy, and don't we queers know it? It's almost sad to see us fighting so hard for the most normative definition of marriage where our lives are all about being non-normative and, you know, queer. Polyamorous partnerships are just as legitimate as their monogamous cousins, as are partnerships that choose to forego marriage or be otherwise legally bound. Having legal rights tied to one form of marriage is limiting to those who do not fit that definition, and if we're in the process of changing the definition of marriage in this country, why not do some fine-tuning while we're at it? Including other types of partnerships within those legal rights means that marriage is no longer a requirement for the benefits, and all kinds of people and families can have access to what should be a basic right (financial and legal security, I mean, not marriage itself).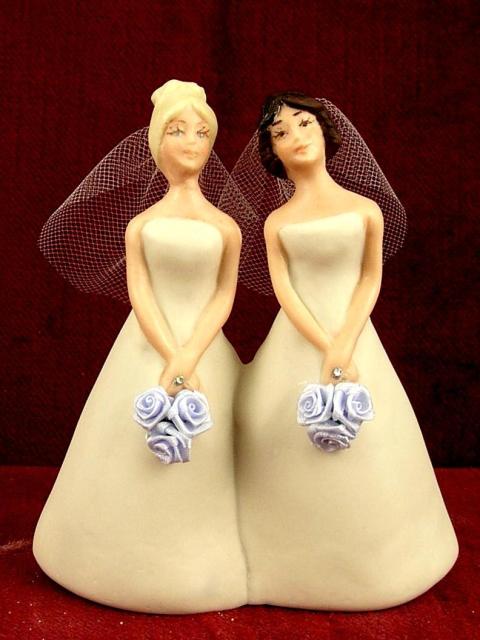 3. Know your enemy.
The conservative asshole who believes that queerness is disgusting and wrong is your enemy, not your queer neighbor who believes that queerness does not align well with marriage. Too often, I see queer dialogues being shut down or turned into bloodbaths because not everyone is on board with the issue of gay marriage. Questioning something for the purpose of trying to make it better and healthier is a legitimate process, and something that will only make gay marriage stronger. No one is saying that we can't have nice things. What is being said is that there might be a way to make the nice things even nicer, and more inclusive, and better for other issues, too.
Special Note: Autostraddle's "First Person" column exists for individual queer ladies to tell their own personal stories and share compelling experiences. These personal essays do not necessarily reflect the ideals of Autostraddle or its editors, nor do any First Person writers intend to speak on behalf of anyone other than themselves. First Person writers are simply speaking honestly from their own hearts.