Learning to feed yourself can be one of the most terrifying things. Am I about to give myself food poisoning? If I eat this too often will I end up with scurvy? How can I get the most nutritional bang for my buck? Why does this still taste like ass?
With Ode to My Pantry, learn to navigate a grocery store without having a meltdown in aisle three. Give a man a fish and feed him for a day, teach a queer to cook and stave off malnutrition for another semester.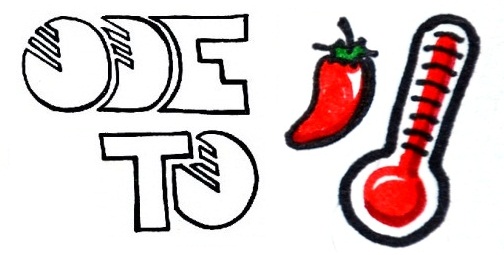 ---
Hot sauce is everyone's answer to a boring meal. Even though most diners, restaurants and/or college dorm dining hall would have you believe your only choices are sriracha, Frank's Red Hot or Tabasco, you have more options my friend. I would write an ode to rooster sauce but it's already been done. And let's face it, it's not the be-all-end-all.
My friends enlightened me about the merits of DIY pain sauce after they spent the summer canning jams, sauces and produce. Whereas most hot sauce range from "kick you in the throat" to "licking napalm" they proved that there are more options! Like flavours beyond 'owww.'
If you're still in freak-out mode over what to get your friends, why not warm their hearts and their throats by making your own sauce? It's cheaper than buying the artisanal stuff and less time consuming than giving your friends personalized rug burns. And hey, if you get really great maybe you'll be able to make a business out of it.
But before I tell you how to make The Most Lovingly Hurtful Craft, I have to share a warning from the last time I made spicy stocking stuffers.
Thought homemade hot sauce would make Christmas merry!

The chilies were small and didn't seem scary!

I cooked sans protection

'Til my skin yelled, "Objection!"

Went to bed crying with my hands 'round frozen berries.
See? Not funny in shitty limerick form and not funny then either. Rather than making a DIY chemical burn and the subsequent DIY First Aid Kit, you should learn from my mistakes. This is the season of giving after all.
Practice Proper Pepper Procedures
Suit up. Nitrile gloves are the best way to prevent burns and/or finger babies.
Moisturize your hands. Do it. Do it right now. If you are even thinking of putting your digits in the vicinity of a chili during the winter months, make sure you become good friends with cocoa butter or some other moisturizer. Thirsty skin is great at absorbing things like chili oils. If you remove your gloves incorrectly you might spend the rest of your night washing your hands with soap, cleansers, vinegar, milk, yogurt and/or rubbing alcohol before realizing nothing works. Do not do this.
Make sure your oven hood is in working order.
Know What You're Working With
Don't take pepper pain personally, because those chilies aren't intentionally sadistic. They're just off doing their thing, growing up, making babies and living happy pepper lives, while you're the jerk that wants to eat them. Can you really blame them for fighting back?
Before you pick your peck of peppers, figure out how much heat you can handle. Not all chili strains are equally armed, so look for larger, ripened pods if you crave a gentler sauce. They contain less capsaicin (the chemical agent at work) in their innards and will do less damage to your mouth.  Capsaicin levels are higher in times of heat or drought, so winter pods should burn a bit less. If you want to play it safe, you can always deseed and demembrane the pods before use. You could always re-add the seeds if you want a bit more kick.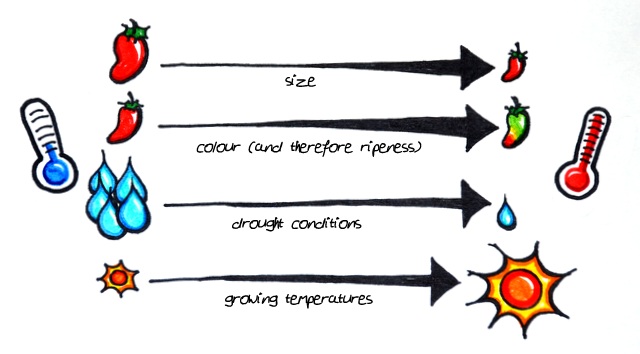 Gather Your Goods
In its most basic form, hot sauce is nothing more than salt, vinegar and chilies. You can choose to go the fermented route or keep it simple on the stove.
Saute your peppers in a well ventilated area for 15-20 minutes.
Puree with a blender, food processor, immersion blender or pure brute force.
Come up with a clever name.
…
Profit.
The reason I am so vague right now is because hot sauce is all about preference. Once you figure out your basic recipe, become your own hot sauce master! Do you like your sauce a bit chunkier? Saltier? Hotter? Fruitier? You Do You.
Get aromatic with garlic and onions. Practically all sauces start off with some sort of mirepoix so you can't go wrong using aromatics for a pepper-based sauce. Caramelize them to add a smokey sweetness or keep them raw to retain the fresh pungency.
Balance out the acidity with sugar, honey, molasses or agave. You could also rely on vegetables like bell peppers, tomatoes or carrots to reduce the sauce's intensity by adding some body. If you want to add fruitiness to the mix, try using dried mango, papaya, apricots or pineapple since they won't dilute your brew.
Throw some spices at a recipe to make it your own. Coriander and cumin are my go-to team, but you're only limited by your spice rack. Look to dry rub recipes or classic spice blends for some inspiration or just have blind faith in the power of your secret tomato sauce seasonings. Give your hot sauce a hint of smoke by adding preserved peppers in with the fresh — just be sure to shake the seeds out.
After you make your sauce of the year, put them in some jars, slap on some handmade artisinal labels and you're done! Take the lazy way out by refrigerating your sauce and including a note to do the same.
(Oh and for the love of all that is holy, do not have celebratory sexy times until you have washed your hands at least ten times post de-gloving.)