Welcome to OBSESSED, in which I provide you a reading list / media consumption list that speaks to my primary hobby: doing obsessive amounts of research into a singular topic or story for no reason. This week guess what, I watched the Abercrombie & Fitch documentary.
---
It was Abercrombie & Fitch's homoerotic imagery that reached us first — shopping bags and mag-a-log pages of shirtless, muscled, clear-faced American boys with low-slung half-buttoned jeans and happy Golden Retrievers. They liked to wrestle in amber waves of grain or lie on checkered blankets in the backseats of trucks with sinewy girls in camisoles and bikini bottoms. They were always just about to throw a football. Those pictures were displayed prominently in stores, but also adorned the cinderblock dorm room walls of the gay boys I was friends with at our boarding school in Northern Michigan.
As detailed in White Hot: Abercrombie & Fitch,  Abercrombie & Fitch — once an outfitter for outdoorspeople, sported by esteemed personalities like Ernest Hemmingway and Amelia Earhart — rose up into wild, inescapable popularity in the late '90s and early '00s and did so with marketing, merchandising and hiring rooted in bigotry, misogyny and racism. The documentary does a good enough job exposing "the dark side" of its American dream, describing the discrimination, exclusivity, sexual misconduct and offensive products that eventually led to lawsuits and turning of public sentiment against the brand, which led to the ousting of its CEO, Mike Jeffries.
After watching White Hot: Abercrombie & Fitch, I didn't feel the rush of obsession I get from a good documentary or movie-based-on-a-true-story where I want to know everything there is to know about the story — none of the main players in this tale are especially intriguing, even Jeffries. But it did send me down a rabbithole of demented nostalgia for a terrible company who loomed so very large in my life and the lives of my peers.
---
A & F Quarterly: Naked Boys Wrestling, Group Sex, Polo Shirts, Jonathan Franzen?
Abercrombie asked you to pay real money ($6!) for their magazine that was also an advertisement. Also extraordinary was that in addition to featuring future stars like Taylor Swift and Channing Tatum, as written by Racked, "issue after issue, the staff was somehow able to convince the era's biggest literary and intellectual stars to sit down for interviews." They interviewed Spike Lee and Gus Van Sant! According to Mel, the magazine apparently had a cult following amongst actual journalists and many appreciated its candor around sex and general bizarreness. It hit a peak circulation of 1.2 million and was the subject of ire from organizations including Mothers Against Drunk Driving, NOW and the Catholic League.
Sex, Lies and Cheap Cologne: An Oral History of Abercrombie & Fitch's Softcore Porn Mag (Mel Magazine, 2021)
Mel calls the Quarterly "one of the least-discussed, most under-appreciated items of queer history" for its normalization of queerness and non-monogamy.
"Not only were we the first brand to do this kind of advertising, we were also the first big brand to normalize gay culture for a mainstream audience, expose America's youth to some of the era's most progressive thinkers and use our platform to address sexuality in a useful, hands-on way. And you wouldn't necessarily expect that from Abercrombie. That's what made it so cool."
A&F Quarterly: The Story of Abercrombie's Highbrow, Controversial, Sort of Amazing Magalog (2014, Racked)
Behind the scenes, the book was split, with only limited overlap between the racy photos up front and the editorial content in back. "It created this weird interplay where we'd have an essay by Michael Cunningham after he won the Pulitzer beside these nude, nubile 19-year-olds," says contributor Guy Cimbalo. But from a reader's point of view, the result was exactly the kind of 360-degree experience Jeffries wanted to achieve: one-third scandalous photos, one-third magazine articles that could have appeared in GQ or Esquire, and one-third rugby shirts going for $49.50.
Close Encounters With An Abercrombie & Fitch Catalog (Medium, 2014) – The author on how his early exposure to A&F Quarterly impacted his sense of himself as a gay man.
Revisiting The Absurd Critical Theory Of Abercrombie's 2003 Back To School Catalog (Complex, 2003) – The author deconstructs the absolute inanity of the Abercrombie & Fitch Back to School 2003 catalog, which is 0% articles and 100% softcore porn, interspersed with tidbits of philosophical wisdom from critical theorist Slavoj Žižek. It is completely bananas.
Death of A&F Quarterly: Problem Wasn't the Sex But Brand's Loss of Cool (WWD, 2003) digs into the reasons the magazine shut down and its controversial past.
In an essay comparing the American Eagle and Abercrombie catalogs, I learned that in 1999, American Eagle actually sued Abercrombie for copying its overall vibe in its catalogs, and the Sixth Court dismissed the case affirming that "A&F makes extensive use of photographs depicting apparently college-aged people in often erotic or homoerotic poses or situation" whereas "American [Eagle]'s photographs in contrast, present a decidedly wholesome image, with people of various ages in non-suggestive, often family-oriented situations."
---
A&F Quarterly's Lesbian Wedding
Winter 2000's "Very Emerson Christmas" issue was designed as the fictional scrapbook of "Bryan Emerson," who went home for Christmas and participated in clambakes, more than one "boxers only" themed Christmas party, and, believe it or not, a double wedding that included a lesbian couple.
The A & F Quarterly's homoeroticism was pretty focused on men, even its multiple pieces on group sex. Even lesbian "hugs" were rare! But the "double wedding of the Emerson family" was an exception to this. Its reply card that includes response options like "I'm liberal but not that liberal" and "Yes… I'd love to see two women get married."
The Very Emerson Christmas had everything: shirtless horseback riding, a Mom who always has a drink in her hand, Charlie's pet duck, Whitney's first photo expo at the San Francisco Arts Institute (nudes of her brothers in the woods) and a father who "stumbled around with his big beer-soaked grin, mucking it up like he was still one of the boys."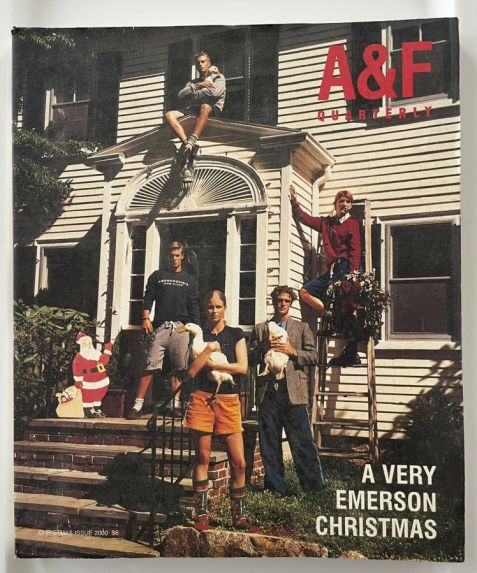 ---
Bruce Weber: The Monster Who Took The Pictures
There's more than one dark side to the Abercrombie story, of course: it was Bruce Weber who shot those legendary aforementioned spreads and advertisements. The gay photographer defined gay male sexuality for so long — while also being subject in recent years to multiple allegations of sexual assault and sexual harassment.
Male Models Say Mario Testino and Bruce Weber Sexually Exploited Them (The New York Times, 2018) details allegations from several male models against Weber. The Times also spoke to a female model who worked on Abercrombie campaigns specifically, who testified that models who refused to go nude were "always cut on day two" and "The boys who would socialize with Bruce after the shoots, alone in his hotel room, would get booked for longer with the carrot of a major campaign being dangled in front of them."
---
Working at Abercrombie and Fitch
The Traverse City mall, near where I went to boarding school, didn't have an Abercrombie, but my mall back home in Ann Arbor sure did. I also often drove past Abercrombie headquarters when visiting my family in Ohio. Over Spring Break in 1998 I visited my cousin at Miami of Ohio and met her roommate, who was so tan and so blonde and so pretty; she had her whole dorm decorated in Abercrombie imagery but more importantly, she actually worked at an Abercrombie when she was home in Kentucky. She made $6 an hour and told me that they were trained to ignore customers and that everybody had to be hot.
In I sold my body (and nearly my soul) to Abercrombie (Salon, 2014), the writer fesses up to being a self-absorbed lazy asshole as an employee, and getting away with it — while watching a gay Black employee who worked harder than anybody else on the floor get edged out of the company.
Abercrombie didn't hestiate to put its discriminatory practices into writing.
In 2012, Bloomberg got its hands on the 40-page "Aircraft Standards manual," which had been disclosed in the process of a lawsuit from a former pilot of Jeffries' private jet suing for age discrimination. Highlights:
Black gloves for handling silverware, white to lay by the table
Phil Collin's "Take Me Home" to be played as passengers enter cabin on return flights
Flight crew uniform was polos, flip-flops, sweatshirts & winter coat, a belt, hat, gloves, boxer-briefs and a spritz of cologne — coats could only be worn below 50 degrees and had to have their collar flipped
In 2013, Buzzfeed got its hands on the company's "Look Policy" Handbook and it is a trip.
In White Hot, writer Moe Tckatik said upon her first trip to an Abercrombie store she felt like "Oh my God they have bottled everything that I hate about high school." I related to that!  I was intimidated by the hot models who worked at Abercrombie and therefore was relieved that they ignored me. Because yes, I sure as hell did shop there (or bought their stuff second-hand on eBay or at Plato's Closet) — I wanted to be cool and normal! Ultimately Abercrombie's sizeist elitism worked out in my favor; I'm tall and thin and they were the only store I'd encountered in my entire life that stocked pants my size with a 36 inch inseam. I stopped shopping there when we all did but I wore every pair of Abercrombie pants down to the bone. Which wasn't hard — the quality of their products was incredibly low for what they cost.
---
LFO's Summer Girls: "I Like Girls Who Wear Abercrombie & Fitch"
LFO released "Summer Girls in summer 1999, it was on consistent radio rotation as I drove to and from the mall for my summer job at GapKids.
I don't have much to say about the song besides that I learned that tragically, most of LFO has since died. In 2018, Devin Lima died of cancer at the age of 41. Rich Cronin, who wrote the song, died of leukemia in 2010 at the age of 36. In 2005, he told The Boston Globe, ""I never thought anyone besides my close friends would ever hear it. would have definitely taken out the line about Chinese food if I had known that would happen."
---
Longform on Abercrombie & Fitch's Downfall
This list of every lawsuit and penalty and violation leveled against Abercrombie is EXTENSIVE.
The Man Behind Abercrombie and Fitch (Salon, 2006) – The legendary interview that went viral many years later in which MIke Jeffries declared, without shame, "Candidly, we go after the cool kids. We go after the attractive all-American kid with a great attitude and a lot of friends. A lot of people don't belong [in our clothes], and they can't belong. Are we exclusionary? Absolutely."
Why Abercrombie is Losing Its Shirt (New York Magazine, 2014)
"Today's teens are no longer interested in "the elite, cool-kid thingwp_poststo the extent that they once were. This generation is about inclusiveness and valuing diversity. It's about not looking down on people."
The Aging of Abercrombie & Fitch (Bloomberg, 2015)
"Mike indelibly linked his entire persona, his soul, to this brand's image. He even tried to make himself look like his customers. He used to run around in ripped jeans and a T-shirt. He had plastic surgery. For him to change the brand would have taken the greatest psychologist in the world."
The Rise and Fall of Abercrombie's 'Look Policy' (The Washington Post, 2015) – A good summary of the discrimination lawsuits and the tide turning with public sentiment towards the brand.
Elle talked to Carla Barrientos in 2022 on what it was like to sue Abercrombie & Fitch for racial discrimination: When I told my friend what happened, she said, "It's probably because you're Black. You're the only Black person who works here. During the day shift, it's all white."
---
Abercrombie & Fitch's Comeback, I Guess?
Since Fran Horowitz took over in 2017, the brand has apparently been rebounding. In 2020, they partnered with Megan Rapinoe for a miniseries on mental health and new campaigns have focused on body positivity. They now stock a broader range of sizes and have had great success with "social-first" marketing.
The Second Coming of Abercromibe & Fitch (Out Magazine, 2017)
"Under Levine, Abercrombie's aesthetic has been streamlined, moving away from the flashy logos that were once at the heart of the label, toward something more sophisticated and simple."
The teens who hated Abercrombie are the adults shopping there now — and they can't believe it either (The Washington Post, 2021) – Abercrombie's Curve Love line is a hit and under Fran Horowitz's leadership, the brand has "graduated from high school" and targeted the "young millennial." The clothes are also now higher quality.
---
And finally: every Mad TV sketch about Abercrombie.