Feature image of Max Madame and Q in Crash Pad Series episode 261. All of the photographs in this NSFW Sunday are from the Crash Pad. The inclusion of a visual here should not be interpreted as an assertion of the model's gender identity or sexual orientation. If you're a photographer or model and think your work would be a good fit for NSFW Sunday, please email carolyn at autostraddle dot com.
Welcome to NSFW Sunday, and especially welcome to my fellow size queers!
When it comes to dildos, how big is too big? (The limit does not exist.):
"[A]t the end of the day, so long as you're into stretching out, the sky's the limit when it comes to how big a dildo can (or should) be. 'While I'd love to share my personal opinion about when a sex toy or dildo is too big for someone, this is a personal preference for each individual,' Rodgers emphasizes. 'While I may think a dildo is too large, another person may think it's the perfect size for them.'

McCain thrusts this notion home. 'Everyone's feelings of pleasure are different; however, to discover that pleasure, this needs to be done correctly and safely so that you alone, or you with a partner, are getting the most out of the experience and not causing damage to your body,' she says. 'When a dildo is too big isn't the question — it's how we educate people about using larger toys and eventually achieving the pleasure that they're looking for without causing harm.'"
How could a universal basic income transform sex?
What would it be like to stop willfully misunderstanding kink?
Here's what Venus in Pisces from February 25 to March 20 means for your love life.
Quarantine bubbles are bursting.
Here's what it's like to maintain a sex life when a thyroid disease is killing your sex drive.
If you get periods and they trigger migraines, here's why and what to do about it.
What are the ethics of keeping an ex's nudes?:
"Team Delete and Team Keep are pretty polarized, but there are some areas of common ground. Virtually no one argues that it's ethical to share an ex's nude with a third party, or publish the nude online, without permission; this is revenge porn, and pretty much everyone agrees it's a shitty thing to do. The debate is about whether it's okay to keep the nude, and also possibly enjoy the nude, too.

Also, most people agree that it's shitty to keep a nude you've been specifically asked to delete […] The question is whether there's an automatic moral obligation to delete an ex's nudes once the relationship ends."
---
We're bringing you a brand new live video series exploring the building blocks of queer sex, led by real queer sex-having people! This month, Shelli Nicole is bringing you a world of knowledge and insight about masturbation! The live workshop is available to A+ members only (please visit this post to obtain the password or check your A+ e-newsletter for the password). Realtime live captioning will be provided!
Register here for All About Masturbation with Shelli Nicole once you've joined A+ and gotten your password! The recording of this workshop will be available for free to the public within 72 hours of the initial workshop. Thank you A+ members for making this possible!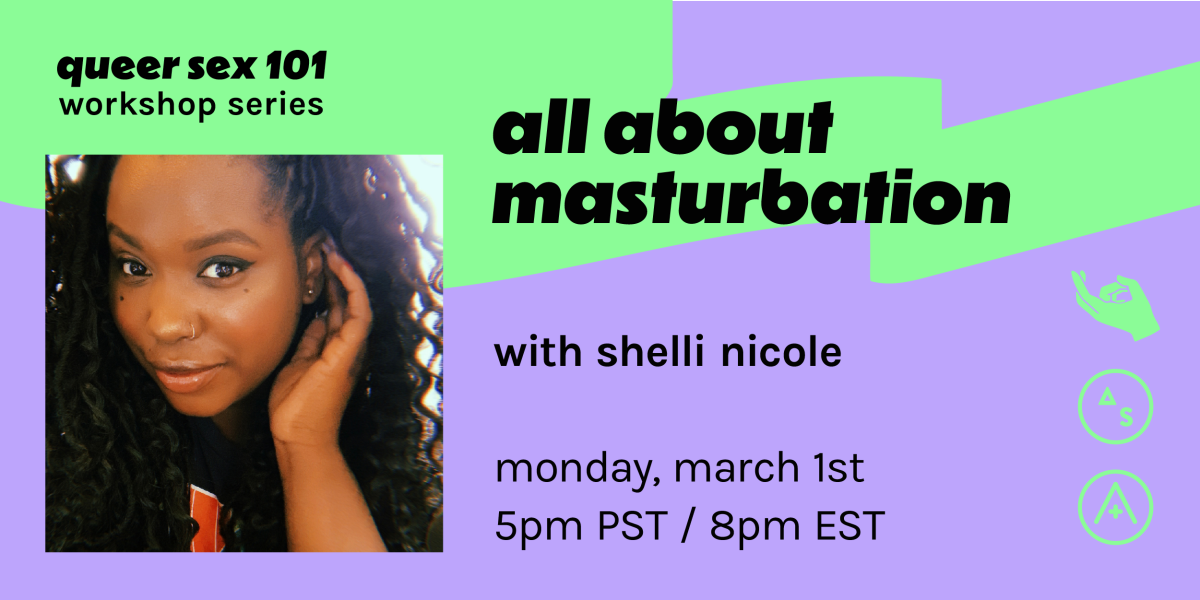 ---
Support Independent Queer Media
We're raising funds to make it through the end of July. 99% of the people who read this site don't support. Will you be one of the ones who do? Joining A+ is one of the best ways to support Autostraddle — plus you get access to bonus content while keeping the site 99% free for everyone. Will you join today?