Welcome back to No Filter, your weekly guide to everything Abby Wambach ordered on her victory pizza. This week, I'm told that some sports happened! Also, there were a lot of fireworks and BBQs. I don't understand how any of those things work, so I watched Independence Day by myself in my backyard and spent a few contemplative hours looking at celesbian Instagram. Here's what I found:
---
We may as well get started with Megan Rapinoe, right?
---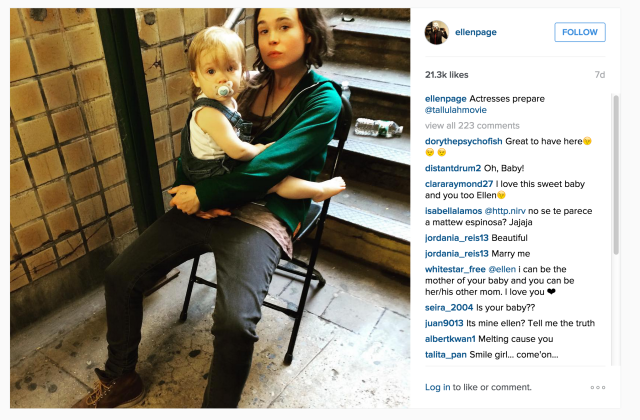 It's 10 am, have you thought about babies yet today? Here's Ellen Page with a baby.
---
How about Samira Wiley with Lauren Morelli's dog?
---
https://instagram.com/p/4qY_XzGFX_/
Same.
---
https://instagram.com/p/4r9H1VG6GK/
Every time Maritza and Flaca are friends in real life, a kitten gets its wings.
---
Laverne Cox is working on footage for her Free CeCe McDonald documentary, and seeking out last-minute support for their Indiegogo fundraiser.
---
https://instagram.com/p/42ymplxA3F/
Transparent season 2 is almost upon us. Namaste. Hey girl, hey.
---
Ela Darling and her gal pal Arden Sirens celebrated one year of wearing matching outfits and looking like the twins in The Shining.
---
Probably the biggest story (on my end) of the past week was Miley Cyrus and Stella Maxwell's suddenly awfully public relationship, which means that the biggest story of the coming week is that Stella is hanging out with Miley's cats. Instagramming your girlfriend's cat elevates Stella into an entirely new echelon of gay, and we're happy to welcome her.
---
Join us next week, when the ladies of OITNB form a hardscrabble soccer league and take on rival prisons.