The producers of the four-hour 2010 documentary Never Sleep Again, which aimed to provide a complete history of the Nightmare on Elm Street franchise, had to hire a private investigator to find the star of the series' most infamous feature, 1985's Nightmare on Elm Street 2: Freddy's Revenge. Mark Patton, who was in his mid-twenties when he played Jesse Walsh in Nightmare on Elm Street 2, had quit Hollywood altogether and gone off the grid, eventually moving to Puerto Vallerta, where he'd been running a small art store with his partner.
These days, Nightmare on Elm Street 2: Freddy's Revenge has acquired queer cult status, widely celebrated as one of the gayest horror movies of all time. But until the Never Sleep Again team reached out to him, Patton had no idea that Freddy's Revenge had attracted a new cadre of passionate fans. All he knew was what he'd known at the time: everyone hated it, and everyone hated him, too.
Is Nightmare on Elm Street 2: Freddy's Revenge a Gay Movie?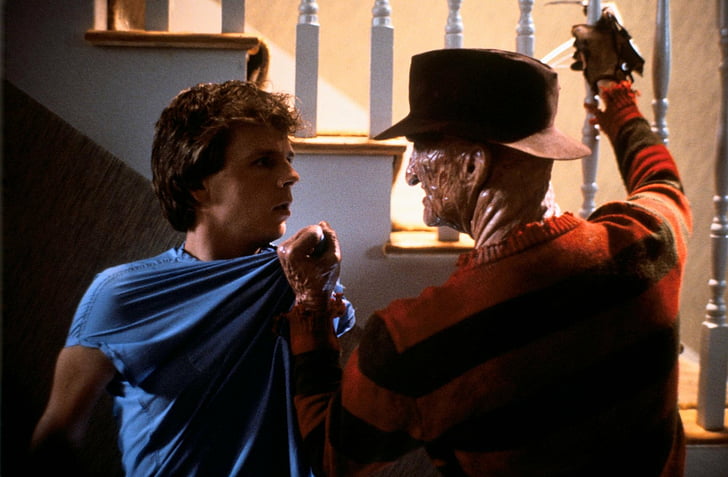 Nightmare on Elm Street 2: Freddy's Revenge is a gay movie. But it was not supposed to be a gay movie. The hotly anticipated sequel to the beloved original was released in November of 1985, which wasn't a big year for queer cinema, and definitely wasn't a time that a major horror franchise with a movie slated for wide release would've gone gay intentionally.
However, the film is undeniably gay. Nightmare on Elm Street 2: Freddy's Revenge makes Rizzoli & Isles look like a Candace Cameron Bure Christmas movie. Jessie runs into his coach at a leather bar. He says things like "he's inside me, and he wants to take me again!" He runs to his best friend's house after making out with a girl at a party and begs to sleep over in said friend's bed. There's a shower scene where the naked coach is violently whipped on the ass with levitating towels while tennis balls shoot at him? There's this dance scene. If you've seen it, you know — it's just really gay.
Furthermore, Mark Patton was basically the first male scream queen, the first "final boy." There'd always been sexual subtext between horror movie villains and their prey, but never before had that prey been a man.
The film was a financial success, sold out nationwide on the day of its release, but garnered mostly middling reviews, hate from fans, and a lot of homophobic backlash directed towards Patton. Meanwhile, rookie screenwriter David Chaskin refused, in interviews, to acknowledge that the film was meant to have any gay overtones at all.
Instead, Chaskin insisted the reason the film seemed gay was not because of his writing, but because of how Mark embodied the role. "There was certainly some intentional subtext but it was intended to play homophobic rather than homoerotic," Chaskin said at the time. "There were certain choices that were made like casting that pushed the subtext to a higher level and stripped away whatever subtlety there might have been."
In Scream, Queen! My Nightmare on Elm Street, the 2020 documentary about this film and its impact on Patton's life, Chaskin admits that the script was in part inspired by his observations of the AIDS crisis and imagining how terrifying it'd be to be a young man unsure of his sexuality in the mid-80s. But, he insisted, he had to deny this at the time because he didn't want the subtext to be obvious and because it was "more fun" to deny it.
Did the cast and crew of Nightmare on Elm Street 2: Freddy's Revenge Know How Gay It Was?
Apparently mostly not, somehow!
Director Jack Sholder: "I simply did not have the self-awareness to realize that any of this might be interpreted as gay. I also had not the slightest idea that one of my lead actors was gay." He says in Scream, Queen! that he laughed when The Village Voice ran a review declaring it a "great, gay movie." He told Flashback Files that to him, "the movie was about repressed sexual angst that every teenager experiences."
"Mark seemed obsessed with the idea that Dave Chaskin had written this gay subtext," Sholder added. "And I was like: Who cares? Get over it. I thought it was funny that this was the way the film was being interpreted…. he had read the script and even he didn't pick up on a gay subtext. It was one of the crew members who pointed it out to him."
Producer and New Line Cinema founder Robert Shaye, who did a cameo as a bartender at the leather bar, claims to have been oblivious to it as well. So were co-producer Sarah Risher and actors Kim Myers (Lisa) and Marshall Bell (Coach Schneider).
Robert Englund (Freddy Krueger) says "people have a bit of a selective memory around this… I knew we were treading in there." Robert Rusler (Ron Grady) also caught on: "I knew there were homosexual undertones in the script when I read it. I knew at the audition."
Englund actually wanted to play with the subtext more, suggesting he stick his bladed fingers into Mark's mouth during the pivotal stairway scene. Makeup artist Danny Marc interrupted the shoot to pull Mark aside to tell him, "don't you dare let him put that blade in your mouth. It'll look like you're blowing him."
Apparently, someone in the Art Department was well aware. They placed a game called Probe in Mark's closet, and put a sign that read "No Out of Town Chicks" on the door.
Line Producer Joel Soisson, interviewed in Never Sleep Again, missed the subtext at the time."But looking back, it was so gay. It was amazing….all I can say was, we were all incredibly naive. Or, all incredibly latently gay. I'm not sure which."
How did Nightmare on Elm Street 2 Derail Mark's Career?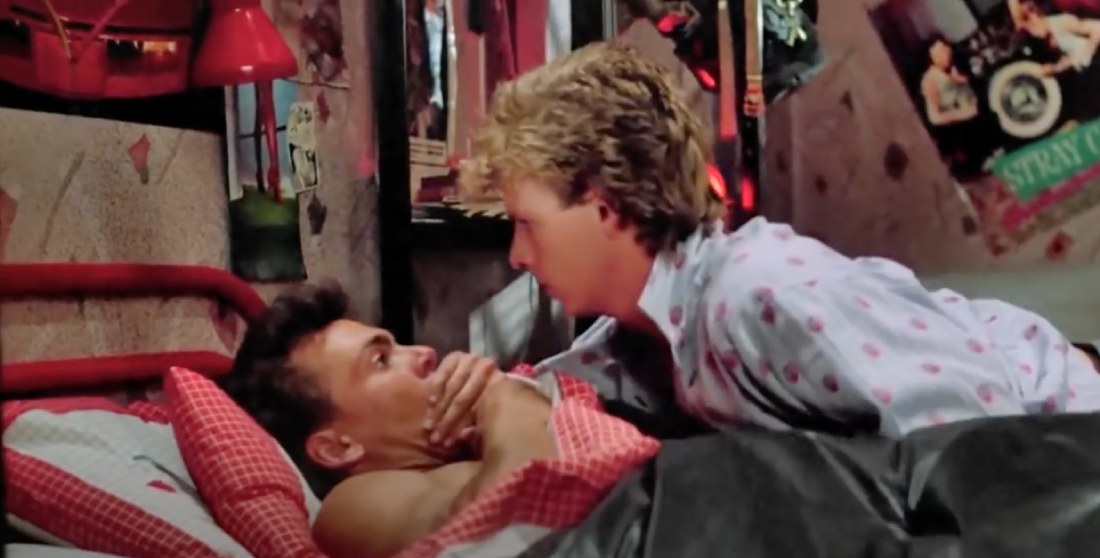 Patton's agents hoped the film would turn their client into a movie star, and it did — but he was also caught in the crossfire of a film that was a massive disappointment to the franchise's fans. To avoid a lifetime of typecasting, his agents needed to work quickly to revamp his image as heterosexual, which included revamping his personal wardrobe.
It was a uniquely terrible time to be gay in Hollywood — although it hadn't been okay to be out and proud, Rock Hudson's death from AIDS was causing gay actors to retreat further into the closet. Mark's boyfriend, Timothy Murphy, best known for his role in Dallas, did aggressively heterosexual magazine profiles in which the apartment he shared with Mark was sold as his bachelor pad. Murphy died of AIDS-related complications in 1988, at the age of 29.
In 1987, Mark chose to quit acting. He'd been offered a role of a gay character on a TV pilot and was being asked by everyone involved how he planned to remain in the closet while playing the role, how he'd answer questions about having a girlfriend, and so on. "Hollywood looked like a ghost town. You'd see people and three months later they'd be dead," Patton told Buzzfeed News. "I thought, My god, half the world is fucking dying and these people are sitting here having this conversation. I didn't get into [acting] for this."
He recalls in Scream, Queen!: "I wanted to be a movie star, and I made it, and I didn't want to destroy it. And this movie destroyed it." He moved back to New York and became an interior director and architect. Around the age of 40, Mark got sick, went to the hospital, and was diagnosed with HIV, tuberculosis and pneumonia and thrush. He barely survived, but he did survive. While still based in Puerto Vallerta, he's getting back into acting, going to fan cons and special screenings, and doing what he can to raise awareness around AIDS and homophobia.
---
Read & Watch More About Nightmare on Elm Street 2: Freddy's Revenge and Mark Patton
Read:
A Nightmare in Hollywood Couldn't Kill Mark Patton (Plus Magazine, 2013): "In an exclusive interview with HIV Plus, the iconic star of A Nightmare on Elm Street 2 comes out as HIV-positive and reflects on why Hollywood's homophobia caused him to walk away from his dream."
Mark Patton on Fighting the HIV Horror Show With Honesty (The Body, 2013): Mark talks about how he decided to parlay his cult fame into being an advocate around HIV and homophobic bullying.
On the Set of Nightmare on Elm Street 2: Freddy's Revenge: this was exciting to me 'cause some of it was filmed in my old neighborhood.
The Nightmare Behind The Gayest Horror Film Ever Made (Buzzfeed, 2016): I didn't find this piece until I was almost done writing this one, but it's incredibly thorough!
'A Nightmare on Elm Street 2: Freddy's Revenge' Deserves a Second Look (Bloody Disgusting, 2016)
Why "A Nightmare on Elm Street 2" Is the Gayest Slasher Film Of All Time (Attitude, 2019)
Watch:
Nightmare on Elm Street 2: Freddy's Revenge: You can stream it on Max or Prime Video.
Never Sleep Again: The Elm Street Legacy(2010): The award-winning four-hour documentary (I know, heaven!!!) offering a behind-the-scenes look at the legacy of the Nightmare on Elm Street franchise. They go into so much fascinating detail about the films' special effects.
Scream, Queen! My Nightmare on Elm Street (2020): The documentary about "the gayest horror movie ever made!" that got me interested in all this to begin with.
---