The Dragon Prince is a little bit Avatar and a little bit Game of Thrones, which makes sense; who better to capitalize on the golden age of dragon lore than Last Airbender head writer Aaron Ehasz and veteran video game developer Justin Richmond? The first season of the show landed on Netflix last fall to mixed reviews, but the second season, which dropped over the weekend, is already being celebrated by critics and fans, especially ones who've grown up on Korrasami, Steven Universe and She-Ra. By which I mean, ones who expect a real commitment to intersectional storytelling in their all-ages media.
A quick overview: The Dragon Prince is set in a fantasy world on the brink of war. Humans, who were driven to the edge of the continent by the dragons and the elves because of their use of dark magic, have now slain the dragon king and his egg, and the elves are out for revenge. The human king's son is named Ezran. In season one, he meets a young elf named Rayla. Along with Ezran's brother they uncover a whole lot of secrets, including: the dragon king's egg was stolen, not destroyed. It seems like maybe these leaders are being manipulated into war. So Ezran and Rayla and Callum decide they'll set off on a harrowing adventure and return the egg to the dragons and thwart the war.
In season two, we meet a queen named Aanya, who is really just a child. Viren, the human king Harrow's mage advisor, wants war real bad, so he gathers Aanya and a few other monarchs and tries to convince them to invade Xadia. All the other leaders are on board, but Aanya's reluctant. She may be a smol, but she was raised by some loving, level-headed, kickass parents — just a couple of in-love, interracial lesbian queens, nbd — who gave their lives to save her and their kingdom. She already knows the cost of war, and she's not willing to risk her people's lives just because Viren is eager to start fighting. Because gay parents are the best parents, Aanya taps into the wisdom and strength of her mothers and finds that she has the courage to stand up for herself and her kingdom. Then the actual adults in the room follow her lead and do the same.
But not before her moms kiss right on their mouths in a flashback!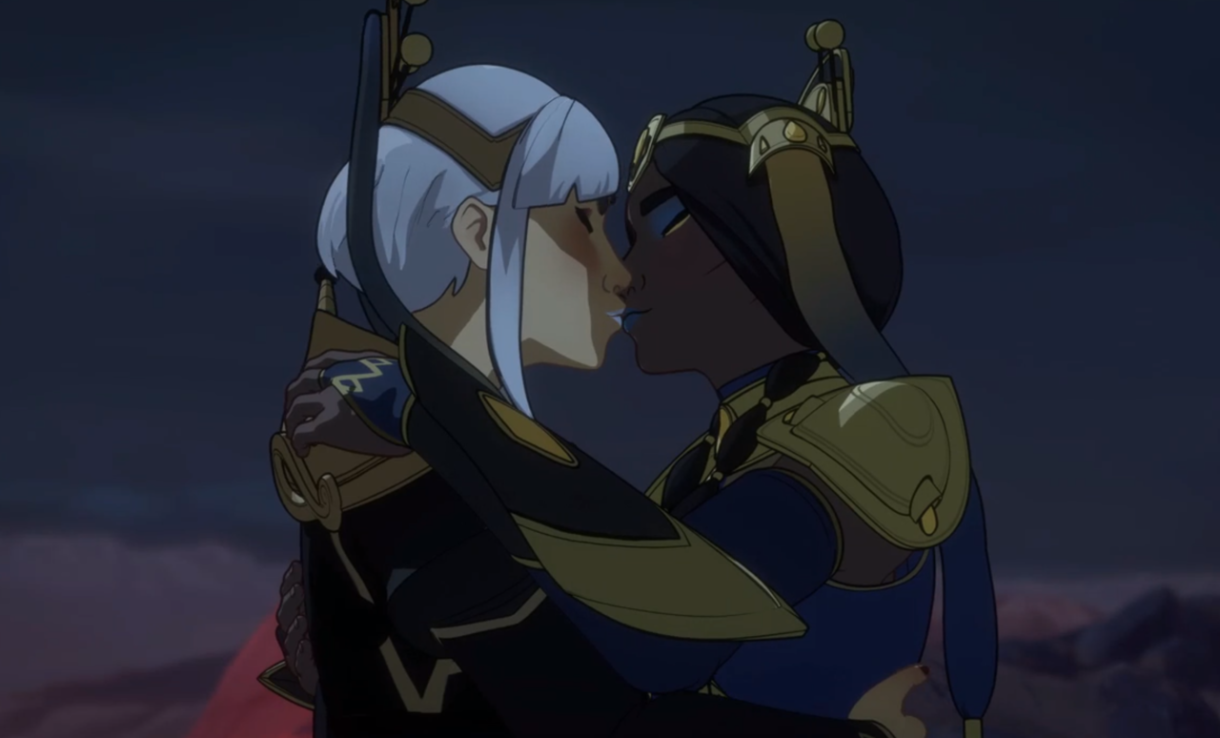 That's not the only thing The Dragon Prince is doing in terms of diversity. One of the fan favorite characters on the show is Callum and Ezran's aunt, General Amaya, who is deaf and speaks with American Sign Language. She's an excellent warrior, but, like nearly all the women and young characters, she's not greedy for the blood of her enemies. She's competent, and not to be messed with, but she's not impatient to practice domination. She's also super fun and funny and full of sass. Shades of Cassandra Pentaghast (of a different dragon age). There are several royals who are people of color, including one of Aanya's moms and King Harrow. And the lead characters of the show, Callum and Ezran, are interracial. There's also a blind sea captain who is able to navigate his ship with the help of a seeing-eye parrot.
Before he was killed (…or was he?) King Harrow spent a lot of time talking about how he wanted to create an egalitarian society, where people of all races and classes and sexualities and gender identities would be treated fairly and equally. He demonstrated his desires by spending his life as a servant of his people and a being good steward of their collective resources.
The other thing The Dragon Prince has in common with She-Ra and Steven Universe is its unwillingness to paint its characters in broad Good Guy vs. Bad Guy strokes. It also plays with the same themes: Life is complicated no matter what, power lends itself to corruption, hope and heartache can exist inside the same heart, family shapes us but it doesn't define us, and, if adults will get out of their way, kids are more than capable of saving the day.