This My Animal review was written during the 2023 WGA and SAG-AFTRA strikes. Without the labor of the writers and actors who are currently on strike, movies like this one would not be possible, and Autostraddle is grateful for the artists who do this work. This review contains very mild spoilers.
Outfest is taking place in Los Angeles between July 13 and Jul 23. Drew Gregory and Sa'iyda Shabazz will be bringing you all kinds of reviews. If you're interested in attending, virtually or in person, check out Outfest's full schedule. 
---
Bobbi Salvör Menuez and Amandla Stenberg have both come a long way.
Menuez first appeared on-screen as a femme waif of an indie darling. Their roles included a free-spirited 1970s teen in Olivier Assayas' Something in the Air, Cherry Jones' much younger arm candy in Transparent, and a "lesbianwp_postsso beguiling they inspire a cis man to lie about his gender identity in Adam. During that same time, Stenberg shot to fame with The Hunger Games before starring in a string of other big budget YA adaptations.
But in recent years, these nonbinary actors have moved away from their initial personas and solidified themselves as two of the most exciting young performers working today. Stenberg showed their range of comedic and dramatic skills in the super good and super gay A24 hit Bodies Bodies Bodies. And Menuez does career best work as a struggling transmasc actor in the upcoming indie Summer Solstice.
In an industry that is becoming increasingly antagonistic toward trans people, it's a pleasure to see these two performers fulfill their potential. And it's even more exciting to see them shine together in Jacqueline Castel's debut feature My Animal — if only the film was as good as its leads.
My Animal is about a queer named Heather (Menuez) living in a small Ontario town with her loving father, her abusive alcoholic mother, and her twin younger brothers. She's an excellent hockey goalie but can't get the local coach to let her play with the boys. Her life is stagnant — until she meets Jonny (Stenberg), an accomplished ice skater with a shitty boyfriend.
Oh yeah and Heather is a werewolf.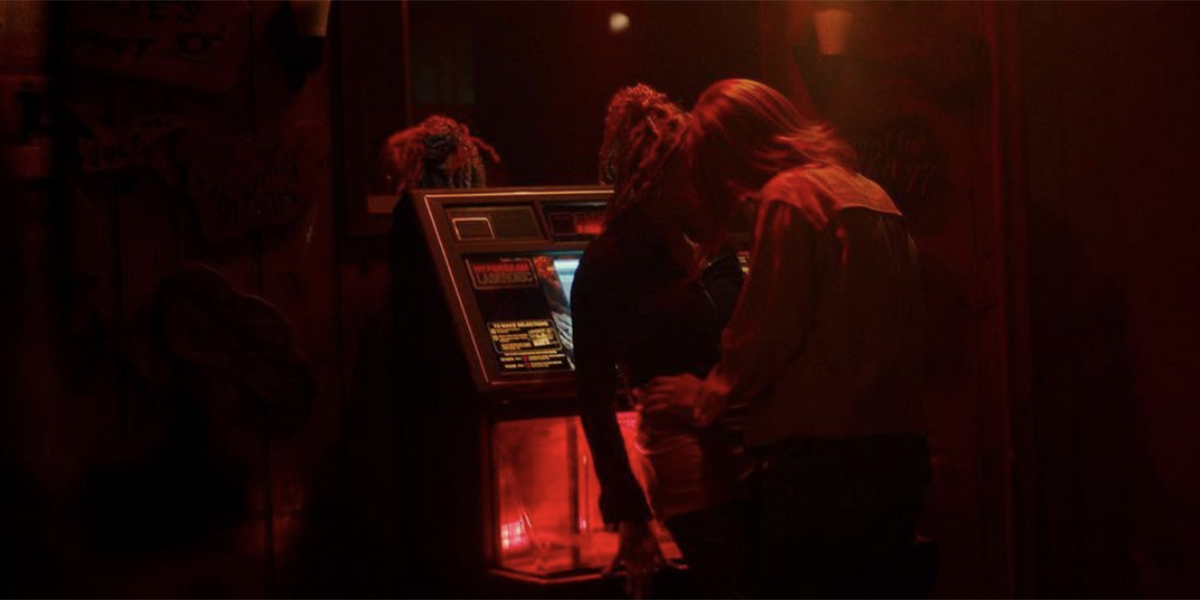 Werewolves are so queer-coded they got their own episode in Queer for Fear. It makes sense — fighting an animalistic part of yourself, another side that only comes out at night. Between the subtext of Ginger Snaps and the explicit queerness of Good Manners and Bleed With Me, lesbian werewolves have popped up on-screen. But considering the dozens of lesbian vampire movies, this still feels like a subgenre with more to explore.
The problem with this film is it's too obvious in some parts and too elusive in others. Dialogue about Heather's difference and journey toward self-acceptance feel heavy-handed. But then it's unclear how exactly her wolf manifests and what we're supposed to make of her dad being a werewolf too. Metaphors don't have to be one-to-one — in fact it's usually more interesting when they're not — but in terms of narrative and character the film is also lacking in emotional clarity.
Menuez's performance is strong enough — it's really so fun to watch them step into their masculine swagger — that they're able to pull the disjointed pieces of Heather into something resembling a full character. But with less screen time, Stenberg isn't able to do the same for Jonny.
As I discussed in my review of last year's Am I OK?, recent queer cinema has confronted its overwhelming whiteness by pairing white leads with love interests of color. This pattern isn't inherently bad, nor is it any one film's fault, but I have to imagine a film landscape where writers and directors of color were given the same opportunities to tell their own stories would lead to far better work.
Jonny lives in an almost all white town with her white dad who is her ice skating coach and skating partner. She's from the Bronx, her mom is dead, and her dad played by Scott Thompson is hinted to be closeted. All these details could lead to an interesting character — instead the film fails to explore any of this beyond how it impacts Heather. Stenberg is so charming and gives so much to Jonny. Stenberg and Menuez are so good together. It's still not enough to make Jonny more than the closeted girl with the jerk boyfriend.
Beyond the performances, the film has other merits. Castel shows a real formal control with a bold sound design and pointedly muddy visuals. (The ice is always gray, even the days look oppressed by the coming night.) The two sex scenes are stylistically inventive, blurring dreams with reality, desire with fear. I'm excited to see what Castel does next with bigger budgets and stronger scripts.
Even though the characters are both ostensibly cis queer women, it's still thrilling to have two nonbinary actors on-screen together — especially ones of this caliber. But I fantasize about films that don't just plop actors with different identities into the same stories, but instead mine the nuances, the specificities of existing in our world as queer, as trans, as Black.
The actors are here, they're ready. They deserve the scripts.