Books! They are really great. You just won't believe how great they are. You may think that the Internet's great, but that's just peanuts compared to books. Welcome to Lez Liberty Lit, our column about literary shit that's happening that you should probably care about.
The name "Liberty Lit" was inspired by the short-lived literary journal produced by Angela Chase at Liberty High School in 1994.
Header by Rory Midhani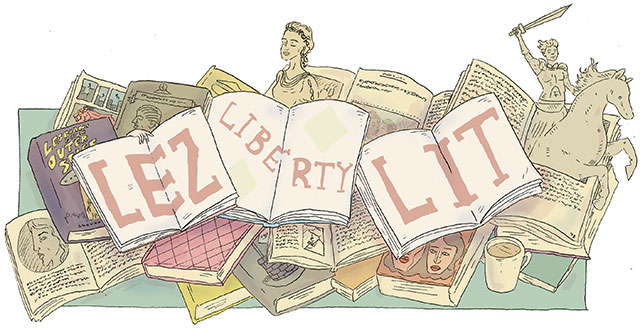 Lit Links
Michelle Tea talked to Curve about Valencia, Beth Ditto, Sister Spit and hew new YA series:
"Tea is also slaving away at her first young adult fantasy series, with the May debut of the first volume, Mermaid in Chelsea Creek, and the second volume, A Girl in the River Vistula, launching in June 2013. Tea explains the premise of the series: "It kind of plays with that classic trope of the one who doesn't know they're the one. And they're going to come into their powers and save the world sort of deal. And the one in this instance is a girl named Sophie who's a young, kind of scrubby girl. She's 13, and she lives in my real hometown, Chelsea, Massachusetts."

The series deals with a lot of the themes that appear in much of Tea's other work—life in the lower class, dysfunctional families and abuse, immigrant heritage and the simultaneous wonders and horrors of the childhood of a developing girl. "All of those things,wp_postsTea says, "but now they're just imposed in this magical landscape.wp_postsThe basis of the story stems from a Polish legend of a mystical mermaid."
The latest issue of SF Weekly features the oral histories of four queer Latino immigrants in San Francisco.
At House Queer, Rebecca Peters-Golden has queer YA recommendations, including Ask the Passengers by A.S. King, Mermaid in Chelsea Creek by Michelle Tea and First Spring Grass Fire by Rae Spoon.
The literary pie charts of classic book reviews will help you pretend to have read things better than anything.
People who read more literary fiction need less "cognitive closure" and are more comfortable with disorder, uncertainty, sophisticated thinking and creativity according to a new study from the University of Toronto.
Alice Munro announced her retirement from writing last week.
Copenhagen-based designer Phillipp Meyer has created "Life," a comic book in Braille, on which he says: ""Most of the tactile material that is available for blind people is very information dense. It's always about information and not often about art."
At Bitch, Mary Creighton profiled Veronica Franco, a poet prostitute from sixteenth-century Italy.
If Gertrude Stein had reviewed beer, this is what it would have looked like: "Deschutes Red Chair NWPA (6.20% ABV): THE BARLEY MUST BE REPLACED BY THE BEER ITSELF. A kindred in glass and in cousin, a spectacle to taste and nothing strange, a single strand of haze, hazing. Floral is a floral is a floral is a floral, unless it is a citrus, a musing. A harmony that is calamity is nothing on the Tongue. Long. Bitter. End."
New gross ebook DRM could involve changing words slightly in every copy sold to track users who distribute pirated copies.
English majors may actually be employable after all, but that doesn't mean they have practical skills.
In the Guardian, Victoria Segel reviewed Diana Souhami's The Trials of Radclyffe Hall, a biography about the The Well of Loneliness author.
Placing Literature is a new app that lets you map out scenes from novels on Google maps.
Connu, a new litmag/app, will send you one piece of short fiction a day, with recommendations from Aimee Bender, Lydia Davis, Janet Fitch, Jonathan Lethem, Sam Lipsyte, Ben Marcus, Joyce Carol Oates, Mary Robison, David Sedaris, Susan Straight, Nami Mun and others.
The New York Public Library has a round up of LGBT-related special libraries and museums around the world.
Read To Write Stories interviewed Roxane Gay on creativity, the Rumpus and producing: "I live in the middle of nowhere and suffer from insomnia quite often and I also write fast because I'm always thinking through story and essay ideas in my head. My writing process involves a lot of procrastination and then sitting down and just writing and writing and writing until I can't write anymore."
Can Twitter be a literary device?
Why digital publishing is banking on genre fiction.
Today in hope for the future, young adults are really into libraries as physical spaces, according to a new study.
Sistahs on the Shelf gave a five-star review to Full Circle, the final book in Skyy's Choices lesbian romance series.
Casey the Canadian Lesbrarian reviewed Kissing the Witch, a collection of reworked fairy tales by Emma Donoghue that she calls "gorgeous and revolutionary."
At the Lesbrary, Jill Guccini reviewed If You Could Be Mine, by Sara Farizan. Katie reviewed Twist, by Sarah Diemer. Jordan reviewed Fairy Tales for Princesses who Love Dames, by Rene von Bonaparte.
At Lambda Literary, Marcie Bianco wrote about teaching Kate Bornstein's work in her American literature course. J.M. Frey reviewed Collaborators, a sic fi novel by Deborah Wheeler. Anna Furtado reviewed Melt, a lesbian romance novel by Robbi McCoy.
Don't forget to check out all the awesome book-related things we published recently: Cara wrote about The Gender Book and the word androgynous.
Events To Watch Out For:
June 27, Toronto: Glad Day Bookshop is hosting a pride edition of Write On, a queer poc open mike night (598 Yonge St.), 7:30 p.m.
June 27, New York: Housing Works is holding a Pride Week reading featuring Gil Cole, Annie Lanzillotto and Charlie Vasquez (126 Crosby St.), 7 p.m.
June 29, San Francisco: Today's the last day to see Strange Bedfellows: Collaborative Practice in Queer Art at Root Division (3175 17th St.), 2 to 6 p.m.
July 1, New York: Samantha Meier will lead a discussion on gender politics in underground comics as part of the 50th New York Comics and Picture-Story Symposium. Bluestockings (172 Allen St.), 7 p.m., free.
July 2: Bi: Notes for a Bisexual Revolution, by Shiri Eisner, comes out today.
July 5, Vancouver/everywhere: Today is the deadline to submit to the fifth issue of Plenitude Magazine, a queer literary magazine.
July 7, New York: Bluestockings' feminist book club is meeting to discuss The Feminist Porn Book. Bluestockings (172 Allen St.), 7 p.m., free.
July 8, New York: An Evening of Big Feminist BUTs with Gabrielle Bell, Josh Neufeld, Heidi MacDonald and more at Housing Works (126 Crosby St.), 7 p.m.
July 15, everywhere: Today is the deadline to submit to THEM, a new literary journal of poetry, fiction, genre fiction and non-fiction by trans*-identified writers.
July 19, New York: Contributors to Wild Girls, Wild Nights: True Lesbian Sex Stories will read at Bluestockings (172 Allen St.), 7 p.m.
July 30, New York: The Women's/Trans' Poetry Jam and Open Mike, hosted by Vittoria Repetto, is tonight at Bluestockings (172 Allen St.), 7 p.m.
August 12, Montreal: The Queer Comics Conference is part of Montreal Pride 2013. La Cinémathèque québécoise (335 Maisonneuve Est.), 7 p.m.
Know of a queer event with literary merit? Send it to us!