DADT: Buzzfeed has assembled the Top 10 Reasons Homosexuals Should Not Be Allowed to Serve in the Military, using quotes and pictures gathered from all over the interwebs. And well it's pretty special/awesome/hilarious! We've got Black Lesbian Gangs, Everyone Has Aids, Fear of Body Art, Uncomfortable Barracks and a bunch of other pansy excuses from the cranky assholes somehow elected to run this bizarre country of ours. Also I just kinda love it every time straight people make lists about what douchebots politicians can be to gay people. (@buzzfeed)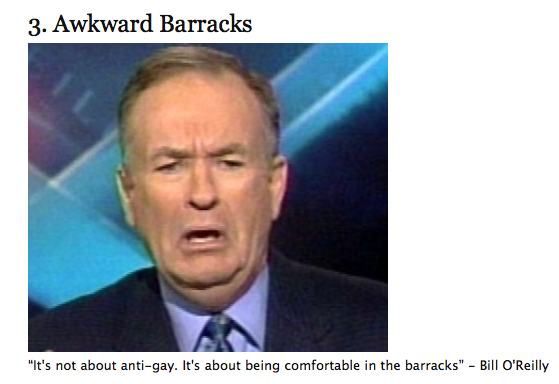 GAY ADOPTION: On the left is the picture that the Florida Family Policy Council of Orlando, used to illustrate the gay couple that was awarded custody of a relative. It appeared under the headline: "FL judge violates law, places child in homosexual adoption" (on the right) is the actual couple.
I'm so sick of this appearance-based fearmongering towards lesbians. Like clearly that picture is probs Maggie Gallagher on Halloween, but even if your two Moms looked like that, what does that have to do with their mothering abilities. who are those people. I've seen that photo like 500 times.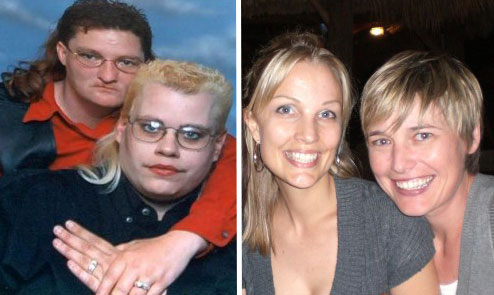 The columnist in the Orlando Sentinel who publicized this discrepency got a lot of reader mail in response, and it's kinda awesome: "Scott, I normally despise your liberal hackery, but you are right on this one. It's far more important that the child is in a happy home with parents who love and care for him than keeping him "gay free." Please go back to supporting your normal far left positions that make no sense so I can go back to bashing you."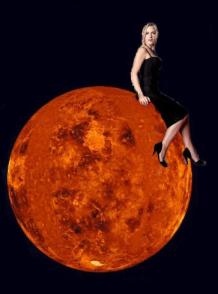 HOT GIRLS: Women's Lists dissected — is it really that time of year again? It can't be, 'cause we didn't do the Autostraddle Hot 100 'til like May or June (which remains the best feature we've ever run). Regardless, Asylum has decided to analyze the Men's Hot 100 Lists, and they've determined: "AskMen favors the slightly older, more mature and less-partying type. The other two seem to unite in favor of more household names (Christina Aguilera and Cameron Diaz), and the not-very-wholesome women who may be hot, but are more likely to get cited for DUI (e.g., Lindsay Lohan and Britney Spears)."

Obviously we prefer hot sauce, Hot 'n Cold, The Miami Heat, the Disco Inferno, Stovetops and throwing a hot dog down a hallway.
TRANS: A ruling this week by the U.S. Tax Court held that a Massachusetts woman should be permitted to deduct the medical costs associated with her transition (male to female) for the purposes of filing federal income tax returns—a ruling that could have significant implications for transgender people. (@keen news service)
PEREZ: "Congratulations to gossip blogger Perez Hilton, whom Forbes has named as the biggest star on the web for the third year running. Were I to honour Perez in the style he has made his own, I would probably use Microsoft Paint to scrawl "no one cares fat whore" across a photo acquired by sticking a periscope up his trousers, but unfortunately we have yet to introduce that kind of functionality to the Guardian Comment pages. Still, give it time." (@guardianuk)
HEALTH: Casey Johnson died of complications from diabetes. She had been neglecting regular care including insulin shots and monitoring blood sugar. Brittany Murphy's toxicology report has also been released this week. From The Buffalo News:
On Brittany Murphy: This death could've been preventable," Assistant Chief Ed Winter told People. "Murphy was planning on seeing a doctor, but she unfortunately passed away before she did. This was a case of a person with pneumonia who was anemic (suffering from a low red blood count) who was taking medication when she should've been getting medical treatment."
On Casey Johnson: The cause of heiress Casey Johnson's death was listed as diabetic ketoacidosis, and sources tell TMZ that it was caused by her failure to take care of herself. Johnson, 30, was not taking her insulin shots, was not exercising, did not follow her strict diet and was not taking other medicines she needed, says TMZ.
RACISM: "It's disturbing enough that Vanity Fair, Hollywood, and mainstream celebrity culture in general are still overwhelmingly white — but truly terrifying that so many are willing to come out in support of keeping it that way." (@jezebel)
SUICIDE: Mental health professionals have long-known that gay, lesbian and bisexual (GLB) teens face significantly elevated risks of mental health problems, including suicidal thoughts and suicidal attempts. However, a group of McGill University researchers in Montreal has now come to the conclusion that self-identity is the crucial risk-factor, rather than actual sexual behaviours. (@physorg)
TYRA: Obviously Tyra had a show about women with multiple vaginas. Tyra LOVES vaginas. (@tyra)
WANDA: Wanda Sykes visits Jay Leno to enjoy the Black History Month menu at the NBC Cafeteria!