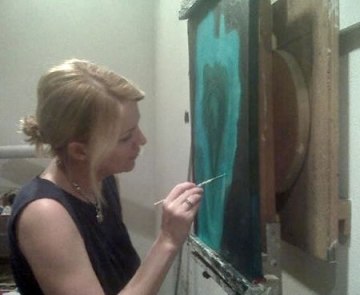 Jess: I was really blown away by how talented you are as an artist.
Laurel: Thank you! It's great to get feedback like that because it was really scary to put it all out there. It's so personal and so close to who I am in terms of my style.
Jess: How was your summer in New York City, living in an artist's loft in Tribeca?
Laurel: I felt like it was just the biggest gift in the world. I was staying in a loft owned by Gary Stephan and his wife, who are both amazing painters… It was just this incredible artist community right there – Laurie Anderson was doing performance art there and I was going to galleries and exhibits every day and I felt like it was my own personal little art cocoon – or a mini summer graduate program. I was alone with my kids and needed a lot of support so I surrounded myself in a community of really amazing, wonderful women and other mothers… I don't know if it was conscious or not but I created something that was really close to what New York felt like for me when I first moved there when it was all about acting and independent film and theater. This time it was all about art. My ex-husband took a job in Beijing at that time so we had a very split life and I really have to credit him because he was so supportive of me painting during that time so that's exactly what I did.
Once the summer started I began painting about 40 hours a week and sometimes I'd put my kids to bed and go back to painting again, and I realized that in order to get closer to what I wanted to accomplish I was going to have to immerse myself in it. There were many days that were incredibly hard to balance the art work with my children at the ages that they are (6 & 2.5) and I also spent a lot of time alone. I think I see a lot of the loneliness and a lot of what was going on a little more clearly now than I did right when I finished.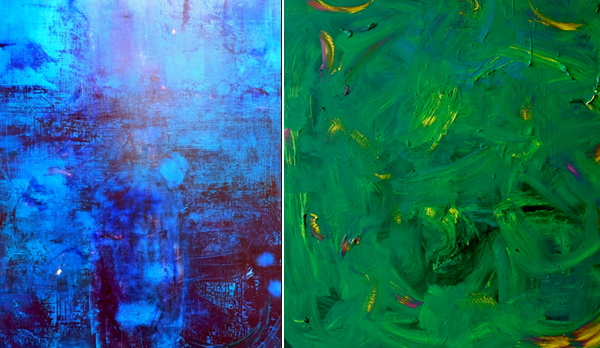 Jess: Who has influenced your artwork?
Laurel: Marlene Dumas is an amazing South African painter who I get really drawn into, Louise Bourgeois who has this amazing sculpture at the Tate when you first walk in, Tracy Emin, Annie Lapin… I'm usually drawn to female painters who paint sensually, like Georgia O'Keeffe. There's also Ashley Collins who does something different from all of those people but paints these beautiful horses with tons of resin on top of her paintings.

Jess: What medium do you use?
Laurel: I've done oil and I mix resins with alcide… oil glazes.. I've painted a few things in acrylic, like the one I donated to Sewing Hope. I'm still learning though, using different resins that I haven't used before and working with different glazes. I paint in lots and lots of layers and I'm usually working on 4 or 5 paintings at a time because the drying times are all different. I kind of get a little painting ADD going on. [laughs]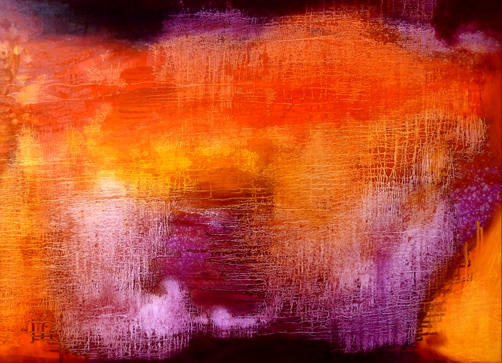 Jess: Do you listen to music while you paint?
Laurel: I had a friend recently say I listen to brooding "sad bastard music" like Damien Rice or Joseph Arthur, who actually had a song "In the Sun" in the first season finale of The L Word. Most of my tribe of people were musicians when I was living in New York so I've always been really connected to music as an art form, especially while painting. My painting Bullet was painted to a Damien Rice song called "9 Crimes".  And, the painting "She Burns My Eyes" has the title taken from a lyrics in his song "Dogs". I also listen to lots of Radiohead and I've been working on this painting based on their song "House of Cards"… I've always been inspired by great poets so I think that's why I'm attracted to really brooding, folky musicians.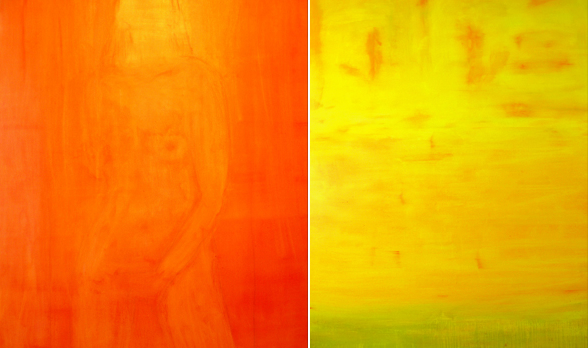 Jess: It must be satisfying to have sole creative control over your artwork as opposed to acting, where they will edit it any which way they want. The finished product is totally out of your control once your job is done.
Laurel: Yea, I love the control I have over my art! I actually think I had to start painting because of the control. At that time I didn't really feel I wanted to write or direct and I really felt I needed to step back but still be creative in my own time frame… and this was something I already loved doing. I love that I can paint for 8 or 10 hours and then stop to pick up my kids from daycare, or put the kids to bed – things I sometimes missed when I was on The L Word because the schedule was out of my hands. It's been so meditative for me in terms of controlling the time frame in which I'm creative as well as controlling the result and the process.
It's been incredibly rewarding and it has nothing to do with my appearance! How I look and my outfit and whether I have makeup on or if my hair's not great… I have terrible hair for TV! It's just been amazing to get back to who I was….a tomboy who didn't care about any of those things. Thank God for The L Word though, because I learned how to groom myself that much better with the right clothes to wear and how to do makeup… and Jennifer [Beals] taught me how to walk in high heels and I was like "wow! I think I just became a lady now!" It was like, "oh, this is what a Dolce & Gabbana suit is like when it fits" …. I grew up, but there's still this sort of kid-like tomboy in me and that comes out when I paint. Okay, maybe I didn't mean "kid-like tomboy"… I just mean… I like to get messy. There was a strong desire to getting back to that because it wasn't based on winning the audition or booking the job or what I looked like or whether I beat someone out. I don't have to be hired to get the high I get from painting.
Also, after having kids, you give so much of yourself and I think I was taking something back for myself when I started painting. I had to really get back to like, who was I before I became a mom and a wife? And also, who was I before I became an actor? That's what I think I've been trying to rediscover and get back to. I think that's true for anyone — if you find something that's truly liberating… give yourself permission to do it.

Visit Laurel's online portfolio at www.laurelhollomanstudio.net
and meet Laurel signing posters of her artwork at The Dinah this Spring
Pages: 1 2See entire article on one page