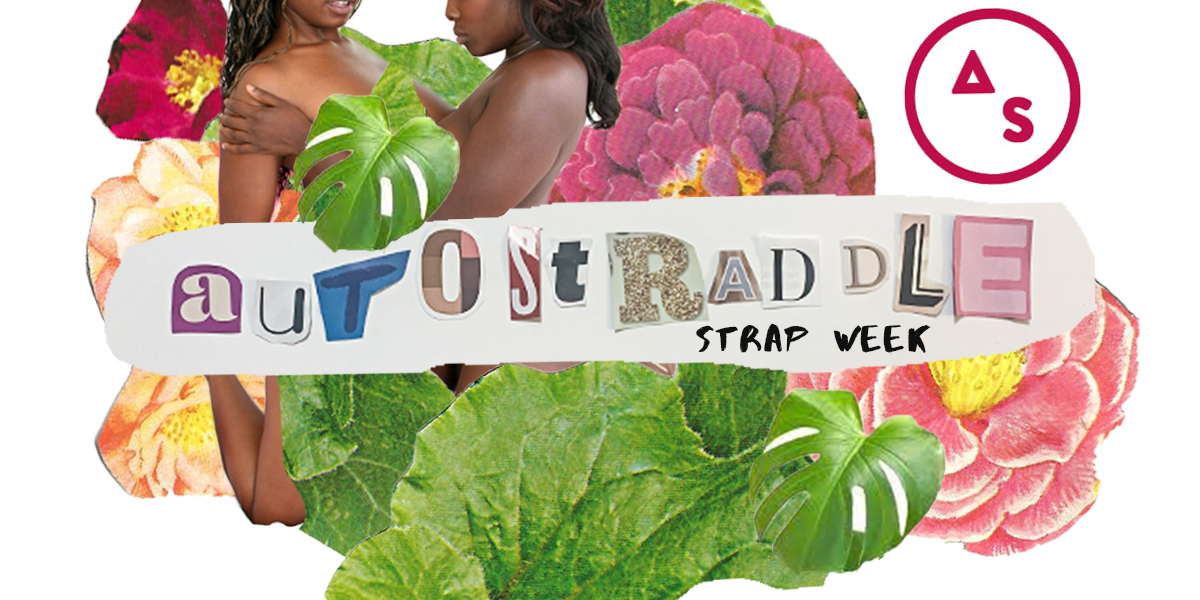 Autostraddle Strap Week 2021 – All Images by Demetria.
---
A few weeks before the release of Charlie's Angels (2019) the gay internet was abuzz with horniness. Kristen Stewart was like so gay dude and so was everybody else. Once upon a time, Kristen was a mousy brunette plastered on bedroom walls. Now she was a sardonic dyke with dyed blonde hair and that I-haven't-shower-in-three-days grime that hits so hard in the most basic corners of our community. (No judgment.)
As a trans woman relatively new to the lesbian community, I felt torn between a defiant pride that Kristen didn't do it for me and the increasingly common anxiety that I wasn't being a lesbian right. The rational part of me knew that lusting after Bella Swan was not a requirement for queer womanhood — another part of me felt left out of the discourse du jour.
And so I tweeted:
My belief that Kristen Stewart is incredibly talented but not that hot remains my least popular take

— Drew Gregory (@draw_gregory) October 30, 2019
— then I reserved a ticket to an early screening the following week.
---
When Charlie's Angels came out, I was taking a break from sex. I'd spent the year newly single and new to dating as a queer person and a woman, but my delight in the chaos was fading. My good experiences weren't that good — my bad experiences were getting increasingly bad. And it was mostly my fault.
I didn't know how to accept pleasure so I decided I needed to learn to bottom. I got set up with a friend's ex who was very vocally a top and invited them over. We started hooking up, but when they checked in and asked what I wanted, I was blank. They were patient with me as we tried different things. I kept pausing to get higher and higher as if I could dissociate myself away from having to communicate. Finally, we stopped. A week later we tried again, but this time I left before we even undressed.
I felt embarrassed and hopeless. I never spoke to that person again. And I decided that bottoming wasn't the answer — as if one experience with a person I barely knew and hadn't built trust with was indicative of my inherent sexual dynamics.
Soon after these failed encounters, I went on a date with someone new. We drank and wandered around and started making out. She said that she was drawn to people who were weird and unique and I pretended like she wasn't hinting at my transness.
When we got back to her apartment I went down on her and then she handed me a condom and told me that she wanted me to fuck her. I paused. Fucking someone with my penis isn't something I feel comfortable doing. I hadn't even tried since I was with my ex. But she seemed so sure in her expectations. And I didn't know how to say no. I'd failed as a bottom, I couldn't fail as a top. And so I went through the motions and she invited me to stay the night.
I barely slept. And I didn't have sex again for three months.
---
Like bad sex, bad movies are better enjoyed drunk.
Two mini bottles of tequila sat in my stomach as I sat in the Arclight. The screen filled with aerial shots of Rio de Janeiro and the speakers filled with Kristen Stewart's girlish laugh.
"I believe women can do anything," she says, wearing a blonde wig, a full face of makeup, and bright pink nail polish. She's talking about gender equality but really she's flirting with a guy who's about to get his ass kicked. She tells him that when you're a woman no one expects anything from you as she ties him up with the curtains. It goes from sexy to sinister and suddenly she's joined by another hot woman and they're in full hand-to-hand combat mode with the man and his guards. "You swiped right. I'm your girlfriend now," she says as she headbutts him.
Once the fight has been won, her wig comes off. She has short spiky hair that's dyed blonde except the roots. She wears her helicopter harness in a way that hikes her dress up into shorts. And she flirts with the other angels as if there was any doubt she was gay.
As she flies away, she flashes a peace sign, and it hit me. I wasn't attracted to Kristen Stewart — I wanted to be her.
---
Lacking the charm of the previous two installments, this Charlie's Angels had enough dull or incomprehensible moments to give my mind time to wander. I wasn't going to cut my hair, stop showering, or become an international superspy, so my newfound affinity to K-Stew quickly turned to sex. I don't know how she fucks, but I do know how cis women with her energy are expected to fuck. It's different than the expectations of me.
Why? If trans women are women — which cis people are constantly declaring online — then why can't we fuck like them? Of course, there is no one way women fuck. Fucking someone with a penis is a way that women fuck. But with this freedom in mind, shouldn't alternatives be available to us as well?
I am not the first trans woman to consider buying a strap-on. I just felt like I was, because trans sex is so rarely presented from a trans gaze. The only on-screen example of a trans woman wearing a strap-on is post-op Myra Breckinridge raping a hypermasculine hunk. The only on-screen example of someone with a penis wearing a strap-on is the cis boy in Adam.
A chick with a dick is supposed to have the real thing — not silicone. We're told that our value is in our birth genitals. We're told that's what makes us weird and unique. But I don't want to be weird and unique. I want to not dissociate while I fuck you.
---
Soon after seeing Charlie's Angels, I went to a sex shop with my friend who is something of an expert. I bought a harness and a purple dildo that was simple and not lifelike.
I tried it on at home over my underwear, got myself hard and experimented with different placements. It wasn't made for my body but I could make it work.
When I wore it for the first time during sex I knew my instinct had been right. I actually felt good fucking people. I could actually stay present in the moment. Even when I wasn't hard and wasn't experiencing any immediate physical pleasure, the psychic pleasure was immense. Who knew having a dick could be so gender euphoric?
As the years pass, I've become less concerned with labels like top and bottom. I've become less concerned with what people expect from me. I have become better at communicating and better at advocating for the needs of my mind and body. I'm not saying this is thanks to Kristen Stewart — probably better to credit personal growth and being with partners I trust — but she was the beginning of that for me.
We can find identification wherever we need to find it. Even in a cis celesbian. Even in Charlie's Angels (2019).