I hate cooking, but I love to eat!
Something you should know about my queer household is that no one is "the cook." No one here likes to cook or bake. No one here is particularly good at cooking or baking. No one here is working on a sourdough recipe. No one has cultivated a super-secret sauce recipe. I suppose I like the art of cooking when all other conditions are ideal, when I can get lost in the process, but getting that kind of cool-quiet, hot-tea-sipping, long-noon-stretching day is a rarity. And when I get those days, I prefer to fill them with travel, tv binges, family time, and naps. So does my spouse.
That said, we all have to eat and we all feel better in our bodies when we're not living on fast food morning, noon, and night. Plus, I feel some sort of obligation to get healthy-ish food into our kiddo. Here are some kitchen gadgets, big and small, that help me muddle through putting a hot meal on the table.
---
1. Avocado Slicer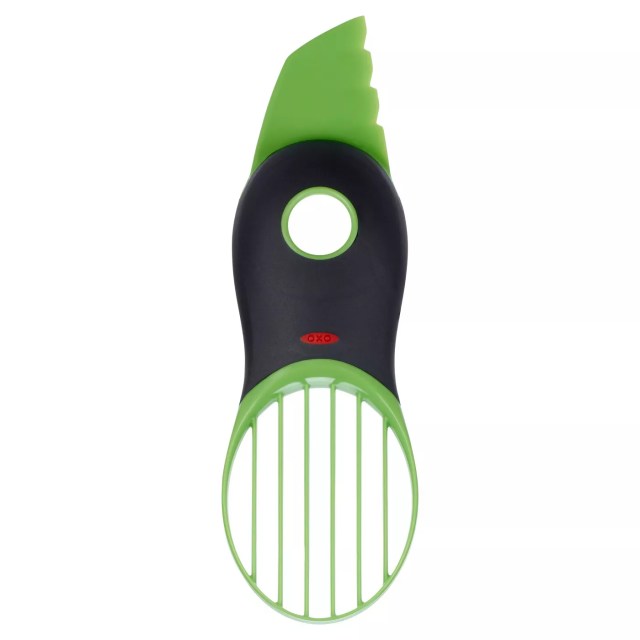 Whenever I see a professional chef whack into the center of an avocado to remove the pit, I cringe. Call me lazy if you want. I agree with you.
This is one of those random-ass gadgets I saw online that seemed really unnecessary, but I actually use very frequently. I'm really happy for the investment in not worrying about cutting myself with a knife while holding a slippery avocado.
---
2. Ninja Foodi 9-in-1 Pressure Cooker & Air Fryer
This one is a splurge, but, but it will replace several other appliances that lazy cooks rely on. My sister-in-law and brother-in-law had one of these and when our old inexpensive air fryer (a lazy cook staple appliance) was dying, we decided to get the Ninja Foodi 9-in-1 for our house. The biggest drawback is that this baby is big and doesn't fit under all cabinets. Measure before you buy. However, we were able to massively downsize and donate our Instant Pot, slow cooker, rice cooker, and steamer, and replace the air fryer. Do we have too many appliances? I don't know, probably — we've acquired them over almost seventeen years of living together, though, so cut us some slack.
So anyway, the Ninja Foodi 9-in-1 is a genius solution for lazy cooking. You can use it to cook fresh or frozen proteins, carbs, and veggies instead of baking them in the oven, in a fraction of the time. By combining a pressure cooker and air fryer in one appliance, you can pressure cook your proteins to get a moist, tender cook and then switch to the air fryer to get a crispy crust, without dirtying additional pans. You can also use the Ninja Foodi the same way you'd use a pressure cooker or slow cooker for stews, rice, making everything from cakes to hard-boiled eggs. And you can use the air fryer function to cook up all your favorite air fryer recipes. The inside cook bowl is extremely easy to remove and clean.
If the Ninja Foodi 9-in-1 is way outside of your price range, and you have a little extra to spend on kitchen gadgetry, I'd suggest lazy cooks get an air fryer. You can get an air fryer for about $40. They're incredibly easy to use and let you eat healthier, with much less prep and clean-up time.
---
3. Wooden and Silicone Cooking Utensils
One of my favorite pastimes is melting plastic cooking utensils by leaving them sitting on the edge of the pot or overheating metal utensils using the same method. Wooden utensils have saved my cookware and give me the freedom to not give a fuck if I leave a spoon in the pot. Wood and silicone are also easy to clean and last a long time. The only downside is that the wooden spoons sometimes pick up stains, but I literally do not care.
---
4. Handheld Immersion Blender
Do you need to blend or whip some shit? Do you have a fancy Kitchenaid stand mixer or a fancy blender with fancy attachments? Additional question, do you want to take out, set up, use, and clean your fancy blender or stand mixer? I thought not.
How about an immersion blender to do small batches of blending and mixing? You can use this to blend soups, smooth salsas, and anything else. You can use the mixer attachment to whip up frosting or whipped cream, beat eggs and make meringues. All in the pot or bowl in which you're already mixing or cooking! Fewer dishes to wash, more home-cooked tastiness and you can throw the attachments in the dishwasher if you have one or just dip them into soapy sink water and give them a spin to get them clean.
---
5. Garlic Peeler and Press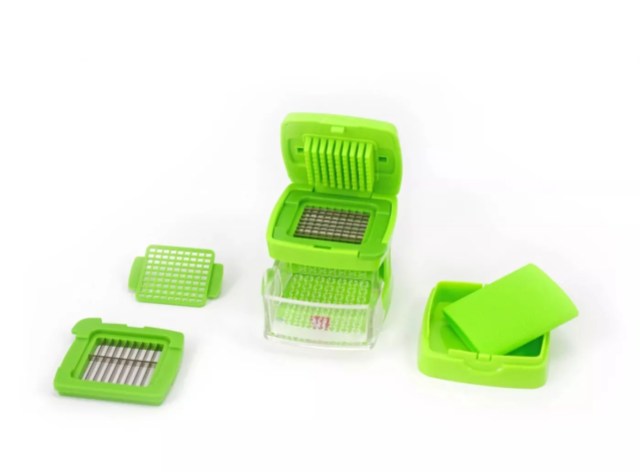 I know, this looks like something you'd buy off of an infomercial. But please, stay with me.
This kitchen tool makes it so much easier to cook with fresh garlic. Learn knife skills, KaeLyn. Be less lazy, KaeLyn. I know, I know, but I am who I am. The garlic peeler alone is worth it–such a time saver versus peeling garlic by hand. Especially if you don't want to smash the garlic with the side of a large knife for the recipe, which is the only other lazy way to peel it. The silicone pulls the peel off the garlic without smooshing it. Then you can use this tool as a garlic press, but better — because you don't lose any garlic at all. This does create slightly more dishes than the cutting board/knife method, but it's a small amount, and this stores in tight spaces. If the garlic press part doesn't appeal to you, I'd still suggest getting the little silicone garlic peeler thing. You can get them alone for a few bucks.
---
6. Pot with Straining Lid and Lock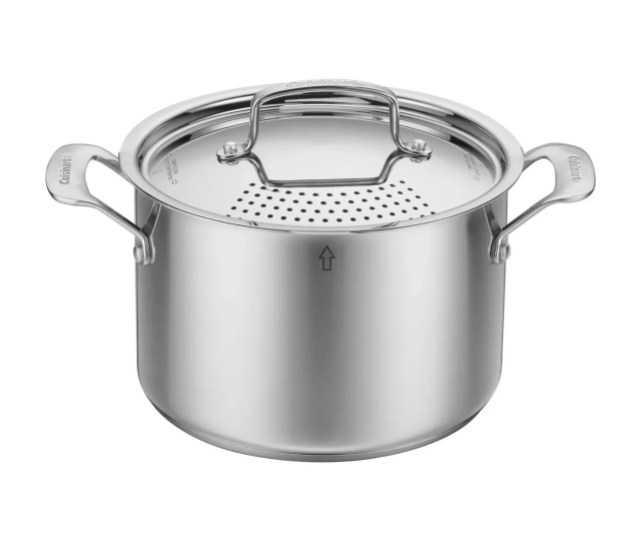 You may be noticing a theme here and that theme is that I love an opportunity to wash fewer dishes. May I introduce to your life, the pot with a strainer built into the lid?
There are many versions of this pot, but I'm telling you right now that you need one, with a lid lock ideally, like this one here. No need to use a strainer when making pasta. Or potatoes. Or, like, I don't know, Kraft mac or whatever you're making that requires you to boil water and then drain the water. This seems like a small thing, but it will change your life and also prevent scalding hot water burns while you're trying to juggle a full pot of boiling water and a strainer.
---
7. Hello Fresh Meal Kits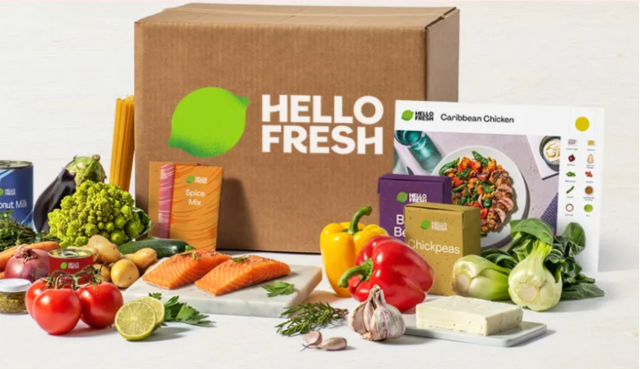 Let me level with you. A major part of my kitchen laziness is just generally feeling uninspired and not wanting to make or clean a bunch of dishes.
My challenge with meal kits in the past has been–you guessed it–the number of dishes some of them create and the amount of prep work and just, like, the time I want back even when everything is portioned out for me. I have also found that I don't need elaborate recipes. I gain nothing by learning to make a bechamel from scratch. It's interesting, but I'm just not the type of person who's going to be spending my precious time making a bechamel when I can…not do that.
Some meal kit companies have figured out that there's a target market in busy cooks who don't have time to cut a million vegetables up but still want fresh food. Hello Fresh now has 20-minute meals on the menu every week and you can easily adjust the number of meals you receive, pick your own menu items, and skip a week, pause, or cancel your account at any time. It's definitely worth it to try one of the 20-minute or one-pan meal kits if you are a lazy home cook who's feeling completely uninspired in the kitchen.