Part Two of Prop 8 Trial Closing Arguments: Team Wrong At Bat
1. The Purpose of Marriage is to Make Babies Bla Bla Bla
Okay guys okay! Now that lunchtime is over it is The Other Side's Turn. In the previous trial the pain of hearing every negative stereotype and outrageous misrepresentation of our community was tempered by the bizarreness and hilarity of the Prop 8 witnesses. Now there are no witnesses so that might not happen, but we can do our best anyways. Now Cooper is talking, and hoo boy he didn't take long to get started:
"Why has marriage been defined the same for so long? The purpose of marriage is to channel potentially procreative relationships into a union with a man and a woman so that children can be raised by two heterosexual parents."
It must feel awesome to be Cooper's wife I mean procreative partner. Puts a lot of pressure on the kids though. You know, to succeed. And not be gay. Luckily though Judge Walker isn't pulling any punches either!
Judge Walker: Do people get married to benefit the community?
Charles Cooper: Your honor…
Judge Walker: When people get married, they don't say, "Oh boy, I can benefit society." (Laughter) They say they are marrying to be with their life partner.
Oh that Judge Walker! Laugh a minute, that one. He asks why the state regulates marriage at all, which is really actually a fucking excellent question, and asks why not leave it to private contract. Cooper says it's because "without the marital relationship, society would come to an end."
Jesus Christ, someone roll that guy a joint, he needs to chill the fuck out.
Judge Walker seems to feel the same way; he asks, "If that is the premise for marriage, is that a proper premise?"
I've read Cooper's answer three times now and honestly don't know what he's saying (though it's so fun when people answer questions with questions, I love it!) so I'm just going to let you peruse it for yourself:
Is that premise irrational unless it insists on procreation? Is it enough that the state and society attempt to insure and increase the likelihood that naturally procreative sexual relationships will take place in stable family environments for the sake of raising children so that society itself does not have to step in? So that society does not run the risk of all of the social consequences of unwed mothers and the like?
Basically what's happening here is that Olson was right, and the procreation thing is just something the h8ers came up with for trial so it would seem less like they hated gay people, and so nothing Cooper is saying is really holding water.
Judge Walker points out that if the state cared that much about babies, there are much more efficient ways to make that happen than by making sure only straight people can marry, and also that parenting has nothing to do with marriage, like a vast number of parent-child relationships did not come out of a procreative married relationship, so maybe this is a little beside the point?
Cooper responds to this with a bunch of crazy shit that sounds like 1984:
"The state still has an interest in that child. The state must take responsibility for the upbringing of that child. Whether it's extraordinary measures and the state has to take full responsibility or when the child has the bulk of the situation where this arises, the mother is still alive, but the mother and father does not have the same ability as a marital unit."
Um, hi, what the fuck does that mean. This?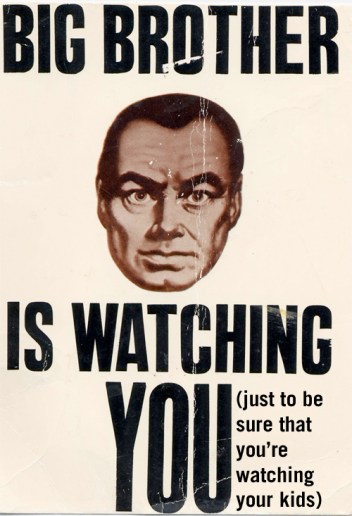 Judge Walker tries to tactfully bring us back by asking "What does the evidence in this trial say?" Um, I'm not sure what this means either. The answer is: "The relationship of the parent and child is that by which the infant is protected." Yes? I guess? From what? Lead poisoning? Schoolyard bullying? The economically segregated US Public School system?
Maybe the problem is that someone actually did roll this guy a joint before he came up to the podium.
Yeah maybe because now Cooper is kind of BSing which is the worst thing you can do with Judge Walker.
Cooper says vaguely that the evidence is "in the cases;" that lots of Supreme Court cases say that "marriage serves the public interest" and that children are important, and is also like "Oh, Blankenhorn talked about this, you don't remember?" Yeah, we do, and it didn't go over so well that time either.
2. We Don't Hate Gays, We Just Love Children
Judge Walker is Not Amused. Cooper says that about two-thirds of judges have upheld this view, and that for gay people to claim that Prop 8 was motivated by homophobia and not just a sincere love of children is "not just a slur on the 7 million Californians who supported Prop 8, but a slur on 70 of the 80 judges who have ruled to preserve the traditional definition of marriage."
There is so much talk here of children. Oh Jesus, Cooper, yeah I'm really fucking sorry if I hurt your feelings on that one. I guess I just didn't realize how fucking concerned you were that I have the opportunity to shove a fetus out of my vagina. Also your Mom called and wants to know: "If 70 out of 80 judges walk off a cliff, are you going to do that too Judge Walker?"
Regardless, the only judge who matters thinks this is all nonsense: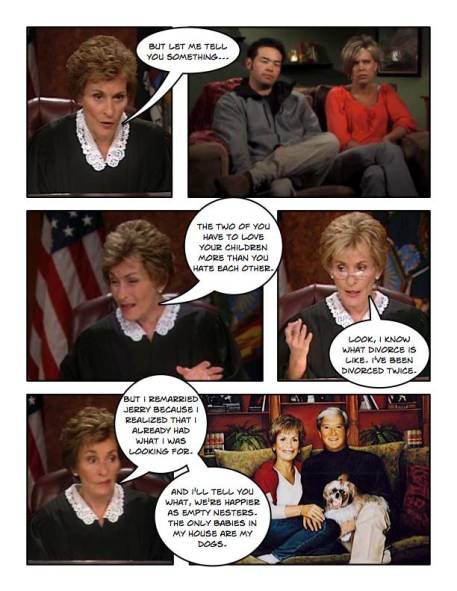 Walker's got this on lock: "If you had seven million people on your side, why did you have only one witness?" I actually know the answer to this: it's because most of those people were brainwashed by the Mormon Church and its minions. Seriously, the movie comes out next week.
I think Cooper is getting a little bellig now. Maybe the line was too long at lunch, and he didn't get a sandwich:
"Go to your chambers and look at any book and you will find unequivocal evidence that procreation is the reason for marriage unless it was written by one of their experts or within the last 30 years. You will not find anywhere in the pages of history any suggestion that the traditional definition of marriage, ubiquitous in history, had anything to do with homosexuality."
I would watch your tone, son; I've seen Law and Order and they can throw you out for contempt of court if you get real uppity like that. Walker doesn't do this yet, but he does ask "And what should I conclude from that?" Gurl, you woke up sassy today.
Also, apparently Maggie Gallagher is here? Liveblog says "Maggie of NOM is sitting barefoot in the court." Wow!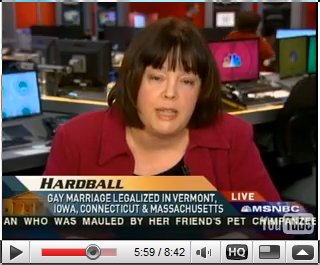 Over a series of obnoxiously slow questions, we are reaching a point where Cooper is admitting that the reason you can see mention of homosexual marriage "in the last 30 years" is because, um, this thing called social change? Maybe you could read a book on that. There have been several written over the last 30 years. The last 2,010 years for that matter. Seriously, way more than just the one, promise, go to the library.
+
3. Interracial Marriage Also About The Children Surprise
Now he's talking about how the only reason interracial marriage became legal was because the state realized illegitimate children were being born, and "the purpose of marriage is to have legitimate children… the 8th circuit recognized that there is a state interest."
This is so fucking bizarre, it's like he lives in some alternate universe that is ruled by an iron-fisted Godking who knows when any infant is born anywhere in the world, and immediately claims it as its own. Since the rest of us do not live in this universe though everything he says sounds fucking crazy.
For example: married couples who don't have children? Um, also can we just take a moment to remember that science and technology change the world, and we have The Pill now and things are different? I mean, if we just had some sort of class in schools, like sex ed or something, then we could really get somewhere…
Also, Maggie Gallagher update: I think she was like resting her feet up on the back of the pew, and the bailiff made her put them back down. Nice.
Judge Walker asks very reasonably if there's really any difference to the "state interest" if people have adopted or in vitro kids instead of penis-in-vagina ones, and Cooper goes on a rant worthy of that one woman who wanders through the Public Gardens screaming sometimes: Something about "irresponsible procreation" and fidelity, and operating to society's benefit, and being "less likely to engage in sexual relationships with third parties."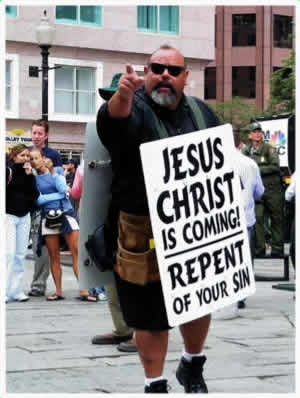 I honestly don't really know what it meant, but I'm having a really hard time seeing how it could possibly apply to the subject at hand. Gay people can't irresponsibly procreate? Like, of all the over-the-top Skins plotlines, none of them were "Naomi accidentally gets Emily pregnant!"  because that isn't possible. So marriage exists because straight people accidentally have children, like on Intervention.
Once again Walker tries to be the voice of reason: "Where does it show that the procreative function was a rationale for voters in upholding Prop 8?"
Cooper responds with "The Yes on 8 position specifically references that marriage is a fundamental relationship in society."
Do you remember a time when words meant things? I don't.
+
4. I Rule That Cooper is Just Fucking Crazy
Honestly, maybe it's me, but nothing that Cooper is saying makes any sense to me here. There's like three solid paragraphs of just nonstop speech that means nothing. Here is a selection just so you can get a sense of what I'm looking through:
"There has not been a case before the federal judiciary or as far as we can tell the state judiciary that applies to anything other than rational basis with four district court exceptions. We submit that 9th circuit has binding authority. Ten other courts of appeal with 6 decisions after Lawrence have held rational basis for sexual orientation cases. Out of 40 some odd district cases, all have been the same save four that have not survived (I may not have gotten this right). You are being asked to participate in a Tsunami."
Is this a secret code? Is he communicating with the mother ship? I DON'T KNOW. Also, there's this:
"If you prove that they are right on any facts by plaintiffs, then you still must rule against them unless you can show that every legislative fact relevant cannot be true."
Well! Someone woke up very opinionated today.
Judge Walker is trying to figure some of this shit out, and asks Cooper, "the natural procreative ability of hetero couples – that's your evidence?" Yes. Apparently it is.
Walker asks if Cooper's line of reasoning asks that they not only rule against the plaintiffs but also invalidate the 18,000 marriages that already exist in California. Cooper says "No, that's not our position at all," which is weird because I was pretty sure it was?
Anyways, Cooper talks circles around himself about how this is not true, everyone can be friends, he knows a bunch of gay people, actually he doesn't say that last part.
Now he switches gears, and says he wants to close out this part by talking about the Lofton case in Florida, which is the one that prohibited gay adoption. He says that in that case, the court ruled that "it was not rendered irrational that children do best when raised by own mother and father," and that this means that:
"legislature could rationally conclude that natural parents of opposite sex versus children being raised by a same-sex couple that has not been proven reasonably by scientific evidence to be good for children."
Well, um, I guess that's that. Cooper wraps this point up by saying that "evidence provided by plaintiffs does not rise above scientifically debatable fact."
YES, "DEBATABLE' IS THE WORD I WOULD USE. I can't figure out whether Cooper believes this or if he's just freestyling, like when you have a presentation to give in sophomore year biology but didn't do any reading so just decide to go big or go home on Chlorophyll: Green Pigment or Menace?
In conclusion: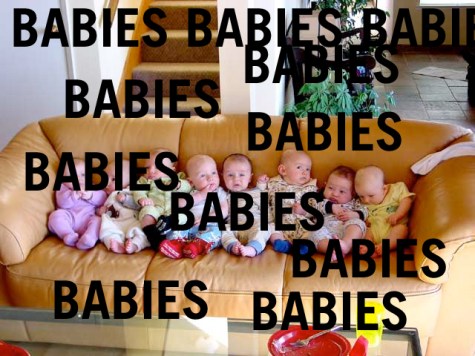 +
5. Um. EW.
And oh Jesus, Cooper just had to close this one out with something to make me vomit in my mouth:
"They've gone to great lengths to talk about the religious beliefs of many who supported Prop. 8. Hardly remarkable that religious people are involved. It's part of our tradition from abolitionists to civil rights and it's constitutionally protected."
YES, THAT IS RIGHT. YOU ARE EXACTLY LIKE ABOLITIONISTS. I bet they're all looking down on you from heaven right now very proudly. I'm sure James Baldwin is just ready to fucking high-five you for how fucking precisely you have replicated the spirit of the civil rights movement. Angela Davis has a fruit basket on its way to your house right fucking now. Oh my God, maybe he will be hit by a train when he leaves the courtroom.
+
What If It Never Ends
No just kidding that will not happen, we are not even leaving the courtroom, COOPER IS STILL TALKING. Stand by.
Apparently he is not done because there is some kind of weird legal loophole where the more I hate people, the longer they are allowed to talk. This feels like family dinner at Thanksgiving. Anyways. Cooper is going back to talking about whether sexual orientation is "immutable" — really so far his whole segment has just been a Lowlights Of The Original Prop 8 Trial, and this is no exception. We went through this whole fucking thing about how women are very "elastic," which means that sometimes we, uh, identify differently throughout our lives, which means obvs that our identities aren't even REAL and that we COULD marry that construction worker who yells at us on our way to work because we could be straight if we wanted to but we just don't want to. Probably because we're bitches, or sluts, or something. So there's the recap of that. That's what Cooper is talking about now, where he's essentially trying to argue that sexual orientation shouldn't be treated like other suspect classes because it like "can change" and therefore "is not real." I have this really strong and immature urge to like "give Cooper a wedgie" or "trap him inside a locker" right now. Sorry. Over it.
As Judge Walker points out, though, "Some times of the year everyone is Irish." Exactly, my friend. Exactly.
Now we're at the part where Cooper is like "I'm not saying queers have never been discriminated against, but I'm saying that it's 2010, and everything is fine now." Clearly this is someone who was never called a whiny litle f*g in high school. Or maybe he was and that's his problem. HEY-O. He goes on for like fucking ever about how gays aren't as politically powerless as Team Totally Right witnesses made them out to be, and that means we should not let them get married, somehow. He's wrong though, because as Judge Walker points out there are a lot of protected classes that aren't literally powerless, and that doesn't make them less protected. I'm just going to go there — we have a black President right now? Did you know that? And I don't think anyone except Glenn Beck has proposed that black and African-American people should no longer be a protected class, so I'm going to go ahead and say this argument is over.
+
Actually It Was Peer-Reviewed By His Mother
Now we're getting to my favorite part, the part where we talk about what shitty witnesses the other side has.
Judge Walker: Why should Mr. Blankenhorn's testimony qualify as expert testimony. Does he meet the standards?
Cooper: I submit that he does. I don't have anything to add to the submission we made earlier. Under the 9th circuit standard of the qualification of an expert, he is amply qualified. His professional life for 20 years have been devoted to the study of marriage…
J: Were they peer-reviewed?
Cooper: No.
Judge Walker: Am I correct that the only peer-reviewed article of Blankenhorn was not on the subject of marriage?
Cooper: Sir, as I stand here right now. I don't know…don't remember.
As I stand here right now, I'm going to buy Judge Walker a drink.
This next part gets a little hazy because we start talking about what marriage means "as an institution," which is like reading Roland Barthes or some shit, like I don't know what any of those words mean and I have a very expensive college degree. Mostly Cooper is talking about what will happen when we "change the definition" of marriage and how no one can predict it, which is dumb because no definitions of anything are actually going to change, I hate this man.
He also gets really snarky and says that since the plaintiffs can't prove that the consequences of legalizing marriage will be positive, and all the defense has to do is prove that they could possibly reasonably maybe be negative, that they should just win the case. I don't know enough about the law to know whether this is true, but I know it makes Cooper sound like a giant dick. And not the Vixskin kind either. I'm going to leave you with these last words of his, just so you can really savor the douchey flavor in your mouth:
Judge Walker: A disability has been put on marriage. Do you not have to show that there is need, that it's enough to impose on some citizens a restriction from which others do not suffer? Is it enough to say "I don't know?"
Cooper: Yes.
WELL THEN. This would really suck if we didn't get to listen to Olson's rebuttal but guess what WE DO. Hold on to your panties ladies and gentlemen, this shit is about to get real.
Are you ready for some fresh-to-death Ted Olson smackdown? I know I am. I am ready to rebutt the shit out of those assholes.
Here we go! Judge Walker asks Olson what happens if we win – he's implying a comparison to Roe v. Wade, where the issue of abortion was technically legally decided but is clearly not a closed debate in the actual real world. Olson is like whatever, bro, that's what people said about interracial marriage too, and look where we are now.
That's all well and good and whatever, but then Olson really starts to get into it. To be honest, the h8ers had a pretty sloppily run trial, and Olson isn't going to let them get away with it. "Mr. Cooper cites from books of people who would not come into court to be subjected to the judicial process." Really, take ten minutes to go back through their testimony – all of their "experts" were either crazy, stupid, wrong, or all three. Like really, I haven't been able to get away with stuff in Shakespeare 101 lecture that they tried to pull in court. I didn't do that well in Shakespeare.
Also, ohmigod, I just can't get over how in love I am with Ted Olson. Like really. Anyone else is going to have to wear a suit and tie and say things like "objection, your honor" to have a chance with me. "Mr. Cooper says first you have to accept my definition that marriage is between a man and a woman and marriage between man and man or woman and woman would change definition. Of course it did, because you defined it. How does it help to keep gays and lesbians out of the club?"
Also, omg, THIS:
"Now a word on pro-creation. What if the state changes its mind? There are governments that have ruled that too much pro-creation is bad. If CA so decides in 10 years, would the state have the right to cut off marriage? No. None of the cases to which Mr. Cooper referred, including Maynard, referred to divorce, mandatory leave for public school teachers, family occupancy of homes, prisoners, and the last case in Texas which ruled for homosexuals."
It's really reassuring to me to know that it's not just that I personally disagree with these crazy people, but that they are actually objectively wrong on many levels. Like really, they are not very good at their jobs. If the government has a vested interest in procreation, it hasn't done a very good job making that apparent; and if it's really so slipshod about these things, why shouldn't gay families benefit? Since actually, you know, straight people procreate kind of a lot? So much so that millions of kids are in foster care? And then we adopt them into loving homes? Just saying. Also Olson just referenced Dr. King's letter from Birmingham jail. Oh my God I just peed myself.
Also, just saying, the word "procreation" was not in any of the Prop 8 campaign ads. Just saying.
Ok you guys I'm really tired and have been drinking wine out of a plastic cup? So I'm going to leave you with Olson's words and not mine, because he is smarter and also was probably not intoxicated in this courtroom.
It's about a fundamental right to marry, not to marry in June or some other time, but to marry whom you love. Can't rely on post-hoc. We have to take a group of people who have bee victims of discrimination and we want to foreclose them from a basic right – marriage. Strict scrutiny, rational basis or something in between, you have to have a good reason to take those rights away. "I don't know" doesn't cut it when you take a basic right from a group.
Well, we know how we feel. We know that we have huge boners for Olson and Boies. And we know that that Cooper dude is real fucking dumb. But we still don't know how Judge Walker will decide, because the way that The Law works means that even though we are Totally Fucking Right we could still lose. And also that even if we are ruled as being Totally Fucking Right, we could still lose because this ish is going to the Supreme Court. Aren't you excited? I'm excited. But you know we'll be here with you to hold your hand and help wipe the mascara off your face either way, right? Girl, you know we got you.
On that note we are OUT for the night, love you bitches Olson&Boies 4 LYFE!
Pages: 1 2See entire article on one page