Journey To The Center is a project about finding what fits. Gender presentation is a complicated creature, one of personal and political importance. For some queers, traditional masculinity and femininity doesn't hang quite right on our shoulders. So every month, Audrey is going to find a new way to smash up the extremes and explore the vast landscapes in between. 
---
I've been working to broaden the scope of my fashion inspiration to include more typically masculine elements by reading the non-gross parts of men's mags, following stylish dudes on Instagram, and obsessively reading my emails from Topman and The Tie Bar. I could do a whole separate post on all the times I thought a Topman model was a cute dyke.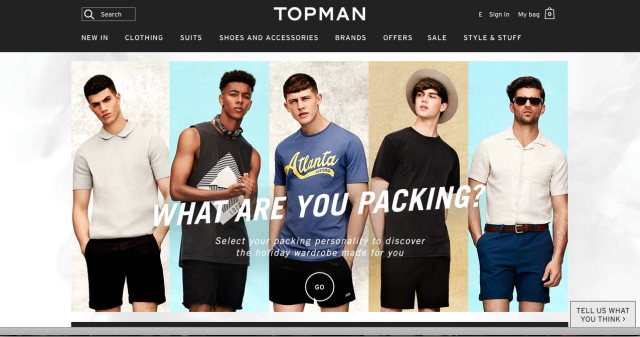 But the goal here isn't to pursue masculine ideals — it's to rip them off, queer 'em up, and cover them with fairy dust. So I called up my photographer friend Silvio and asked him if we could do a little project. I chose three men with very different aesthetics: Nick Jonas, Mike Hadreas and Willie Nelson. Then I picked apart their styles to make them my own. Every outfit includes at least one piece made for women and one made for men, which was a happy accident. I am a skinny white person, and these are all skinny white people, and I absolutely don't want to reinforce the idea that androgyny is a skinny white space. But it would probably be more fucked up if I style-thiefed Le1f. So, I really want y'all to go wild in the comments and hear how you incorporate the styles of people you find beautiful into your own looks, talk about what inspires us, and think about deconstructing typically masculine and androgynous apparel for everyone.
---
Lezbro
Muse: Nick Jonas
For a long while, I thought I had a crush on Nick Jonas. His voice and those dumb Marky Mark photos gave me feelings. But recently I have realized that I actually want to be Nick Jonas, at least sometimes. I have catalogued him and Justin Bieber in my head as celesbians, and I honestly can't undo it, so we're all gonna hang out in my alternate universe for a minute. Nick wears a lot of well-cut jeans, muscle tanks and snapbacks, providing endless inspiration for low key butch looks.
To capture his aesthetic, I found these black men's Wrangler jeans at a second-hand store with the help of a sweet and confused salesclerk. I cropped my Gal Pal tee into a muscle tank, and it has become the only shirt I ever want to wear. You too can live this dream. I could not have planned the extent to which the shirt matched the unlicensed Texas Rangers snapback I bought in the street. Also, those briefs have a pattern of a T-Rex riding on slices of pizza, because occasionally there is justice in the universe.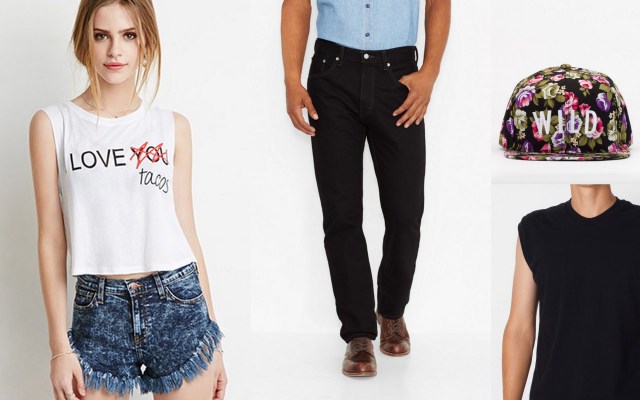 Forever 21 "I love tacos muscle tee" // Levi 505 Regular Fit Jeans in black // Wild Fang "Wild Flowers" Snapback // American Apparel Fine Jersey Muscle T-Shirt
---
Power Twink
Muse: Mike Hadreas aka Perfume Genius
As I've mentioned before, Mike Hadreas is one of my most beloved gender muses. He speaks openly about his dismissal of the gender binary in his music as artist Perfume Genius and in interviews. His manicure game is very, very strong. He often applies a high glam, regal aesthetic involving flowing white suits and/or gold mesh. But when I saw his photos in a great feature in Wondering Sound, I realized that even simple day-to-day clothes can convey his aesthetic, which I think of fondly as power twink.
Could there be anything more basic than a collared shirt with shorts? A collared tee or button up takes this most casual of looks to a polished place, and buttoning that top button is my favorite subtle queer flag.
This whole outfit is from the Gap, because I am my mother's daughter. I'm wearing their sexy boyfriend shorts (see below) and a boy's XL color-blocked button down. Did you know that it's a button down if it has buttons on the collar, and a button up if it does not? For those of us with warm autumns, shorts with a short-sleeved button-up/down is also a versatile way to embrace the changing season without sweating to death.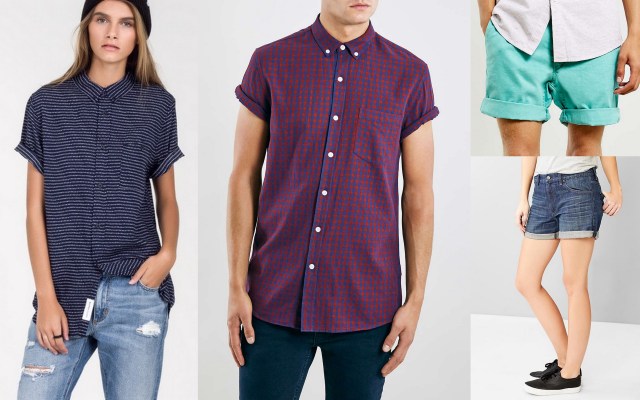 Wildfang Lavoux Shirt // Topman Burgundy/Navy Ginghan Shirt // Topman Washed Mint Chino Shorts // Gap 1969 Sexy Boyfriend Denim Shorts
---
Rodeo Darlin'
Muse: Willie Nelson
I recently came across this picture of Willie Nelson wearing two bandanas at once and standing next to Dolly Parton.
Growing up in Dallas, Western wear was a constant style influence, and Willie Nelson's music was a mainstay in all our household music players. I will never be as cool as Willie Nelson, but I'm willing to die trying.
This seems like a good place to say that I believe in leggings as pants as a politics, a way of life, a spiritual marker by which to live my life. For me, there is actually something incredibly freeing about wearing clothes that show exactly what my body is shaped like. There is no room for interpretation, for trying to make my legs seem like a certain kind or gender of legs. They're just my legs! The leggings pictured are not jeggings, they are just denim colored leggings. Since this picture was taken, I ripped a huge hole in the crotch. RIP. The Wrangler denim pearls snap is incredibly versatile, and one nice thing about Western-cut shirts is they tend to have nice tall gaps on the sides that better accommodate hips. And of course — What Would Willie Do? — I tied on two bandanas.
Target High Waisted Legging // Wrangler Men's Authentic Work Shirt // Lucchese 1883 Women's Boot
Ok y'all, get up in the comments and tell me your dreams. Who are your fashion icons, and how do you incorporate their signature looks into your own style? Where can I go to replace my jean colored leggings? Let's talk.