Calling all queers! Are you sick with the A-Camp Plague? Do you feel isolated or alone? Do you really enjoy footage of happy queers and/or fuzzy beasts? If you answered "yes" to any of the above questions, you're in luck, because it's Sunday Funday and I'm here with a batch of fresh-out-the-oven queer news!
Get Proud, Y'all
It's Pride Month! I know because President Obama told me so.
This month, as we mark 45 years since the patrons of the Stonewall Inn defied an unjust policy and awakened a nascent movement, let us honor every brave leader who stood up, sat in, and came out, as well as the allies who supported them along the way. Following their example, let each of us speak for tolerance, justice, and dignity — because if hearts and minds continue to change over time, laws will too.

NOW, THEREFORE, I, BARACK OBAMA, President of the United States of America, by virtue of the authority vested in me by the Constitution and the laws of the United States, do hereby proclaim June 2014 as Lesbian, Gay, Bisexual, and Transgender Pride Month. I call upon the people of the United States to eliminate prejudice everywhere it exists, and to celebrate the great diversity of the American people.
In Cyprus, thousands of queers came out for their first-ever Pride Parade. To ring in the month, Facebook gave me a bunch of super gay stickers I'll probably get drunk and send to Stef. #Mahalo, y'all.
Rachel Jeantel Is Moving On and Up
Rachel Jeantel graduated high school – so take that, mothafuckas.
Clearly thrilled that she kept her promise to Martin, Rachel Jeantel spoke confidently about her graduation: "I did it. The witness who didn't know how to speak English knows how to speak English through the 12th grade now. I never quit."
America Is Seeking Out LGBT History
Earlier this year, we told you about how the National Park Services was working on memorializing more LGBT historic sites; now, they're starting off with Stonewall.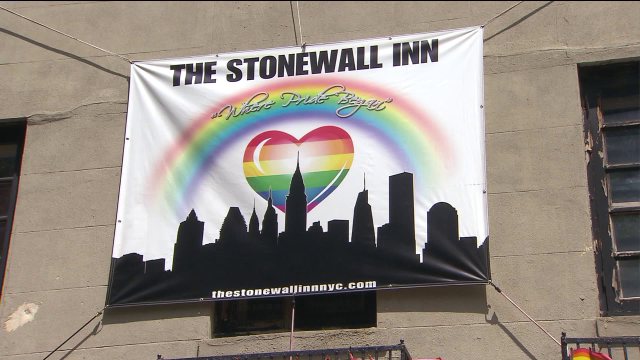 "Yes it's controversial. There are parts of our civil rights history that are controversial," Jewell said. "It doesn't mean the story shouldn't be told. And we feel strongly it's part of the National Park Service's job to tell the story of all Americans."

"We can help promote a dialogue across the board. We can make the issue more relevant to people who visit National Park sites, and engage school children," said Joshua Laird, Commissioner of National Parks of New York Harbor.
These Breakers Are Not Breaking Up
Jo and Lianne are both team players — and their engagement isn't changing a thing. The Boston Globe recently sat down with the two Boston Breakers members to talk gay rights and their very public and totally gay relationship.
This Bear Is Kind of Exhausted
Everybody feels this way sometimes, amirite? (Click for video!)