Happy Sunday Funday! Today I'm going to drag brunch with my boss and then a WNBA game with a bunch of queers. It's the gayest day ever is what I'm saying.
HAPPY BIRTHDAY CLUELESS
Like, oh my god. Clueless is 18!
Lesbian Indian Wedding Photos
Breathtaking and beautiful, like most signs of healthy gay partnership.
Photographer Steph Grant recently had the honor of capturing a spectacular lesbian Indian wedding, a first for the seasoned photographer.

"I have photographed Indian weddings before and I have photographed gay and lesbian weddings before, but never have I ever shot an Indian lesbian wedding," she wrote in a post on her website on July 9…

"I was greeted by a house full of friends, family and a lot of laughter," she writes. "It was going to be an exciting day. Beautiful Indian culture, stunning brides and style for miles!"

LGBT Inclusion in the Student Success Act: Something This Logical Shouldn't Have To Be Partisan
LGBT students should be protected from discrimination at school. Even these Republicans say so.
Politicians from both parties, including Representatives Rob Andrews, Barbara Lee, David Cicilline and the amendment's co-sponsors Jared Polis and Ileana Ros-Lehtinen of the Congressional LGBT Equality Caucus, voiced their support of the [non-discrimination] legislation at a Rules Committee hearing on Wednesday night, expressing their frustration that the amendment had not yet been given a vote on the floor.

Polis, justifying the necessity of his amendment, cited the "pervasive discriminationwp_postsagainst LGBT students as well as the systemic harm such abuse would cause to the American education system.

"Every day, students who are, or are perceived to be, lesbian, gay, bisexual, or transgender are subjected to pervasive discrimination, which is harmful to both students and our education system,wp_postsPolis said according to a release from the LGBT Equality Caucus. "I am disappointed that we were unable to vote on my amendment, which would have provided protections for LGBT students to ensure that all students have access to public education in a safe environment. I would have hoped that every member in this body would agree that there is increasing bipartisan consensus schools should be a safe place for all students to learn."
Miley Cyrus Ain't Event Mad
People think Miley Cyrus looks gay, but she's just doing Miley.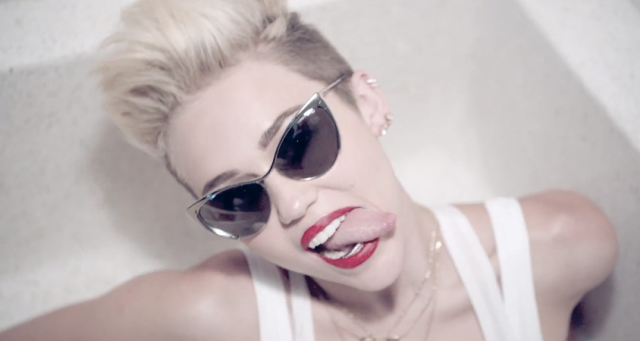 "I just cut my hair and then it really changed my life. There's something about having no hair that it screams being confident. And I think especially because people like to put people in a box, I mean the names I've been called since I cut my hair,wp_postsCyrus said.

"Everyone said I was a lesbian but I'm like, 'Being a lesbian isn't a bad thing. So if you think I look like a lesbian, I'm not offended. You can call me much worse.' I've been called much worse. Being a lesbian is a compliment more than what else they call me."
This Grandma Rocks, But Like Actually
Mexico's First Gay Mayor
Benjamin Medrano is 47 and is the first gay mayor to be elected in all of Mexico, thanks to a rural township named Fresnillo. He also owns a gay bar. You heard me. We're taking over! Farm town by farm town.
Adorable Animals Adorably Cool Off
When it's hot, eat a popsicle. Duh. What were you, raised by otters?