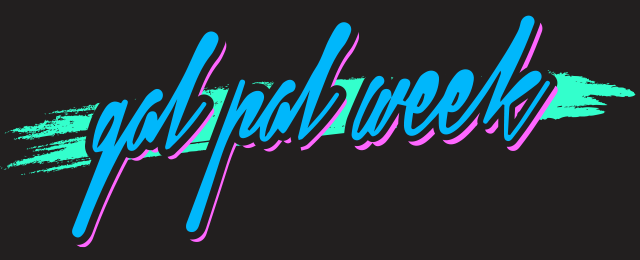 ---
Far too often our queerness is only discussed in three contexts: relationships, family and politics. But our queerness plays a role in our friendships with other queers, too, and that's what this series is all about. In honor of Gal Pal Week, welcome to "Interview With My Queer BFF," in which gals interview their best queer pals about their exciting queer paldom. And by "gal pals" we don't mean "girlfriends" or "wives" … we mean GAL PALS.
Today, Contributing Editor Maddie interviews her BFF Zoe!
---
Maddie: So, jumping right in: how did we meet?
Zoe: Um, we met at your interview for CARES, the hotline we were part of at Vassar, when I was a junior and you were a freshman. I read your application right before you walked in the door, and you came in, and I think I was interviewing you with Amanda? Is that right?
Maddie: Yeah.
Zoe: And you had a great interview, and at the end, I turned to Amanda and said, "I'm gonna be best friends with that girl." And then it took us a while to be best friends — it was probably like six months before we were best friends.
Maddie: Yeah, a lot happened in our friendship before we were best friends. Like, like when I came to visit you in Richmond over spring break of my freshman year on the way back from Tennessee.
Zoe: Oh yeah, we weren't even really close at all yet.
Maddie: We watched Fern Gully.
Zoe: And Rebecca Black's "Fridaywp_postshad just come out, but I was in like, spring break hibernation, so you showed it to me. And what about when you went to the emergency room that one time? That was before we were best friends.
Maddie: Oh yeah! I had broken out in hives.
Zoe: And our friend Charlie and I took you to the emergency room and he sat in the waiting room for four hours and his phone died, and I sat with you waiting to be seen and basically nothing happened.
Maddie: I'm glad you were there, though! I remember we conspired on pranks we could pull, like swinging from the IV stand.
Zoe: Yeah, we planned a lot, but we were all talk.
Maddie: Then they gave me a shot of Benadryl and I had a vasovagal reaction.
Zoe: What's that again?
Maddie: It's when you pass out after you get a shot. But the nurse didn't understand what was happening, and she freaked out because my blood pressure dropped and tried to stick me with more needles, and I was like, "No just give me some apple juice."
Zoe: Oh yeah, that was scary! But then you were fine and then your hives went away and we went home.
Maddie: You put me to bed, I think. But wait, let's talk about Best Friend O'clock, now.
Zoe: That was the fall of my senior year, so it would have been the fall of your sophomore year, and I had spent all summer thinking about how I probably was queer and not knowing what to do about it. And then over October break, I kissed a girl for the first time, and then when I came back, we went on some kind of errand… I think we were going to buy yarn or something.
Maddie: Yeah, I was in this really intense knitting phase.
Zoe: So I think I had said ahead of time that I wanted to talk with you about something important, and you were like, "Ok come find yarn with me," and I spilled all my feelings and you talked about lots of stuff, and then we were instantly best friends. And then we started spending a LOT of time together.
Maddie: So then – this is the next question – why are we friends and not girlfriends?
Zoe: Well, we've talked about this extensively. I'm not sure I know the answer. I'm not sure there's one barrier to us being girlfriends, but I think that both of us really value our friendship as it is now, and for both of us, it's really important to place as much value on our friendship as we would if we were girlfriends. And I think we just shouldn't be girlfriends. I think what we have is something different from that, but still as important. I don't know, what do you think?
Maddie: I mean I feel the same way. There's definitely a piece of me that thinks that it could still turn "girlfriend o'clock" for us one day, like it was "best friend o'clock" that day in New Paltz, but it's not now and it hasn't been, and it's certainly possible it never will be. You're in a great relationship, and I'm really happy with my dating life, too.
Zoe: And it's not like we're waiting until the time is right, either. It's more that I saw our relationship change from "friends" to "best friends" instantly, so it made me believe that any relationship can kind of have a change in it, but yeah, I think that like, we're not girlfriends because we don't want to be, you know?
Maddie: Yeah, I agree. The next question is, what's the most annoying thing about me?
Zoe: Oh man, I should have prepared for this so I could really give it the thought it deserves… you're not annoying! Hmmm…
Maddie: Is it that I crack my toes incessantly?
Zoe: No, I've never noticed that! Um… I would say you are annoyingly good at being thoughtful. Because it makes me look bad by comparison. Like when I moved into my new apartment, you had a box waiting for me filled with Welcome To Boston stuff, and obviously you sent me a beautiful Christmas package and I still haven't sent your gift. So I would say you are better at me than that and I find it a bit annoying.
Maddie: You're the only person I do that for though!
Zoe: Yeah, but I'm not as good as you are.
Maddie: You do your part. Also I didn't send you a birthday present in a timely fashion at all, so.
Zoe: Welp.
Maddie: So the next question is, what was our biggest fight about? But I don't think we've ever had a fight.
Zoe: Yeah, we've like, hotly debated political issues, but we've never had a fight. You know, I think our relationship is a great example of lesbian processing at work.
Maddie: Hahahahaha
Zoe: Because any time that there's been a thing, we've just talked about it.
Maddie: Yeah, also, the foundation of our relationship is CARES, which to me was a space where I really learned to communicate and process.
Zoe: Right, and I don't know… this is like, weird, but I was just thinking about how our relationship began as sort of a mentor/mentee relationship when you joined CARES as a freshman when I was a junior, but when I was coming out it sort of flipped the other way because you were my queer spirit guide. And so I think in both of those roles, both of us were filling these caretaking roles and I think that that impacted the way we communicated after that.
Maddie: Do you think our friendship would be different if we were straight?
Zoe: Yeah, I don't know that we would be best friends, because me coming out and reaching out to you was one of the things that I think made us best friends — that we shared that. And I think that also because we were both queer and friends but not girlfriends, we've thought a lot about our friendship and what it means and how we want it to be, and I think that's been really central to what our friendship's been like.
Maddie: Yeah, I mean for me, there's nothing in my life that would be the same if I were straight.
Zoe: I don't know how different my life would be if I were straight, because I was for so long, and came out pretty late, so I don't know how my life would be different if I'd come out earlier or if I were straight. But I think you being around at the moment of me figuring everything out was really important and I think shaped our friendship going forward. I was very overwhelmed by that entire period of my life.
Maddie: That period of time was overwhelming for a lot of reasons.
Zoe: And I think it's worth mentioning that one of the main ways that you were my queer spirit guide is that you gave me a bunch of queer YA books over the first year of our bestfriendship: Annie On My Mind, Empress of the World. You said, "You didn't have a queer adolescence, this is happening."
Maddie: So now we have to talk about Pink Ivy.
Zoe: Let's talk about Pink Ivy.
Maddie: Tell me, Zoe, who is Pink Ivy?
Zoe: Pink Ivy is our unicorn head. The summer we were both living in Cambridge, we were sitting around bored one afternoon, and one of us said, "Let's make something out of papier-mache."
Maddie: I feel like it was probably you.
Zoe: It was probably me. And we decided that we were going to make a unicorn head. And so we looked up a tutorial online, because miraculously someone had done this before.
Maddie: Wasn't it a zebra? Or was it a unicorn?
Zoe: Oh it was a unicorn. And so we went to Michael's and bought a bunch of supplies and then we made papier-mache and started this unicorn. And we proceeded to take the whole summer to finish it. I think the day you left was the day we finished it.
Maddie: Yeah, I left you like, holding her to her mount while the glue stuff dried and we had to awkwardly hug with one arm.
Zoe: Well because we didn't know what the best way to mount a heavy papier-mache head on a wooden board would be, so we went to an arts supply store and brought her, and asked the guy there what glue he thought would be best, and then he proceeded to talk to us for a really long time. He was very passionate about the different types.
Maddie: He kind of mansplained it to us. It was not the first time, actually, that we had been mainsplained to about this unicorn situation.
Zoe: Yeah, because when we went to Michaels to get stuff to embellish her with, we asked a guy and he mansplained to us.
Maddie: I mean, they were both very nice and excited. But definitely wanted to share more knowledge with us than we needed.
Zoe: Yes, so Pink Ivy lived with me for two years, but now she just went to live with you.
Maddie: Yes, we are on a two-year shared custody plan.
Zoe: Pink Ivy also sends and receives holiday cards. She sent you a Valentine last year, and you sent her a Christmas card this year.
Maddie: Well it wasn't from me, it was from some other papier-mache mounted heads I met in Montana.
Zoe: It's also worth mentioning that in order to name her, we had a naming contest on the chalkboard in my kitchen.
Maddie: Yes, we crowd sourced the name.
Zoe: And Pink Ivy was the best suggestion we got. There were other good ones. I really liked Percy. There was some really alarming ones about penises, but I don't remember what they were.
Maddie: I don't remember either, but I mean…. yeah.
Zoe: What??
Maddie: I mean, her horn is pretty phallic!
Zoe: It's a little phallic.
Maddie: For a while, she was my skype user picture, and around March, I had the first joint voice skype I'd ever had with Riese and Laneia and Rachel, after six months of working at Autostraddle. And the first thing that happened was Riese was like, "What is this weird sex toy thing on your profile??" And I said, "That is Pink Ivy, my papier-mache unicorn that I made with my best friend." And she said, "Oh, that's clearly what it is."
I mean, if there's anything that really epitomizes the queerness of our friendship is that we made a unicorn together and named her Pink Ivy.
Zoe: Yeah, she has two mommies.
Maddie: It's our queer family!
Zoe: Yes, our queer family.

Yikes.