Welcome to Insta Crush, a new column on Autostraddle dot com where every other week we feature a queer Instagram account we love. I strongly believe that the way we all connect on Instagram is forging and fostering community in new and interesting ways, and I want to highlight the people – and pets – contributing to that endeavor. Much like Instagram itself, these interviews are a little slice of queer life.
Today's Insta Crush is Femme Birds, an absolutely amazing account that features photos of real birds in nature and claims them as femme, then puts words in their mouths via extremely spot-on captions. It's alarming how femme these birds unwittingly manage to be and how perfect every caption is over and over and over and over. The Femme Birds Instagram account has taken some stands and they are proudly anti-racist, trans/gnc celebratory, fat liberationist, and intersectional feminist. "Behold our sumptuously fluffy, feathered big magic," the Femme Birds Instagram profile concludes, and you know what? I can think of nothing better than beholding this magic.
What is a femme bird?
Femmebirds, like their human counterparts, are a diverse flock. There are high femmebirds, hard femmebirds, chapstick femmebirds, tomboy femmebirds, old school femmebirds, fat femmebirds, non-binary femmebirds, bossy femmebird tops, bratty femmebird bottoms, mommy femmebirds, daddy femmebirds, femmebirds who can slay you with the wing of their eyeliner, and femmebirds who can't/won't do makeup to save their lives. But all femmebirds are uncompromising in their politics, which are queer, intersectional feminist, anti-racist, anti-capitalist, anti-imperialist, abolitionist, fat liberationist, trans celebratory, and pro-sex worker.
How did this account get born? What was the idea behind starting it?
Meaghan: I started Butches + Babies in 2011, so I've stayed mostly aware of what's happening in the queer blog/social media-sphere since then. Last December, @butchbirds became a topic of conversation at a party. You can anthropomorphize just about any animal, but birds seem particularly suited to femmeness: fierce talons, vicious beaks, vibrant feathers, all protecting a relatively vulnerable hollow-boned skeleton. As I stood there, it occurred to me that so much of why I poured my energy into Butches + Babies for so long was because I felt like like I couldn't possibly speak to the femme experience myself; it felt easier to facilitate space for other people to celebrate themselves. My femme journey was fraught from the start and it has taken more courage than I ever realized I'd need to feel like I get to say I am femme, too. The idea of creating an account where I then used birds to talk about "femme things" seemed like a natural fit and an enormous personal challenge. So I camped out in my friends' bathroom for 20 minutes mid-party and set up @femmebirds.
Katie: Right after she started the account, Meaghan sent me a few pictures of birds and asked how I'd caption them. I think the first one I wrote was about feeling like I couldn't really be a queer woman if I didn't shave my head. It was thrilling to see that so many people could relate. At the same time, it was disheartening to realize that so many femmes had had the experience of not feeling queer enough or legible enough or even femme enough. Both Meaghan and I came into our queer femme identities much later than we likely would have if we'd had a wider array of models for what queerness and femmeness can look like. So @femmebirds quickly became a space for building the kind of community we wished we'd had access to.
What is a femme bird's favorite season?
M: Femmebirds are birds for all seasons, really. We love the flirtatiousness of Spring, the nesting of Summer, the foraging of Autumn, and the abundant chonkiness of Winter.
K: Aries season.
What is a femme bird's favorite food?
Cheeseburgers. Ice cream. Or whatever floats her bird boat. Femmebirds don't police other femmebirds' food choices!
What is a femme bird's favorite activity?
Pecking the white supremacist capitalist cisheteropatriarchy to death and then ripping it to shreds.
How can us mere mortals submit femme birds for your consideration?
Anyone can DM us on Instagram or e-mail us at femmebirds [at] gmail [dot] com to submit! We're picky about quality, we prioritize the mood/attitude/expression of the bird over its aesthetic femme-ness, and captions are hard work! We do get quite a few submissions that are saved and used when they coordinate with a message we're trying to convey, but we cannot guarantee that everything submitted will show up on our feed.
Why don't you tag the photographers who take the bird photos you use?
We talked endlessly about this and settled on a harm reduction model: we want our followers to feel safe. We realize that it's incredibly important for content creators – whether it's art, design, or thought – to be appropriately consulted/credited when re-sharing their work. That said, birdstagram (or more generally, naturestagram) is an oft uncredited place for nature photographers. Content is copied, pasted, and recycled many times over and it's challenging to find the source image. Or, when you do know who took the photo, it's hard to know whether they, and their followers, are safe people for LGBTQIA folx. We do our best to source the original image for all of our posts and we archive it on Instagram or in a shared document. If a follower wants to know who took a photo, we'll give them that information. If a photographer contacts us and asks us to credit them, we will without question. If they contact us and ask us to take their photo down, we will without question. Fortunately, this has only happened once and the issue was quickly resolved. Not everyone agrees with our approach, but our backgrounds in libraries and academia, and our shared familiarity with copyright law, played heavily into our decision and we feel good about it. Finally, we adamantly refuse to accept advertising/influencer money from anyone, so there is no profit model to contend with when it comes to what we share and create. Femmes are beholden to no one.
Femme birds is run anonymously. How come? Will you ever reveal the humans behind the bird magic?
We don't openly share our true identities through the account, but we did share them a few months ago in a Mashable article, and have shared them on occasion with people who ask directly. This is in part about privacy but also just about doing as much as we can to decenter our personal selves from the project itself. Femmebirds has become as much a reflection of our unique personal experiences as femmes as it is a learning experience for each of us as we navigate our femme journeys.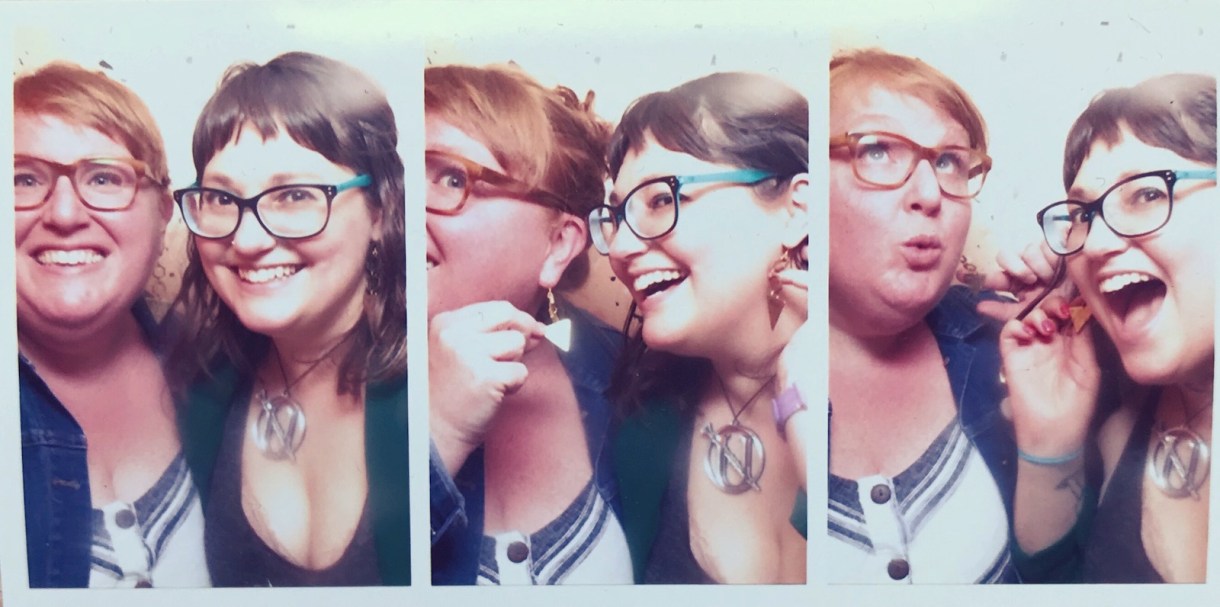 What are some of your favorite things about being femmes?
M: Femme is a lesson in persistence and a persistent lesson. I'm constantly working toward feeling deeply, fully unapologetic about who I am, who I love, what I do. I also love the process of embodying an identity and a gender that pays no mind to the cisheteropatriarchy, and I love existing as far away as possible from the day-to-day transactions that are made with it and for its benefit. I love being able to nurture and care for the people I love outside of conventional rules and models. I love queering domesticity. And I love how much it infuriates Katie that I wear Crocs sometimes.
K: We posed this question to our followers, and one of them said, "Loving myself for being high maintenance," which really spoke to me. I love that I'm demanding, and I love that we have the language and labels and space within the queer community to value femme folx who insist on having their wants and needs fulfilled. Especially because so much of mainstream society sees femininity as always already superficial and dismisses feminine-presenting people's needs and desires as unserious or burdensome. But I also like short skirts with long leg hair, cutting cis men down to size, and threatening to revoke Meaghan's femme card every time she wears Crocs.
What are some of your favorite things about femmes, period?
Femmes are the heart muscle of the queer community. None of us would be here had trans femmes of color like Marsha P. Johnson, Sylvia Rivera, and Miss Major not put their bodies, freedom, and safety on the line at Stonewall and countless other times. And femmes have always done and continue to do the bulk of the caring labor in our communities, in ways both revolutionary and intimate.
A little (femme) bird told me a rumor that you'll have merch available soon. Is that true? What can we look forward to?
We're hoping to have a little bit available in the near-ish future, yes! Right now we're going to limit it to pins, tote bags, and possibly shirts. "Branded" merchandise is a huge commitment and initial investment, but we hope to do good things with what we create, and we plan to route all of the profits back into our femme communities, specifically supporting QT/BIPOC femmes.
What are some of your favorite Instagram accounts?
We love @femmes_getting_ready, @gemynii, @blakkcupcake, @aaron__philip, @fatgawth, @failureprincess, @yrfatfriend, @chairbreaker, @theoryqueen, @tourmaliine, @sateenmusic, @lakshmiintheworld, @mahxcapacityiv, @jerseytrashfemme, @thefatsextherapist.
Anything else you want to share with Autostraddle readers that I didn't ask you about?
We're truly grateful for everyone who has found us, expressed their appreciation for the content we create, and shared our account with their friends and followers. Femmes give so much of themselves to social media – too often without compensation – so we are also truly grateful for all of the femmes mentioned above and the femmes we've met along the way who have inspired us as individuals and our work at femmebirds.
---
If you have a suggestion about which Instagram account we should feature next on Insta Crush, leave a comment here or DM me at vanessatakesphotos.