Biking, as I'm sure many of you guys'll agree, is something that most people have more feelings than facts about. Attitudes toward biking range widely and debates over shared roads are often surprisingly emotionally charged. From bike culture warriors to angry drivers, frustrated walkers to hesitant supporters, nearly every traveller is poised to defend their point of view armed with little more than anecdotes, questionable statistics, and an axe to grind.
No matter where you stand on the issues that bikers and pedestrians bring with them, it's clear that there's got to be some way to fix the problem. That's where the Alliance for Biking and Walking comes in. "In order to improve something," their 2012 Benchmark Report says, "there must be a way to measure it." Their report is the third in a biennial publication that looks for trends in transportation and uses that information to advocate for change on the roads.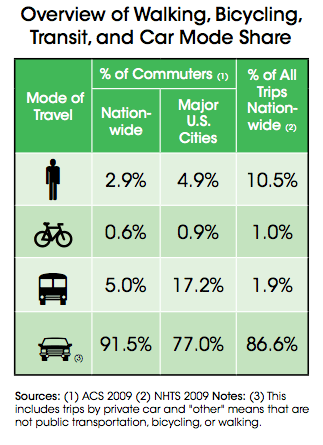 With support from the Center for Disease Control and the Federal Highway Administration, the Alliance issued their third report on the state of "people powered" transportation in the U.S. Their findings revolve around usage, demographics, safety, education, and spending, and highlight opportunities to increase bike and pedestrian traffic throughout the country. The Alliance's ambitious five year plan hopes to increase walking and biking from 12% to 33% of all trips made. While it seems like a lofty goal, it just might be more attainable than you'd think. Nearly half of all trips in the U.S. are less than 2 miles long — a distance that can be covered in less than 15 minutes on a bike. The opportunity for improvement is huge: in 2012 87% of those trips were made by car.
And why wouldn't they be? Since the 1940s, the United States population has steadily crept out of cities and into sprawling suburbs. When thousands of  soldiers came home at the end of World War II, they looked for homes in inexpensive suburban developments to start families. In the years following, more and more whites fled to the suburbs to escape rapidly integrating cities, taking economic growth and political interests with them. Fear of nuclear attack in the 1950s prompted the government to pour money into the federal highway system, making it easier than ever to expand beyond city limits. With low-density zoning keeping housing space separate from commerce in suburbs, more than half of the country remains dependent on cars for travel today.
The Alliance believes that with the right laws, education, and spending, biking and walking can be transformed into viable modes of transportation. They advocate for the creation of "complete streets" — streets that are safe and comfortable for all users — as a practical way to implement all three tools in the community. Right now, states spend 1.6% (which amounts to only $2.17 per person) of their federal transportation money on biking and walking. During the recession, this funding has been disproportionately affected by budget cuts; however the 2009 stimulus bill did allocate $750 million for biking and walking projects.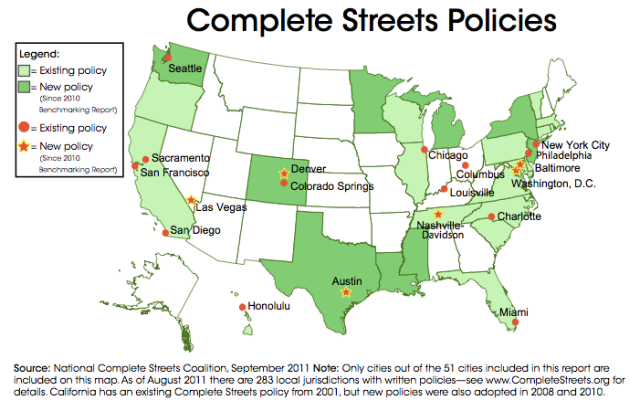 While funding for complete streets helps make travel easier for those who choose to bike or walk, some wonder whether they're beneficial for — or even available to — those who have to. One of the drawbacks of quantitative research is that it leaves so much information open to interpretation. We know that bikers and pedestrians share roughly the same demographic characteristics when it comes to income and race and that men bikers outnumber women by 3:1, but we still don't know why. Are these people riding for their health, for the environment, for their wallets, for convenience, or because it's their only option? It's this lack of information that's spurred debates in nearly every city that's tried to implement a new plan for people powered transportation.
Perhaps what's really needed is a reinvention of our infrastructure. We need more than just a plan for streets, we need a shift away from insular suburbs. Something that moves us out of our car bubbles and onto our feet. Maybe you've noticed the difference you feel when you bike through a neighborhood you've only ever driven through; suddenly it becomes impossible to ignore the people and places you pass every day. And that's important. If complete streets are what we're aiming to create, they need to be made available to everyone, not just the people with the political and economic power to demand them in their communities. By ensuring that funding goes to all neighborhoods, biking programs can work to depoliticize and promote and what is, at its core, a cheap, clean, and convenient way to get around.