My parents love me and support me and encourage me to explore all of the adventures life offers. But when I explained that, in a surprising twist, a guaranteed spot in the Supreme Court for oral arguments in the Proposition 8 case would require 72 hours outside waiting in line, my mother had just one piece of advice: "Don't be afraid to wimp out." I'm stubborn and she knows it, so neither of us expected me to take her advice seriously. But as I settled into the 17th spot in line in front of the Supreme Court on Saturday morning for arguments that didn't start until Tuesday, I comforted myself with thoughts that, if it the waiting or the weather became unbearable, I was just five metro stops from home.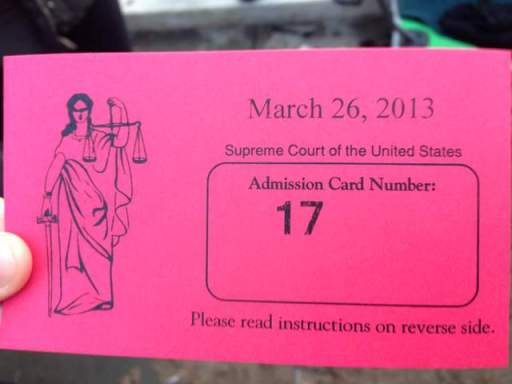 From the moment I learned that the Supreme Court would hear the Prop 8 and DOMA cases, I knew I wanted to be in the courtroom. For every case the Court hears, at least 50 seats are reserved for the general public. As space allows, anyone who is willing to wait outside is allowed to go inside. For me, being there seemed a no-brainer. Both Prop 8 and DOMA have the potential to be landmark cases, and the outcomes will directly affect my life. I live in DC. I have the vacation time. I enjoy camping, particularly for a cause. However, I anticipated one night of camping, and a buddy to join me. When my camping buddy backed out and I read reports that people started lining up on Thursday, this adventure started to seem more daunting.
Fortunately, though, Saturday was an easy way to ease into the wait. The sun was shining and I quickly met Darienn, Jeff, and Jason, the first four people in line hoping to find their way inside for the arguments. (The other 12 people present at that point were being paid to stand in line, intending to trade spots on Tuesday morning with those who'd paid them to be there). I brought books and assignments and my best intentions for productivity, but quickly abandoned such notions. Instead, I spent Saturday talking with reporters, passersby, and my newfound friends.
Waiting made me feel a bit like a tourist attraction. Tis the season for middle school class trips to DC, so the few of us willing to talk got to explain to many small groups of quasi-interested teenagers why we were waiting in line and what we hoped to accomplish. Some people wandering past wanted to know what we were protesting, while others honked their horns and shouted while driving past, in a show of solidarity. Surprisingly, almost everyone who felt compelled to express an opinion was in favor of marriage equality (I know the opposition is out there, but few people holding those opinions were wandering past the Supreme Court over the weekend). Most who stopped to chat expressed some combination of admiration and disbelief.
The reporters consistently asked two questions, and by the time I got to my third interview I had my canned answers ready to go. Why am I here? Because these have the potential to be landmark cases and I want to be in the courtroom to watch history as it happens. Am I worried about the potential for snow? I have a really great sleeping bag, a waterproof blanket to go over it, and resolve forged in Minnesota winters.
Many a reporter also hoped to make a story out of the idea that people can use money to buy access in Washington (read: the role of the line standers). First, this is not actually news. More importantly, many of those who held spots in line for several days had legitimate reasons to do so. Two of the spots belonged to the children of Kristen Perry and Sandra Stier; I believe they deserved to be in the courtroom without having to sleep on the sidewalk for three days. The woman standing behind me starting Tuesday morning mentioned that she was 71 years old; I don't imagine she was physically capable of sleeping on the sidewalk for three days, nor do I think her age should have kept her out of the courtroom.
There was a story worth telling: despite reports that companies were charging $36 to $50 per hour, one guy actually doing the line standing revealed that he was making $10 per hour. He didn't seem angry about the disparity, claiming instead that it was a microcosm of our economic system. He'd been recruited through Craigslist, and thought it a quick way to make easy money while he figured out his dream job. He did, however, appreciate all the attention the line-standers were getting, assuming it would help drum up business in the future. To me, that's a story. Just not quite as catchy as "rich lawyers pay poor people to freeze for seats."
Despite my promises to reporters about my resilience, Saturday night was rough. It was cold. My camping mat was no match for concrete. Strangers were really close, and some of them were new bedtime strangers, because many of the line standers rotated at 9 PM. Among its less charming attributes, DC has rats that roam the streets at night; having considered that once, my brain could find no other thoughts. When I rose with the sun Sunday morning, I'd slept about three hours, of the nine I'd spent trying. Darienn reported similar results; she'd ultimately snuck a few blocks away to Union Station to warm up and rest her eyes from 2-5 AM. Jeff and Jason had fared a little better; sensing an opportunity to slip away without grave complaints from further down the line, they'd each wisely taken a four hour turn napping back at Jason's apartment a few miles away.
Fortunately, Sunday morning came with a new purpose. The weather forecast had become more clear and our immediate future had become more bleak. The anticipated few hours of rain or snow had grown – beginning at 7 PM on Sunday, we were to face rain and snow for twenty four hours straight. DC ordinances prevent the use of tents or the building of structures on sidewalks – the rough guidelines limited any arrangement to one chair per person huddled underneath, and tarps in any configuration you might manage to attach them. My first effort at protecting myself against the elements involved one big camp chair opposite a smaller camp chair, all covered with the rain fly from the tent that I was not allowed to erect. This kept my things protected and gave me a little room to breathe, up until a police officer informed me this was a structure and had to come down. Jesse, one of the line-standers a few steps in front of me, attempted to turn a beach chair into an ottoman, and this, too, was shot down. He found more success with stealth golf umbrellas tied to the back of his camp chair, covered in tarps, which created breathing room without causing alarm. Jeff and Jason made the cover of the Washington Post with their non-shelter shelter; they wrapped two tarps around the top and bottom of their camp chairs, and used golf umbrellas to protect either side.
As the conditions declined, though, the provisions improved. People who didn't want to sleep outside still wanted to show their support, and we were the beneficiaries of this generosity. A reporter from CNN who met Jason on Friday dropped by with a giant bag of hand warmers. Someone from the Internet sent pizza. Other people on the Internet, who were following Jason's live recounting of this adventure, sent hundreds of dollars to his Starbucks card to keep us collectively well-caffeinated (and to keep us from irritating the nearest Starbucks, with our regular trips to their restrooms and the exploitation of their outlets). Friends of mine came by with the aforementioned big camp chair, foot warmers, a sleeping bag liner, and a "marshmallow suit," issued by the military to keep soldiers deployed to Afghanistan in the winter sufficiently warm. They returned later, once the snow had started, with cookies for everyone in line. Other seemingly-unaffiliated people walked through the line at regular intervals offering fresh hand warmers. One of Darienn's friends stopped by with a box of coffee. A brother and sister team made bite-sized pumpkin-y dessert bars, saying only that they liked to bring by treats for people waiting outside the Supreme Court. Two other people brought brownies, to go with the carafes of coffee and tea they'd prepared. The wintry mix was miserable, but the support was incredible, and when I woke up with less than 24 hours to go on Monday, I knew that I'd make it through to the arguments. (Three days outside definitely skewed my perspective; when I spoke with a reporter on Monday afternoon, I celebrated the fact that I was basically inside the courtroom. He laughed at me, and pointed out that I still had another 16 hours to wait).
By Monday evening it finally stopped raining, but outside the courthouse had become a bit of a circus. We'd added a second line of line-standers (for Supreme Court barred attorneys), many of whom seemed to have no intention of sleeping at all. Throughout the weekend the police had been adamant about keeping the sidewalk clear, but by this point, they seemed to have given up.
In the wee hours of Tuesday morning, we accepted our red admissions tickets (numbered just as expected) and walked into the courthouse. Supporters had gathered in front of the courthouse for protests and celebration, and it felt like they were cheering us on as we took the final few steps into the courtroom. (That feeling might have been colored by the exhaustion). Again, I know that there were opponents of marriage equality scattered throughout the crowd, and I believe they had a separate rally somewhere — but from the view at the top of the courthouse steps, no one would have guessed that this is actually an issue on which our country remains divided.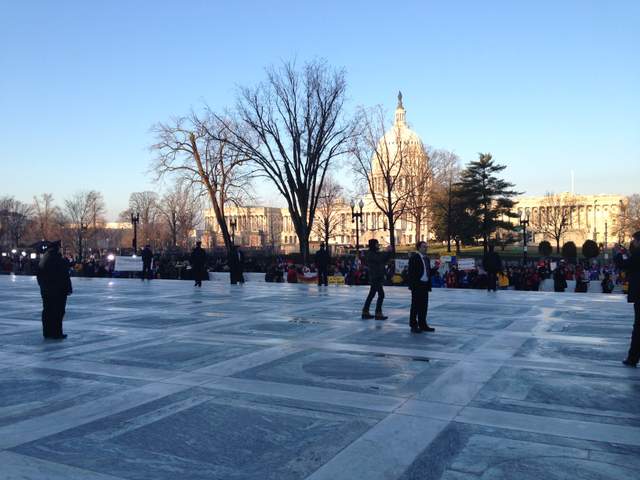 By now, everyone has had the chance to learn what happened in the courtroom: to laugh at Justice Kagan's line of questioning as to whether a state could stop issuing marriage licenses to those over 55, and to mull over Ted Olson's debate with Justice Scalia as to when same-sex marriage became constitutionally required. The audio recordings and transcripts of the oral arguments were released before I made it home Tuesday night. I know that, realistically, I could have experienced much of this event outside of the courtroom, without spending three nights sleeping on the sidewalk. But for reasons that I'm not fully capable of articulating, it was entirely worth every moment. Even when I was exhausted and anxious on Saturday night; even when I was freezing and wet on Monday morning. Even though I think it entirely possible that the Court dismisses the Proposition 8 case on standing, and that this won't be the landmark case I was hoping to hear, I'm so grateful that I had a chance to be in the room.
Before we parted ways on Tuesday afternoon, Jason, Jeff, Darienn and I made plans to reunite for the announcement of the opinion. In June (when we expect the decision), the weather will be warmer and we might have more competition on the sidewalk, but we'll be back for a chance to be among the first to know the court's ruling. Feel free to join; I promise, it is worth the wait.