PORN: In the U.S., one out of three consumers of internet porn are women, which means that 13 million women are watching porn at least once per month online so therefore it must be true that women love porn too.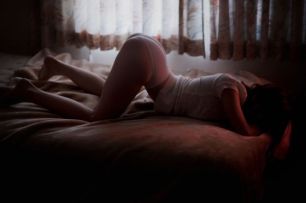 STATS: "A University of Minnesota research project found that youth who engage in casual sex are not at greater risk of harmful psychological outcomes than those who have sex in committed relationships": Casual Sex Not Linked to Harmful Psychological Outcomes. So we can add this to the list of "studies that Focus on the Family will pretend never happened." (@carnal nation)
STRAP-ONS: How to Have Strap-On Sex For Beginners: … "Speaking of power, that power can be very addicting." (@allesexguide)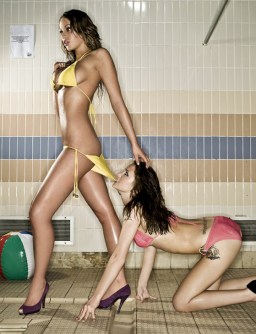 FIGHT CLUB: Suicide Girls Fight Club Opens For Public Spar: a free gallery! No srsly this is one of the SG's greatest photographic moments so please seize this opportunity to enjoy yourself. (@coed)
LOVERS: It's an oldie (2008), but the best part of this ridiculous list of 9 Types of Sapphic Lovers is the comments, which range from offended to amused. OH THE FRISKY.
NO PANTS DANCE: "Jessica and Hannah: The Movie, featuring the 20 Panty Strip." We don't know if this is like a preview for a movie, or some staple of lad rags we're just not familiar with, and it might be kinda MEGA NSFW, but it's also kinda cute & fun too. Maybe that's what porn has been missing … people talk about how porn is too "plastic" but maybe the real issue isn't making the girls more "alt," but making everyone look like they're actually having a good time?. Also check out Emily and Her Fit Mates. I mean honestly, this is a screenshot from one of those things, which is funny, right?
SEX SCENES: The Most Scandalous Sex Scenes in Network Television History: We re-watched Brenda & Dylan, not gonna lie. (@movieline)
GAMERETTES: Hot Gaming Girls! in honour of Technostraddle!
READING: Carnal Nation Recommends Holiday Books. We would also like to recommend Dirty Girls: Erotica for Women. If you're into that kind of thing.
SEX ED: Scarleteen donation drive: This shit ain't dirty, it's our sisters – "What you might not know is that Scarleteen is the highest ranked online young adult sexuality resource but also the least funded and that the youth who need us most are also the least able to donate."
HERSTORY: "As the first decade of the 2000s draws to a close, Fleshbot's sitting down with adult industry influentials to learn how the business of pleasure has changed over the past ten years. Today's expert: writer, director, and educator Tristan Taormino." And then also check out Internet Archaeology Unearths Ancient Adult Advertising, with so many gems from the early days of the word-wide-web. Seriously please look at it 'cause it's super funny. (@fleshbot)