Sure,Yellowjackets ended its first season, and sure, that means I no longer can write 4,000+ words in my recaps every Monday, but if you thought I'd just stop writing about the show altogether??????? Clearly, you have never met my obsessive ass. While we patiently (jk I need it NOW) wait for season two, there are plenty of interviews and behind-the-scenes content to consume (I highly recommend following EVERYONE from the cast on Instagram). And we can also start planning ahead for all of our inevitable Yellowjackets Halloween costumes.
But say you want to literally dress like the characters — not for a costume party (if you don't think I'm throwing aYellowjackets costume party the SECOND it's COVID-safe to do so, again, you have never met me) — but in your actual life. I'm here to show you exactly how to do that, starting with Taissa!
Now, Taissa in my mind has three different looks she moves between. There's pre-crash teen Tai, who leans a little more femme but, like, an Accessories Femme. Think: casual lightwash jeans and a tee but then hoop earrings, a hair scarf, and her nameplate necklace with a dark lip. Then there's post-crash Tai, who seems to be playing around a little more with tomboy looks as she explores her queerness a little more openly in the wilderness. Woodsy Tai loves a pattern or color block moment! And then there's adult Taissa, who skews femme again but seems to prefer slacks/pants over dresses/skirts and likes a nice n billowy silhouette. Lots of trench coats, turtlenecks, and loose blouses. Comfort and sophistication simultaneously! The ultimate politician look tbh.
And who says you have to choose a Taissa? Jasmin Savoy Brown and Tawny Cypress both serve stylish (but, once again, comfy and fun!) looks as their different iterations of the same character, and I think there's a throughline between the two styles. So here's a guide to dressing like teen Tai by day and adult Tai by night. Both amount to casual, classic looks with pops of personality.
---
Teen Tai By Day
Expedition Chic
This! Look!!!! The only thing gayer than this outfit is the concept of cutting one's hair and oh would you look at that? She cut her own hair IN this outfit!!! The half-sleeve patterned button down I linked is legit vintage, so there's only one left! But walk into any Goodwill or local vintage store, and you can find a million patterned button downs actually from the 90s. For a more modern look, Wildfang also has some retro-ish options. I also like this design.
Windbreaker/Heartbreaker
That attic scene between Taissa and Van in the finale was very emotional! But at least Taissa looked great and very 90s Dyke when making fun of her girlfriend's beliefs :( Seeing her windbreaker reminded me of the neon color blocked windbreaker I bought at a Goodwill in northern Michigan in 2012 and posted an ~artsy~ photo of myself in on tumblr with the caption "I don't wanna wait for our liiiives to be over" because I thought I looked like I was in Dawson's Creek?????? Where did that jacket go? And follow up: Can you believe I was closeted at the time? Anyway, in addition to the option above, I also recommend searching Etsy or Ebay for "retro windbreaker." Also here are some other options for purple soft pants. Also, wow, I hope none of these girlies are wearing hard pants in the woods!
---
Adult Tai By Night
Trenchcoat Terror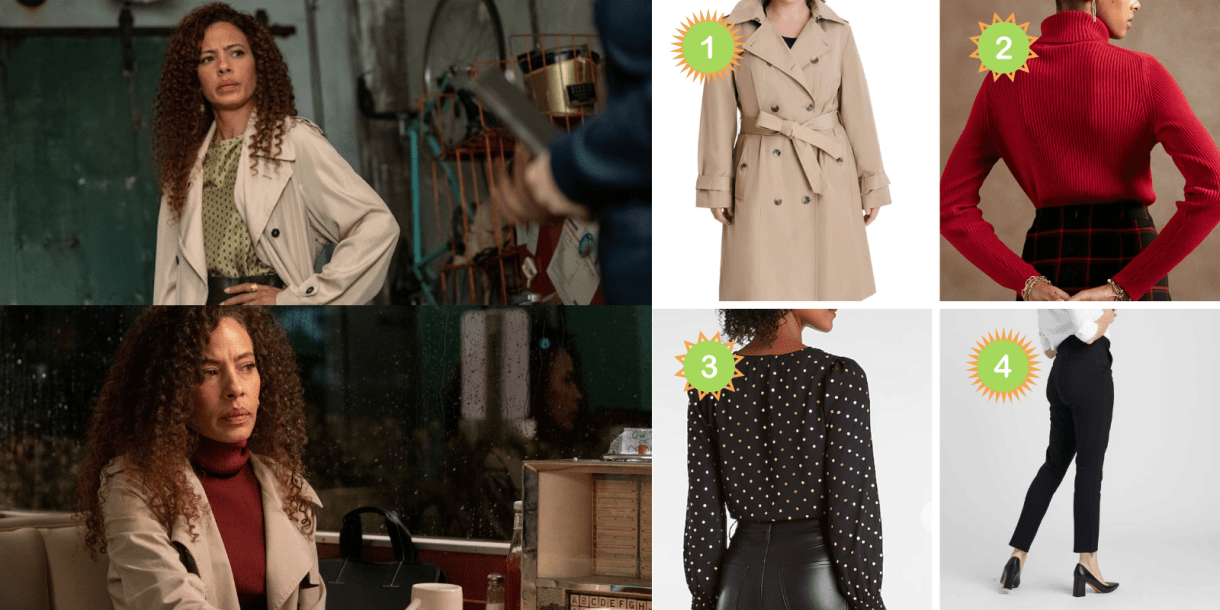 Taissa seems to like loose and light materials (same!). No to ruffles but yes to textures and structures like a nice bold turtleneck or a breezy silky top. #2 and #3 here are meant as an either or situation. Both would look good tucked into the slacks (here are cheaper pants options). Listen the most important part of this look is the trenchcoat. It doesn't get much more classic than London Fog. But here are some other trench options. It's the perfect look for a fancy event or…to sleepwalk your way up a tree in.
Reunion Strut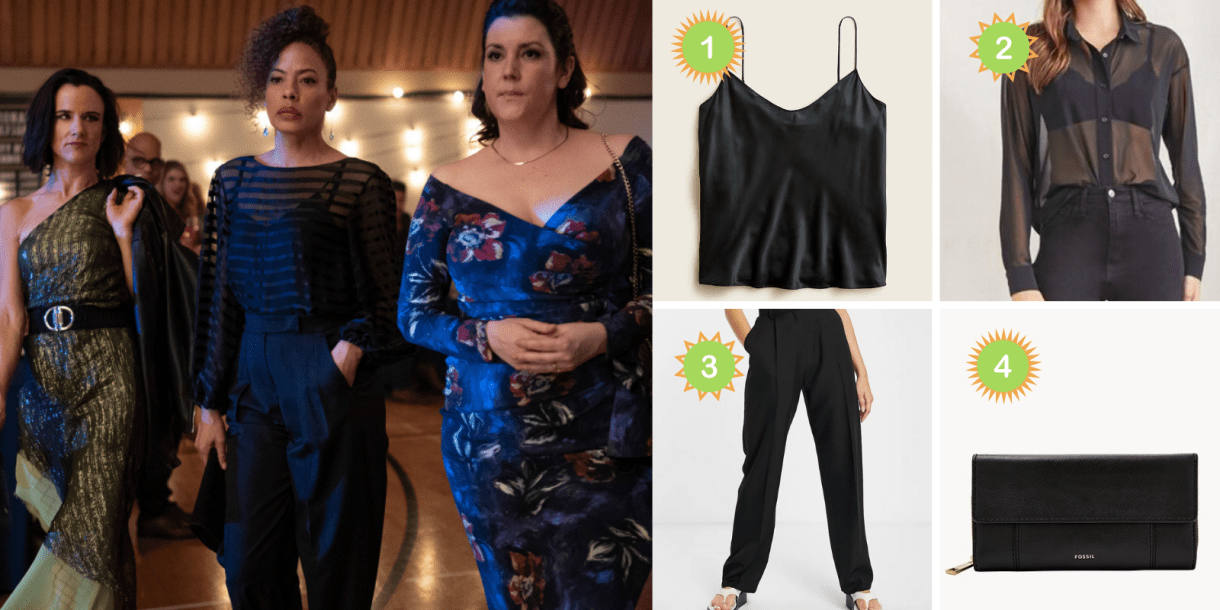 God I could watch these women entering their high school reunion in slow motion on loop for a full 72 hours!!! I'm doing great!!! Anyway, Taissa's fit is Pockets Representation. And look how effortlessly she's using said pocket! Here's another sheer shirt option with the stripe detail. And here are more pants options! Now you're fully ready to channel Taissa Turner. Just don't, you know, channel whatever's going on in her basement.
---
Who should I do next? Van? Natalie's band shirts-centric looks? Pls help me pass the time until season two!!!!!