Do you know someone who loves to cook or wants to learn? There's no such thing as too many spoons. You can use a wood burner to transform cheap spoons into beautiful art things that might just be too pretty to use. That's nothing a little inspiration can't fix. Encourage them to use their new tools by making a spice mix or two. Whether you're crafting for a seasoned cook or a novice, chances are they would enjoy a new flavor in their armory. We've got five spice mixtures that can be easily incorporated into a snack or a full-blown feast.
Spoons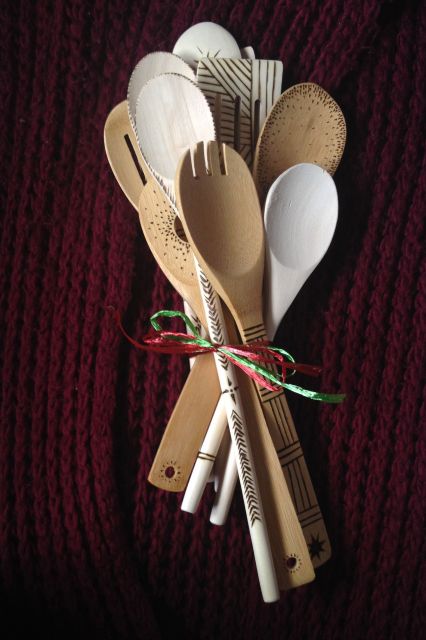 You will need:
A Woodburning Pen

Wood or bamboo spoons
 or other cooking utensils
An extra spoon – To practice on the same kind of wood you'll be using
1. Sketch out some ideas. Keep it simple; a woodburner can be kind of unwieldy. Don't forget that you've got the whole spoon (including the tiny little tip at the end of the handle) to work with. You might want to stay away from the actual spoon if you're worried about food being hard to wash out or you might not. It's your call. Go for lines, animals, words, swirlies, or whatever you're best at doodling.
2. Practice your plans on the extra spoon.
3. Take a deep breath, you're ready for the main event. You can either draw on the spoon with a pencil to give yourself some guidance or dive right in.
Spice Mixtures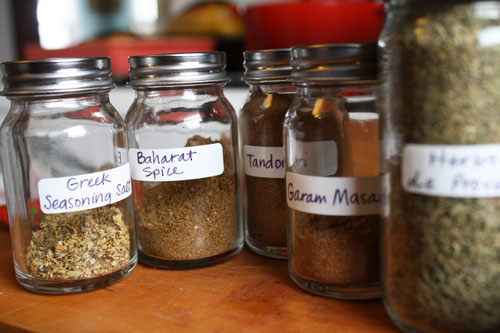 European and Latin American spices are typically easy to find in any grocery store. For spices that aren't used as often in those cuisines, stay far away from places like Whole Foods – you'll find them there, but they'll cost you a fortune. Instead, head to a Middle Eastern (for sumac) or Indian (for turmeric, cumin, coriander, fennel, mango, black salt, and ajwain) grocery store. Indian store especially tend to sell large bags for much more affordable prices, which is great if you're making a spice mix for more than one person. They're also usually fresher because the typical customers at a cuisine-specific grocery are more likely to buy foods that would sit for ages at a generic grocery. Not to mention: you're supporting a member of your community by shopping at a local store.
Adobo
6 T Salt
6 T Granulated Garlic
4 T Oregano
2 T Black Pepper
2 T Turmeric
2 T Onion Powder
Uses: Anything and everything
Chaat Masala
3 T cumin
1 T coriander seeds
1½ t fennel seeds
4 T mango/amchur powder
3 T black salt/kala namak
1½ t black pepper
1½ t ginger powder
1 t mint
1 t tumeric
1½ tsps ajwain/carom seeds
Toast and crush the mixture in a mortar and pestle/pilón or grind it up in a (well-cleaned) coffee grinder
Uses: Sev puri, add to fries, salads, and mangoes
Herbs de Provence
5 T dried thyme
3 T dried savory
2 T dried marjoram
5 T dried rosemary
1½ T dried lavender flowers
Uses: Add to omelettes, pizzas, popcorn,  vegetables
Za'atar
2 T Thyme
1 T toasted sesame seeds
2 t ground sumac
½ t salt
Crush the mixture in a mortar and pestle/pilón or grind it up in a (well-cleaned) coffee grinder
Uses: Pita chips, add to olive oil for dipping bread, add to popcorn
Pumpkin Pie Spice
2 T ground cinnamon
4 t ground ginger
1 t ground cloves
1 t ground allspice
1 t ground mace
1 t ground nutmeg
Uses: Hot buttered rum, add to pancake batter, winter vegetables (anything orange), vanilla ice cream
---
Making presents for people makes the world a better place. If you've got a little extra time and want to use your very own hands to show someone you love them, this is just the miniseries for you! See something you want to learn to make? Send me a picture to laura [at] autostraddle [dot] com and I'll see what I can come up with.