Calling all retronauts! JK, I think that's copyrighted. Anyway, if you or someone you love likes old things, thrift stores, antiques, records, and eating at classic diners, you're in the right place.
---
Girl, Put Your Records On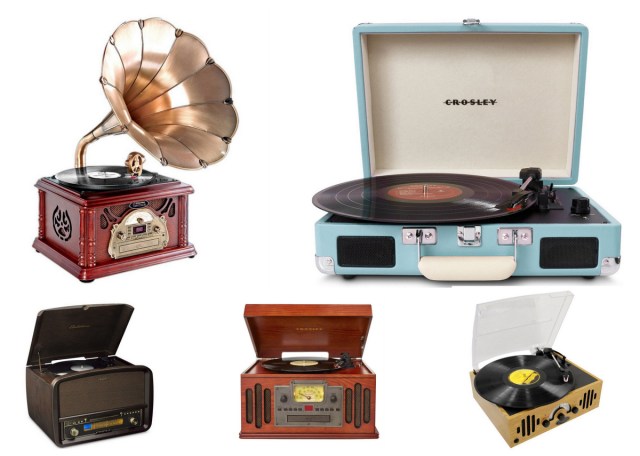 Crosley Classical Trumpet Horn Turntable
This is hands down the most magnificent thing I have ever encountered. I've dreamed of having one for years. It plays records in three speeds, cassettes, CDs, and MP3s and can even turn your best vinyl into a set of digital files for you. When I encounter one of these in the wild, I pause to reflect on where I wish I was in my life.
Crosley Turqoise Cruiser Portable Turntable (Or Pink! Or lots of colors but come on.)
Take it anywhere, and plug in headphones when you wanna tune in and drop out.
Hi-Fi Retro Stereo System
It does everything, it is everything.
Crosley Musician 3-Speed Turntable, CD / Cassette / Portable Audio Player
You can play literally anything you want on this baby. I own a variation of this machine, and I vouch for its wonder. It's straight-up vintage looking, but packs a powerful sound while sporting a classic style.
Belt-Drive Turntable and Radio Player
I think a retrophile wood just love this, but that's just me.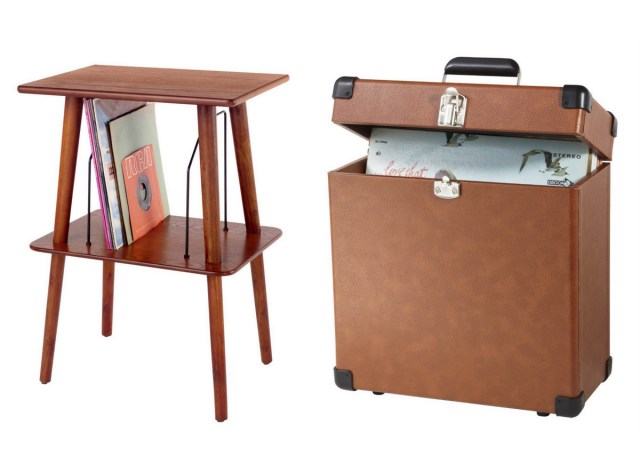 Crosley Entertainment Stand
The perfect place to stash your vinyl and a photo of your cat.
Tan Record Case Carrier
For the retro girl with somewhere to be.
---
Turn the Dial
Arvin 2420T Restored Vintage Radio
Fits perfectly on the kitchen counter for breakfast jam sessions.
Zenith Tan Royal 500 Refurbished Transistor Radio
Wes Anderson probably used this as a prop at some point, right.
Wolverine Retro Bluetooth Speaker and AM/FM Radio
A modern twist on a classic style. Perfect for cozying up by the fire with that warm, static sound.
Northpoint 190500 Retro Transistor
I just feel like if I had a car, this would be in the glove compartment.
Northpoint 190503 Vintage AM/FM Radio
I wanna bring this boombox to the beach.
Crosley Companion Retro Radio
A piece even mom will approve us, you thrift store junkie.
---
Wine 'Er and Diner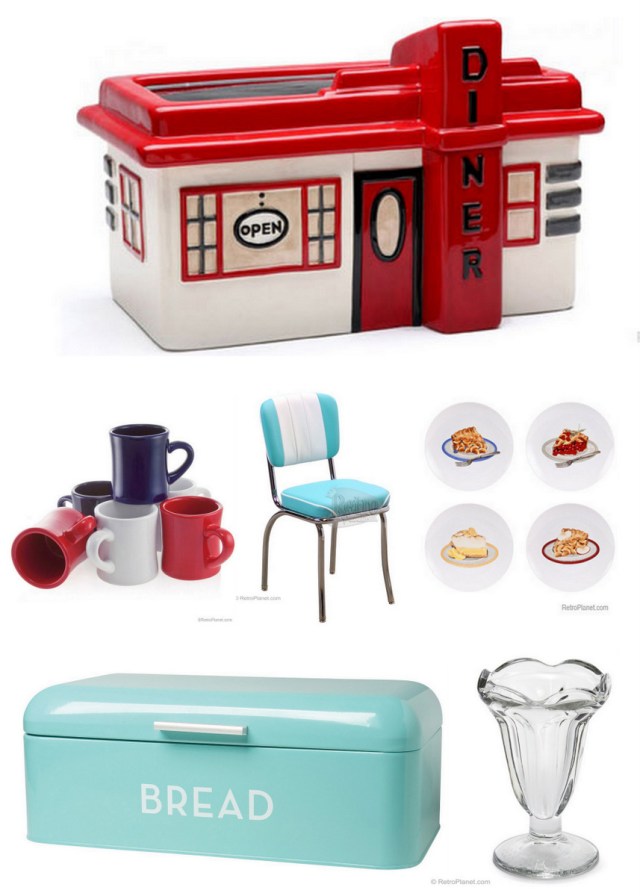 Diner Cookie Jar
I love diners, and this is the drive-it-home must-have for any diner-themed kitchen done right. Feels like home to this Jersey Girl.
Diner Mug or 6-Pack
I've definitely written about diner mugs before. That's because no matter how many mugs I buy (and I'm quite the connoisseur), I never stop loving diner mugs the most.
Channel Back Diner Chair
Do I really need to explain this one? It's total diner chic, and the colors are beautiful. You can buy one at the link or inquire for a full dinette set. Either way, you're gonna make some nostalgia freaks real jealous.
Pie Dessert Plates
Classic. Understated. ADORABLE.
Turquoise Bread Bin
I don't think I would keep bread in a bin, because I keep it in the fridge like a weirdo. But I'd probably put a whole lot of bread-related goodness in this precious piece.
Glass Sundae Dish or a Case of 12
My favorite part about going back in time is the ice cream sundaes.
---
Time Machine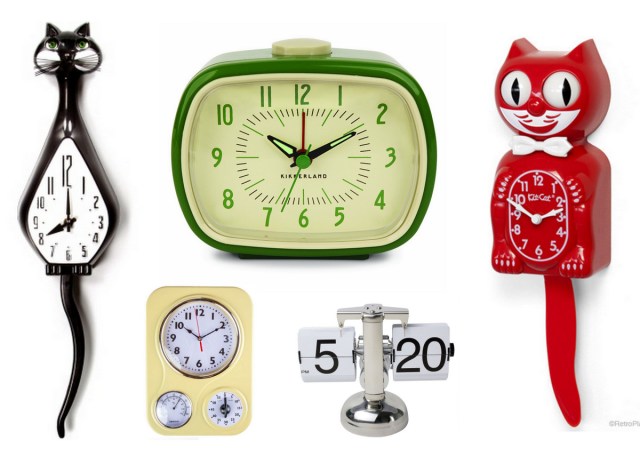 Simone Black Cat Animated Clock
A super-chic spin on the classic KitKat Clock, and the perfect gift for any cat person with good taste.
Kikkerland Retro Alarm Clock
Do you think this thing can wake me up? It doesn't have bells on top, but what the hell.
Retro Kitchen Clock with Thermometer and Timer
Sometimes you need to know it all.
Flip-Down Clock
Count down to anything.
80th Anniversary KitKat Clock
It's been around for 80 years. Why don't you love it yet?
---
Take A Load Off
Griffith Outdoor Chair
This makes smoking cigarettes on the patio like, a million times more fabulous.
Mid-Century Pet Bed
Honest Truth: I thought this was a human chair when I selected it for this gift guide. Honest Truth: I still want this, because I want even better for Eli than I could ever have.
Pascal Plastic Shell Chair
My friend owns one of these. Everyone is totally obsessed. Ditto for the Azzo.
Vinyl Nutshell Lounge Chair
This is what they told us life would be like on the Jetsons.
Azzo Plastic Shell Chair
Look ma, no hands!
---
Retro Glamour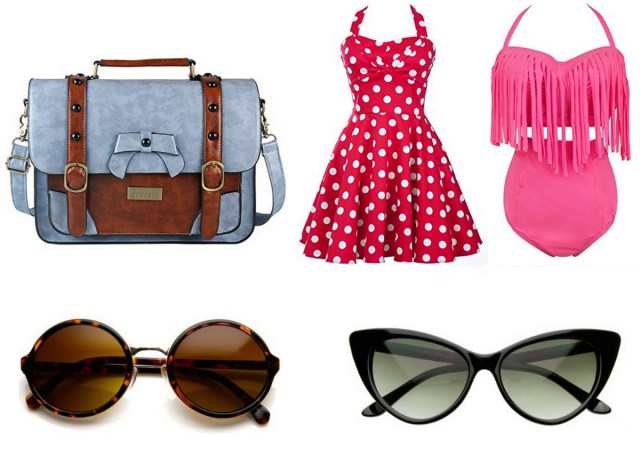 Ecosusi Vintage Leather Messenger Bag
If you need me to persuade you to find this beautiful, we're not friends. We should all be so lucky as to own something this stunning.
Polka-Dot A-Line Dress
For the fifties femmes.
Tassel Swimsuit
It's like a leather jacket you can wear in the pool!
Vintage Inspired Round Sunglasses
For the rock star.
Vintage Inspired Cateyes Glasses
For the pin-up girl.
---
Modern Vintage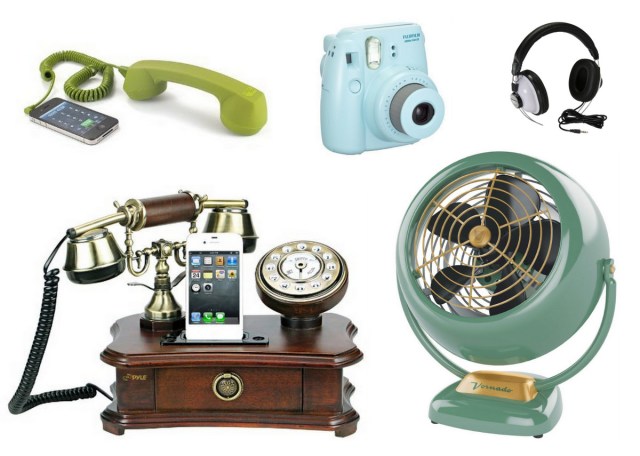 Echo Logic Retro Handset
Can you hear me now? HELLO, OPERATOR?
Fujifilm Instax Mini 8 Instant Camera
I think I might have to put this on my own list, to be real.
White Headphones
I can't wear headphones because they ruin my look, but I heard lesbians love 'em. Dig in.
Home Telephone iPhone Dock
This is a little goofy, let's be real. But it's also ummmmm perfect?
Vornado V-FAN
Just blow me.
Kikkerland Retro Pens
For putting in your breast pocket, sliding behind your ear, and clicking during really boring meetings at work.
---
Coffee Table Books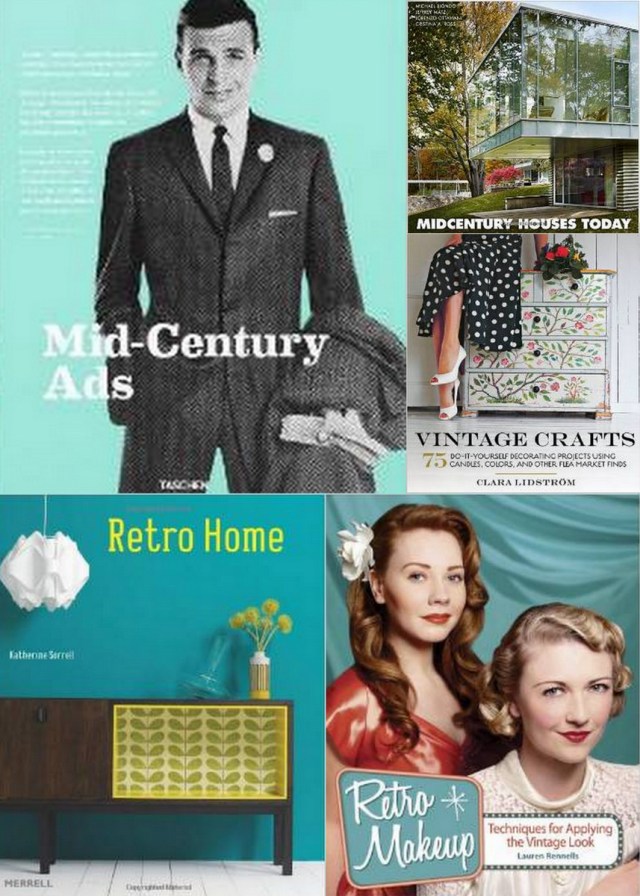 Mid-Century Ads Vol. 2
I want to decorate my entire house someday with vintage advertisements and store signs. I hope you feel the same way. Put a little bit of Madison Avenue glamour on the table.
Midcentury Houses Today
Past, meet present.
Vintage Crafts: 75 Do-It-Yourself Decorating Projects Using Candles, Colors, and Other Flea Market Finds
For people like me who are about 10x more likely to hit up a thrift store than a craft store.
Retro Home
Everything you need to go modern, mid-century style.
Retro Makeup: Techniques for Applying the Vintage Look
Look like the newly-colorful characters of Pleasantville in probably about eight easy steps!