---
It's really, really fun to give gifts to children. They're colorful, they make noise and it's still super fun to shop in the toy section as an adult. I don't know about the kids in your life, but the small kids in my life are so grateful for any kind of present they're given. Recently my mom gave my three-year-old niece a jewelry bead and I swear, she asks if she can sleep with it in her bed at night (kids are weird). She can name where every toy or gift she has came from, whether it was a present from me or her mother or my girlfriend or her great grandma. She remembers and she appreciates things that are given to her. It's my favorite thing about her.
The thing is, if you have a small child in your life, chances are that child has way too many toys already. Honestly, I'm not even sure where the bins and bins and bins full of toys in our living room and my niece's bedroom came from. All I know is that she only plays with half of what she has, loses at least one significant part to every toy within ten minutes of ownership and the tiniest, sharpest pieces always find their way into the arch of my foot while I'm venturing for coffee in the morning. Maybe you know this feeling. Maybe you know someone who knows this feeling.
So therein lies the dilemma: what do you get for a kid who already has way too many toys?
My little human is three, but I've rounded up gifts to give to the small people in your life from baby-size to around eight or nine. Also, huge disclaimer here–please double-check that anything you buy is specifically designed for the age of the kiddo you're giving it to, as anything with small pieces will definitely not be for the young youngins who still want to taste anything and everything. Also, the eight-year-olds in your life will hate you so much if you give them anything too babyish. Trust me on that one.
Books
Books are my #1 favorite gift to give to children. My mom always gave us books as presents and it's a tradition I've always felt passionate about passing on. Kids love books, whether that be because the pictures or rhymes or story, and there's a lot of ways to inform their world through your choice of books. I prefer books that don't talk or read for you purely for not only my sanity's sake (did you know kids really like to press the same button over and over and over and over?) but there's something really bonding about sitting down and reading with a kiddo beside you on the couch.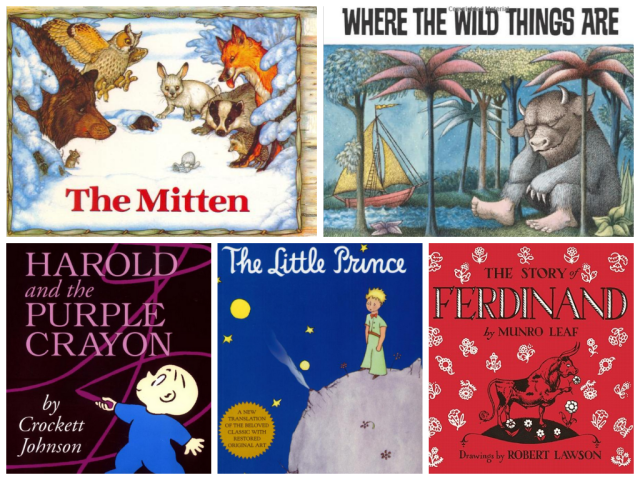 Classic Books
Super awesome classic kids books are always well-received by both parents and children. You could do what I always do and just be selfish and give the kid your favorite childhood book, which will of course make them have amazing taste in literature later on in life.
Ferdinand the Bull by Munro Leaf / The Little Prince by Antoine de Saint-Exupery
Where The Wild Things Are by Maurice Sendak / The Mitten by Jan Brett
Harold and The Purple Crayon by Crockett Johnson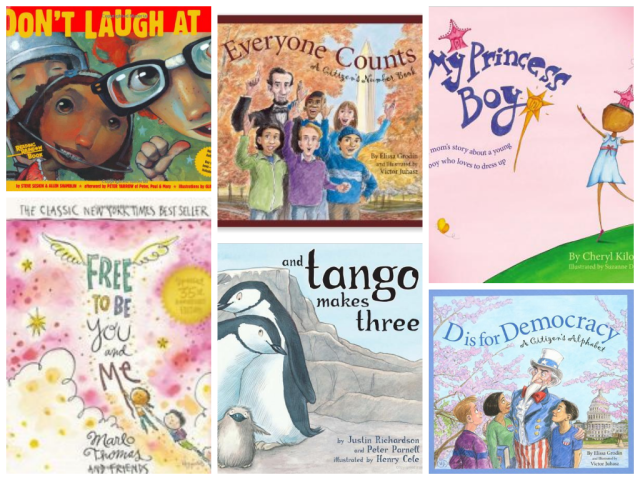 Should-be Classic Books
These books are best used when subverting your Republican brother-in-law's authority or showing your son that some boys like to wear dresses and that's pretty awesome.
D is for Democracy: A Citizens' Alphabet Book by Elissa Grodin / Everyone Counts: A Citizens' Number Book by Elissa Grodin
Free To Be You And Me by Marlo Thomas and Friends / Tango Makes Three by Justin Richardson
My Princess Boy by Cheryl Kilodavis / Don't Laugh At Me by Steve Seskin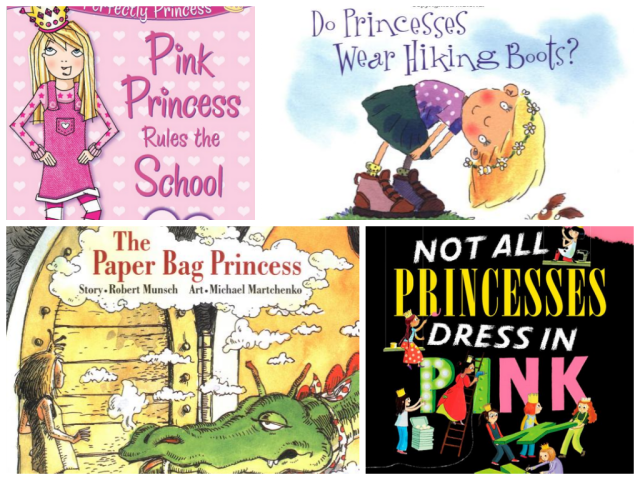 Princess Books
Siiiiigh. Princess books. But listen, overthrow the system from within, you know? I find it extra hard to buy books for young girls because I want the message to be super positive and unlike all of the Happily-Ever-After bullshit they're already getting. So use that platform of Princess-devotion to teach the young women you know that they can break out of those gender roles and still be any kind of princess they'd like to be.
Pink Princess Rules School Perfectly by Alyssa Crowne (This is a series!)
Do Princesses Wear Hiking Boots by Carmela LaVigna Coyle (This is a series!)
The Paper Bag Princess by Robert Munsch / Not All Princesses Dress In Pink by Jane Yolen and Heidi Yolen 
Educational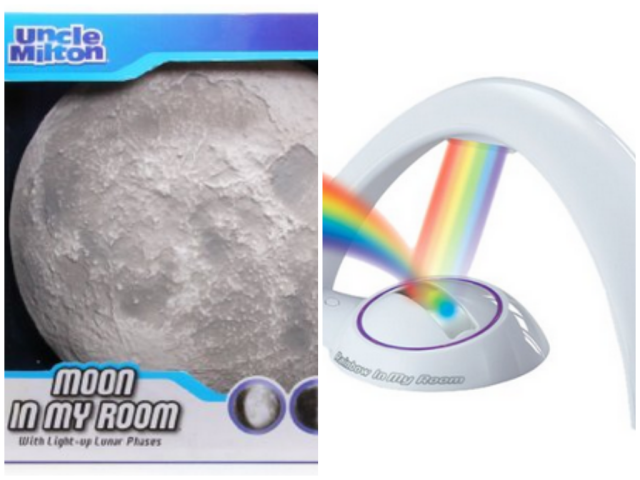 Okay, I am going to break my very own rule about not getting that kid a toy. Here's my new rule: Do not get a kid a toy with ANY removable small pieces. They'll lose them in ten seconds. They will. Anyway, it is easiest to sneak in a new gadget or toy if it is educational and really cool and the parent will also appreciate it. I especially love these Uncle Milton toys, like the rainbow (an obvious choice!) and the moon. These will hit up a pretty large age range, from younguns entranced with pretty colors to older kids interested in planets and space.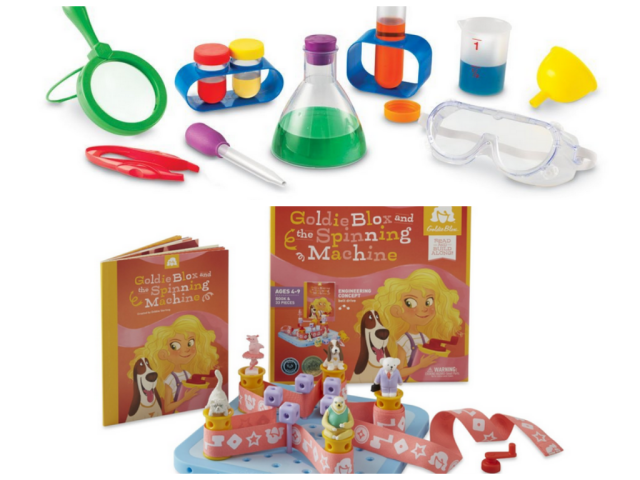 Okay, okay, okay, so these have small pieces. I am the worst. But wouldn't it be great to encourage a young girl (or boy, I don't care! Boys can play with pink) to be interested in science with this science kit or engineering with these GoldieBlox?
Wildcards Guaranteed To Please
Superhero costumes! Every kid loves superheroes. This is an awesome way to teach young girls that they can be superheroes, and it's also a good way to take away the ridiculous branding of superheroes. Why can't the kiddo be a special and unique kind of superhero, not just one with fake muscles on the chest. Whoa, did that just become a teaching opportunity? I think it might have.
Trust me on this one. The three-year-old in my life is obsessed with wall decals. She has butterflies and Minnie Mouse all over her walls, along with a random one that says Girls Can Be Anything They Want To Be which is charming but is still pink and flowery. Wall decals may not even seem like a fun gift to you, but can you name any child you know who doesn't love stickers? And these are stickers they get to put on the wall. (Whisper voice) Wowwwww.
---