An article came out last week applauding Trump campaign manager Kellyanne Conway for being the first woman to run a "successful presidential campaign," which is certainly one way to use words to describe something. To be honest I could have done without this particular glass ceiling being shattered, but this must be major news for someone who I assume references themselves in third person. "Congratulations, Kellyanne Conway," the aforementioned article headline reads, and also happens to be what Kellyanne Conway says aloud to herself every time she throws a skeeball, even if it goes in the gutter area.
One for the history books, I'm sure. But, of course, you've not been sewn into America's quilt until you've written a memoir. And now that the campaign's run its course, Kellyanne should have nothing but time to give the people what they want.
Except, oops, nope, Trump has no idea how to be president, is reeling from the "scope" of it all, and needs extra training before taking office in literally two months. Sure. Fine. It's fine. That's fine.
If you've ever tried to tutor the rich white kid, you know how quickly they revert to Paul Rudd in Wet Hot American Summer, which means Kellyanne and her team are going to have their hands full for awhile.
So, I'm here to help Kellyanne. After all we've been told it's our civic duty as Americans to support this presidency despite the horrific scenarios that continue to unfold. To get her ahead of the game and save her some much needed time, I've come up with some memoir titles I think get to the heart of her campaign's strategy.
---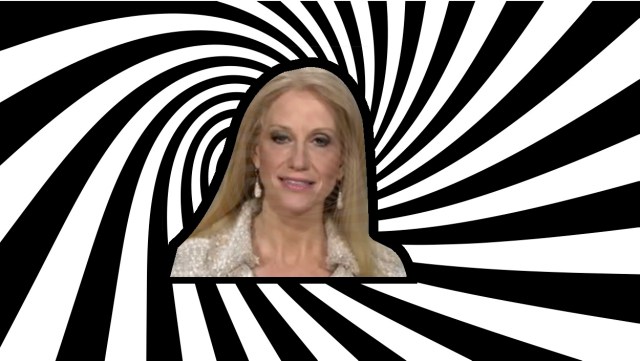 She Made A Hat
Led Him By The Pussy
Gaslights, Camera, Action
Adorable Deplorable
Blend In The Clown
Race Bait And Switch: The ConWay
Are You There, White American Jesus? It's Me, Kellyanne
The Emails

Ghosting In Real Time
Enabling The Racist In You
Women Are Bad And I'm No Exception
Dog Whistle While I Worked
Dead Eyes, Black Heart, Can't Lose
Appealing To Your Shitty Co-Worker
Scream And Shout
Guns, Gays And Glory
For example, Ronald Reagan
Divided We Stand United We Wall
Late Term To Full Term
Grab Them By The Hijab
Morally Bankrupt
Nightmare Person
Today, Satan
I'm Not Alt-Right And Neither Are You
---
Just a quick list that I hope is helpful, Kellyanne Conway, and do check back in as I'm sure there will be more suggestions in the comments. See you in hell also!