feature image via Shutterstock
Here's a guide from the ACLU on exercising your individual rights in an encounter with the police, FBI, or ICE.
Here's how to change your own oil.
Got some books you think have reached the end of their time with you? Maybe you've moving and can't take them all? The American Library Association has some guidelines and suggestions about donating books.
Here is some advice from Riese: "Obviously it feels much better when you work from home to wake up to a clean house in the morning, but that's not always possible, but I have found that even if you don't have time to put away everything to where it belongs and generally clean up your work area or living area before going to sleep, just straightening everything up — like taking the papers that are everywhere and putting them in a pile and perfectly centering your planner and the book you were reading on top of that pile and placing the pen perfectly atop that book — can have a similar soothing effect to wake up to the next morning."
If you've been pressing the "spam" button on that one account always asking you for donations but it keeps showing up in your inbox anyway, try this (if you're a Gmail user): choose "Filter messages like this," and when your filter has selected the messages you don't want accurately, choose to have messages in that filter deleted automatically. It'll work better than your spam filters in most cases.
Here are some ways to get rid of a bad mood.
Business Insider has a 14-day crash course plan for rehauling your finances. I would probably do this in 14 weeks instead, but you do you.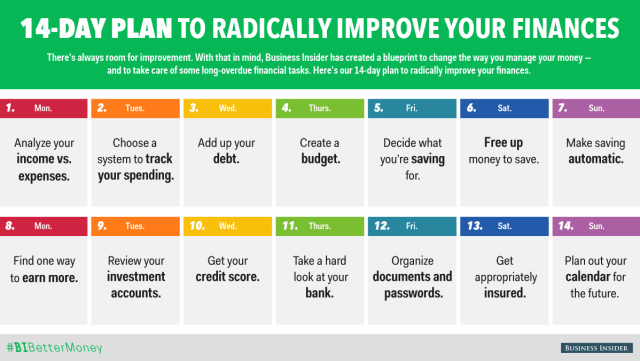 If you're comfortable with it and if you and the repair person both have time, consider asking the repair person next time you get something fixed in your car or home to show or explain to you what they did. It may not mean you can 100% fix it yourself next time, but it will help you have a better sense of how that thing works and get you a bit closer to being able to figure it out in the future. For instance, now I understand how the pipe buildup in my apartment causes problems!
Sometimes we get very focused on whether things in our life are good or bad, which is at times fine and at times frustrating. In some cases, it might be better to practice thinking about things as useful/not useful or helpful/unhelpful instead. Examples: You're a grown woman but are really identifying with the 17-year-old protagonist of this YA novel! Is that good or bad? I don't know, but can you tell whether it's helpful or unhelpful for you? You really don't want to take your aunt's calls because she makes you miserable — is that like really bad? I don't know! But would it be useful for anyone for you to talk with her?
Here are places you can try getting free boxes for moving or what have you.
This is a graphic that explains the best application for different pain relievers (Advil and Aleve are best for hangovers).