Welcome back to Hearts and Crafts, where we talk to artists and crafters about their amazing work and they share a craft tutorial with us! It's the best of every world.
Header by Rory Midhani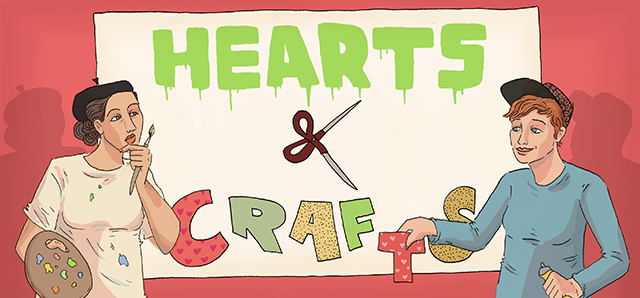 ---
Full disclosure, Alison Caporimo is one of my best friends. We met in 2010 and clicked instantly, and we've been sipping tea, writing in our journals, and staging photoshoots together for the past three years. Alison is super smart, kind, and compassionate, she's one of the most genuine listeners I've ever known, and as you may have guessed from her presence here in this crafty column, she's a creative DIY goddess. I've been dying to feature Alison on Autostraddle – there's nothing I love more than a creative queer – and the time has finally come. I hope you're all as excited as I am.
Alison is the senior associate editor at Reader's Digest, a Brooklyn-based artist, and the author of the recently released InstaCraft: Fun and Simple Projects for Adorable Gifts, Decor, and More, her first book. Obviously I feel like a proud mama, but a bunch of other unbiased parties also think it's the bee's knees, so I think you should take my word for it. If you really need reassurance you can sneak an adorable peek at a few of the crafts included by watching this video.
INSTACRAFT from meera lee on Vimeo.
Alison also has an Etsy shop, Figment & Fragment, where you can buy some of her handmade geometric pendants (if you'd rather purchase the work readymade rather than go the DIY route) and she'll be teaching her first class, Make Your Own Geometric Jewelry, at Brooklyn Brainery in December (the class is unsurprisingly fully booked for now, but if you're in the New York area you can add yourself to the wait list).
So how did Alison begin the journey that led her to become the crafting genius she is today? She says it all started with a picture frame project that involved sprinkling sand and sticking sea shells to frames when she was six years old. "I made one, then two, then five… my family started to hide picture frames from around the house, afraid to one day find them all turned into sticky, sandy squares!" Alison says she always loved working with her hands, and credits the picture frame project as the one that led to "years of trying to make something out of nothing."
If the foundation for her new book was a picture frame, the more recent inspiration was a somewhat larger project: decorating a tiny New York City apartment on a tight budget.
"When I first moved into the East Village, I would go into local shops just to examine objects. I memorized patterns and shapes that I loved and looked at materials printed on labels. I would go on late night runs around the Lower East Side and stop to take pictures of store windows and displays. I started to realize that I could make this stuff, that anyone could really. Most people just don't know where to start. Crafting can seem so intimidating—especially when countless steps and expensive equipment are involved. I wanted to experiment with and re-imagine around-the-house items so that other people didn't have to—they could just get right down to it and make something cool."
A strong believer that absolutely anyone can craft, Alison's favorite materials are often found objects and everyday items. She swears by E6000 glue – "it's the strongest stuff around" – and also loves experimenting with Washi tape. As well as drawing inspiration from her surroundings, she gets inspired online with Design Love Fest, Cup of Jo, Design Sponge, and Brit + Co.
When I asked Alison about her ideal future plans, she spoke of big dreams that include buying a farmhouse in the middle of the woods and holding creative salons where "wonderful people gather… and put their hands and hearts to work." I made her promise she would attend A-Camp in the future and she readily agreed, so perhaps one day she'll be teaching workshops on the mountain! Of course it wouldn't be an Interview With Vanessa if I didn't ask about a celeb crush, but Alison demurred, insisting she didn't have one. "I do have some other obsessions: Black tea, horses, and Herman Melville!" (She's not kidding about Herman Melville, I promise.)
I asked Alison to describe her book in one sentence:
"InstaCraft is a love letter to makers everywhere, featuring quirky and surprisingly simple DIY projects accompanied with hand-drawn illustrations, song suggestions and extra tips to create cool decor and accessory projects in your down time."
Then I tried to get her to hawk her book to you lovely Autostraddle readers, but because she's super humble she only sort of followed my request. "Why should we buy your book?", I asked.
"Buy it if you feel like learning how to turn random odds and ends into fun decor and accessories in 3 steps or fewer. I added tutorials for DIY stamps and spray painting for simple skill shortcuts, too. If you don't feel like learning those things, then buy something else that makes someone you love smile. Maybe a cookie?"
Sigh, okay Alison. We'll grab the book and a cookie, how's that?
Did you notice the awesome Autostraddle-inspired "A" pendant Alison is wearing in the first photo? She made that just for us! Learn how to make your own Auto "A" with the craft directions below.
"A" Pendant Necklaces
Supplies Needed:
+ Clear shrink plastic sheets
+ Scissors
+ Hole punch
+ An oven
+ Cookie sheet
+ Parchment paper
+ Opaque nail polish
+ Small jump ring
+ Necklace chain
Directions:
1. Preheat oven to 350 degrees.
2. Use scissors to cut shrink plastic sheet into any shape—we chose Autostraddle's unique "A"! Keep in mind that the design will shrink to about half its original dimensions when baked, so make your pendant twice as large as the desired end product.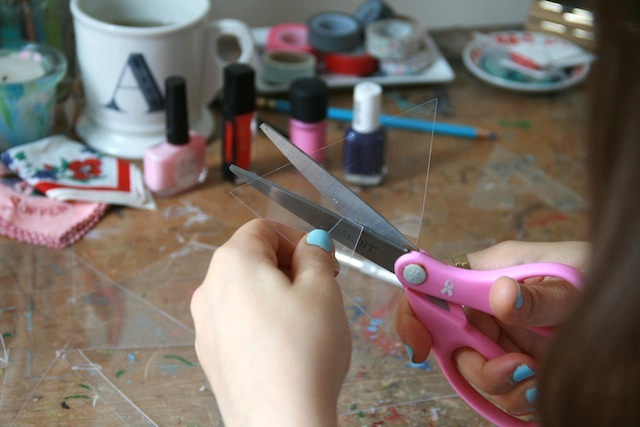 3. Punch a hole at the top of the pendant.
4. Place pendants on top of a parchment-paper-covered cookie sheet. Cover pendants with a second sheet of parchment paper—this keeps the pendant from sticking to itself while it curls up during the shrinking process.
5. Bake for 3-5 minutes.
6. Once cool, apply a thick coat of opaque nail polish. Let dry for 24 hours.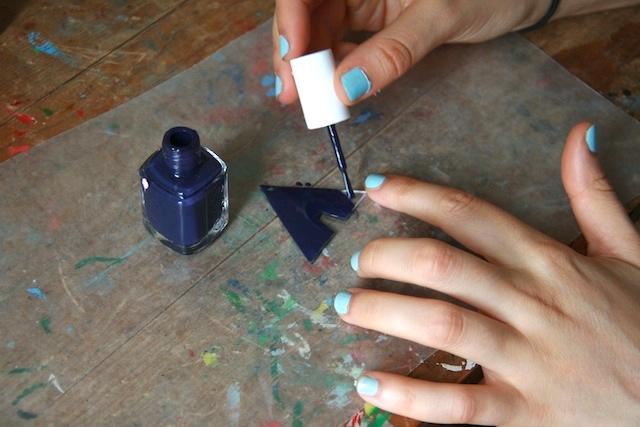 7. Loop a jump ring through the top hole and slide onto a chain.
---
Are you, or do you know, an awesome queer artist and crafter who should be featured in an upcoming Hearts and Crafts? Email hansen [at] autostraddle [dot] com!