This review for (HBO) Max's Harley Quinn was written during the 2023 WGA and SAG-AFTRA strikes. Without the labor of the writers and actors who are currently on strike, tv series like this one would not be possible, and Autostraddle is grateful for the artists who do this work. This review contains mild spoilers.
---
If you'd told me back in 2019, when it premiered on the now-defunct DC Universe streaming service, that Harley Quinn would give us a canonical relationship between Harley and Poison Ivy, I wouldn't have believed you. Fans have been shipping the villainous queens together since Batman: The Animated Series way back in the 1990s, with little to show for it outside a few random smooches in alternate universe comic books. But this dark animated series has beat the odds in every way. Now, in their fourth season on HBO Max (er, …Just Max?), Harley and Ivy have the current longest running queer relationship on television — and also the healthiest, despite the fact that they've both spent significant time in Arkham Asylum for various sociopathic behaviors. I'm also ecstatic to report that the current season of Harley Quinn is the best and gayest yet!
When we last left our favorite chaotic bisexuals, Harley had decided to join the Bat-Fam, while Ivy had decided to take on the CEO role at the Legion of Doom. This season follows their individual journeys as they pursue their dreams, and also as they try to navigate their relationship from different sides of the hero/villain spectrum.
Ivy's first day in charge of the Legion of Doom is one of the funniest things I've ever seen. This series has never shied away from relentlessly skewering men, especially fanboy culture, and as soon as Ivy arrives in the boardroom, it's just cries of "She must have slept with Lex!" "I hope she gets pregnant!' "Lex bowed to the woke mob!" while Ivy sips out of the coffee mug Harley gave her that says World's Hottest CEO I Love You. But it's not just dudes Ivy's up against; she tries to network with some other girlbosses, and the only thing that nets her is a bunch of wine mom totes plastered with girl power quotes, and a new enemy in Talia al Ghul. The Legion just wants to do murder; Ivy wants to do socially-conscious murder that doesn't destroy the environment.
Over at the Bat Cave, Harley's having an equally hard time fitting in. She just wants to use all the cool Bat-gadgets and beat up bad guys (that aren't her girlfriend), but she accidentally kills a villain right out of the gate. She says she didn't know Batman's main thing is not killing, even though WE DON'T KILL is stitched on throw pillows around the entire Cave. So she has to do a whole training program, led by Alfred, who Karate Kids her by making her learn how to steep tea correctly and polish the Batmobile. He also teaches her a meditation technique called BITCH. The steps are: Breathe, Identify the Problem, Tea (drink some), Consider Your Options, Handle It. Harley really does want to be a good guy, she just also wants to spill some blood.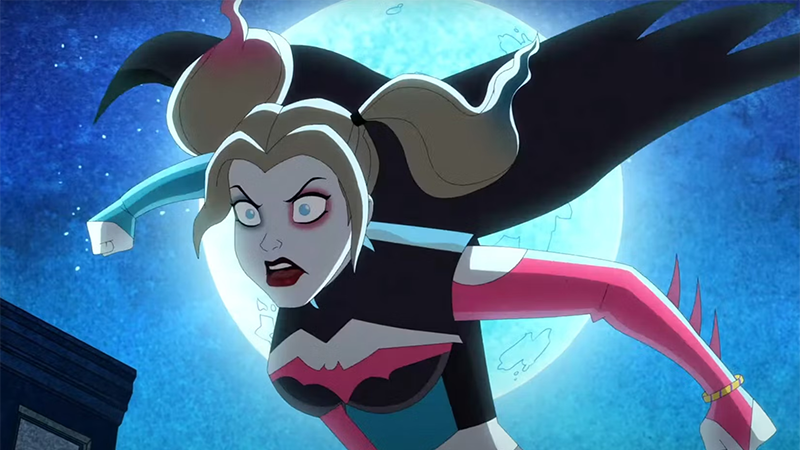 Obviously these new roles put Harley and Ivy at odds with each other, but they handle it like a couple of queer gals: by constantly over-processing everything. They set boundaries, reassess, plan weekends away, agree to give each other space to figure things out, and remain endlessly supportive the whole time. They even call each other LIFE PARTNERS, which I would say is as close as we'll ever get to a Harlivy wedding, but honestly, who knows? Harley Quinn has never stopped surprising me — which I think would make the character herself very proud.