Be our guest for Happy Hour at Home, a small series about the joys of lesbian socializing from home, because let's be honest with ourselves — we're going to be here for a while.
---
Hello! The city I live in has started re-opening, and I am s t r e s s e d about it!!!!
My girlfriend and I are maintaining shelter in place though, which means we're still coming up with ways to spend meaningful time with each other that somewhat replicates our lives beyond our home. Yes, we're still doing weekly gay club night.
Today's Happy Hour at Home is very straightforward: I'm gonna give you some easy tips-n-tricks for kicking cocktails up a notch by using scraps and other things you already have lying around your kitchen.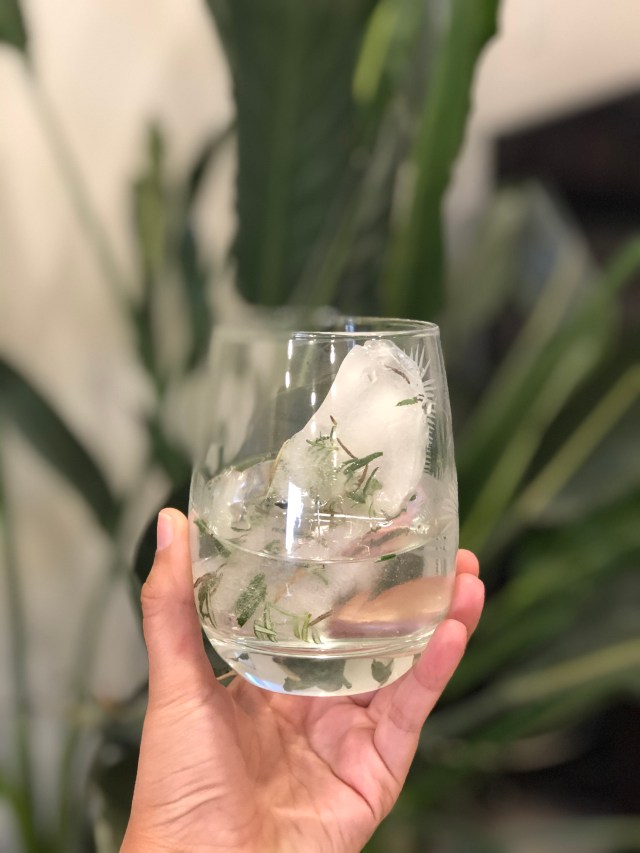 First up: ICE! For this extremely simple rosemary gin and tonic, I filled a small ziploc bag with water and added chopped up bits of rosemary before freezing it. Once frozen completely, I used a heavy spoon to smash it into chunks and then plopped a piece of it into a glass with some gin and tonic. That's it!
Other variations on this theme: cilantro ice in a classic margarita, smashed strawberry ice in a gin smash, basil ice in a gimlet. You can chop up fresh or dried peppers and freeze them in an ice bag for any cocktail you want to add a hit of spice to. It's simple and pretty, and if you have any extra herbs or fruits that are about to turn, freezing them is an easy way to hang onto them for a bit longer. Herb STEMS can also be your friend here! Cilantro stem ice is perfect for a bloody mary.
Ice usually waters down the flavor of a drink, but in this case you're also gradually adding flavor. There are also ways to use pantry ingredients in ice. Whole black peppercorns frozen in ice make for a punchy addition to a gin and tonic, especially if the gin you're using leans botanical in flavor. If you have tea bags on hand, brew up some earl grey and then pour it into an ice cube tray and freeze. Add a couple to some vodka and lemon juice or, for a virgin version, add the tea cubes to lemonade or tonic. If you've got honey, mix a few spoonfuls with about half the amount of warm water and freeze into honey cubes that can be added to nonalcoholic iced tea or just a pour of bourbon.
I can't vouch for this one yet, but I'm going to attempt making some sort of balsamic vinegar ice cube to throw in a drink? If you get up to any experiments of your own, please let me know.
In a previous iteration of this column, I gave some tips for making colorful margaritas. If you've been dabbling with citrusy drinks, make sure you're getting the most out of your citrus! There are obvious ways to include the scraps, like orange peels for an old fashioned or some lemon zest that will kick up a plain ol' martini.
You can also candy citrus peels as a sweet treat or turn them into a simple syrup. For a lemon peel simple syrup, throw the peels from a whole large lemon in a pot with one cup of sugar, and one cup of water, stirring as you bring it to a boil. Remove the peels, let the mixture cool, and add lemon juice to taste. If you wanna make it in larger batches, know that it will keep in a sealed glass container in the fridge for a whole ass month.
While on the topic of repurposing things: My bar cart now always has at least one bottle that has been turned into a bud vase.