Are you in close proximity to several family members at this very moment? Perhaps for the whole week? This is a great time to talk to relatives about where you all came from. Then take that info, work some homespun magic, and turn it into a beautiful, meaningful piece of art.
Family Tree Fan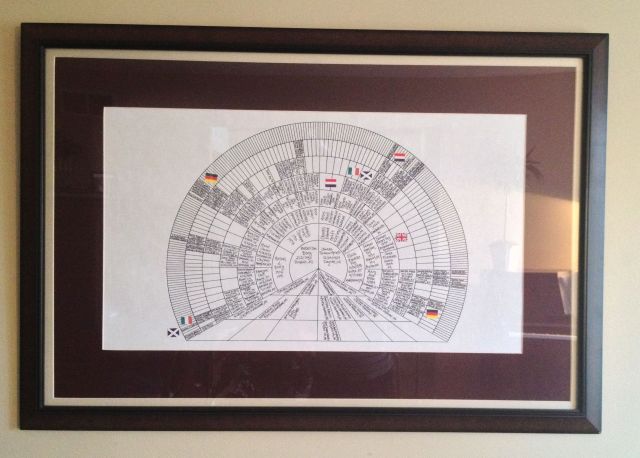 You Will Need:
Family history resources – See below for ideas
This template
A nice pen
Frame
Hanging brackets
Hanging wire
In addition to the family members you can interrogate face-to-face, there are all kinds of family history resources on the Internet that can fill in the gaps. Here are a few I used:
I would recommend signing up for the two week free trial. Get the World Explorer because, unless your family is entirely indigenous, your family history goes beyond just U.S. records. If you're worried about forgetting to cancel your trial subscription, just set an event with an alarm on your phone. If something weird happens and you get charged, call right away. I messed up so I called and was helped by the best customer service people ever who got my money back to be in 10 minutes. I suspect this has something to do with the fact that genealogy often appeals to older people who are more comfortable with the phone than with the computer.
The great thing about Ancestry.com is that is has access to censuses as well as birth, death, marriage, war, immigration, and all kinds of other records. It also gives you "hints" and  access to thousands of other family trees that people have made, so you have help figuring out who's whose parents. The dark side is the temptation that other family trees provide. Some people claim to have traced their families back 2,000 years but have no records to prove their connections. I used these trees for help, but didn't add any information I couldn't corroborate with records.
Familysearch.org is another genealogy website. While it has fewer records, it has some that don't appear on Ancestry and makes most available for free. It's owned by the Mormon Church, but you still may find something helpful.
There are plenty of books on the histories of towns as well as certain family lines' genealogies. I was able to confirm some details from my tree just by searching names (always in quotations) while others needed searched with birth, death, or marriage dates or names of other family members.
General Search
Just Googling (again, in quotation marks) names of family members can sometimes provide you with all kinds of knowledge. There are plenty of people who devote all kinds of time going to genealogy libraries and building their trees; maybe you share a common ancestor.
Region-, Ethnicity-, and Religion-specific Resources
The bad thing about many websites is that they're very much catered to people with a western European background, especially families from the British Isles. There are plenty of great starter sites for families with different origins. Try:
Cyndi's List – Cyndi's list is great for searching by a specific category – everything from "female ancestors" to "African Americans" to "Handwriting and Translation." Come here for hundreds of links to primary sources and websites and blogs that'll help you find your family.
Cohen's Genealogy Site – This is someone's site on Rootsweb. It works really well as a directory for finding free census and city records.
Ancestry.com's Jewish, Asia and Asian American, African American collections – The collections have tip sheets as well as specific primary resources.
Family Search's location collections (scroll to the bottom) – Most of these collections have been typed and are searchable, but some are still in photographs. It's a great place to look for primary sources.
1. Whether or not you use ancestry's other resources, the software they have for mapping your family is really easy to use. Despite being annoyingly everything-normative, it's free, easily searchable, and allows you to attach birthday and death dates and places, records, and photos to each person. I use the "suffix" box to leave myself notes; "?" means "maybe" and "v" means verified. This way I don't lose the name of a potential relative but also don't forget that I may have the wrong person. I also prefer to use the "pedigree" view. It lets you see more people at once which makes it a little easier to keep track of where you are.
2. After you're satisfied with the tree you've started, it's time to get the template printed. Go to a copy shop and have them print it out as large as you want. The file is 28″x 22″ (the size of posterboard), but you can shrink or enlarge it.
3. Start filling in boxes. Get a good pen and work on a hard surface because the boxes get TINY near the 9th generation. I designed the template for a gift for my grandparents. The circle in the middle is where I wrote their last names. My grandma's name goes in the first semi-circle box on the left and my grandpa's goes on the right. Moving up, the rest of the family follows the same pattern of mothers on the left and fathers on the right. The little triangle at the bottom is for my grandparent's family. The four boxes below the circle are for their four children (and spouses, if they have them), the boxes below those are for their children (my generation), and the last boxes are for my generation's children.
4. Don't worry if you've got empty boxes. We all do. In fact, I can't get past my grandpa's parents on one side. If your family doesn't fit into this traditional tree, also don't worry! Maybe you have one parent. Or more than two. Maybe you're adopted. All of this is mega cool and would look rad as a family tree. All you've gotta do is alter the template to fit your tree.
5. When finished writing, it's time to frame your tree. All you need is a frame and a mat. I got my mat cut by the people at Hobby Lobby and they showed me how to mount the picture and add brackets for hanging.
6. You're done! If you want to be, that is. The awesome thing about giving a family tree is that the artwork can change as you learn more about your family. It's easy to pull the tree out of the frame to add a family member or a birthday date if you find out more information. Who knows, the person you give the tree to might even be able to help you fill in a few boxes.
---
Making presents for people makes the world a better place. If you've got a little extra time and want to use your very own hands to show someone you love them, this is just the miniseries for you! See something you want to learn to make? Send me a picture to laura [at] autostraddle [dot] com and I'll see what I can come up with.