feature image via Shutterstock
It's almost Autostraddle's own Babe-B-Q weekend! We'll be hanging out with each other August 15 and 16 to grill up a storm, and everyone's invited! We'll also be guiding you through the process of grilling up said storm and getting prepared for the big event all week. You can view all Babe-B-Q posts here.

---
Hello glowing embers! It's your Autostraddle summer grilling correspondent here, ready to help you prepare for this weekend's big Babe-B-Q cookout extravaganzapalooza! Maybe you're reading all these posts about grilling with a knowing grin, confident that the portobello mushrooms you've had marinating in your fridge for three days in your secret recipe are going to be an even bigger hit than they were last year now that you tweaked the spices (they totally will!), but maybe you prefer to do your cooking indoors—where things make sense—and are intimidated by the possibility of fire trucks screaming down the street, dashing the hopes of your hungry guests. Fear not! Cooking food outdoors is easy and fun, and I'm here to gently nudge you toward the flames. You've got this.
 Step 1: Acquire a Grill
Having a grill is an important first step toward successful grilling. There are a lot of Big Feelings out there in the world about charcoal grills vs gas grills and which type is superior and which will make your food taste better and which one makes you a Real Griller compared to a pathetic, sniveling counterfeit unworthy of the food you would deign to prepare. I am here to tell you this: it doesn't matter. It doesn't matter! There are pros and cons to each type of grill and you can prepare delicious food with either. Charcoal grills smell good, they burn super hot, and they make you feel like you're doin' stuff! Propane grills, while some may qualify them as "glorified, expensive outdoor ovens," are efficient, easy to control, and make for quick cleanup. The kind of grill that makes the most sense for you will depend on your circumstances. If you're really on the fence, there's a good breakdown of the arguments for and against both types here.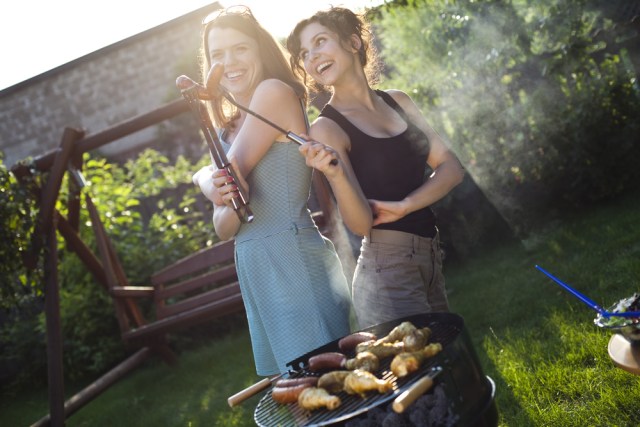 ---
Step 2: Prepare Your Grill
If you haven't dug the grill out in a while, you might open it up to find the grate rusted to oblivion – especially if you live somewhere with humidity and temperature fluctuations. This is not the end of the world, but you'll need to clean it up before you can cook on it. Rust can often be removed with just an abrasive scrubber like a wire grill brush and some soap and water, but tougher or deeper rust might require a more complicated solution, like a vinegar/baking soda/lemon situation, and maybe a soak. Try to stay away from harsh chemicals if you can, since you're going to be eating off that surface. Keep rust from coming back by being careful to brush and oil your grill surface after you're done cooking.
To clean off old blackened food bits, use a wire brush or half an onion pierced with a fork. A ball of tin foil will also work in a pinch, but watch out for aluminium residue. I find it easier to heat the grill up a bit before going at it. Once it's clear, oil the grilling surface with a brush, rag or paper towel (avoid aerosols near flame and heat). You're doing great!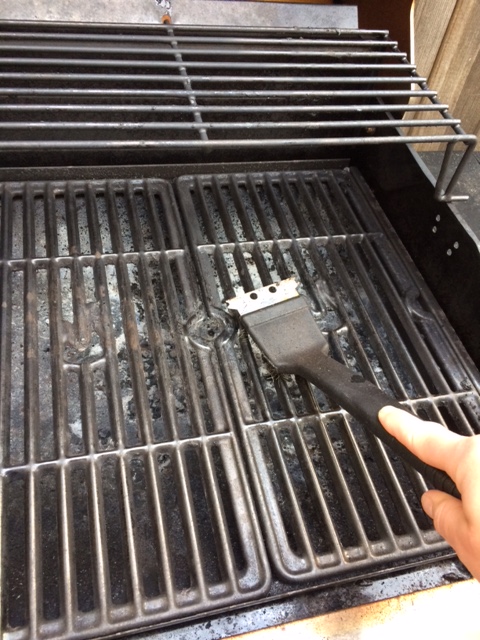 Lighting a gas grill is a simple as opening the propane tank valve (lefty loosey righty tighty), turning the dial on the grill to start the gas flowing, and hitting the striker button. Charcoal is a bit more complicated. My preferred way to light charcoal is with a charcoal chimney, since it's efficient and doesn't require lighter fluid. Pour the charcoal into the main compartment of the chimney, stick some balled up newspaper in the lower compartment, light the paper, and wait. Once most of the charcoal is covered with a light grey ash you dump it in the bbq and off you go (lump charcoal doesn't ash though, so just give it about 15 minutes). If you're more into playing with fire there are some different torches out there, or low-tech methods like filling an egg carton with briquets and lighting it on fire. I saw one guy on youtube who covered his pile of briquets with an olive-oil soaked paper towel that he then lit on fire, and that seemed to work fine as well. Really the most important thing is to avoid lighter fluid if you can, since it (unlike propane) imparts a nasty chemical flavor to the air and the food (and match-light charcoal is just briquets soaked in lighter fluid, so avoid that too!).
If you have to go the lighter fluid route (which, again, I advise against in the strongest possible terms) I recommend spreading the coals out, hitting them with the fluid, then rearranging them into a pyramid shape before lighting from the bottom. Spread them out again once they're coated with ash.
---
Step 3: Grill!
Ugh, finally, right? Whose idea even was this? If you haven't ordered in yet, there are different ways to approach grilling depending on what you're preparing.
1. Direct heat
This is just what it sounds like — you light your fire, you place your food items above said fire, and flame them into becoming their best selves. This method is good for things like steaks, burgers, sausage, chicken legs, kebabs, corn cobs, and veggies. When cooking meat like a steak or a burger over direct heat, give it a 90-degree turn when it's halfway done on each side, to get those sexy grill marks, and try to avoid flipping meat more than once. If you have a gas grill that came with searing plates, use them to get a nice crust on the outside of your steak.
2. Indirect heat
Indirect or convection cooking is when you cook food by heating up the air around it. To do this you need a 2-zone temperature setup, where you've got higher heat on one side of the grill and lower or no heat on the other. On a gas grill you can easily adjust to a 2-zone setup via the burner dials; with a charcoal grill it's a bit less precise and involves piling your coals on just one side. This method is used for low-and-slow cooking, or for when you need more temperature regulation throughout the cooking process or are grilling foods that cook at different rates. Indirect heat can be used for things like roasts, whole chickens, ribs, brisket, pork shoulder, and certain delicate fish and vegetables. I did a beer chicken this way recently on a gas grill and the results were fantastic.
3. Smoking
Proper smoking is really best achieved with an actual smoker, but charcoal and gas grills can be used to add delicious smoky flavor to your food too. Get some wood chips and soak them in water for at least an hour before cooking, then make a foil pouch: dump the chips into the center of a large sheet of tin foil, then fold it over on itself and seal all the edges tightly. Poke lots of holes in the top for the smoke to escape. Place the pouch on the coals or over the burner until smoke starts to emerge from the holes, then move it somewhere off to the side that's not directly beneath your food. Open the grill vents and close the lid to let the smoke swirl all around inside and flavor your food. Delicious!
---
Bonus tips!
A digital oven thermometer is your best friend — the one on the outside of your grill lid, in addition to probably not being very accurate, is really just reading the temperature at the top of the inside of the grill and not down where your food is actually cooking. So much about grilling is controlling temperature and understanding at what temperature your food needs to be cooked. While you're at it you should get yourself a decent digital meat thermometer too.
Let your meat come to room temperature as best you can before cooking it, and salt it liberally. As it sits the salt will dissolve into the meat, re-emerge as liquid, then re-absorb again — it's neat! Just as important as letting your meat sit before you cook it is letting it sit after — this is called resting, and it's super duper important. Tent that hunk of protein with some foil and let it sit for at least 10 minutes, or longer if it's a big cut. This way when you cut into it you won't find yourself swimming in a sea of unruly meat juice. Also it'll taste better.
Don't be intimidated by the idea that in order to create a delicious finished product you need to have some complicated family-secret spice concoction to rub all over your food – most decent cuts of meat are best-served with just salt and fresh ground pepper, and the same goes for veggies, which I usually just toss in a little salt, pepper and olive oil. If you're feeling adventurous there are lots of marinade and rub recipes out there, though — Bon Appetit's 4-3-2-1 spice rub works in a pinch if I'm doing a shoulder or something, mainly because it's easy to remember and I am bad at remembering things. Making your own barbecue sauce is also pretty simple and you probably already have what you need kicking around (ketchup, sugar, spices, acid, etc). IN FACT we just published some handy recipes on this very website this very day!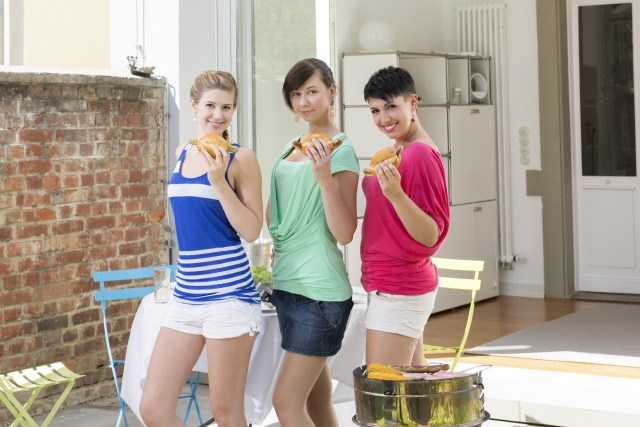 ---
Do you have your own favorite marinade or rub or fire-starting tip to help us all avoid lighting our sleeves on fire? Want to declare me a complete lunatic for daring to suggest that charcoal isn't the only acceptable way to apply heat to food? Tell me all about it in the comments!